When you plan your golf simulator, you need to decide whether you go for a setup with an impact screen and projector, or a golf net. A golf net is generally a simpler and cheaper option, which is a lot easier to install, but an impact screen allows a fully immersive experience. This article explains all the key considerations you must make.
Impact Screens in a golf simulator allow for an immersive golf experience, with the ability to play simulated courses whilst seeing the ball fly. Drawbacks include cost, confusing measurements and bounceback. Golf Nets are cheaper, durable, portable and can fit into smaller spaces in the home.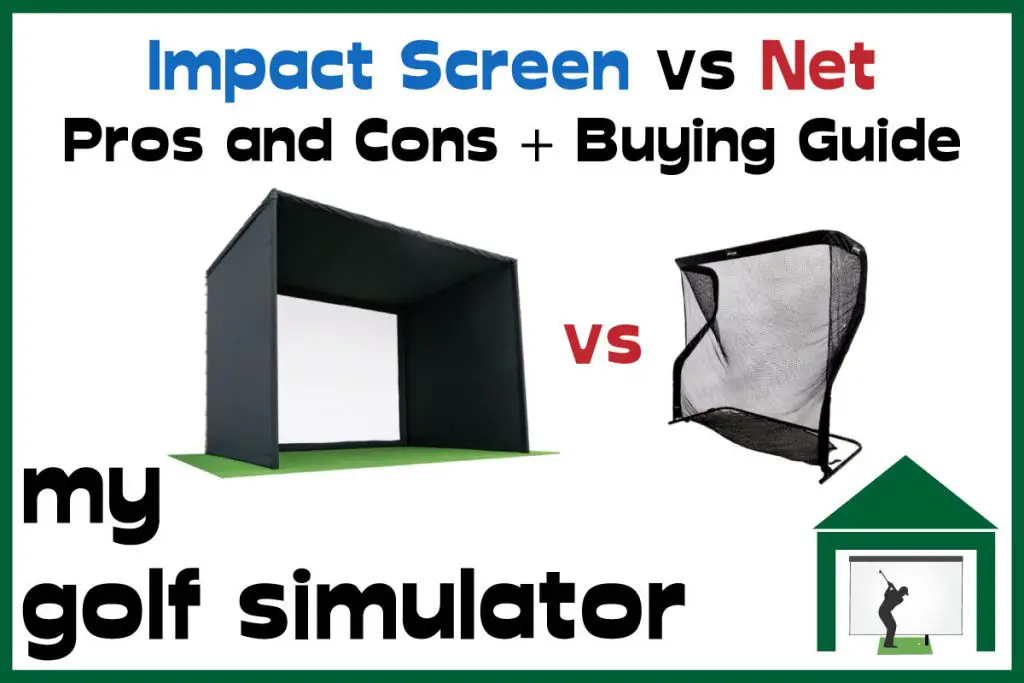 Impact Screen vs Net for a Golf Simulator Hitting Bay
Impact Screen Pros
An Impact Screen allows for Full Golf Simulator Immersion
When people think of golf simulators, I bet most imagine a setup with a white screen onto which an image is projected. The ideal setup will allow the golfer to play simulated courses, practice all aspects of their game and have lots of fun.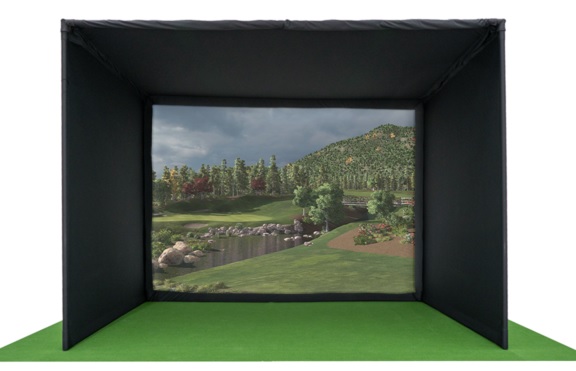 You should be able to align your target line with the center of the screen and hence the target line on the projected image, meaning your aim is realistic too.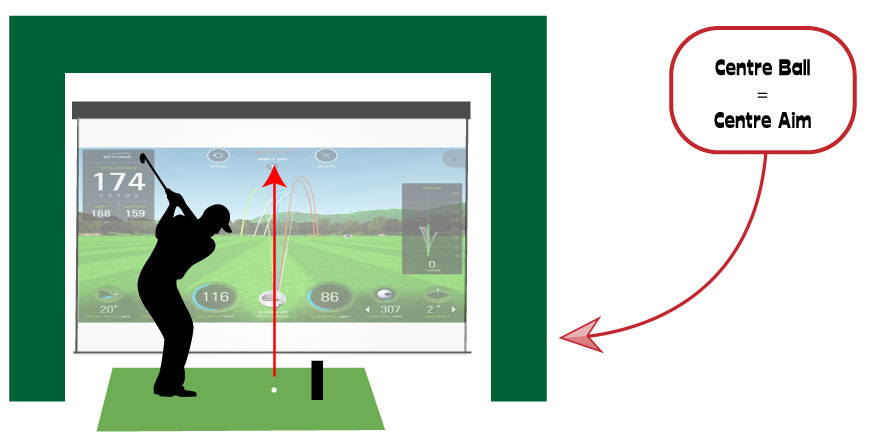 A golf simulator setup featuring an impact screen and projector is a much more immersive experience than a simple hitting bay. There are many ways that you can enhance the immersion in your golf simulator. Check out my article all about how to maximize the realism in your simulator.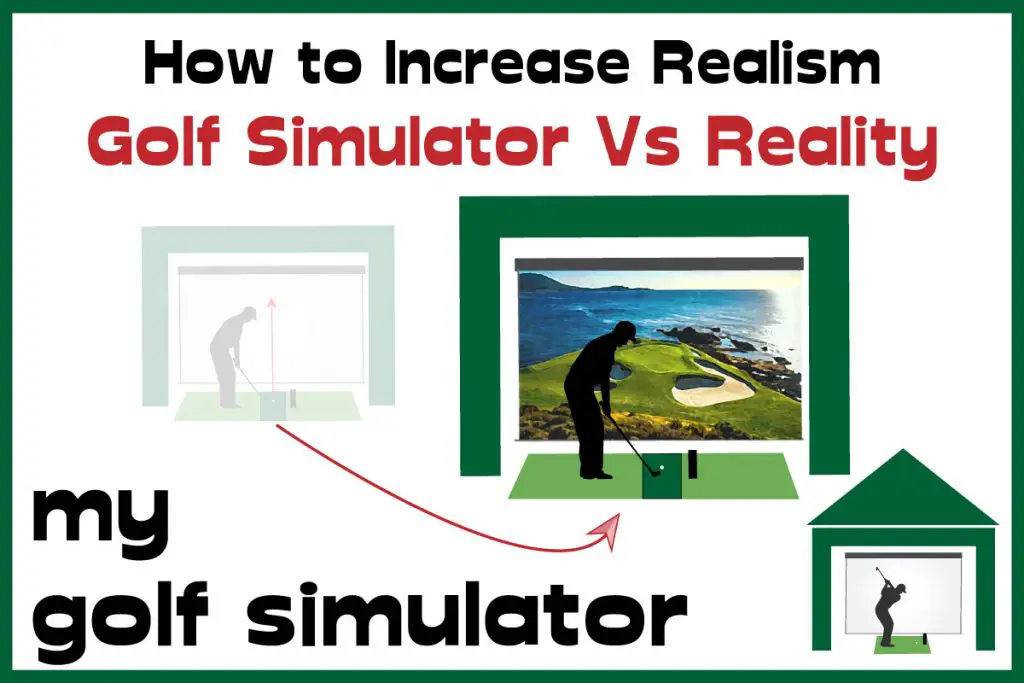 Play Simulated Courses
A full golf simulator setup with impact screen means you can play simulated courses from home. This dramatically increases the quanitity and quality of the practice that you can put into your game.
You can play simulated courses using just a net, your launch monitor and your computer screen, but this is nowhere near as immersive.
Impact Screen Cons
Cost – A Quality Impact Screen can Impact your budget
An impact screen is an extra core component in a golf simulator setup and naturally this will cost money. If you intend on incorporating an impact screen into your setup you should ensure you buy a screen that is both durable and able to display a clear image.
If your budget is tight, I recommend checking out the Preferred Screen from Carl's Place. This impact screen is a fantastic blend of quality material and durability whilst appealing to golfers on a budget.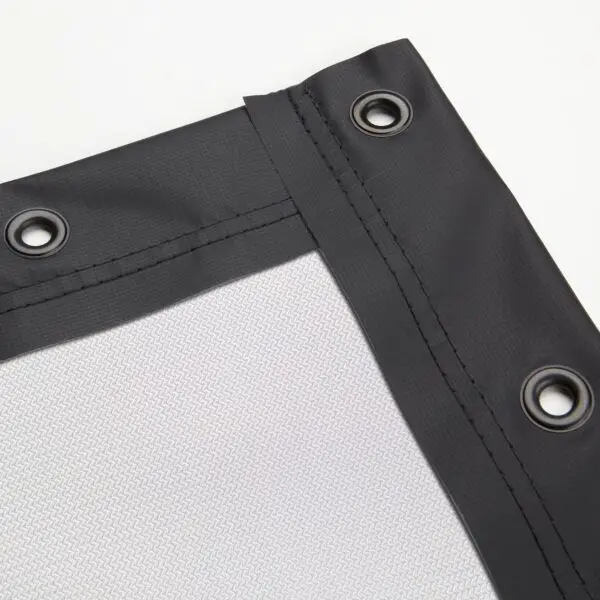 Of course, adding an impact screen to your golf simulator setup also requires an enclosure on which to hang the screen. The vast majority of golf simulator owners whose setups feature impact screens are also likely to buy a projector too.
Both of these products cost additional money compared with a simple hitting bay using a net. You can save a lot of money by making your own DIY golf enclosure using metal electrical conduit pipe and some corner fixings. You just need an electric hand saw to cut the pipes to size.
Alternatively, you could purchase a ready-to-build enclosure. Check out the DIY enclosure package at Carl's Place.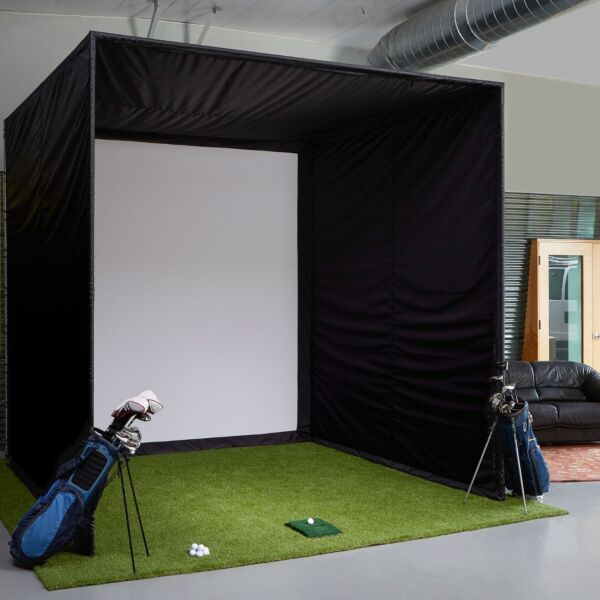 Impact Screens can cause problems with Bounceback and Noise
A quality impact screen will absorb the energy of the golf ball causing a quiet thumping noise and the ball will then drop down the the ground without any violent ricochet. To achieve this you need a high-end material and the correct tension in the screen on all sides when it is installed.
The Premium Screen from Carl's Place is a high-quality three-layer polyester screen that cushions the impact of the ball and is designed to minimize bounceback and noise. Cheaper screens, especially too-good-to-be-true screens sold on auction sites from the far-east will be highly likely to score poorly in these areas.
You can learn lots more about bounceback and noise in a golf simulator by checking out my dedicated articles on these subjects here.
Impact Screen Measurements and Installation can be confusing
A golf simulator net may seem like a hassle free option for those golfers who are confused about terms such as aspect ratio, throw distance and image bleed. And that's not even considering the prospect of constructing an enclosure frame and correctly hanging the impact screen.
My mission is to make all this seem simple and easy for you though. All it takes is a bit of time to learn about each factor involved in planning and purchasing the perfect screen for you space.
Check out my dedicated article all about aspect ratios, which will give you the knowledge you need to buy the right size screen for your space. Doing so will make sure you use all of your impact screen and you'll avoid a funny-looking image that's too small and the wrong shape.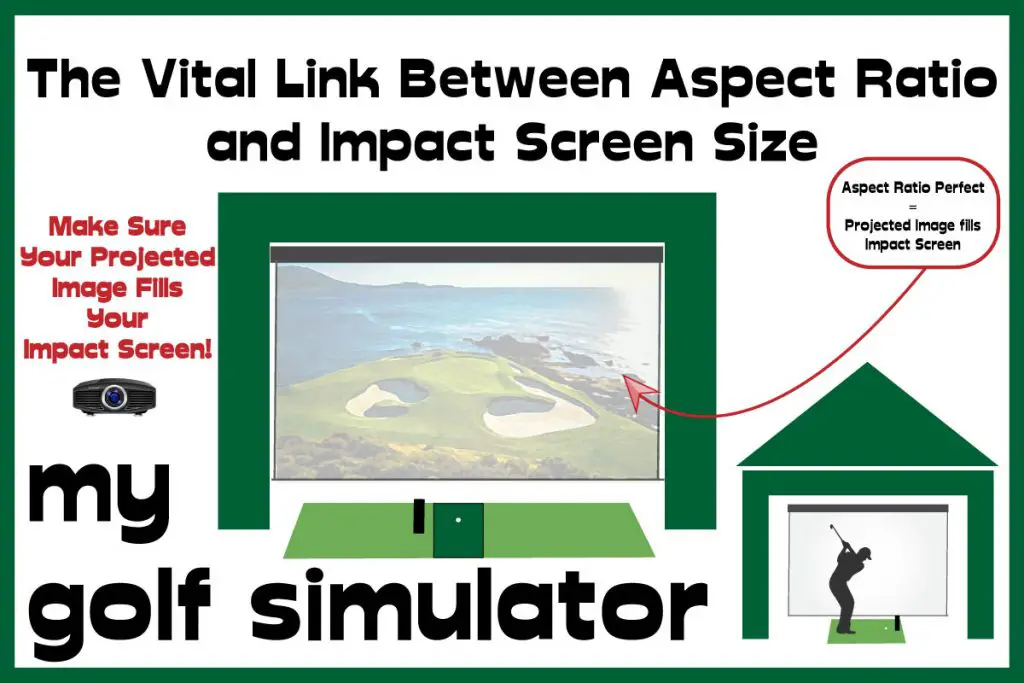 I particularly like the way the website at Carl's Place shows you impact screen sizes which are categorised by aspect ratio. This means you have several options that should fit your space well.
Carl's even shows you the screen sizes in a table split into full screen size, the size of the screen border (containing the fixings) and the size of the viewable part of the screen.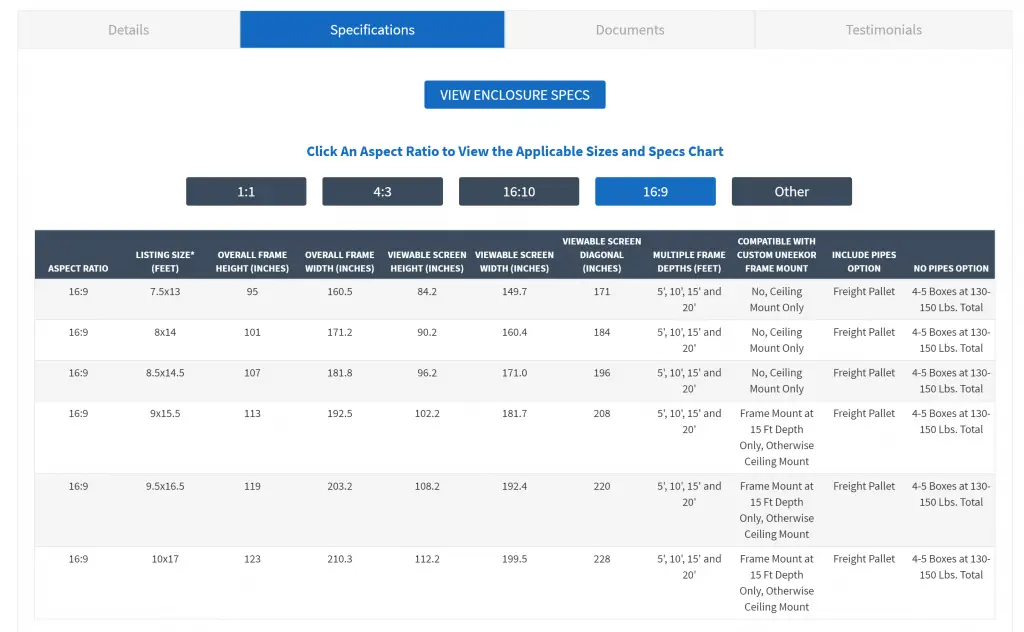 Golf Simulator Net Pros
Golf Nets are usually Cheap
When golfers think of golf hitting nets, I bet they normally think of the hitting cages you get at golf courses. You know, the green ones that are sometimes used by smaller golf clubs in lieu of a driving range.
You could construct such a golf net in your garden just a couple of hundred dollars. You'd need to buy either wood or metal electrical conduit pipe with some corner fixings for the frame. Then add in some netting.
There are golf nets with holes of a variety of sizes. Nets with small holes are often termed archery netting or archery baffle and are designed to stop smaller objects. Then there are nets with larger holes which are often cheaper. Check out both the golf nets below at Cimarron Sports.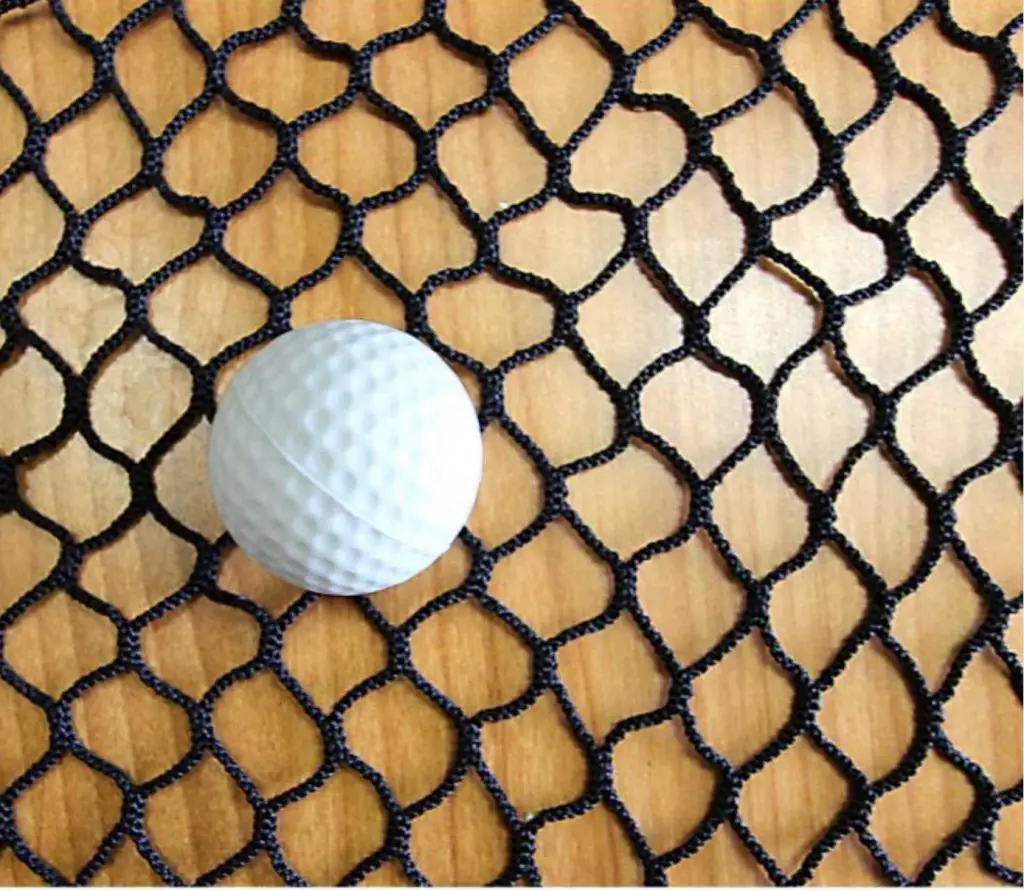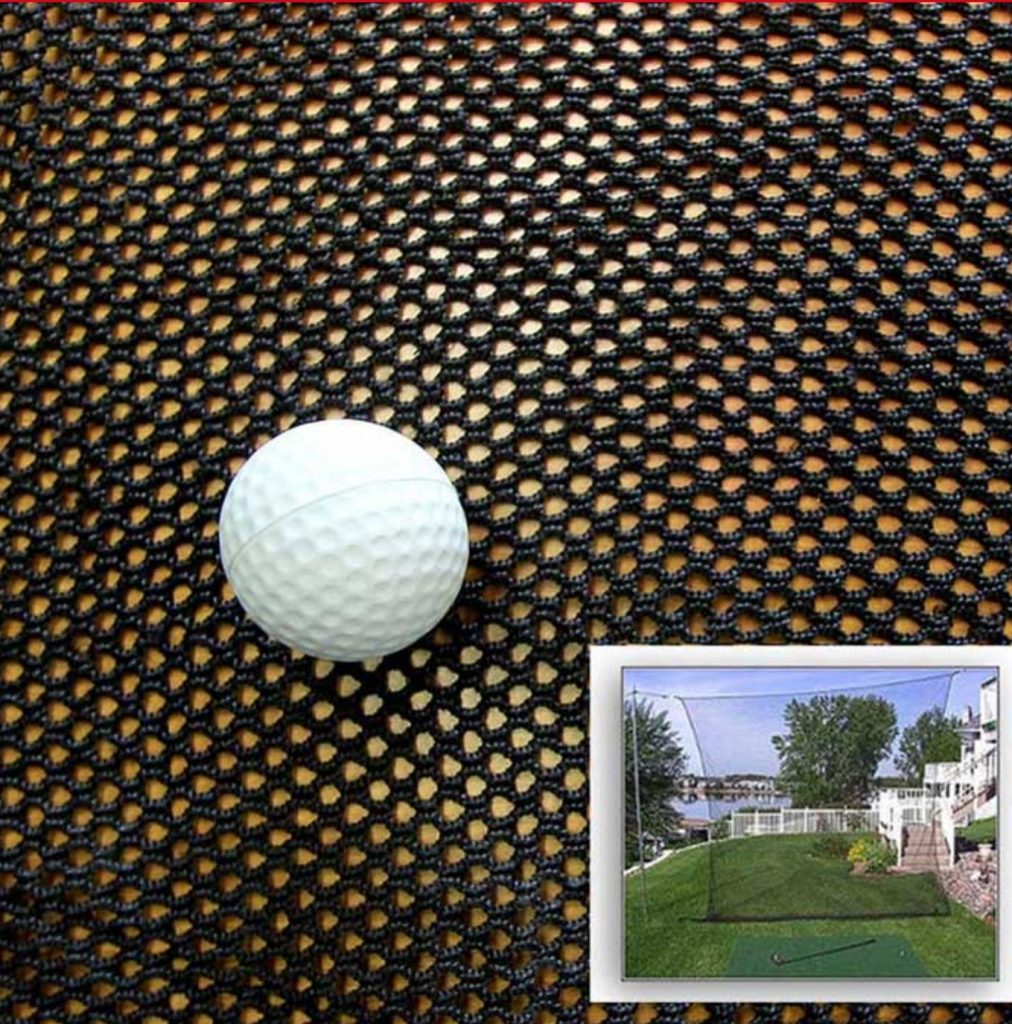 Your options for golf netting are as follows:
Very cheap netting, like garden bird netting, installed with usually several layers. This is the weakest type of netting and multiple layers (hung with weak tension) are required to stop the ball penetrating through the net when struck with speed.
Sports netting. There are nets specifically designed for ball sports like golf and baseball. These products are stronger and more durable than other types of net. FORB sell a lot of great products on amazon. Alternatively, check out Cimarron Sports.
Golf Simulator Specific Golf Nets – like Net Return Pro – These golf nets are designed to stop a golf ball reliably when struck from close range and even return it to your feet with no bounceback. The netting used is extremely high quality. You can even add an impact screen to some of these products to allow a projection surface!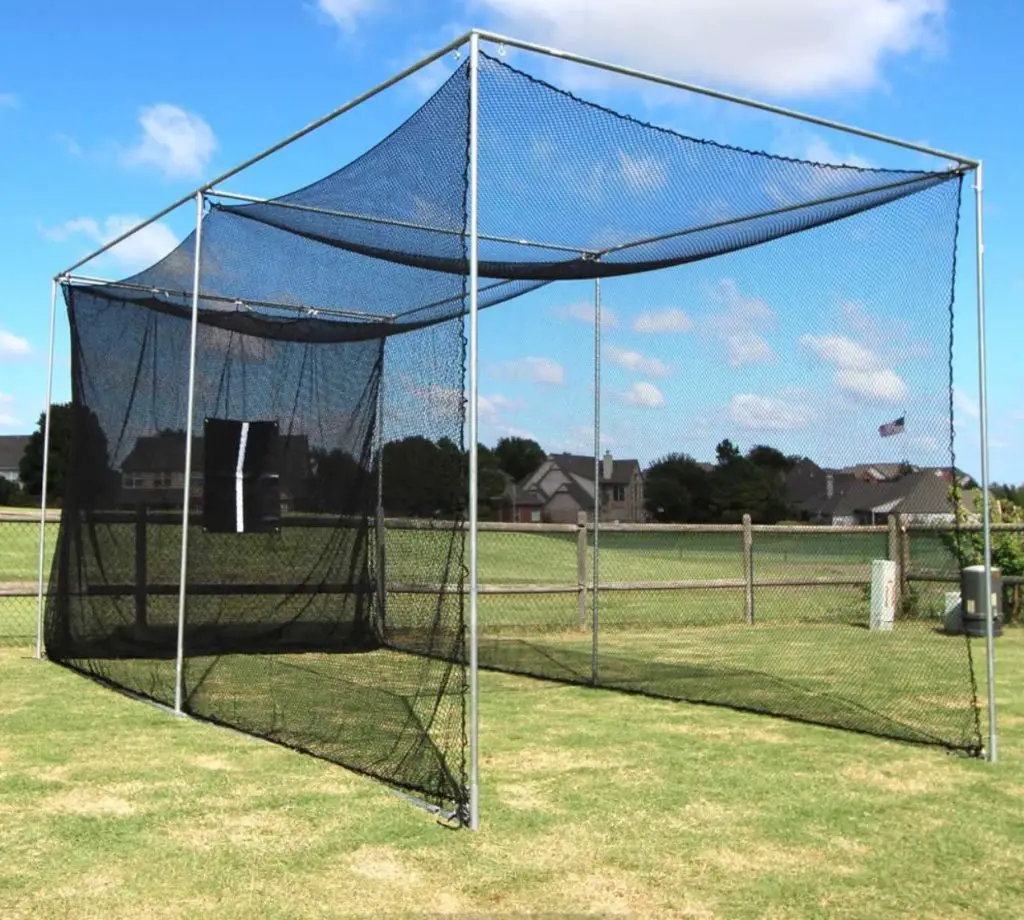 with thanks to Cimarron Sports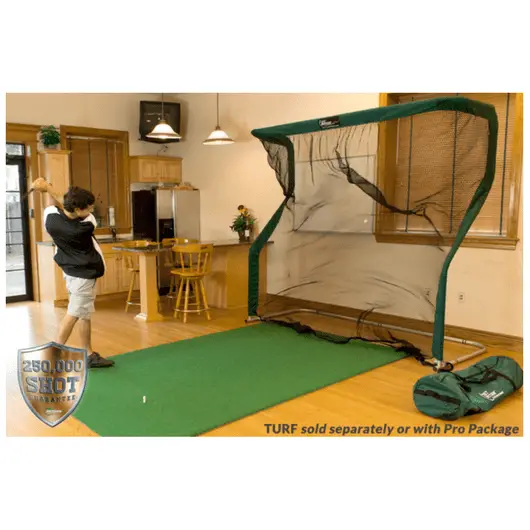 Golf Nets are Durable
The Net Return Golf Net is rated for 250,000 golf shots, which is a lot for absolutely any golfer.
At the cheaper end of the spectrum, you could use double or triple layers of a cheaper net material to stop your ball and they should last a long time. A cheap net is then easily replaceable once it does break.
Golf Nets allow home golf practice where you have major space problems
Golfers who know they don't have enough room to construct a home simulator should really consider the option of an outdoor golf net. You should definitely have an enclosed hitting bay with side and ceiling nets if you have neighbours, there'll be an awkward conversation to have if you shank one through a neighbour's window.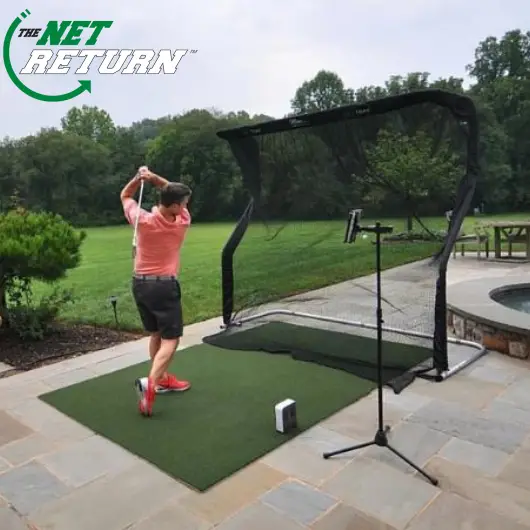 Golf Simulator Net Cons
Golf Nets don't usually allow the same immersion
Whilst there are a few net solutions that allow impact screens to be attached to them, I think if you go this route you should probably just construct a full impact screen simulator build.
You're unlikely to achieve the same levels of immersion in a golf simulator with a simple net setup. However, I would so much rather have a home setup with a launch monitor, swing camera and quality golf net than no golf practice option at all.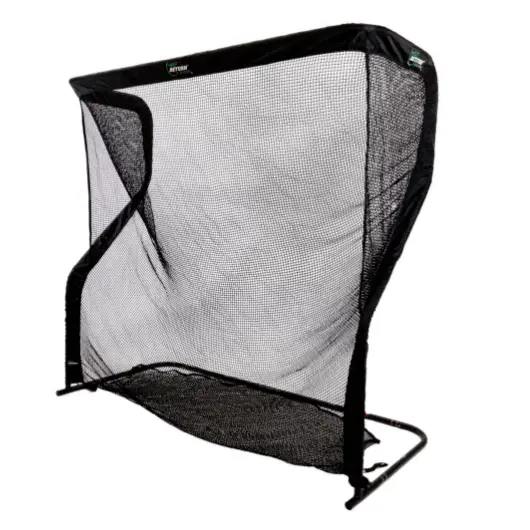 Impact Screen vs Net – Space Considerations
Many golfers just want to be able to hit balls at home and work on their swing, without spending thousands on a full simulator.
A golf net can be used in smaller spaces where you don't have a lot of room to construct a full golf simulator setup. As long as your can swing the club without hitting the ceiling or back wall, you should be good to go.
Nets usually have fewer bounceback problems than impact screens, which means you shouldn't need as much room length as a full simulator setup requires. Note though that bounceback is generally intimately related to the tension in the net and if you've made a DIY net solution, make sure it's not attached too tight.
Check out this great video from The Net Return on YouTube showing you how the Net Return Pro Net absorbs the energy of your ball's impact and returns it straight back to your feet.
Net based golf simulator setups won't require any of the space considerations associated with projectors. You won't need to worry about throw ratios or hitting your projector with a stray 5 iron.
What about Side Netting?
The functions of a either an impact screen or a golf net can be thought of as:
Stopping the motion of the golf ball after impact
Protecting the rest of your room, your equipment and yourself from ricochet and poor shots. You don't want to shank one into a side window!
Allowing an image to be projected (impact screens only)
The second function is why you either need a fabric or net enclosure, or side netting extensions to your golf net. Some golfers use just a single net without any side protection but this comes with a considerable risk of damaging your room. I recommend always adding sides to your indoor hitting area.
You may end up using both an impact screen and netting in your golf simulator setup.
Impact Screen vs Net – Cost Considerations
Impact Screen based golf simulator setups are usually more costly than those with simple nets. You have to consider the cost of both the impact screen and projector and also the enclosure on which you hang your screen.
Some nets are draped from a similar enclosure and others are standalone, so don't immediately balk at the cost of some of the standalone golf nets.
Many golfers will buy a golf net when they just want to practice their swing at home, they might not want or have the funds for a full golf simulator, meaning they don't end up investing in a launch monitor or any of the other features. This means you can start practicing golf at home with simply a good net and mat.
Impact Screen Buying Guide and Best Buys
I recommend the Premium Impact Screen from Carl's Place, which is a top-quality three-layer screen. You'll achieve the best possible image that your computer and projector can manage, while enjoying a durable impact screen rated for up to 15,000 shots.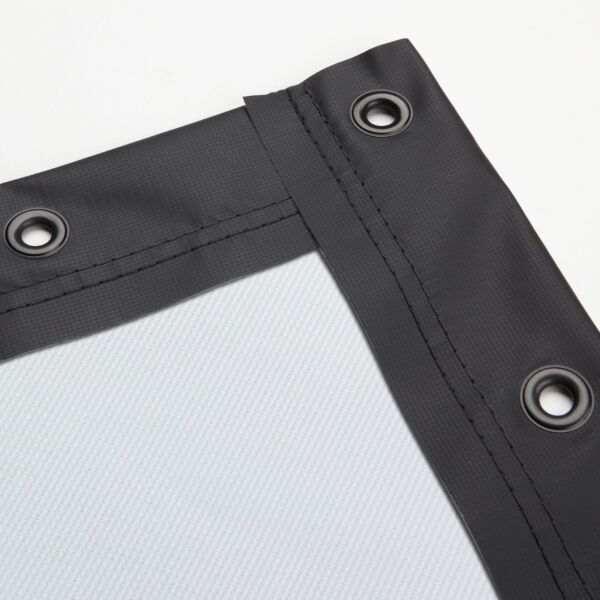 Just like with the cheaper (but still great) Preferred Impact Screen above, Carl's lets you choose a screen size by pre-determined aspect ratios and displays all the relevant sizing information. This makes it super easy to buy a screen that perfectly fits your space. You can also have your screen delivered with borders featuring grommets for easy installation with bungees and zip ties.
Check out my dedicated post all about how to hang an impact screen. There's lots of information about how to achieve the perfect balance of screen tension and an optimal image, whilst minimizing bounceback.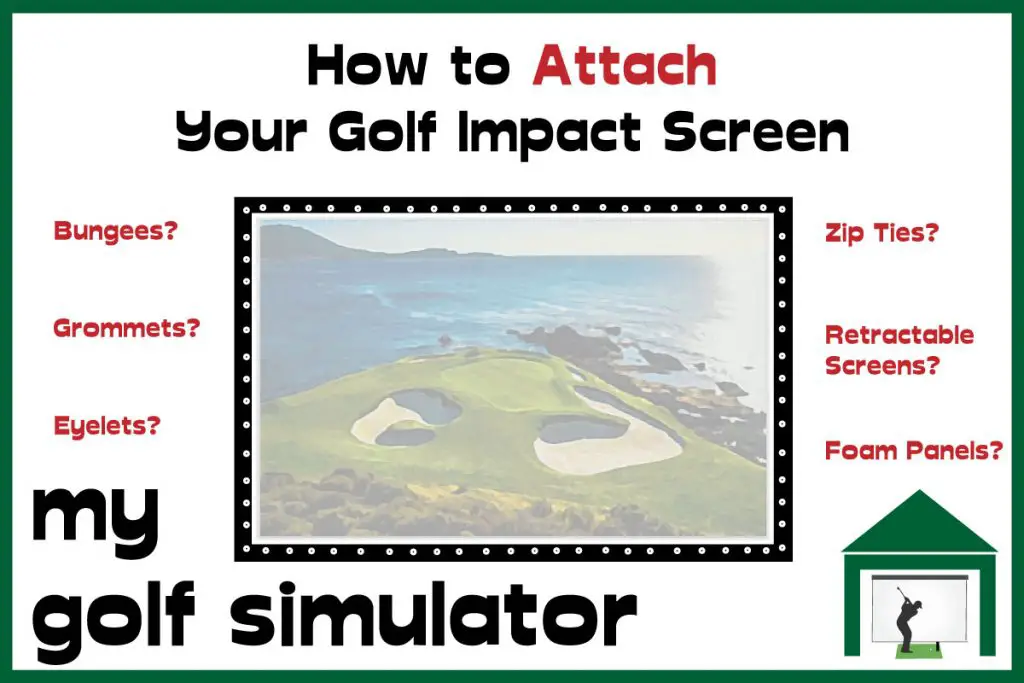 Golf Simulator Net Buying Guide and Best Buys
I recommend either going for a cube-style enclosure with netting on each side (like those found at many golf courses) or a premium golf net such as Net Return Pro which will return the ball to your feet on every shot.
Make sure you invest in some side net panels to help protect the rest of your room or your neighbors from the occasional shank.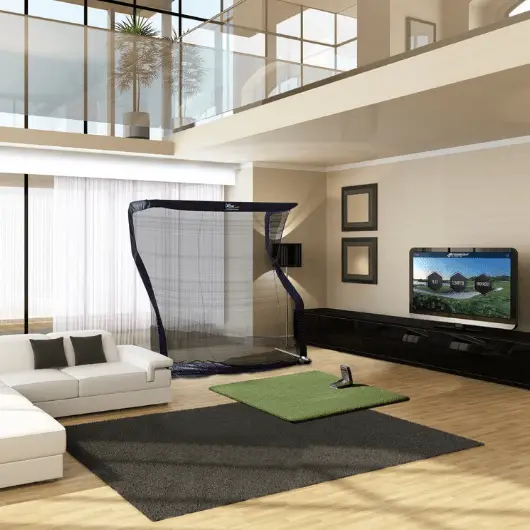 Conclusion – Who should choose an Impact Screen and who should choose a Golf Net
Golfers should choose a full golf simulator setup including impact screen, enclosure and projector whenever they have enough space and can afford it. You really can't beat the ability to immersive yourself in simulated famous courses like Pebble Beach and Augusta, whilst practicing your golf game in your home driving range.
A golf hitting bay with a net is a good choice for golfers on a much tighter budget, or those with extreme space restrictions. You may also wish to take this route and buy a portable golf net if you need to move your hitting area around.
I recommend the Premium (best) and Preferred (best on a budget) Impact Screens from Carl's Place for their top quality picture quality, bounceback profile and durability.
The Net Return Pro golf nets are amongst the best in the golf simulator market, the way they return the ball to your feet is just class. A simple golf hitting cage can be made outside your home for a low cost too.
Best of luck with your golf simulator builds!