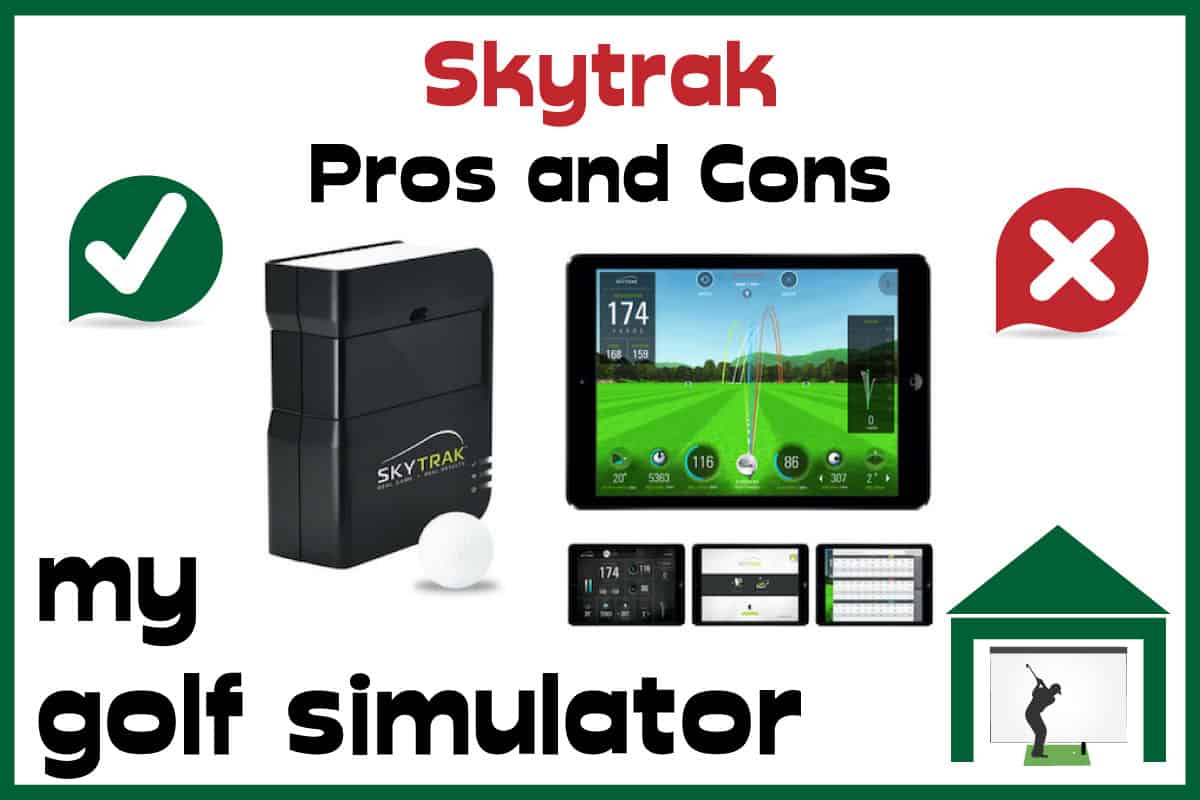 Are you thinking of buying Skytrak? By reading this article you will learn all the Skytrak pros and cons, so you'll be well placed to decide if Skytrak is the best investment in your golf game.
Skytrak is a fantastic launch monitor for the price, featuring accurate ball flight data, a solid app and wide simulation software compatibility. It is also portable and can be set up in tight spaces, plus you don't need special balls or stickers.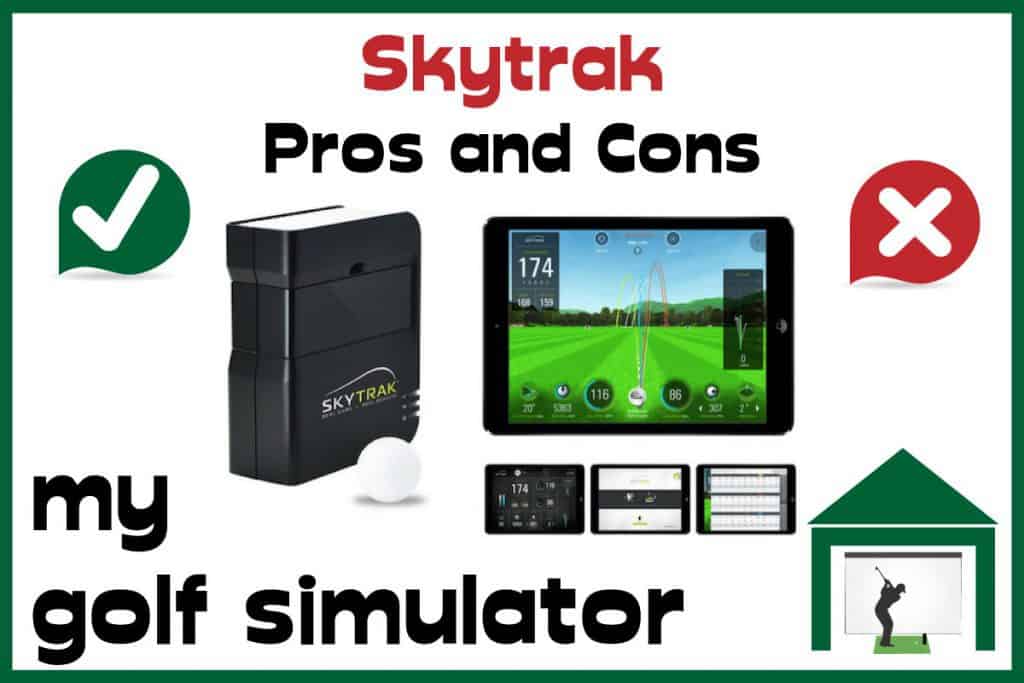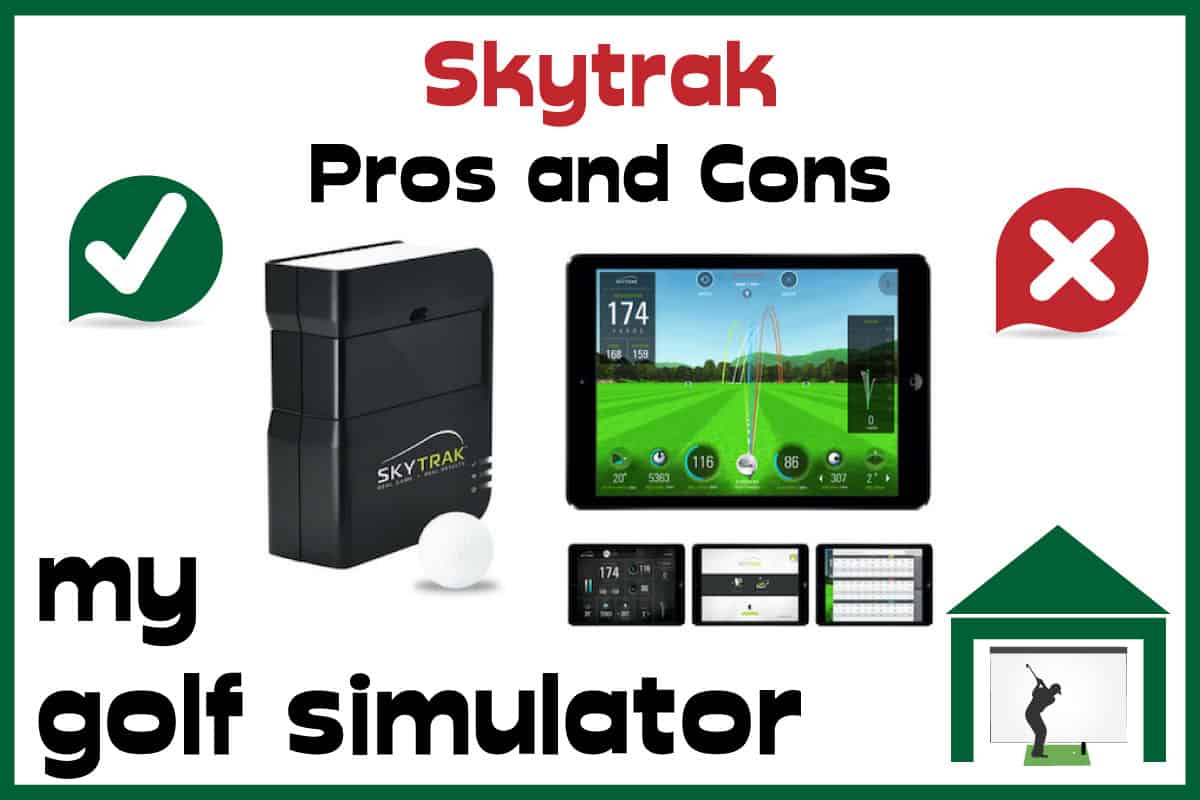 Skytrak Pros – What are the benefits of Skytrak?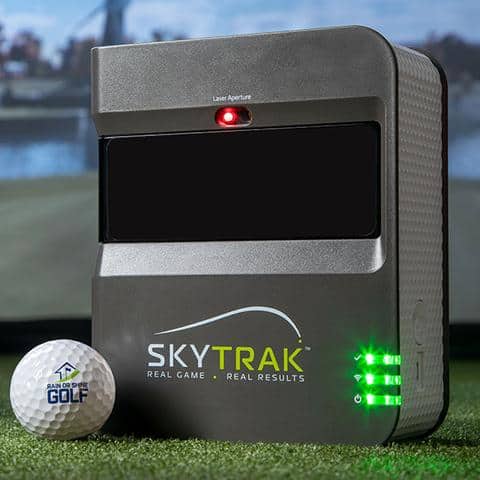 Skytrak Measures Accurate Ball Flight Data
With Skytrak you will get the following data directly measured:
Ball Speed
Launch Angle
Side Angle
Back Spin
Side Spin
Skytrak does not directly measure club head data but it is able to accurately model club head speed and smash factor.
The modelling software in the Skytrak app will take the raw data measured by Skytrak and calculate the following parameters, which all contribute to a very realistic 3D rendering of your golf shot:
Carry distance
Roll Distance
Total Distance
Angle of Descent
Distance offline
A 3D flightpath with apex height and hang time
Skytrak is able to measure the ball data above to within pretty impressive error margins, which means you can have confidence in your numbers!
Sky Golf publish the following error margins to describe Skytrak's accuracy:
Ball Speed: 0 – 200mph +/- 1mph
Back Spin: 0 – 12,000rpm +/- 250rpm
Side Spin: 0 – 4,000rpm +/- 250rpm
Launch Angle: 0 – 55° +/- 1°
Side Angle: 0 – 20° +/- 2°
Skytrak has been measured against the best launch monitors on the market too. Check out this comparison of conecutive 6 iron shots on Skytrak and Trackman and see how close the numbers are!
Skytrak Room Dimensions – Skytrak Can Fit in Tight Spaces
Skytrak only really needs enough room indoors for you to swing the club, which means it can fit in tight spaces. The launch monitor sits in front of the golfer level with the mat, and used high speed cameras to record the movement of the ball after impact.
Therefore it doesn't require extra room behind the golfer or to the side.
I recommend absolute minimum room dimensions for Skytrak of 12ft long x 10ft wide x 8.5 ft high, though you could get away with less room length if you're really tight on space. Still, larger spaces will definitely be preferable and enhance your golf simulator experience.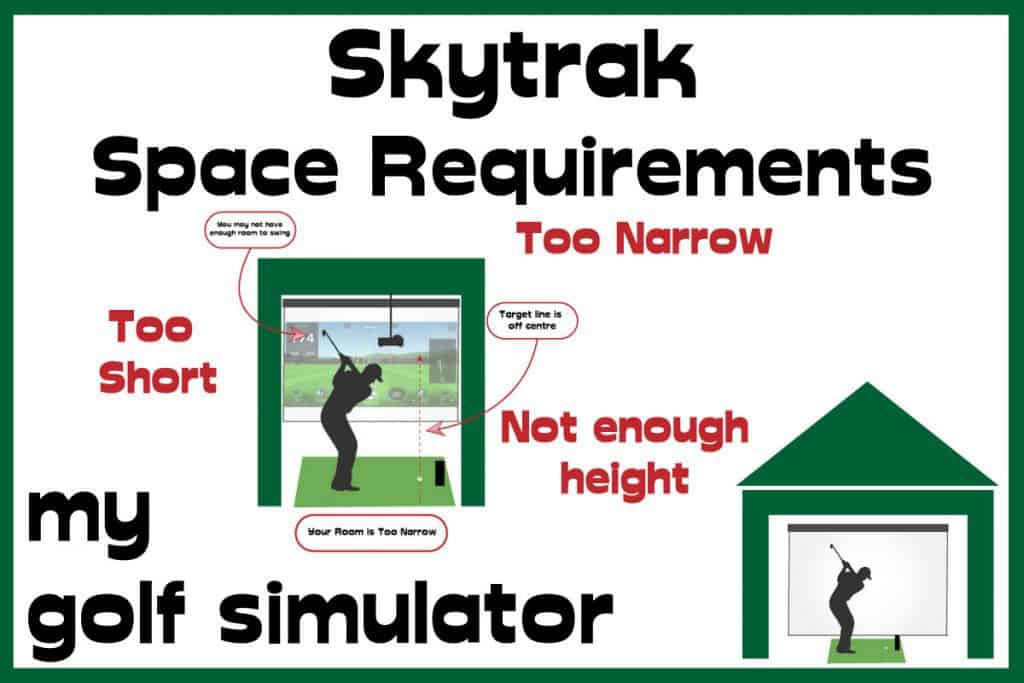 Skytrak users can choose to offset the target line to the right or left if narrow rooms mean they can't address the ball in the centre of the screen. A room of 15ft wide will mean golfers can achieve the all important centred aim.
The required room height is largely a feature of your height, the height of your golf swing and your tolerance to swinging in confined space.. I recommend 10ft for a more comfortable experience.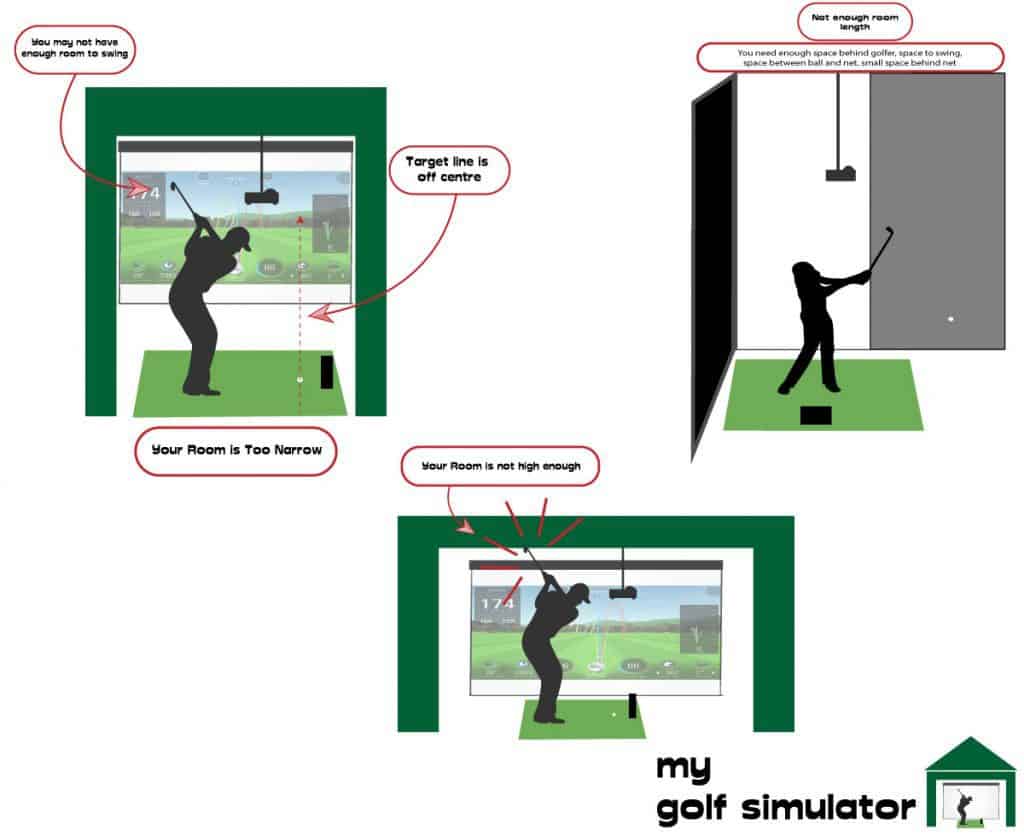 Cost and Value – Is Skytrak Worth the Money?
Skytrak costs around $2000 and is a direct competitor with Mevo Plus at the entry level in the market of top quality launch monitors.
For $2000 you get reliable accurate ball flight data and a portable launch monitor that boasts wide software compatibility plus a solid practice app. Skytrak allows a golfer to enjoy a full home golf simulator experience and practice all winter long to get his or her golf game in top shape.
You will need to pay a fee to one of Skytrak's subscription packages, I pay just under $100 a year for the Game Improvement Package.
Skytrak is a wonderful option for anyone looking to seriously get into the golf simulator world, though having said that I believe it will continue to suit the needs of golfers throughout their golf simulator journey.
There aren't many reasons why you would need to upgrade from Skytrak. Perhaps those golfers who are desperate for club head data may upgrade, or those with teaching needs, but the majority will use Skytrak for a long long time.
As a Skytrak owner I believe this launch monitor is worth every penny of the $2000 price tag. You won't find value like it across the entire launch monitor market.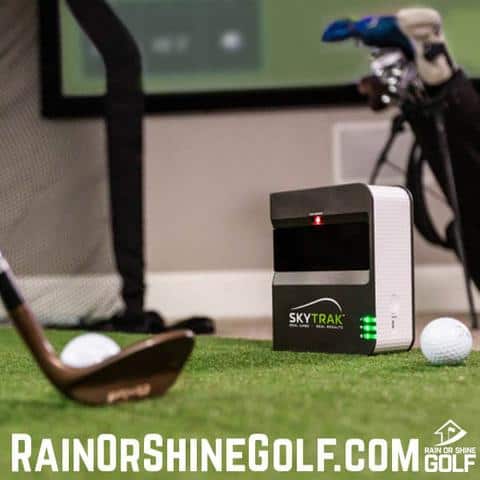 Skytrak is Portable and has Excellent Battery Life
Skytrak is a portable launch monitor, which means it can be easily taken outside your golf simulator room, either to the range, the course or a friend's simulator space.
Owners of Skytrak will benefit from a 5 hour battery life when taken out of your golf simulator room. Of course you can supplement this further with a portable power bank.
This is a lot more than the two hour maximum offered by Mevo Plus so you get more piece of mind that you won't run out mid practice session.
There are considerations to make when transporting Skytrak, for example:
Safe transportation and protecting Skytrak from damage
Quickly and confidently aligning Skytrak
Connectivity and use of the Skytrak app when out and about
Outdoor use of Skytrak
I cover these issues and many more in my dedicated post 'Is Skytrak Portable?' here.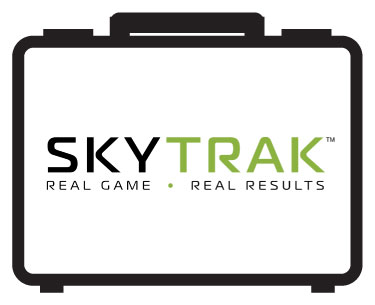 Whilst there are lots of things to get right when using Skytrak outside, once you're confident doing it it's really easy to take it down to the range and supplement your practice routine!
The Skytrak App
I love the Skytrak app!
Skytrak's application features lots of easy to navigate practice modes that you can use to improve your golf game. It looks visually stunning too with vibrant greens and blues. I also really like the readout of the ball flight data.
The Skytrak app features the following practice modes:
Practice Driving Range
Longest Drive and Closest to the Pin
Target Practice
Practice Randomiser
Environmental Controls (Wind, Elevation)
Multiple Shot Tracers and Camera Angles
Club Compare
Player Skills Assessment
Bag Mapping
Wedge Matrix
SkyGolf 360 Clound Storage of Shot Data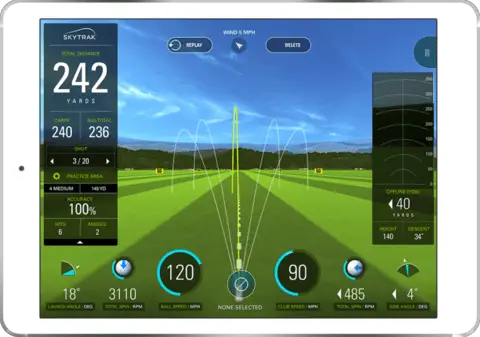 Bag Mapping and Wedge Matrix Features
One of the most common goals of golfers wishing to build a home golf simulator is becoming so well practiced that you know exactly how far you hit each club. Take it one steo further and you'll know your yardages for different types of swing, full swings and three quarter swings for example.
Skytrak's Bag Mapping feature allows you to map your distances against all the specific clubs in your bag. You can then regularly return to this and update it as you improve.
I discuss the Bag Mapping feature in much more detail in this dedicated post.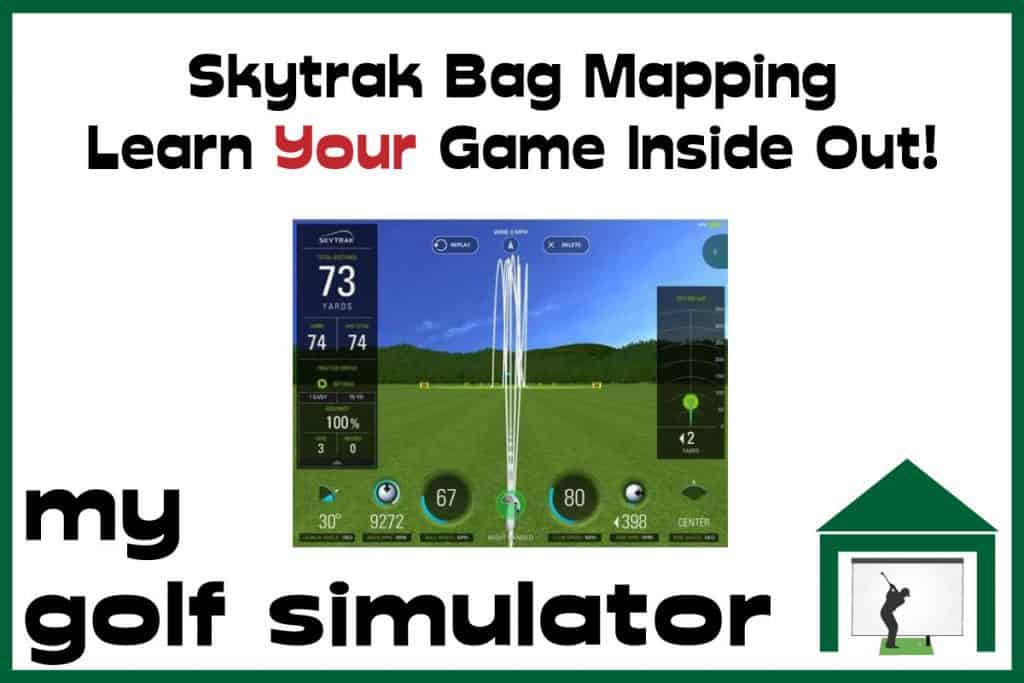 I recommend changing up your distance practice in your Skytrak golf simulator. The following practice types will help you keep variety in your practice:
Block practice to a certain distance
Practice randomizer – random distances to keep you on your toes
Skills assessment
Wedge Matrix
Bag Mapping
Simulated courses on third-party apps like TGC 2019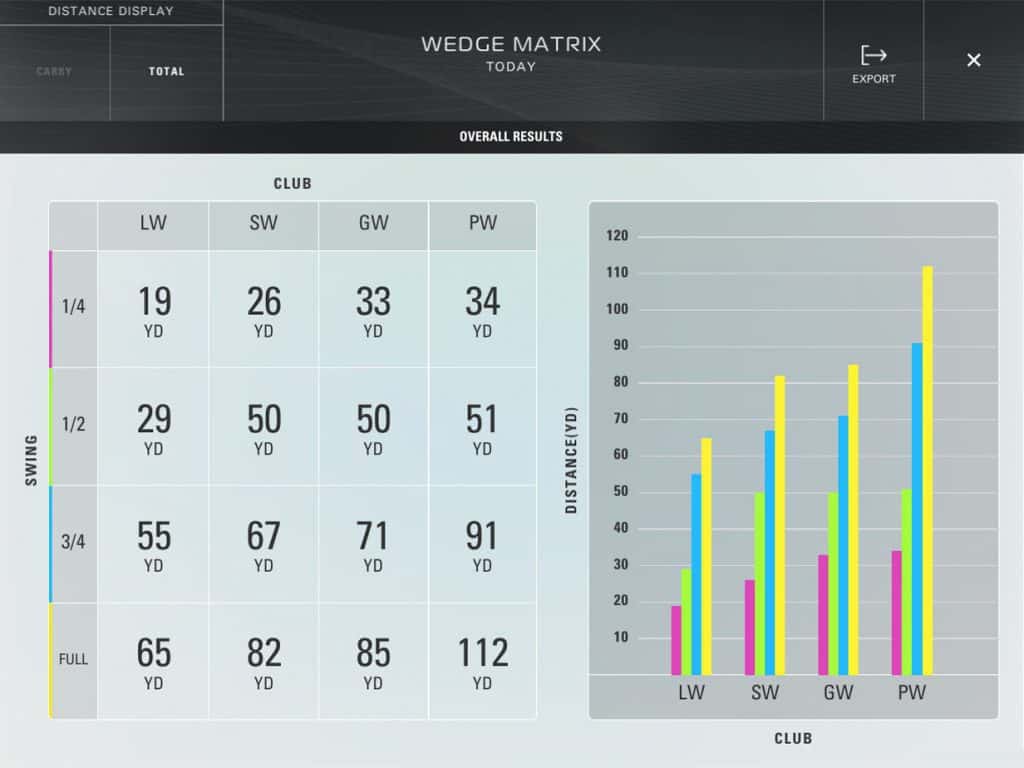 Spending time on block practice of a certain distance will allow you to ingrain the distances into your muscle memory, you can then plot your distances against your clubs and swings with Bag Mapping and Wedge Matrix.
Practice Randomiser will simulate the changing demands of shots on the golf course to sharpen your practice.
Short Game – Wedges and Pitch Shots
Skytrak's performance in the realm of the short game is a tale of two halves.
No golf simulator launch monitor does a perfect job at simulating short chip shots that bounce multiple times before rolling out. Skytrak does sometimes struggle to either read or accurately simulate very short chip shots, but it does a fantastic job at pitch shots and wedge shots.
Skytrak gives you what you need from a golf simulator launch monitor during short game practice, accurate distances and spin rates, and a range of practice modes.
Short chip shots around the greens are still best off practiced at the chipping green. As you can do so much more of your long game practice in your golf simulator, this frees up your 'real' practice time to work on chips shots at the course.
Shot Syncing
Skytrak syncs your practice data with the Sky Golf 360 Cloud feature, which is a brilliant practice and improvement aid you can compare practice sessions and see your improvement.
Your Skytrak will store your data locally when using direct mode and then upload it to your Sky Golf account when you're next online in Network Mode.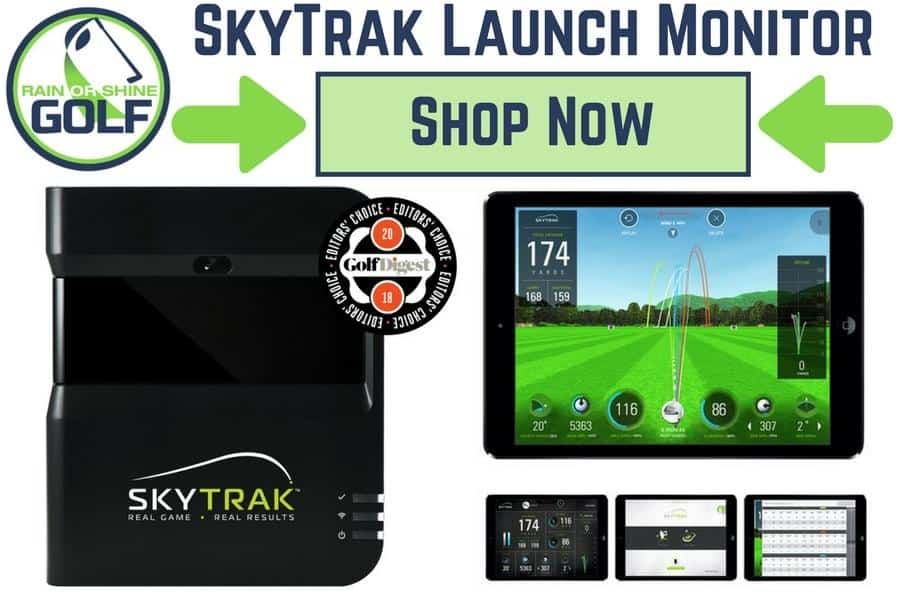 Skytrak does not require Special Balls or Reflective Dots
Unlike competitors such as the Mevo Plus and Uneekor QED, Skytrak does not require special reflective dots or specific golf balls to be used in your simulator.
You can just throw down your favorite premium balls and Skytrak will read the spin rate just fine. This is a massive plus point for many golfers who don't want the headache of having to sort out appropriate balls for different shots in their simulators.
Excellent Software Compatibility
Skytrak has an excellent range of compatibility when it comes to software. With Skytrak you can use the following software programs:
The Golf Club 2019
E6 Connect
Creative Golf 3D
World Golf Tour (on iOS)
Fitness Golf
Protee Play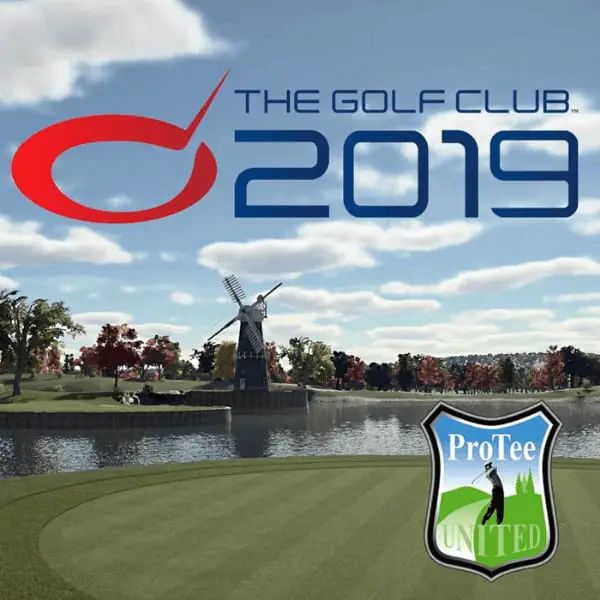 Of note, many people ask whether Skytrak is compatible with GS Pro. At the time of writing I don't believe you can use Skytrak with the GS Pro software program.
Support
Skytrak offers good support via a live chat feature on their website, though it is difficult to find contact email or telephone details outside of live chat.
You get a 6 month warranty as standard with Skytrak and you can also choose to protect Skytrak against breakdown with Sky Golf's Sky Care program.
I recommend joining one of the several large Facebook Groups for Skytrak owners, one I am part of is simply called 'Skytrak Users'. If you get stuck with something these groups can be a tremendous source of support.
You should also check out all the Skytrak content on this site, we cover everything from connectivity to space requirements and much more.
Skytrak Cons – What is Skytrak Not as Good At?
Concurrent Left and Right Handed Use
Skytrak is not the perfect launch monitor for right handed golfers wishing to play matches locally against left handers (or vice versa). To play a match you would need to move Skytrak from one side of the hitting area to the other between every shot. This is not practical.
However, right handers can play against left handed golfers online with ease using Skytrak. This is just a quirk of the way Skytrak is designed and the way that it actually works.
Mevo Plus may be a better choice for golfers wishing to play alongside those of the opposite handedness. This is a consideration if you're a right hander and you have left handed children for example.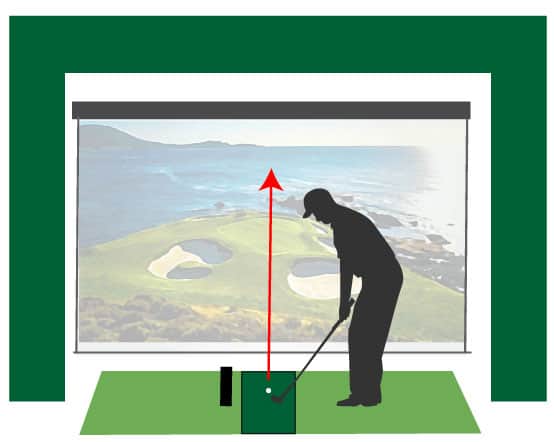 Shot Delay
Skytrak owners will notice a delay between the ball's impact and the shot rendering on the screen of around two seconds when everything is working well.
Two seconds is time it takes for the Skytrak system to record the high speed images of the ball's impact and initial flight, transfer this data to the Skytrak or third party application, for the software to process the data and render a shot in 3D and then this to be displayed on the screen.
A two second delay is acceptable for the vast majority and doesn't interfere with the immersion in a Skytrak golf simulator.
However, when this two second delay can escalate due to a slow connection or a not quite up to speed graphics card, or a range of other factors. Delays of more than four seconds can really start to bug some golfers.
We cover all the reasons a Skytrak delay may be too long in our dedicated post here.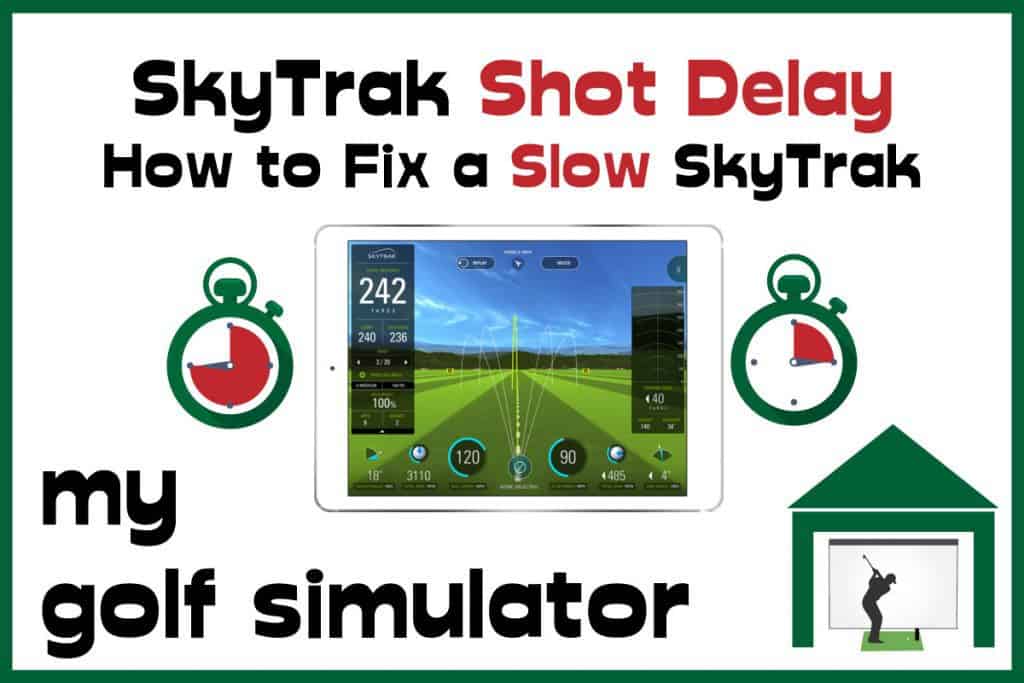 Short Game – Very Short Chip Shots
No golf simulator launch monitor is able to perfectly capture the intricacies of short chips shots, with the bounce and response of the ball at it lands on the green.
Skytrak is able to register shots from very small distances, say under 20 yards, but achieving immersive short shot practice requires being able to actually see the slope and grain of the green.
You can have your spin numbers accurately read by Skytrak from short distances, but most simulation software programs struggle to turn this into responsive chip shots similar to real life.
Try and hit a low zipping chip shot that checks and stops is pretty difficult using the combination of Skytrak and TGC 2019 that I have, though I'm pretty sure this is similar across the launch monitor and simulation software markets.
Skytrak – Neither Good Nor Bad
Putting
I believe Skytrak does a decent job at putting simulation, especially for the price. What you don't get with Skytrak is advanced putting data analysis, though this is really a feature of very high end launch monitors like GC Quad.
Again, it's hard to perfectly simulate uphill or downhill breaking putts with complete immersion. In real life you have to factor in the grain of the green as well as the speed and slope. Then there's any wind and debris on the green. There's just lots to think about and taking this to a simulator environment is hard.
Many people struggle to incorporate the right speed and break into their simulator putting, but this is a problem with golf simulator putting in general and not related to Skytrak itself.
When putting in Skytrak you're supposed to putt the ball in a straight line from the red dot position (many people have better results putting from just behind the dot).
Check out this demonstration of how to putt on Skytrak from the Golf Swing Systems Ltd Youtube Channel.
You can turn on 'straight putting' in the settings of TGC 2019 and other software programs which means all putts even those that break lots will be straight, so you only have to worry about your stroke and speed. There is also the option of having gimmes given to you from inside a chosen distance.
I find it hard to gauge speed when putting from long distance in my golf simulator but again, this is not Skytrak related but just a problem with simulator putting in general.
If you really can't get the hang of golf simulator putting you have the following options:
Turn on all putts as gimmes
Have a separate putting setup in your simulator, say using the turf between hitting area and screen and cut out golf holes
Using specialised Putting mats, training aids or simulation products (eg Putt Out or Ex Putt).
What else should you know about buying a Skytrak?
Skytrak Availability and Resale Value
It's been quite hard to get a hold of a new Skytrak launch monitor in 2020 and 2021. World events have meant that the supply of launch monitors from factories has dramatically slowed, mainly due to problems at several points in the supply line of parts.
This has meant that used units have been selling for several hundred dollars more than the price of a new unit.
Once you have your Skytrak, if you look after it well it will hold it's value and you should expect an excellent resale value, especially when demand outstrips supply.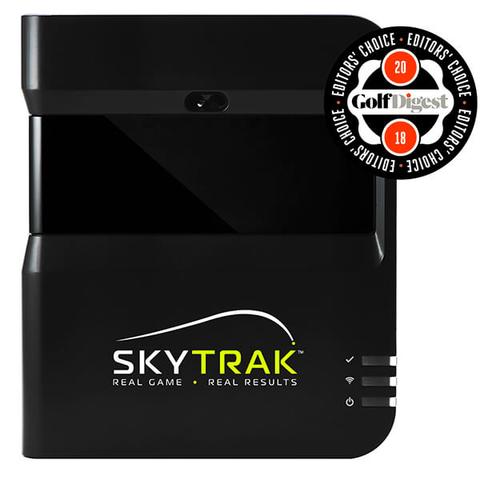 Skytrak Connectivity
Skytrak connects to your chosen device via three different methods, directly via its own wifi connection, over the internet in Network Mode, or via cable in USB mode. You can use a personal hotspot on your phone to connect to Skytrak outside where connection options are limited too.
Check out our range of articles all about Skytrak connectivity here.
You can use Skytrak on either a PC, tablet or mobile phone so there are multiple options for golfers from a technology perspective.
Skytrak vs Competitors
Skytrak vs Mevo Plus
Skytrak's main competitor at this price range is Mevo Plus which is a radar based launch monitor released in early 2020.
Skytrak beats Mevo Plus in many categories and comes second in others. I have an in-depth comparison across 27 points here, so check it out if you're considering Mevo Plus too!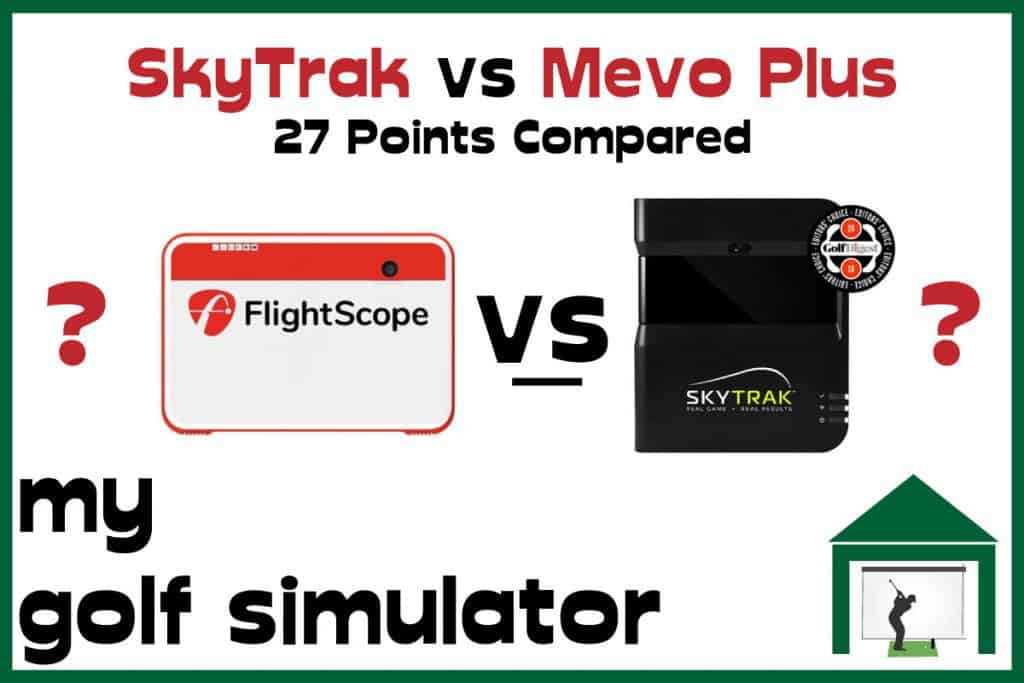 Skytrak Package Deals
You can find great deals on package golf simulators, including enclosure, impact screen, projector, and Skytrak itself over at Shop Indoor Golf!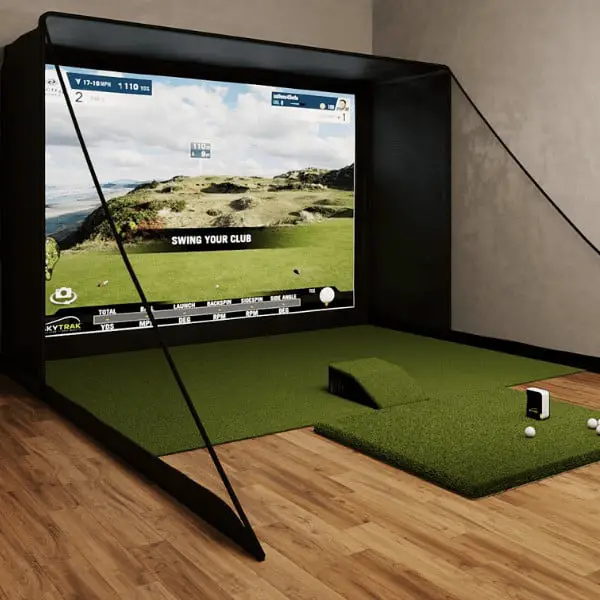 My Skytrak Review – Is Skytrak Worth the Money?
Yes, Skytrak is definitely value for money for a fantastic launch monitor at the $2000 price point! You get so much launch monitor for your money, including accurate ball flight data, a solid app with excellent practice features and broad simulation software compatibility.
Skytrak was my first launch monitor and I love it! You can pick up a Skytrak at an affordable price and will suit the golf simulation needs of the vast majority of home golfers.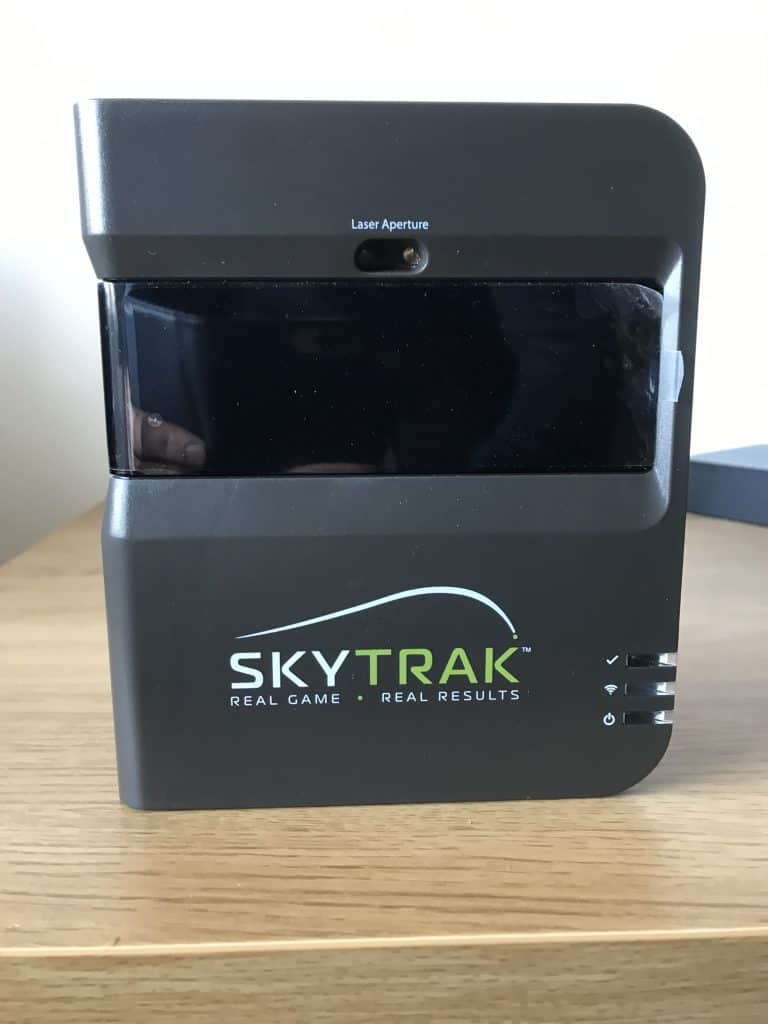 You may need to consider an alternative launch monitor if you need to accommodate left and right-handed golfers in the same practice session or you have low tolerance to shot delay. Similarly, you may need to spend more money on a higher-end launch monitor if you really need club head data.
Everyone else will find Skytrak a solid launch monitor that compares with premium models on the market and at a fantastic price point.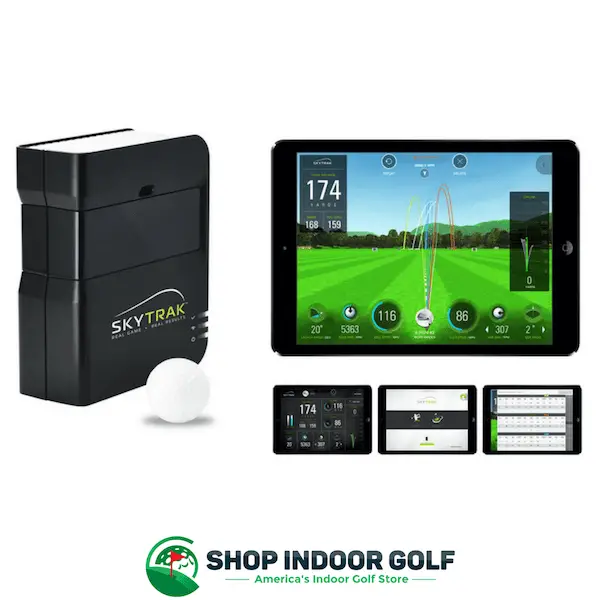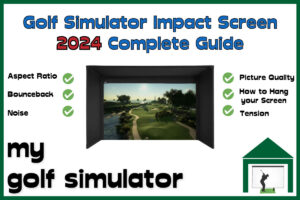 Golf simulator Impact Screens are crucial for any comprehensive simulator setup. In this guide, I'll outline the essential factors to consider when choosing a golf simulator screen. Carl's Place offers the top golf simulator screen on the market in 2024. This triple-layered, cushioned screen showcases 4K resolution images with exceptional clarity and minimal light bleed.…
Continue Reading

→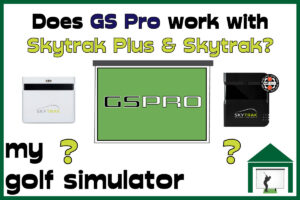 Skytrak Plus is the exciting successor to the former king of the launch monitor market. GS Pro has emerged as the dominant force in the realm of golf simulation software, but do they work together? There is no official integration between GS Pro and Skytrak or Skytrak Plus, however, the golfing community has found a…
Continue Reading

→
Hello! My name is Alex and it is my mission to bring you all the information you need to build your own home golf simulator! I play off a 6 handicap but struggle to get enough practice time in both with work and the cold weather in the UK. I always wanted to have my own golf 'studio' at home. Then a few years ago I learned about golf simulators. Once I'd had my first go on one I was hooked! I knew I wanted my own!
Hello! My name is Alex and it is my mission to bring you all the information you need to build your own home golf simulator! I hope mygolfsimulator.com helps you on your journey to better golf at home!
On this site, you'll find articles on all aspects of building a golf simulator. I will also link to other sites where you can buy some of the simulator components. Some of these links may be affiliate links, which means if you click them I gain a small commission at no extra cost to you. This really helps out me and my site so thank you in advance! mygolfsimulator.com and all related social media accounts are property of Awonline LTD.