Are you thinking about investing in an affordable, accurate radar launch monitor for your golf simulator? You absolutely have to consider the FlightScope Mevo Plus as one of your options. We'll show you the Mevo Plus pros and cons so you know whether it's the launch monitor for you.  
The Flightscope Mevo Plus is a fantastic radar-based launch monitor that collects a range of data, thrives outdoors as well as inside, and can be purchased at a very competitive price. You will require a larger indoor space than similar competitors and have to use metallic stickers on balls inside.
Here you'll find all the FlightScope Mevo Plus Pros, Cons, and an Ultimate guide on this fantastic radar launch monitor.
Additionally, the new Mevo Plus Pro Package and Fusion Tracking update have elevated the Mevo Plus to a new level in 2022!
We explain all you need to know about FlightScope the company, the technology this launch monitor employs, how much space it needs, what data it records (and how accurate it is), the software you can use (and hardware too), a look at portability and whether the Mevo Plus is right for you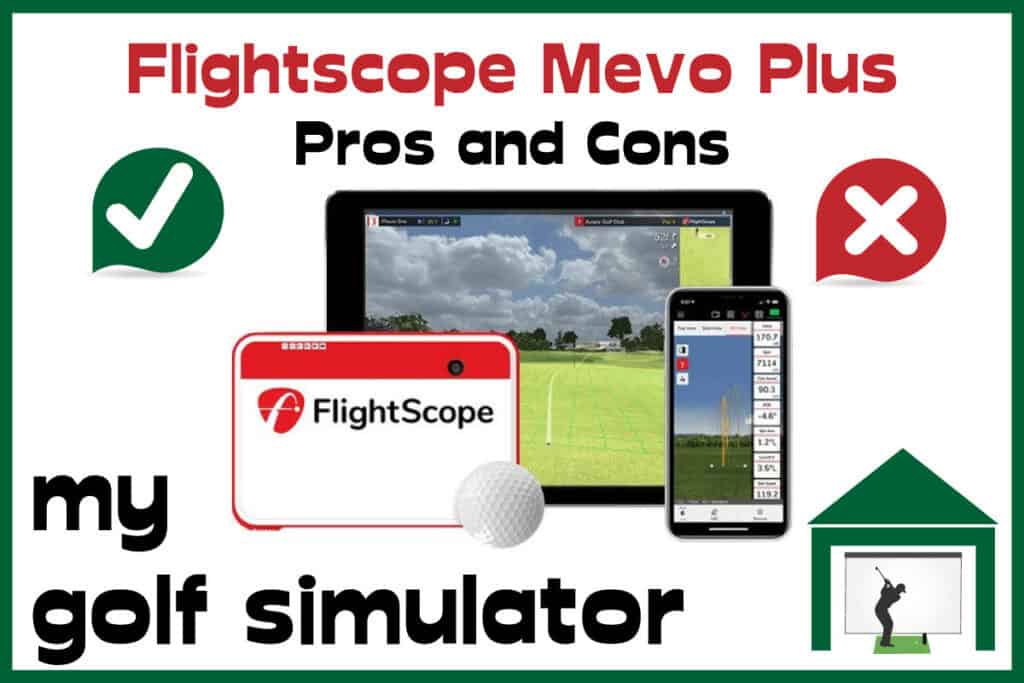 FlightScope Mevo Plus Pros and Cons
The Pros – What are the benefits of the Mevo Plus
The Mevo Plus records a wide range of ball flight data
So, the important bit, what data can the launch monitor record and what isn't available that is available on the Mevo?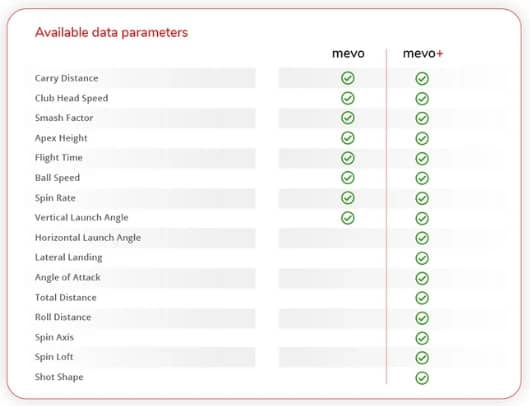 Flightscope Mevo Plus can can easily monitor: ball and club speed, smash factor, carry distance, roll distance, total distance, lateral landing, shot dispersion, shot type, distance to pin, skills score, vertical launch angle, horizontal launch angle, angle of attack, spin, spin axis and spin loft.
What you won't get with Mevo Plus (yet – until the Mevo Plus Pro Package is released), is data regarding the club face and club path. These include parameters such as face-to-path, face-to-target, club path, dynamic loft, swing plane horizontal, swing plane vertical, low point, curve as well as in-depth chipping data or putting data.
Click the link above to see the big club data upgrades on the Mevo Plus Pro Package in 2022!
Higher price point launch monitors will also show you where on the face you impacted the ball, which is great for improving ball striking. The Uneekor launch monitors do this beautifully.
If you're not sure what each of these terms mean, check out my dedicated post all about launch monitor data parameters.
Of course, this is more than enough data for the vast majority of golfers to spend a lifetime working through in order to perfect their game. The FlightScope Mevo Plus delivers an astonishing level of insight when you consider the relatively low price point.
How does the FlightScope Mevo Plus work?
There are two main types of launch monitor – the first is a photometric monitor and this uses a high-speed camera to capture lots of images in a very brief space of time which can then be used to analyze a the ball impact and gather data from there.
The FlightScope Mevo Plus, however, is of the second type of launch monitors and it uses 3D Doppler radar to ascertain a similar data set. This data can also be combined with some limited camera features to provide even more accurate insight into your game.
The radar works by generating radio waves and then monitors for their return when reflected off the golf ball. It knows how far away the ball is by exploiting the "Doppler effect". This is something that you can easily observe yourself – when an emergency services vehicle approaches you the pitch of the siren seems to get higher and then as it moves away from you it gets lower.
This is true, even though the frequency of the sound never actually changes. The Doppler effect is the observation that as things get closer to us, the frequency appears to increase and as they get farther away it appears to decrease.
Does the Mevo Plus have a built-in camera? Yes, but not for the purposes of providing "Fusion Tracking" like the X3 does, you'll need to provide a camera in the form of a smartphone to use more in depth swing analysis features. The built-in camera is there to help align the sensor on the launch monitor, though can be used simply to view the swing in medium resolution within the FS apps.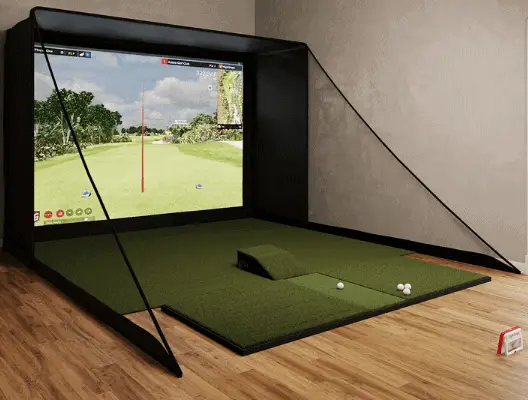 The Flightscope Mevo Plus is extremely Portable! It thrives outside!
Portability is a genuine consideration when you buy a launch monitor, after all, it's great to have the option to use your device indoors AND outdoors.
Well, the good news is that it doesn't get much more portable than the Mevo Plus, it weighs only a single pound (465 grams) and it's 6.8" x 1.2" x 4.6" (174 x 31 x 118mm) in size. It won't quite fit in your pocket but it's a fairly easy thing to do to put in your golf bag.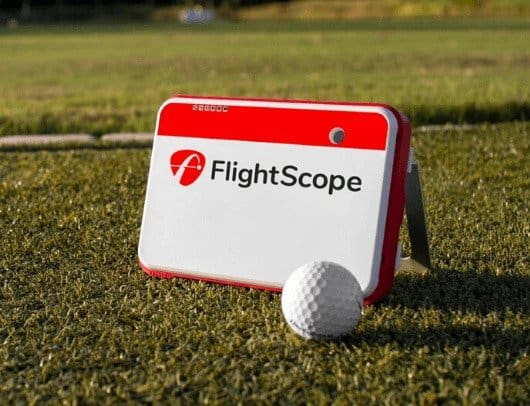 You can take your Mevo Plus to the driving range, the practice area or the golf course itself. You could even use it in a field! Mevo Plus will work in a range of lighting conditions. Mevo Plus operates best outside when you have an unobstructed ball flight, so hitting a full shot and not hitting into a net. This allows Mevo Plus the entire ball flight to calculate data, rather than just the first few feet.
Simply place the device about 7-9 feet behind the tee, follow the onscreen instructions as needed and you're ready to golf with it. Check out our post on Mevo Plus Space Requirements for more information about exactly where to place it.
An added bonus for outside use is that you don't need to use the metallic dots when using Mevo Plus outside! See later in this post for more on the metallic dots and why you need to use them indoors.
Mevo Plus allows you to video your shot too
Mevo Plus features 'Swing Video Integration'. This allows your shot data to be overlaid next to you and your swing. Check out this promotional video from Flightscope explaining how it works.
This can be a great way of quickly assessing your swing on camera and seeing which little swing changes make for faster club head speed and other data changes.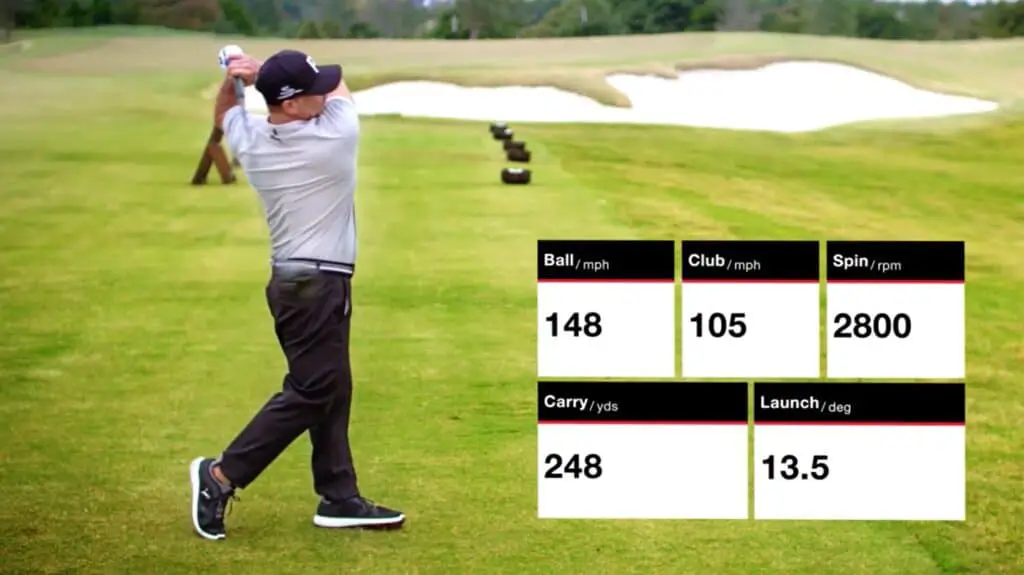 Mevo Plus has 17 practice ranges included
The best way to practice a lot is to practice with variety! You need to have new things to explore in your golf simulator. How does 17 driving ranges sound?
Mevo Plus gives users access to both the FS Golf and FS Skills apps and also 17 driving ranges!
You even get access to 5 golf courses as part of a limited e6 Connect program for free! That's a lot of free simulated golf to get through even before you start a a paid subscription to a full premium simulation program.
Mevo Plus also has a variety of simulation software options
What Software Can You Use With the Mevo Plus?
You get free access to the launch monitor suite of tools – assuming your device supports them (see the next section for details) including FS Mevo Golf, FS Golf and FS Skills. This is better than many other manufacturers that lease their launch monitor software.
Americans and Europeans will be happy to learn that you can choose both Imperial and Metric systems for readouts.
However, you should be aware that while these are free, if you want to store more than 3 videos in any given month – there is a fee for the cloud storage or alternatively this can be packaged into FlightScope's extended premium membership offerings.
If you intend to broaden the scope of your launch monitor into a full simulator system then you can choose one of two compatible systems if you have a PC, and one if you prefer a Mac.
E6 Connect by TruGolf is a world class simulator package with 12 courses (which change on a rotating basis) and plenty of practice areas, online events and peer-to-peer play. You can also choose an expanded version, which costs more, and brings over 90 courses and guarantees access to all their content, all of the time.
This is compatible with Mac OS, iOS and Windows and will run on a medium spec hardware device. The subscription is $300/year for the basic and $600/year for the expanded version. There is also an app but not for Android devices.
If subscriptions are not your thing and you don't need Apple support, you might want to consider The Golf Club which costs $970 as a one-off fee and supports more than 150,000 courses! It also brings a lifetime of free updates, the facility to make your own courses, take part in tours and tournaments and much more.
In addition, you can integrate this launch monitor with Creative Golf 3D, FocusBand, and Awesome Golf.
Are There Any Hardware Compatibility Issues I Should Be Aware Of?
You can only use the FS Skills app with Android though the FS Mevo Golf and FS Golf applications work fine on both Android and Apple systems.
However, if you want to use the E6 Connect simulator on a tablet or a smartphone rather than a computer, you should be aware that is only compatible with iOS devices and there are no current plans to release an Android version.
We've also heard that there was previously some compatibility problems using the FlightScope Mevo Plus with AMD-based PC hardware and there are several sites recommending that you only use Intel-based hardware. However, this does appear to be resolved now (though I've not tested this).
Mevo Plus will be well out of the way of the golf swing
Unlike photometric launch monitors such as Skytrak, Mevo Plus does not need to sit directly behind the ball. Some golfers can be distracted that Skytrak is quite near the ball, especially when hitting driver. This can be worse for golfers with an over the top swing!
Mevo Plus sits behind the golfer in line with the target. This is well out of the way and can be helpful for those with narrow golf simulator rooms.
There are No Mandatory Recurring Fees with Mevo Plus
Mevo Plus has no mandatory additional recurring fees to pay. This is in contrast to Skytrak, which charges at between $99 and $199 per year to use anything except basic driving range features.
You get access to a free version of the cloud platform at Myflightscope.com when you buy Mevo Plus. On here you can store all your shots and swing videos. You'll probably run out of space if you use this regularly though so you can choose to buy more space and store all your practice data there for easy access. This is a great game improvement tool!
With Mevo Plus you get access to FS Golf and FS Skills apps as well as 17 practice ranges AND access to part of the e6 Connect software package. You get free access to 5 courses and a fun mini game.
I would recommend purchasing a full simulation software package though, especially if you're building a full indoor simulator complete with projector and screen. Check out TGC 2019 here at Shop Indoor Golf!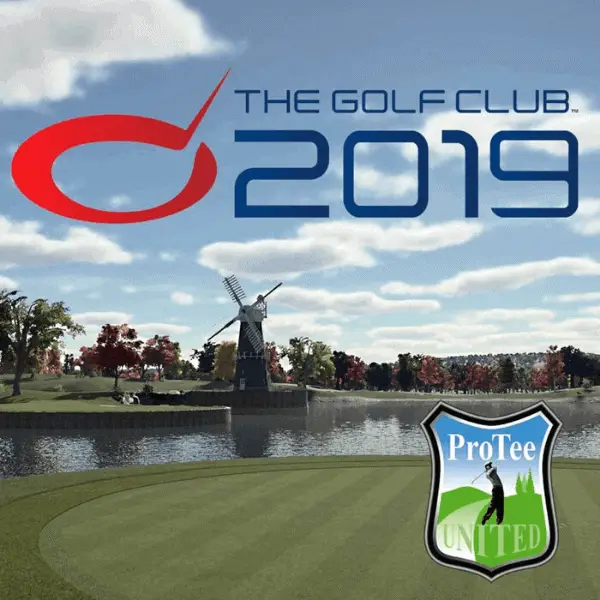 Mevo Plus tracks your Short game well
The Mevo Plus is capable of accurate and most importantly, fun short game practice.
I always need to make my short game and putting practice fun because then I'll do it for longer. More practice is usually a good thing provided you take steps to make it competitive against yourself and track your progress.
Take a look at this video from Golf Simulator Videos on Youtube, showing you short shots on Mevo Plus (using e6 Connect). I think it works really well!
Mevo Plus allows easy Left Handed Use
Mevo Plus sits behind the golfer facing the screen. This means it will read the shot if both a right hander and a left hander want to play against each other in the same session.
This is as long as you have a wide enough room to allow both golfers to make a swing from the respective hitting areas. You will need a wider room still to allow both left and right handed golfers to have a target line aimed at the centre of your impact screen. I'm talking about 15+ feet here.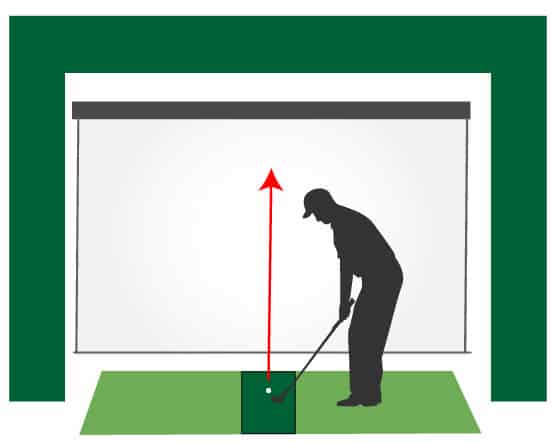 Head over to Rain or Shine Golf and check out the True Strike Academy Mat which is great for this purpose!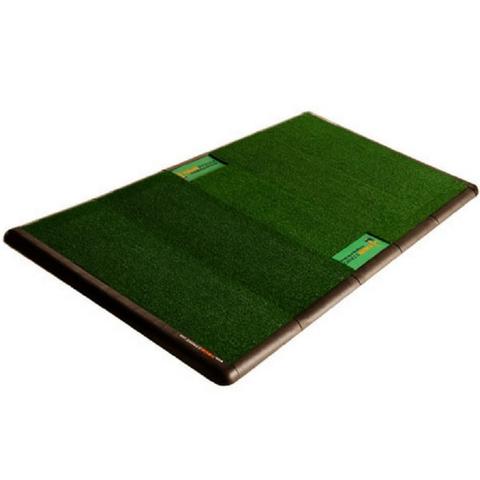 Mevo Plus comes with a 12 month Warranty
Mevo Plus' 12 month warranty is twice what you'll get from Skytrak which is definitely a positive! You can choose an extended warranty package when you purchase your Mevo Plus.
The Cons – Who is the Mevo Plus not suitable for?
Do You Need To Use Special Golf Balls with the Fightscope Mevo Plus?
One thing that you may, or may not be aware of, is that many launch monitors struggle to measure the spin of the ball and that means that you can be required to buy special golf balls, in order to get the most out of the launch monitor.
Well, the FlightScope Mevo Plus is similar but not the same as that. If you want spin data from your shots while operating indoors, you will need to use metallic stickers on your golf balls, but you are free to choose which balls you use.
This is only true, however, in spaces where you are limiting the flight of the ball. If you're golfing outside with no restrictions on ball travel – then the Mevo Plus will measure spin just fine without any need to use these stickers.
FlightScope Mevo Plus Space Requirements
One important consideration whenever you decide to use the FlightScope Mevo Plus in an indoor environment or a place where space is constrained is the minimum amount of space you need to allow for the launch monitor to function properly.
If you don't allow for the minimum amount of space then you will find that though your launch monitor appears to function correctly, the data that it generates is completely inaccurate and certainly won't be usable to improve your golf swing.
So, indoors you will need a minimum of 8 feet between the sensor and the tee and a minimum of 8 feet ball flight distance in front of the tee. You will also need a clearance height of about 9-10 feet (this is not specified by FlightScope but is typical for all launch monitors).
Of course, outside, you just need to place it 7-9 feet behind the tee, you shouldn't need to worry about height clearance and the ball flight distance.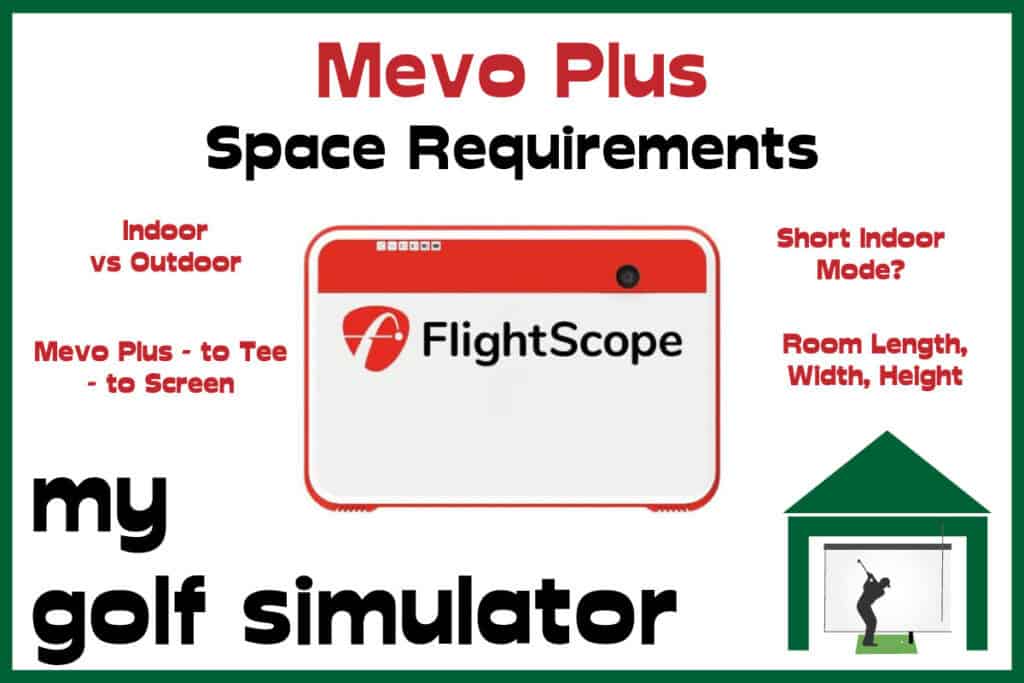 Mevo Plus doesn't record advanced club data – yet!
The standard Flightscope Mevo Plus does not record the following data:
Face-to-path,
Face-to-target,
Club path,
Dynamic loft,
Swing plane horizontal,
Swing plane vertical,
Low point,
Curve,
In-depth chipping data,
In-depth Putting data
If you wish to take advantage of data parameters such as these, you'll need to invest in a premium launch monitor, such as Flightscope's flagship model, the X3. However, see the end of this post about the upcoming massive upgrades coming to Mevo Plus in early 2022!
You can also check out the excellent Uneekor launch monitors, the EYE XO and QED. They provide a wide range of data and have been very well received in the golf simulator market!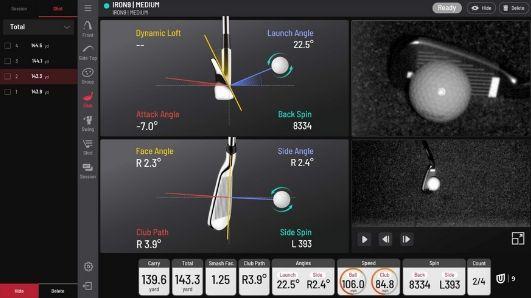 Radar Launch Monitors can sometimes struggle to recognise putts
Flightscope are working on this and have said that in the future they aim to try and improve putting as best they can. Mevo Plus will still allow you to putt in your golf simulator, and it will do it well on longer putts.
Short putts give the launch monitor less time to catch the ball spinning though so there can sometimes be some missed shots. You need to make sure your putting area is nice and level to maximise the changes of it working. You can always simulate the putts though to get through a round quicker.
What is the Battery life like on Mevo Plus?
The battery on Mevo Plus is okay but not stellar! Skytrak can often last 5 hours or so on charge, whereas Mevo Plus will last 2 hours at the range or 1.5 hours when using full simulator programs. This is fine indoors but you could run out of juice when using Mevo Plus outdoors.
Just pair it with a good power bank and you'll be fine though!
What else do you need to know about the Flightscope Mevo Plus?
What Factors Can Affect the Accuracy Of The FlightScope Mevo Plus?
While the Doppler 3D effect is a useful thing when building a golf launch monitor, it also has its drawbacks and you can find that environmental factors severely impact on your Mevo Plus's accuracy.
You want to make sure there's no fluorescent flickering lighting, heavy machinery, or anything rotating (think fans or air con) nearby. The reason that these things interfere with the operation of the device is that they actively interfere with the return of the signal generated by the launch monitor and thus, when the signal is captured back at the monitor, it's not giving a true picture of what's going on.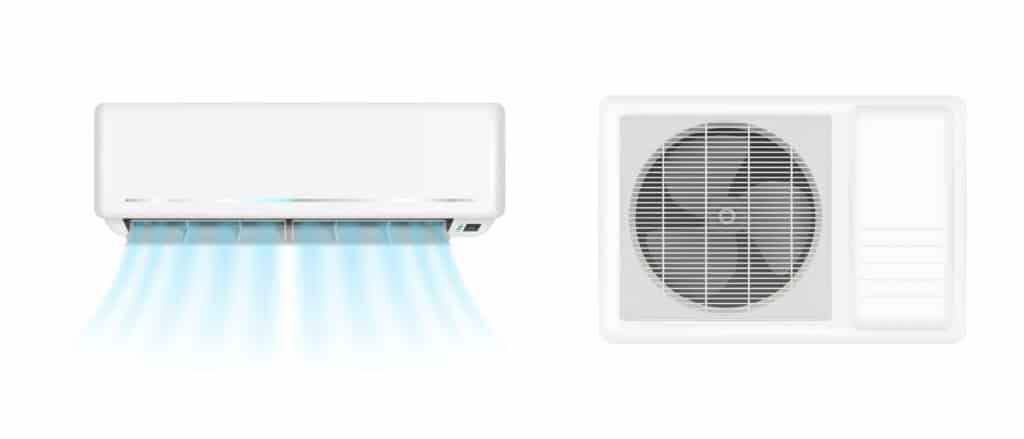 However, you don't need to worry about having the right amount of ambient light. Radar doesn't care whether it's the middle of the day or the middle of the night and it will track your swing and ball and provide data even in the dark! Just avoid a light that flickers, this has anecdotally caused one user problems. It would give me a headache too!
Check out my dedicated post on Mevo Plus Accuracy here. Also note that an upcoming free update to the Mevo Plus is bringing Fusion Tracking, which combines radar ball monitoring with advanced image processing. This was previously just a feature of Flightscope's flagship launch monitor the X3. This is huge news for the Mevo Plus!
How Do You Connect The FlightScope Mevo Plus To The Internet?
You will need to connect the FlightScope Mevo Plus to the internet, particularly, if you want to be able to use the video data that it generates as well as the apps for reporting on your shots. Fortunately, this is a very straightforward process and you connect your phone via Wi-Fi to the device.
The smaller Mevo works with Bluetooth but thankfully, they've abandoned this for the Mevo Plus as it's not perfectly reliable.
More about Flightscope – they know how to make a quality radar!
FlightScope began life as a side project for a defense product development company! Their core expertise is in the development of 3-D tracking radar systems and it wasn't until the company had been operating for a few years that it turned its attention to the golfing market.
Before that, they'd been involved in monitoring the trajectory of projectiles (as in weapons) and even today they maintain some involvement in defense with a presence in the industry in over 24 countries.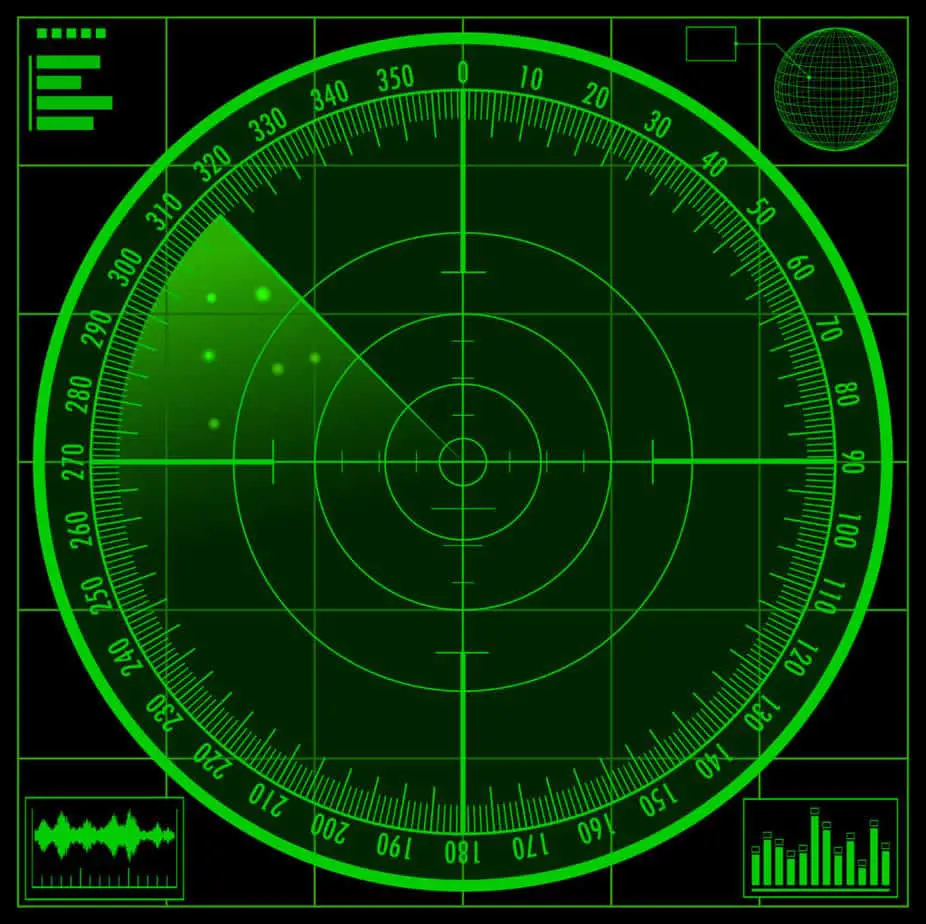 FlightScope's first golf product was launched at the 2004 PGA Merchandise Show and since then, the brand has gone from strength to strength and their launch monitors and simulator products are among the most popular in the industry.
They offer four products in this arena – including their flagship product the X3 (which is at the expensive end of the launch monitor market) and the FlightScope range which is a tracking solution specifically for use on driving ranges at golf clubs. Flightscope also offer as the Mevo, which is an introductory product and the Mevo Plus which we're looking at in this article.
They also have a now-discontinued product, the Xi Tour, which inhabits the ground between the Mevo Plus and the X3, you may be able to find one of these second hand and they're still considered to be solid products though I'd opt for the X3 in preference to this model.
FlightScope has also branched out into other sports and they provide products that work in the baseball, athletics, and tennis spheres too. In tennis, their technology is also used by the professional tours as a line call system to enhance the umpire's options when adjudicating a match. They've also recently started doing some work with softball teams.
Their CEO says that they intend to keep evolving their product range and the next step is to try and incorporate lessons from neuroscience into the mix to help fully unlock an athlete's potential.
On the financial side of things, FlightScope is a solid performer and they are estimated to turn over $28 million (or more) annually.
Big News!! The Flightscope Mevo Plus Pro Package – with Advanced Club Data – is coming!
There are big changes afoot for the Mevo Plus in Fall 2021!
There are two huge upcoming upgrades to Mevo Plus, which will comprise one free and one paid firmware update. 
The Mevo Plus Pro Package will add advanced club data to the Mevo Plus, data parameters that are normally reserved for much more expensive systems (Garmin R10 aside). This will cost $1000 and will launch in early 2022.
The second update is free and will boost the accuracy of the Mevo Plus using Flightscope's patented Fusion Tracking technology. This tech combines the radar system in the Mevo Plus with advanced image processing to improve data accuracy. 
Check out my in-depth post examining these upgrades.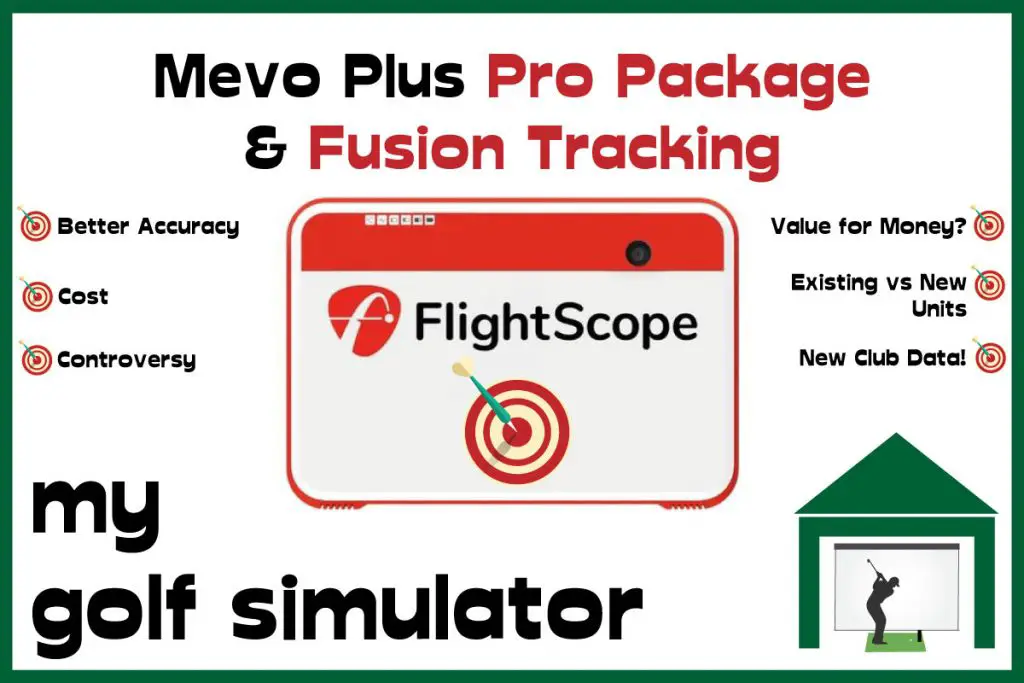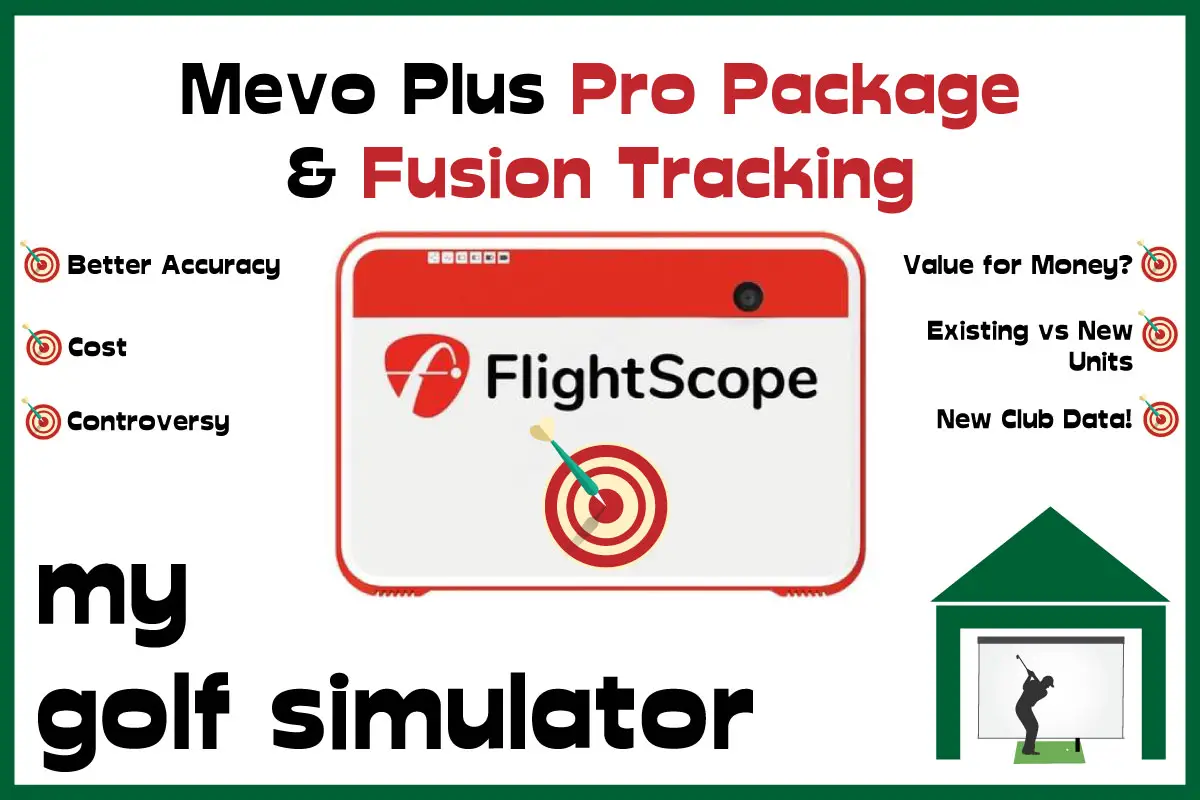 Conclusion
We hope that you've found our FlightScope Mevo Plus Pros and Cons guide to be helpful in evaluating this excellent home launch monitor.
It's hard to beat the price of the FlightScope Mevo Plus for a quality radar-based launch monitor that provides such a wide array of data. It's a fantastic piece of equipment for the serious home golfer! The upcoming Fusion Tracking and Pro Package upgrades make Mevo Plus a fantastic investment!
The Fusion Tracking enabled Mevo Plus Pro now should be able to compete with the new batch of launch monitors through the mid 2020s! $3000 ($2000 + $1000 upgrade) is a great deal for a launch monitor boasting advanced club and ball data, wide software compatibility and full portability.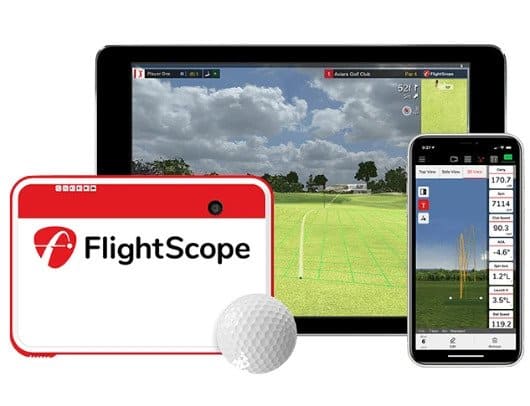 Here's a link to Flightscope's website for even more FAQs about the Mevo Plus.
If you have the space and you don't mind using the metallic dot stickers then this is a great launch monitor choice!
However, if you're looking for ultimate accuracy and versatility, a launch monitor you would choose for purposes such as club fitting, you might want to consider one of its more expensive competitors like Trackman or Uneekor.
Garmin R10 vs Mevo Plus
Check out my in-depth comparison guide pitting the Mevo Plus against the Garmin R10 across 18 key comparisons. Work out which portable, affordable radar-based launch monitor is right for you!