How important is keystone correction for golf simulator projectors? Well, if you mount your projector to the side, above or below the centre of your screen, keystone correction is super important!
Keystone correction is needed when a projector is mounted in a position that is not in line with (perpendicular to) the screen. The projector will skew the image vertically or horizontally to produce a rectangular image on the projection screen, even though the projector is positioned to the side (or above or below) the centre of the rectangular screen. There will be a resulting loss of clarity in the image.
This article will examine whether you need a projector with keystone correction for your golf simulator. Don't make a mistake with your projector choice and end up with a wonky image!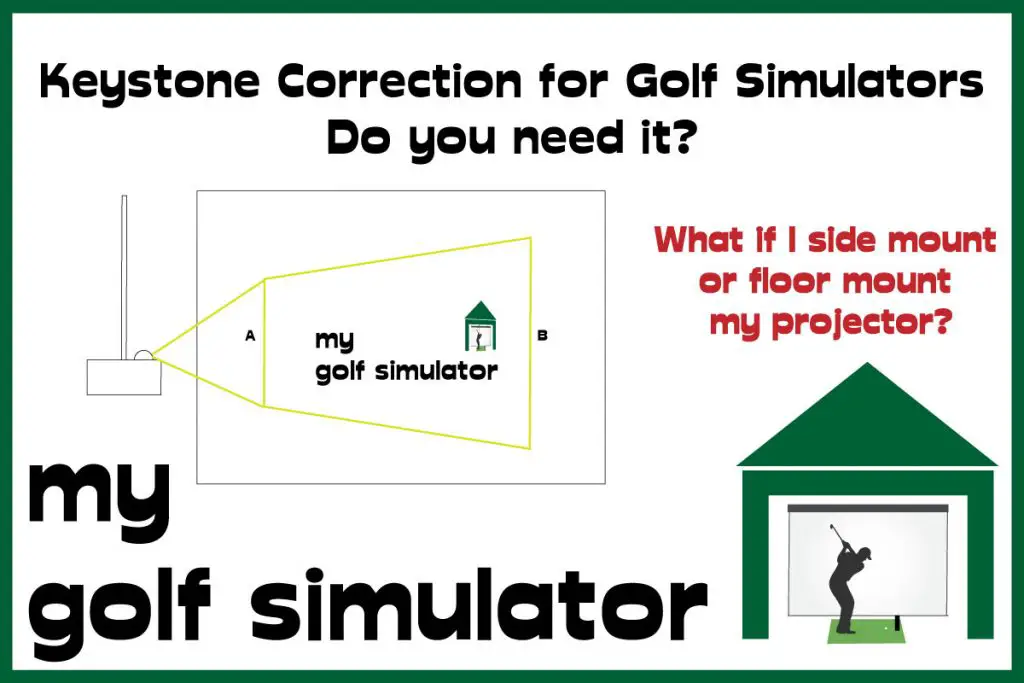 What is Vertical Keystone Correction?
Vertical Keystone Correction is needed when a projector is mounted above or below the centre of the screen. The projector will skew the image upwards or downwards so that it produces a rectangular image on the screen. 
This feature allows a rectangular image to be produced despite the height difference. You will probably be looking at a trapezoidal image if your projector is very high or very low (or off to the side).
Vertical keystone correction is great for projectors mounted very high up above the golfer. They're also great for floor mounted projectors.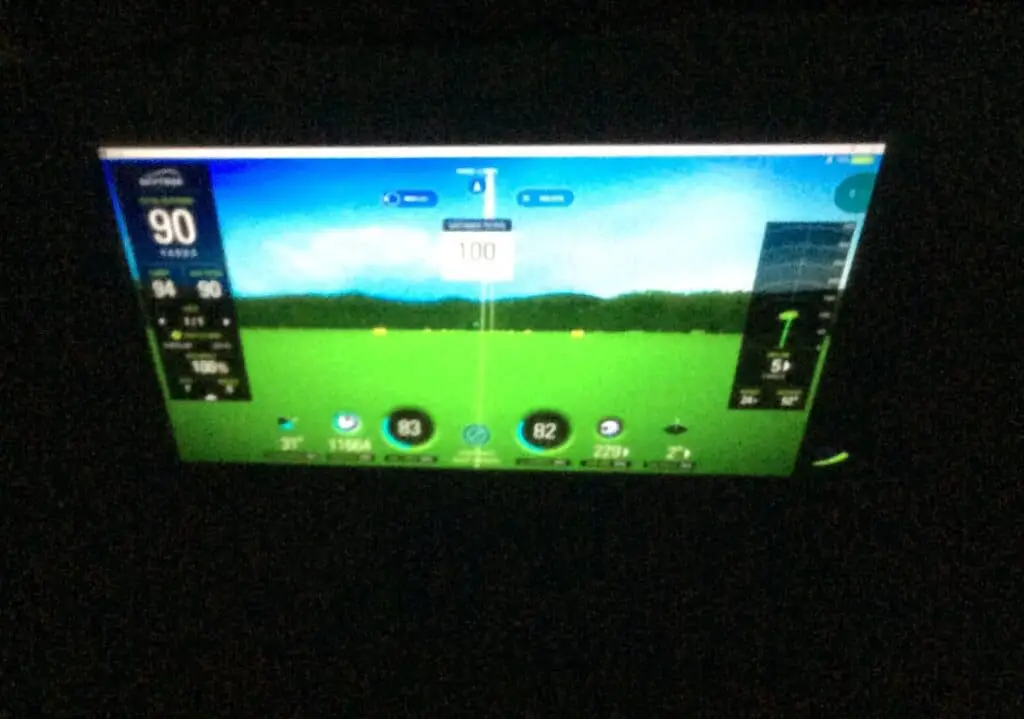 (This is a very old grainy picture of an old projector I once owned. I played around with keystone correction before I mounted it).
Floor Mounting Your Projector
If you choose to mount your projector centrally on the floor in front of your hitting mat, you'll need a decent protective casing. Otherwise, any low thinned shot will take out the projector's posterior and end your simulator experience for the day!
Floor Mounting a projector will also mean you will probably need to have vertical keystone correction. There is only so much you can 'point' the projector upwards.
Horizontal Keystone Correction
Horizontal Keystone correction is needed when the projector is mounted off to the side of the centre of your screen. 
You can allow for a small distance off centre by simply pointing the projector.
If you intend on mounting the projector on the side wall of the simulator enclosure you are very likely to need this feature. 
The projector will be out of the way and it will probably be even easier to manage the cables going to and from it. 
You will definitely need a projector capable of horizontal keystone correction for this set up though.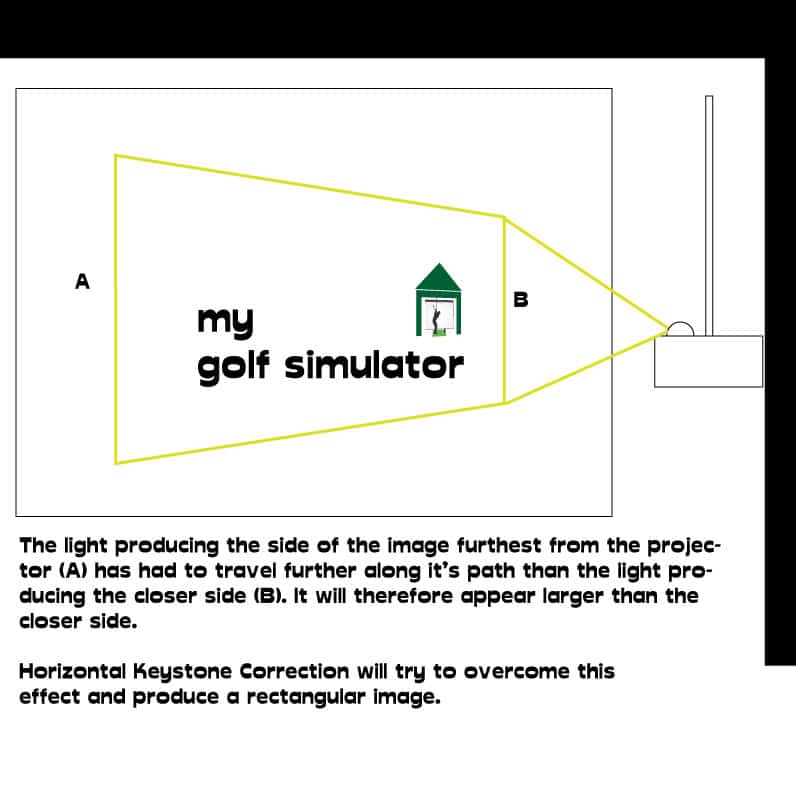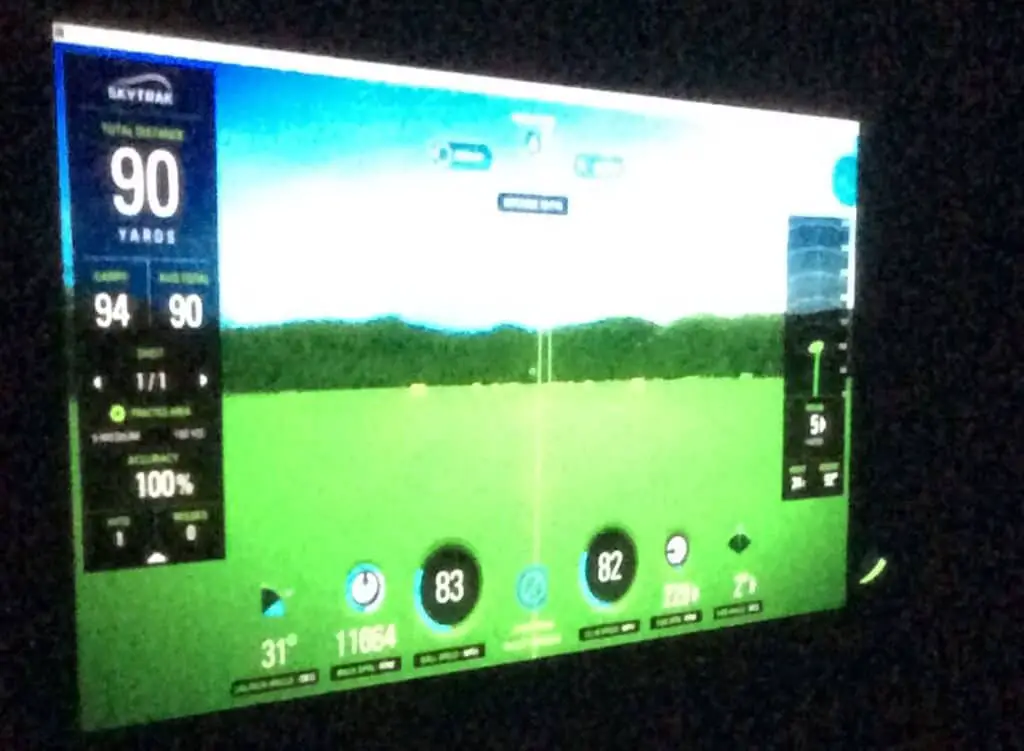 (Another grainy picture of when I was experimenting with my projector's keystone correction).
What Golf Simulator Problems will Keystone Correction fix?
Choosing a position to mount your projector
Mounting a golf simulator projector can be a very difficult task. Finding a position where the projector is able to fill your impact screen whilst also being out of the way of your swing and not casting your shadow is definitely easier said than done. 
We have a whole post coming up soon on this topic!
If you're working with limited space, the problem of finding a projector position out of the way of your swing and that doesn't cast shadows, will be even greater. You may even find that you need to side mount your projector as we've just described. This can be a fantastic solution to projector placement problems, as long as your projector has the feature of horizontal keystone correction.
Can I not just point and tilt the projector?
You can point your projector in its mount or casing, up to a certain point.
You might be able to fix a small difference between the projector and the vertical or horizontal centre of the screen by tilting and pointing your projector. In fact, that is what the majority of people do with their golf simulator setups. 
If the projector is located 9ft off the ground and over the very right side of the mat, you can easily get away with the tilt and point tactic. The projector will probably be about 3ft off centre horizontally and 4ft off centre vertically. This is fine for most golf simulator purposes. You may notice a lack of clarity if watching movies or playing games.
Does tilting and pointing the projector affect the image quality?
Yes, it may alter the image slightly.
Some projectors let you play around with the focus which can sort this problem out straight away.
Changing the projector position from central and perpendicular to your screen will also change the focus point (where the maximally clear image will be). The reduction in image clarity will likely be less in magnitude to the reduction caused by keystone correction.
Buying a projector mount
If you're planning on achieving the desired image by tilting and pointing your projector, make sure you buy a sufficiently adjustable projector mount. 
I'm using the SIMBR Universal Projector Mount. This has an adjustable extension pole with a range of 25 inches, can rotate 360 degrees and tilt 60 degrees vertically and horizontally. It was easy to set up and fix to my projector.
Can a projector do both vertical and horizontal keystone correction at the same time?
There are several short-throw projectors suitable for golf simulators that are capable of both vertical and horizontal keystone correction. Most of these should be able to do both directions of keystone correction at the same time to allow you to achieve a perfectly rectangular image.
Does keystone correction reduce image resolution and clarity?
Yes. 
Keystone correction is a digital process where the projector uses scaling and compression to alter the image. It will reduce the number of pixels in one direction to achieve a certain image shape. This will result in compromised image clarity. 
It is hard to predict by how much this will happen for your room setup and intended projector position. I advise trying to see if there are any other people in forums who've had the same projector mounted in the same way and see how they found their image change. 
I've done some searching on forums about this and a lot of people have given the example of a 1080p display looking more like a 720p display when keystone correction applied. 
I would be hopeful that you'll get a result that is more than good enough for your simulator needs. However, if you're aiming to watch movies or play games in your simulator, especially at 4k, then having a perpendicular and centred projector is the ideal setup. 
Does each projector keystone correct by the same amount?
There are different amounts of keystone correction, given by vertical or horizontal degree ranges in each projector's specifications. 
If you want to be especially technical with your setup plans, you should try and work out whether there'll be enough correction degrees for your room and intended projector placement. This will, however, involve producing a scale drawing of your setup and using trigonometry so good luck!
Keystone Correction and Zoom Lensing are different things
Zoom lensing is when the projector is able to alter the size of the projected image using either optical zoom or some digital sorcery. 
This image size alteration will be independent of the projector's throw ratio. 
You need to be careful with projector zooms however as they can often make the image brightness and resolution suffer slightly, especially on cheaper projectors. 
Whilst zoom lensing alters the image size,  keystone correction skews the image up, down or to the side.
What about lens shift?
Lens shifting is when the projector physically moves the lens within to alter the image. This can be a great feature for relatively small adjustments to achieve a rectangular image that fills your screen. 
Mounting your projector very high, very low or side-mounted will mean you'll likely require keystone correction instead of (or even in addition to) lens shifting. If you can get your desired rectangular image with lens shifting alone it is likely to result in a much clearer image than using keystone correction. 
What you should know now about keystone correction and golf simulators
I hope this article has answered your questions about keystone correction for golf simulator projectors. 
It should have helped inform your decision about where in your room to position the projector, and whether you need keystone correction.
We have a very detailed post on this coming up soon!
What you should do next
Related Commonly Googled Questions