Best Golf Mat for a Golf Simulator – 10 Step Buying Guide for 2022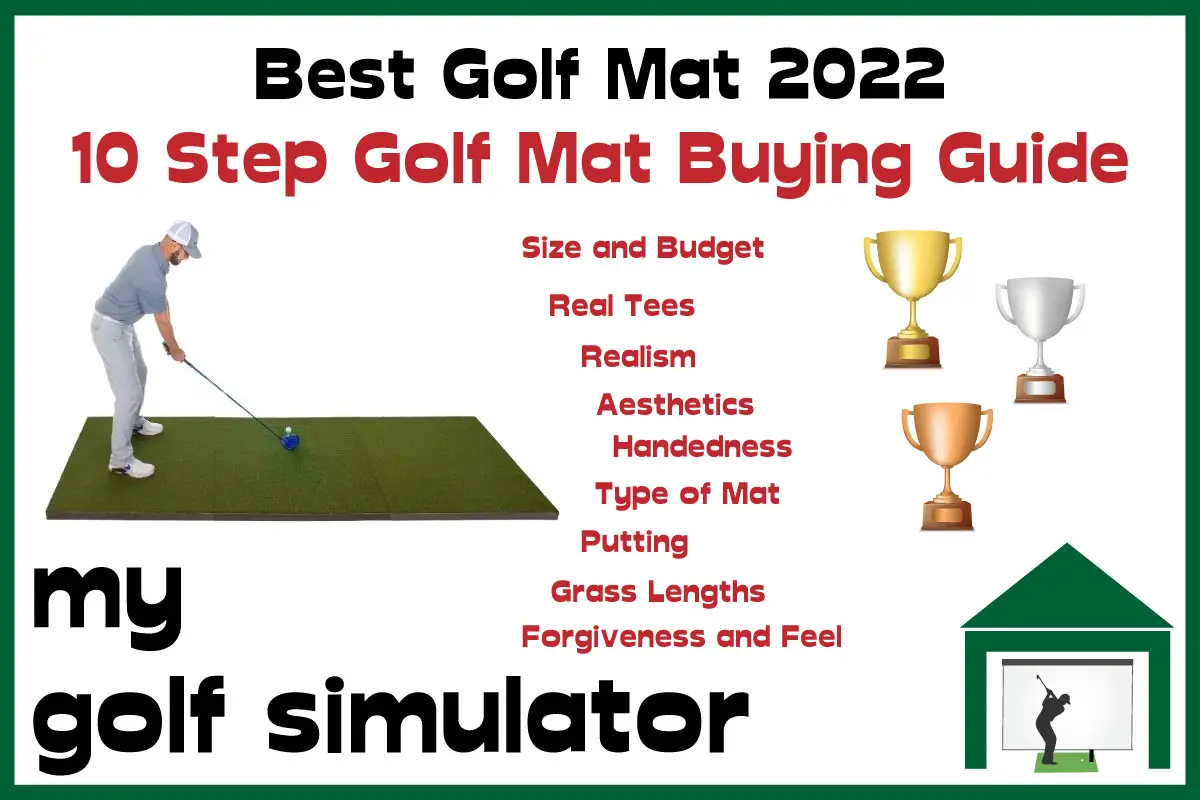 A golf mat is a central component in a golf simulator.  Your goal should be to recreate the playing service from which you would strike the ball on the course. You also need to consider factors specific to your golf simulator setup when choosing a golf mat.
Here are the 10 key considerations which will help you choose the best golf mat for your golf simulator:
What type of golf mat do you want?

A freestanding golf mat
A golf mat built into the golf simulator floor 
A golf hitting strip built into the golf simulator floor

Golf Mat Size
The feel and forgiveness of the golf mat hitting service VS the realism of the strike
Do you want to have different lengths of grass to hit from?
How important to you is the ability to place a real tee in your golf simulator mat?
Do you want to be able to putt from your Golf mat?
Will you have both left and right-handers in your Golf Simulator?
The aesthetics and look of the golf mat 
What is your budget?
Will you need to move the golf mat?
Read on and we will cover all 10 of these Golf Mat decisions in detail, and we will show you the best golf mats available in 2022 for a range of different golfers with specific wants and needs.
This guide will feature the 10 Best Golf Mats for specific situations and simulators, as well as a 10 step buying guide.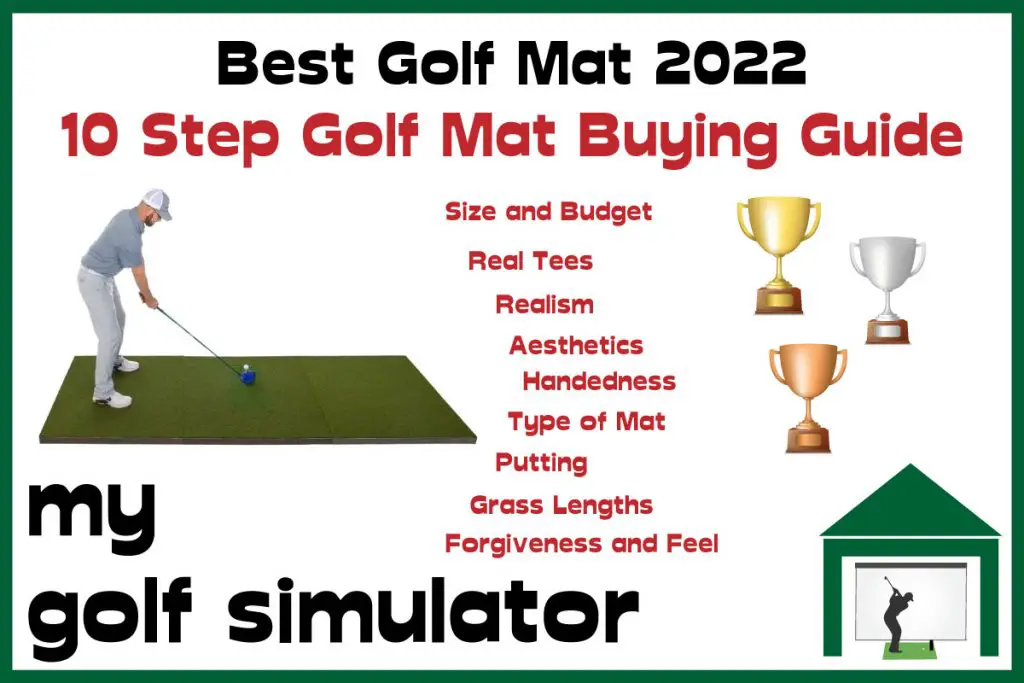 Best Golf Mats for Specific Golf Simulator Needs
Here are my recommended golf mats, depending on your specific golf simulator needs:
Recommended Golf Mats for Concurrent Left and Right Handed Play
Truestrike Academy Mat
The Truestrike Academy Mat is a fantastic golf mat that will be a solid addition to your golf simulator.
The Academy Mat features a 'ruckable fiber surface' and a silicone gel underlayer which realistically simulate fairway conditions, allowing you to confidently swing through the ball, without any 'bounce' effect which causes poor strikes to be forgiven.
This mat is designed for those with enough room width to allow both right and left-handed golfers to make a comfortable swing, with the teeing area situated centrally, parallel to the center of your impact screen. You will probably need 15ft or more of room width to accommodate this type of setup.
Truestrike advises that the hitting surface can withstand 55000 golf shots without showing signs of wear. The mat is sturdy and a modular design allows replacement of the hitting strip alone whenever required.
Weight: 62 kg.
206cm Long x 130cm Wide x 6cm Deep.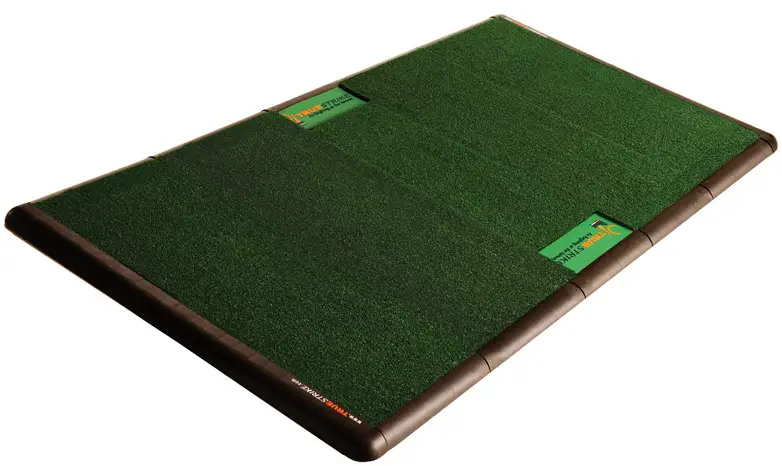 Alternative golf mat choices for those wishing to accommodate both left and right-handed golfers in their simulators:
Recommended Single Golf Mat
Fiberbuilt 4′ x 7′ Single-Sided Studio Golf Mat
Fiberbuilt has developed a reputation for the production of some of the best golf mats on the market, and you will find that quality here in the Studio Golf Mat range.
This is the Single Studio Mat which accommodates either a right or left-handed golfer depending on which way around it is orientated in your golf simulator or hitting area.
Fiberbuilt reports that their turf allows the golfer to swing down and through the ball, without any unrealistic 'bounce' off the firm base of the mat, allowing maximum realism and forgiveness and a true fairway feel.
This is another sturdy golf mat with a modular design, allowing the replacement of one section at a time, which maximizes durability.
The Fiberbuilt Performance Turf Golf Mat comes with a 300,000 shot guarantee or a 1-year Manufacturer Warranty. There is a 1-year manufacturer warranty on the stance mat and a 5-year warranty on the rubber base.
Dimensions: 85″x49″x2″
Combo Golf Mats (Full Swings and Putting)
Fiberbuilt Double Hitting Combo Mat
These golf mats are the for serious golf simulator setups!
This golf mat package combines a premium quality Fiberbuilt Double hitting mat with a large area of putting green turf which attaches just in front, creating a flexible and high-quality hitting surface.
You need enough room to accommodate both the golf mat (both tee-screen distance and room width) and the swings of both left and right-handed golfers. This mat is also more expensive than the other options listed in this guide.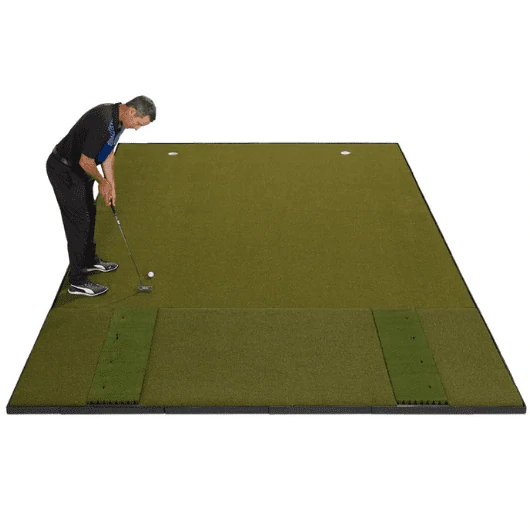 Alternative golf mat choices for those wishing to combine full golf swings with putting:
Best Golf Mat Hitting Strip – Soft yet Realistic + Takes a Real Tee
SIGPRO Softy Hitting Strip
A golf hitting strip can either form the replaceable hitting section of a larger golf mat of the same brand, or they can be placed into the subfloor of a more DIY-golf simulator.
Hitting strips are great for golfers wish to have a flat floor, with artificial turf making up the whole golf simulator floor including the stance area. Golf simulator floors with hitting sections built in are fantastic for putting, as everything should be level and you should be able to putt from the teeing area.
The SIGPRO Softy hitting strip is fab, a lot of design work has gone into this piece of turf. Thought has been directed towards providing a realistic strike whilst minimizing the bounce and vibration which can lead to injuries.
This piece of turf fits in with larger SIGPRO mats as a replaceable hitting section, or can be used on its own as part of a golf simulator floor.
Dimensions: 28 in x 12 in x 2 3/8 in, weight: 4lbs.
A Portable Golf Mat with Multiple Grass Lengths that Takes a Real Tee at a Great Price
The Cimarron Ultimate Golf Mat is brilliant. For an excellent price, you'll receive a mat with three different turf lengths (four including the stance section), that is lightweight enough to be portable, that takes a real tee and can be used outside.
This was my first ever golf mat and it suited my needs completely. I only upgraded when I built a new golf simulator, though I still use my Cimarron Ultimate Mat in a hitting net at my parents' house so it's still going!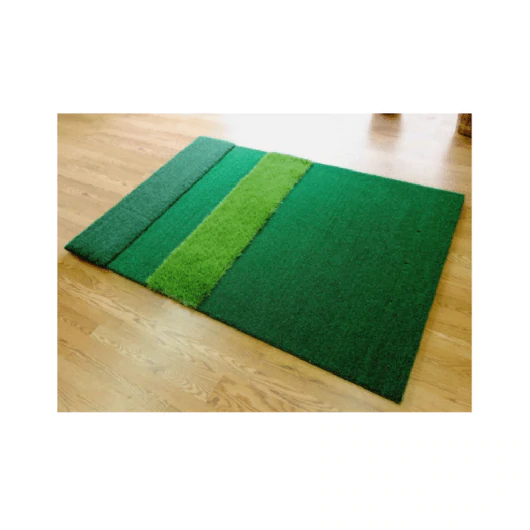 A Golf Mat with a Firm Realistic Turf
Real Feel Country Club Elite Mat
The Real Feel Country Club Elite golf mat is well known in the golf simulator industry. This mat will provide a realistic simulation of the impact of club and ball on firm turf, without any unrealistic bounce or forgiveness that you find on many softer turf mats.
This allows you to see exactly how well you're striking the ball and to gain launch data that is as accurate as possible. The Country Club Elite mat is available in a range of sizes, including 5x10ft which is great for accommodating both left and right-handed golfers simultaneously. It is also competitively priced.
This mat delivers probably the firmest turf of the mats on this list and has been reported to be harsh on the joints of some golfers after repeated use (perhaps those who don't strike the ball as well). You will certainly get a realistic strike simulation using the Country Club Elite mat.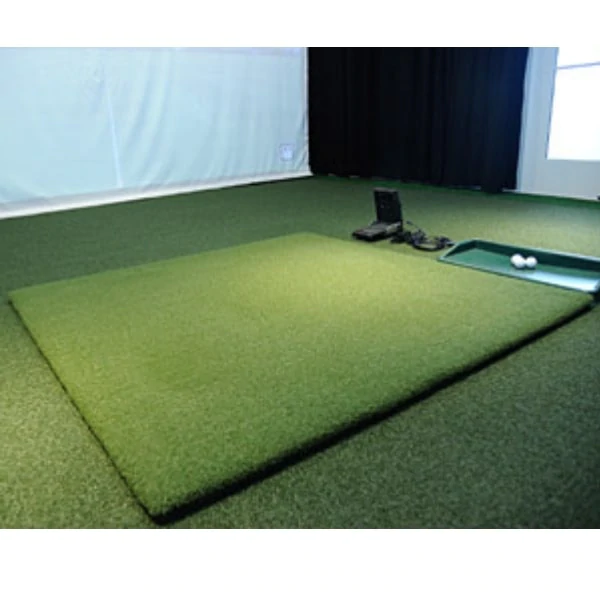 A Golf Mat with a Softer More Forgiving Turf that takes a Real Tee
SwingTurf Golf Hitting Mat from Rain or Shine Golf
The SwingTurf mats from Rain or shine golf are said to simulate fairway-like conditions and to react like real grass. They are softer and more forgiving than many other mats on the market, which Rain or Shine Golf report makes them easier on the joints.
They come in sizes of 5x5ft or 4x9ft (9ft is wide enough to accommodate left and right-handed golfers). Swingturf mats are 1 + 5/8 inches thick and take a real wooden tee from anywhere on the mat. They're also very competitively priced!
An alternative soft yet realistic golf mat, at an excellent price, that takes a real tee is the Fairway Series Golf Mat from Shop Indoor Golf.
Light and Portable Golf Mats
Fiberbuilt Flight Deck
Fiberbuilt provides the option of a smaller, portable golf mat that still packs the punch of the Fiberbuilt quality turf. The Flightdeck mat is oval in shape and at 21.25″ long by 13.5″ wide, it is fully portable.
The Flightdeck golf mat is available on its own or with the option of adding a sturdy and stable stance mat with ball tray and an adjustable teeing system.
Alternatives include the Truestrike Portable Golf Mat, which gives the golfer the option of the same quality Truestrike turf mat, but in a smaller version.
Golf Simulator Mat Buying Guide
Type of Golf Mat Hitting Surface
You have three options when deciding upon a hitting surface for your golf simulator:
A freestanding golf mat
A golf mat that is incorporated into the floor of your golf simulator so the floor surface is flat
A golf mat hitting strip incorporated into the floor, again making everything level.
Both options that build the hitting surface into the golf simulator floor (either the mat or hitting strip) are quite similar, the only difference being whether it is a full golf mat that is built-in.
Your choice here depends on whether you would rather stand upon a golf mat surface to address the ball, or simply the turf that makes up the rest of the golf simulator floor.
Golf hitting surfaces built into the floor have the advantage of creating a level surface which makes putting from your teeing area more straightforward. It can, however, be more difficult to replace the hitting area when the turf wears out.
Golf Mat Modular Design
Consider the benefits of a golf mat with a modular design, rather than one single piece of turf. Modular design mats are usually more expensive and fit together like a jigsaw. This means when one section (generally the hitting section) does wear out, you can replace a single section without having to buy a new mat.
Golf Mat Size is Important
The size of golf mats can vary from tiny (for example a mat which does not even feature a stance area, just a hitting portion), to very large. The largest mats tend to act as combination surfaces that allow both full swing shots and putting.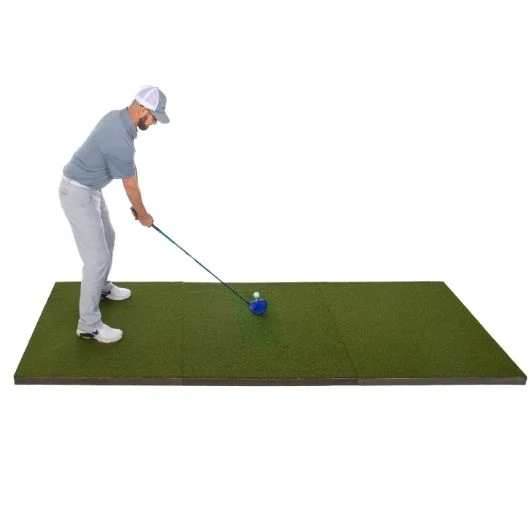 In general, a larger golf mat will be more expensive than a smaller mat. A large mat will also be heavier, more sturdy, and won't move with the momentum of a swinging golfer moving upon it.
I much prefer a golf mat with a grass-based stance area, which simulates the feel of standing on a soft grass surface like on the golf course.
Often, the stance part of the mat will last for years, with only the hitting surface ever needing to be replaced (and even then it is only after significant use).
Golf mat size is a more important consideration for golfers choosing a freestanding mat for their golf simulators, and less so for those who are embedding a hitting strip into their flooring.
I always recommend aiming to tee up the ball parallel with the center of your impact screen, in the center of your golf simulator room. This means the centre of the hitting area will be in line with your target on the screen. You will need adequate room width to achieve this (probably >15ft).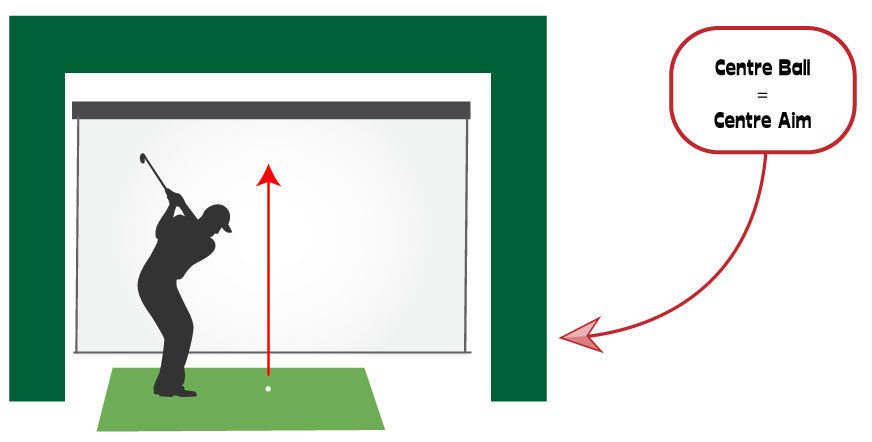 Larger golf mats will be needed for those who wish to accommodate both left and right-handed golfers at the same time in their simulators. Of course, you may be able to turn the golf mat around to allow a left-handed player to play (or vice versa), but this is not conducive to quick and efficient golf simulator matches.
Types and Categories of Freestanding Golf Mat
Golf simulator mats may be marketed in a number of ways. Common examples include:
Single golf mats

Single mats feature one stance area and one hitting area and can be orientated for either a left-handed or right-handed golfer.

Double golf mats

Double mats have two stance areas and two hitting sections, allowing both left and right-handed play – however, a particular issue with these mats is that, when used in a golf simulator, neither hitting area is likely going to be aligned parallel to the center of the impact screen and projected image. You could set the mat to the side so that one hitting area is parallel, but then the other one would be well off to the side, requiring the golfer to account for this with the aim of every shot.

Centrally located hitting section.

An example is the Truestrike Academy mat. These mats feature one hitting section which is located in the center of the mat between two stance areas and can be used by both left and right-handed golfers. Both double hitting mats and mats with a central hitting section are common in teaching simulators and commercial golf simulator businesses. Both require enough room width for both left and right-handers to swing.

Combination golf mats.

Combo golf mats include a larger piece of turf immediately in front of the stance and hitting sections, on which the golfer can putt, usually to golf holes sunk into the mat. Ideally, there should be a very minimal seam between the two mat sections, so that putts struck from the hitting area do not bounce offline when they cross the boundary. These mats are the most expensive of the categories in this list.

Portable golf mats

You can also buy smaller, relatively lightweight golf mats which you can use either inside in your golf simulator, or outside at the range, practice ground or in the garden. These mats tend to be cheaper than their larger counterparts but still feature the quality turf you would expect from big names such as Fiberbuilt.
Feel and forgiveness vs Realism in Golf Mats
There is a balance to strike between the forgiveness of a golf mat, and how real it seems in comparison to playing on grass.
Different groups of golfers may be used to different course conditions, some playing from firm links fairways and others from sodden parkland courses every week. Another comparison to make is the spectrum of golf swings that golfers have, some very steep and others shallow.
You can have a very soft golf mat surface, which maximizes forgiveness on shots struck heavy, or you can have a much firmer turf with which you will not get away with such a strike. The type of turf will directly affect the impact of the ball, the data read by the launch monitor, and the shot modeled on the screen.
Firmer golf mat turfs may cause you to improve more quickly as you work hard on your strike, and softer turfs may cause you not to notice problems with your strike.
On the flipside, firmer golf mat turfs can lead to injuries in the hands, wrists, and arms in golfers who consistently hit the turf heavy or in a swing plane that is too steep.
Most golf mats reside in the middle of both the firm-soft scale and the forgiving-realistic scale. All of these qualities are important considerations when researching your golf mat purchase.
Golf Mat Gel Underlayers
The way that many premium golf mats manage to simulate an impact strike that is both soft and forgiving yet realistic, is to use a gel underlayer beneath the turf. This also prevents the club from bouncing on the hard surface beneath and causing problems for the golfer's joints.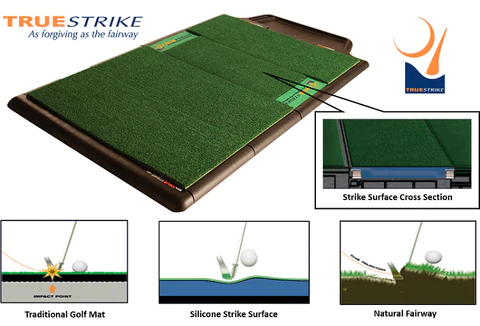 Golf Mats and Real Tees
A wide range of golf tees are used in golf simulators. Some golfers use real wooden tees but frequently have to replace them when they snap (as well as picking up broken tees all the time from all corners of the simulator). Others use plastic tees which shouldn't snap.
Alternatives are plastic tees attached to a string that won't fly off into a corner and get lost. See Birtees as an example. There are many options. You may also use thicker rubber tees that come through a hole in the mat like you find at most driving ranges.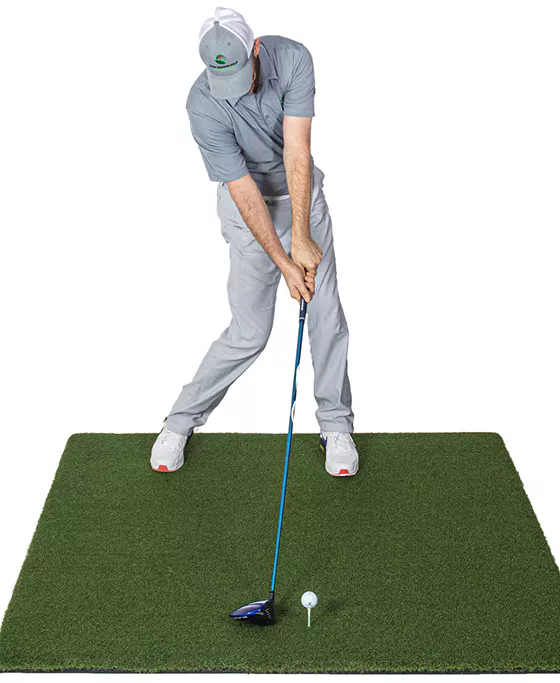 There is a range of golf mats that allow a real tee to be placed into the turf. Consider how important this is to you when you make your golf mat decision.
The Mat above is the Fairway Series Golf Mat from Shop Indoor Golf, this single golf mat is designed to be soft yet realistic and takes a real tee. It is available at a great price too.
Do you want to have different lengths of grass to hit from?
Do you fancy being able to hit shots from longer grasses as well as tightly mown fairway turf? There are golf mats that feature rough sections as well as fairway grass. You'll probably tee the ball up from the fairway section each time but the rougher grasses are great for varying your practice.
One of my first golf mats (the Cimarron Ultimate Golf Mat) has three lengths of turf and this was great for practicing shots from different lies. I also used to tee the ball up on the taller mat grass to allow easier practice of flop shots (I had a ceiling net to catch them).
Check out the Cimarron Ultimate Golf Mat, available at Shop Indoor Golf.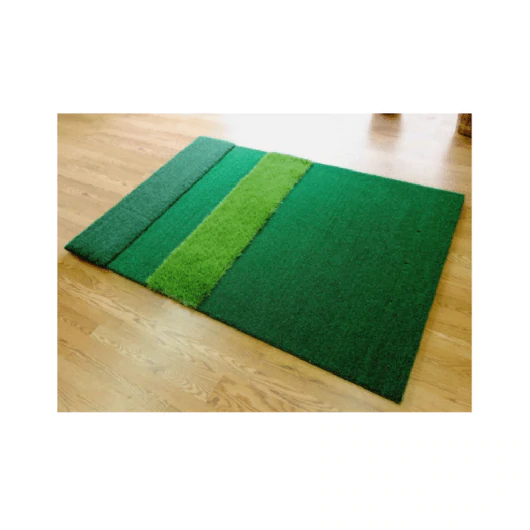 Will you have both left and right-handers in your Golf Simulator?
Golfers who wish to accommodate both left and right-handed golfers in their simulators at the same time should consider a mat that allows both to address the ball from a stance area, without the need to turn around or move the mat itself.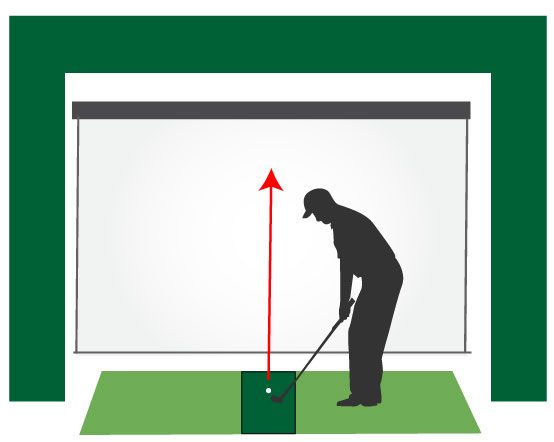 You will need adequate room width for this, though a benefit is the type of mat design lends itself well to allowing the hitting area/tee to be parallel to the center of the golf simulator and impact screen.
Do you want to be able to putt from your Golf mat?
Many golfers wish to incorporate putting into their golf simulators in one way or another. To do this, you have the following options:
Choose a golf mat that doubles as a small putting green

These golf mats are likely to be larger and more expensive

Set up an extra mat section between the teeing area and the impact screen that allows the ball to travel down after the putt.

This type of setup may be required to attain realistic putting accuracy on some radar-based launch monitors.

Putt from the teeing area down the target line towards the screen. The ball may fall off the mat if the mat is raised up and freestanding

This is not ideal for radar-based launch monitors but will matter less for camera-based models.

Cover the entire golf simulator floor with artificial turf and putt on this, with or without sunken golf holes

This may mean you don't actually simulate the putts properly on your simulation software, using gimme one or two putts on your simulation software. It may negate a whole world of frustration for those that want to simulate putting but struggle with it.

Use a simple putting mat (you could also consider a standalone putting simulator such as Exputt).
If you wish to putt on your golf mat itself, take a look at the Fiberbuilt Combo Golf Mat, this is a premium golf mat that features both a high-quality hitting surface, and concurrent left and right-handed use, as well as a smooth putting surface and cups.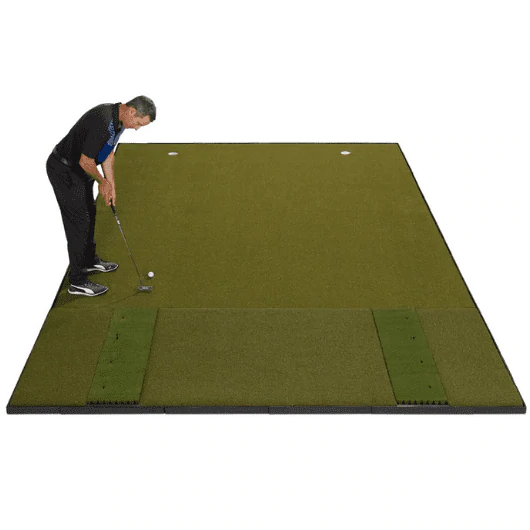 The Aesthetics of the Golf Mat
Golf mats come in many different shapes and sizes. As we've said, a golf mat is a central component in a golf simulator, and choosing one you love the look of is important. It may be the shape of the mat, the border, the teeing area, or even the shade of green used for the turf.
Alignment Aids and Markings
Some golf mats feature painted markings to aid alignment and are often found in coaching environments and at driving ranges.
Weight, Stability and Portability
Larger, heavier golf mats are harder to move around, this is particularly notable for those that do wish to periodically turn them around so a left-hander can use their simulator more comfortably.
This is another reason why it is important to define the hitting position within your golf simulator right at the start of the planning process.
The majority of the premium golf mats, particularly those with modular designs featuring rubber bases, are thick and sturdy and won't move even with the momentum of a golfer with a swing like Bryson.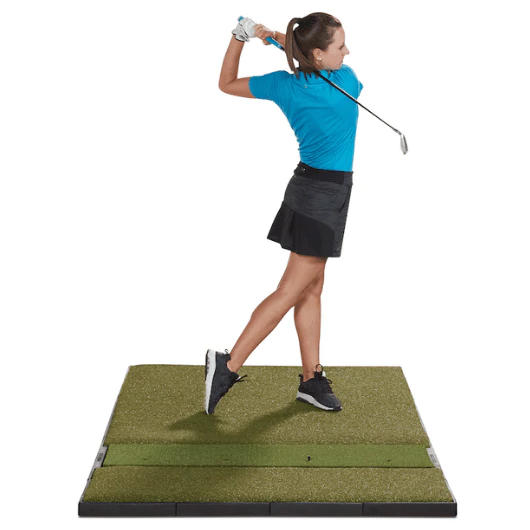 If you choose a lighter, cheaper mat and don't secure it to the ground, then you may find there is some give or movement under your feet when you swing, more so when the mat is placed directly on smooth concrete or a wooden surface.
Placing a thin layer of high friction material underneath the mat (a rug gripper or carpet tape) can help.
There are small golf mats designed for portability which are essentially just hitting surfaces from which to strike the ball. You wound stand on the ground, whether it be grass or other surface. One issue with this is that the hitting surface on a portable golf mat may then be raised up an inch or so compared to your feet.
Golf Mat Price
Golf mats can be expensive, there is a wide range of prices of mats available, from a few hundred to even a few thousand dollars.
You can buy even cheaper mats though they are unlikely to bring great quality, forgiveness, feel, or durability to your golf simulator.
As I have said above, a golf mat is a central component in a golf simulator. It is the area from which you address the golf ball, swing, and make contact. You need to strike the balance between a realistic but forgiving strike that doesn't cause any joint problems with repeated use.
For these reasons, the golf mat is not an area in which to make shortcuts in the golf simulator budget. Having said that though, you can always buy a budget golf mat and upgrade later down the line when you've set up the other major parts of your sim.
Warranties and Durability Guarantees
Premium golf mats often come with a durability promise with an associated number of swings (eg 55,000 for Truestrike, and 300,000 for some Fiberbuilt mats).
Others will state a durability promise in terms of the number of years a manufacturer's warranty will last, this may vary with the component part of the mat in modular designs.
Additional Golf Mat Accessories
You can choose to add accessories such as a ball try, as you'd usually find at the driving range to the side of your golf mat. Some raised mats may have a branded tray which fits perfectly with that specific mat.
Conclusion and Key Points
I hope you have found this golf mat guide useful. Remember, that the golf mat is an integral and central part of a proper golf simulator setup.
Of course, the golf mat is the surface from which you strike the ball, it needs to simulator the club-grass interaction adequately, whilst being functional, durable and providing value.
We have described a range of golf mats for specific needs above, but my recommended golf mat is the Truestrike Academy Mat.
This mat is fantastic and will suit the vast majority of golfers (providing you have enough room width for both left and right-handers to swing). You'll receive a quality hitting surface built into a sturdy, modular design, with a centrally located hitting section.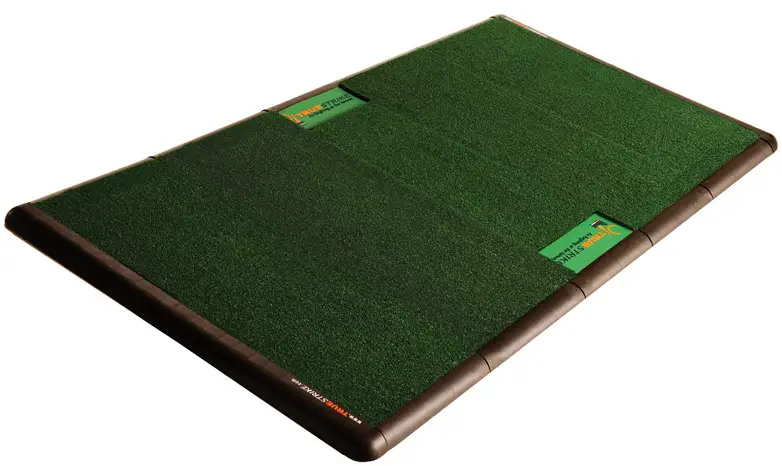 Thanks for reading!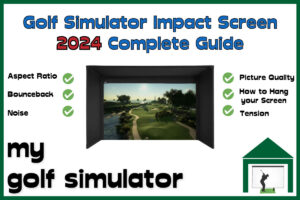 Golf simulator Impact Screens are crucial for any comprehensive simulator setup. In this guide, I'll outline the essential factors to consider when choosing a golf simulator screen. Carl's Place offers the top golf simulator screen on the market in 2024. This triple-layered, cushioned screen showcases 4K resolution images with exceptional clarity and minimal light bleed.…
Continue Reading

→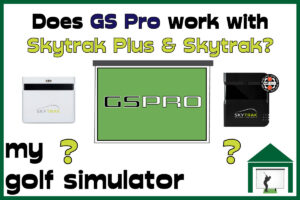 Skytrak Plus is the exciting successor to the former king of the launch monitor market. GS Pro has emerged as the dominant force in the realm of golf simulation software, but do they work together? There is no official integration between GS Pro and Skytrak or Skytrak Plus, however, the golfing community has found a…
Continue Reading

→
Hello! My name is Alex and it is my mission to bring you all the information you need to build your own home golf simulator! I play off a 6 handicap but struggle to get enough practice time in both with work and the cold weather in the UK. I always wanted to have my own golf 'studio' at home. Then a few years ago I learned about golf simulators. Once I'd had my first go on one I was hooked! I knew I wanted my own!
Hello! My name is Alex and it is my mission to bring you all the information you need to build your own home golf simulator! I hope mygolfsimulator.com helps you on your journey to better golf at home!
On this site, you'll find articles on all aspects of building a golf simulator. I will also link to other sites where you can buy some of the simulator components. Some of these links may be affiliate links, which means if you click them I gain a small commission at no extra cost to you. This really helps out me and my site so thank you in advance! mygolfsimulator.com and all related social media accounts are property of Awonline LTD.