Are you nervous about taking your Skytrak outside? Using Skytrak at the driving range can be loads of fun and can enhance your golf simulation experience. Taking Skytrak out of the safe space of your home golf simulator can be nerve-wracking. We explain all the nuances of outside golf simulator use in this article and describe how you can best protect your beloved Skytrak while on the move. 
You can use Skytrak outside at the driving range and also in outdoor home golf hitting areas. There are many nuances associated with outdoor golf simulator use, including lighting, alignment, and network connectivity. You also have to be confident in protecting and transporting your Skytrak. 
We cover 11 different considerations to make when taking your Skytrak launch monitor outside and also how to get the most from an outdoor golf simulation session.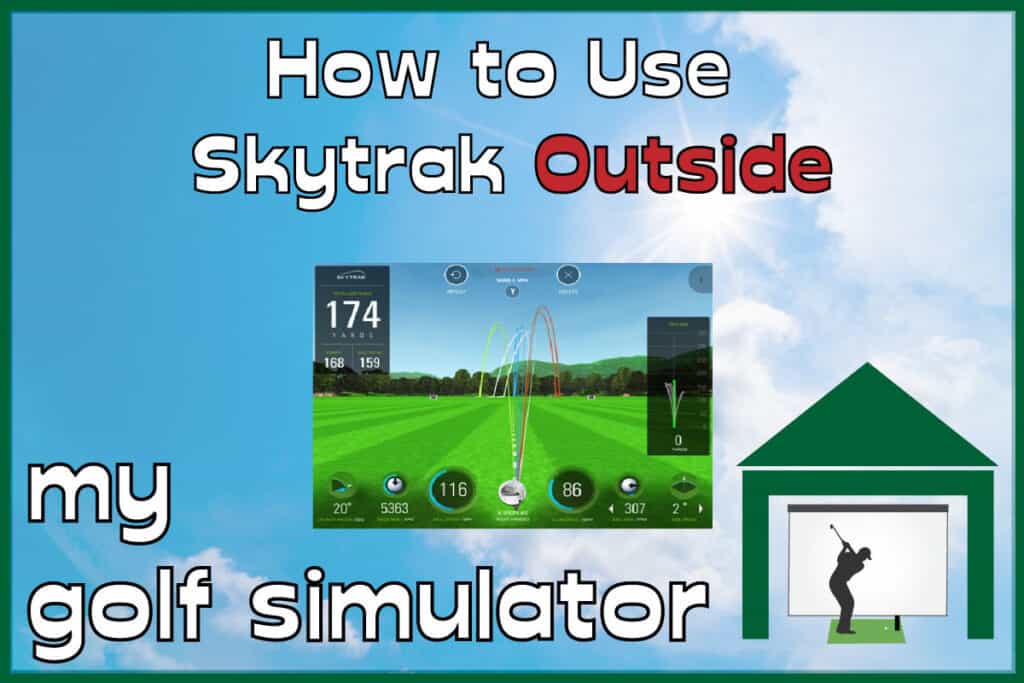 On this site, you'll find articles on all aspects of building a golf simulator. I will also link to other sites where you can buy some of the simulator components. Some of these links may be affiliate links, which means if you click them I gain a small commission at no extra cost to you. This really helps out me and my site so thank you in advance! Alex @ MyGolfSimulator
Using Skytrak Outside in a home hitting area
Many golfers don't have room for a golf simulator inside their home. 
To be fair you need a good size space, which isn't already used for anything else. 
A big group of these golfers can still achieve their golf simulator dreams by creating a hitting area outside in their garden. 
You could have a full setup minus the projector. 
Your shots would have to be displayed on a portable monitor, a tablet or phone being the obvious choices but a laptop works too.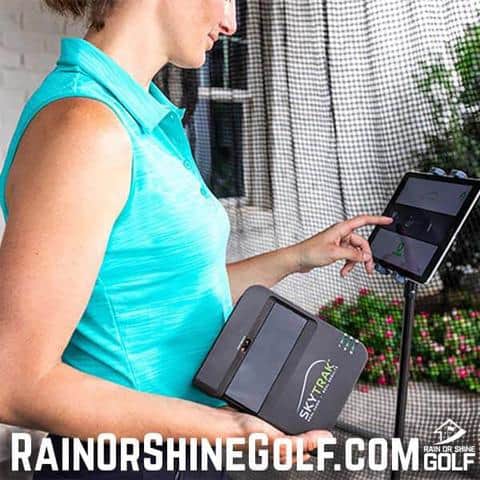 The weather
If you have the facility to put a roof over your hitting area then you can even use Skytrak in the rain.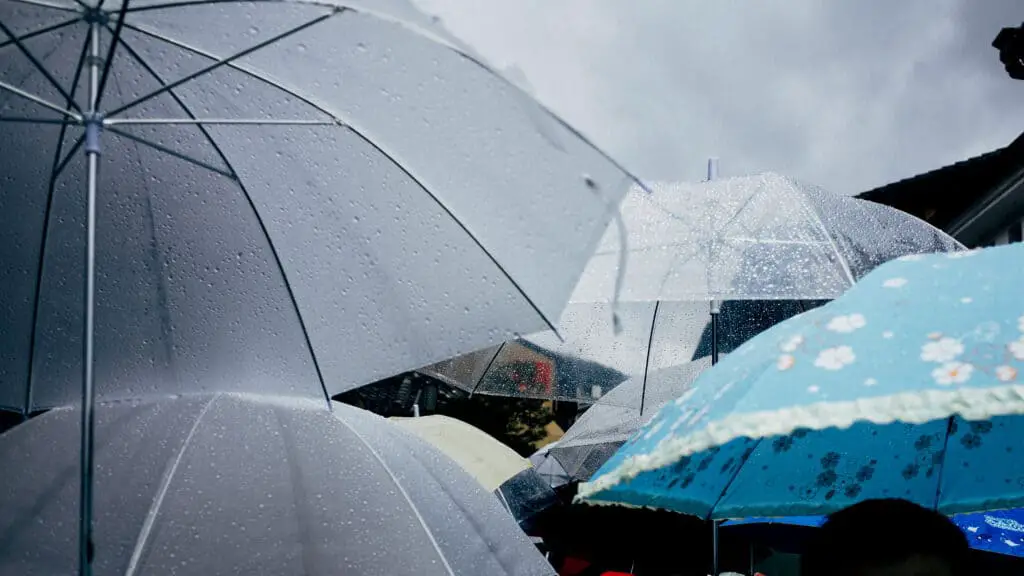 Your big problem comes in the cold months when it's just not as enjoyable to suit up and hit balls in the garden in freezing and frosty conditions. The way I get round this is to do short, sharp, targeted practice sessions. I'll have a warm up, work on one or maybe two drills, then come back inside.
As I've said many times on this site though, any home golf simulator is better than no home golf simulator!
Using Skytrak Outside at the driving range
Having the confidence to use Skytrak at the Range
Before you take Skytrak to the range you should test a few things at home. You should be able to quickly and efficiently connect to either Direct Connection mode or use a personal hotspot to access Network mode. We talk more about this below. 
You also need to be confident to be seen as the golfer with the tech. Do you ever look at other golfers using tech products at range? 
Have you wished you had such items to practice with before? Or do you think you would be embarrassed and self conscious, bringing a two grand launch monitor to the range? 
Some golfers do feel this way so it's just worth considering before you embark on your driving range Skytrak session. 
Make sure your Skytrak is charged and up to date before you leave for the driving range
Getting your Skytrak out at the range and realising it has no charge is an absolute schoolboy error.
You should make sure you have your Skytrak charged before even thinking about the range. I have a dedicated charging station on top of a tool bench in my golf simulator room. This is also where I store my Skytrak if it is ever not in use.
You can also think about an emergency power bank that also stays either in your Skytrak briefcase (see below) or at your charging station. Charging Skytrak on the move is a useful feature.
Don't forget you need to charge your device on which you'll run the Skytrak app too and the same principles apply above.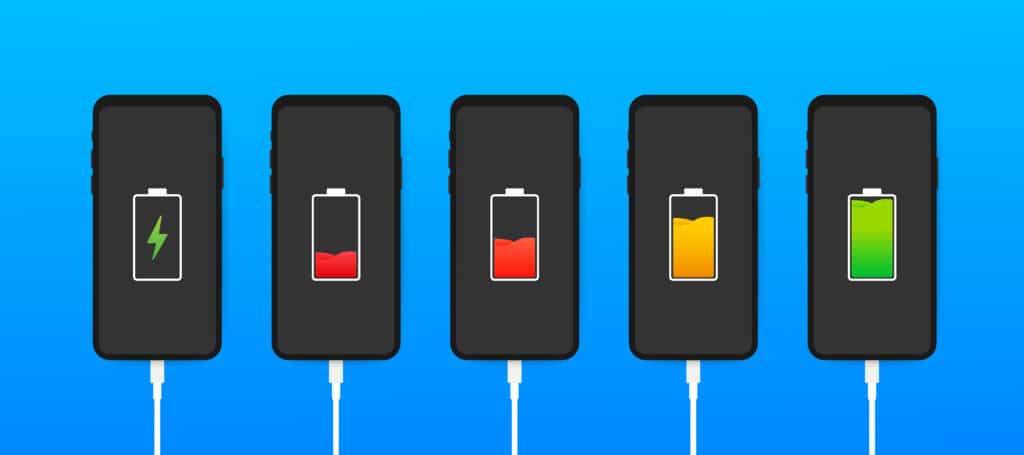 It's worth checking on a regular basis that the device you're using, as well as the Skytrak app aren't due an update. If you get to the range and have no internet connection then you may be stuck in lieu of having up to date software.
Of course, you can access the update downloads with a personal hotspot connection. Check out our dedicated article on this here.
What about the driving range balls?
Driving range balls are usually of inferior quality to premium balls and, in general, don't give accurate ball flight data. They won't react the same as the balls you'll use on the course and in competitions, meaning your ball speed and ball spin readings will be off.
The balls available at the range may not be in perfect condition, which could affect measurement accuracy from the launch monitor.
You have to make sure the balls you use when practicing with the Skytrak monitor are completely clean and ideally dry.
Also, there are usually three or four (or more) really bad golf balls in every driving range basket. You know, the ones with no dimples or ones from the pre-WW2 era. These won't give good results with Skytrak so it's worth identifying them at the start and using them for warm up swings or chip shots.
We have a dedicated post on using range balls with launch monitors coming soon.
You must Align Skytrak correctly when practicing outside
Alignment is a big, big consideration to make when taking your Skytrak to the driving range, or simply to an outdoor hitting area. Skytrak must be aligned correctly, both horizontally and vertically.
Make sure Skytrak is at the right height
If you don't align Skytrak on the correct vertical level then you risk a situation where Skytrak doesn't register your shots properly. The data you do receive may be less accurate too.
Skytrak should be placed on a platform completely level with the surface on which the ball sits. Plus ideally, Skytrak should not be placed on the mat.
A golf club impacting a golf mat causes vibrations and movement throughout the mat, particularly around the area of impact. These movements are not large but they can affect the accuracy of readings made by Skytrak. A solid base with minimal movement is important for Skytrak to record accurate data.
Given this, you need to consider a little platform just to the side of your mat. This is often where your ball tray goes when you're at the driving range.
Placing the Skytrak on a driving range mat is the easiest way to get around this and you can still have a practice session this way. You can adjust the height of the Skytrak monitor when using the protective metal case, though a ball tray is not the most stable base to sit the protective case on in the first place.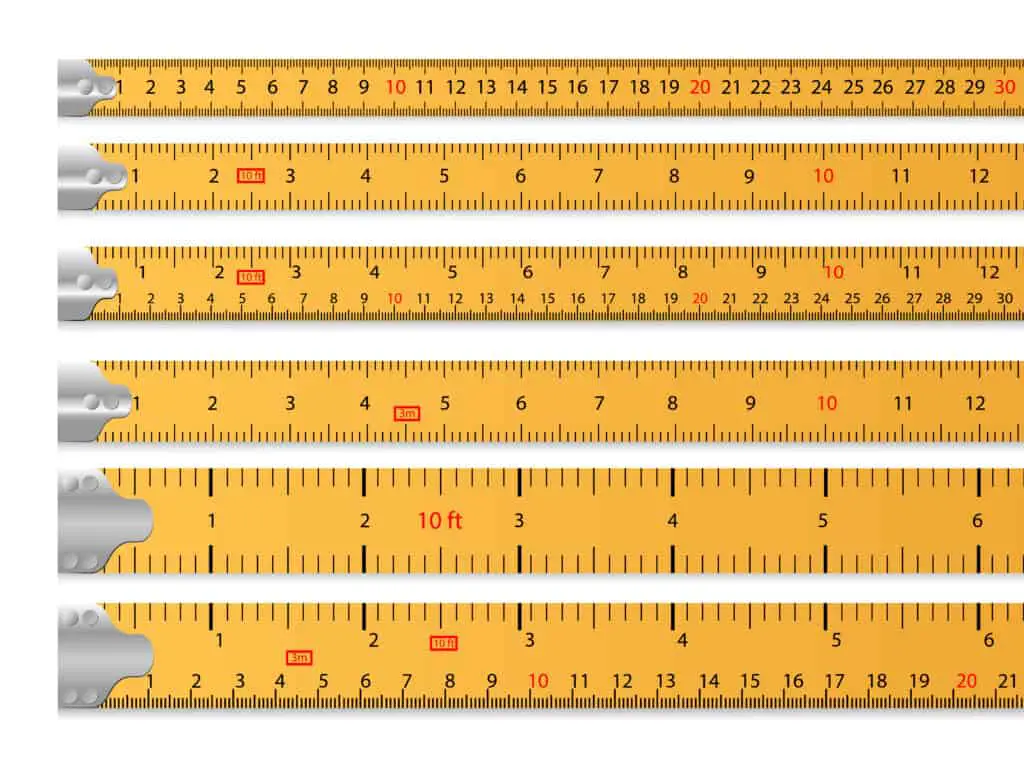 Alternatively, you could make a little platform to sit in the ball tray. This is easier if you always use the same range, with the same ball trays. You'd have to measure the required height. This would be quite a satisfying little DIY project I think, I plan to make my own soon.
Getting the Horizontal Alignment Correct when using Skytrak outside
If you've read the information above about getting the correct vertical height for Skytrak then you'll be thinking about how to achieve the correct height for your launch monitor.
Horizontal alignment is just as important.
If your alignment is off then the shots you're hitting in real life will be very different to those that pop up on your device screen. Your data will also be off.
Instead of the central target line on the impact screen below, you need to pick a target on the driving range or in your hitting area. I use both a long-distance target and a target closer to me. This may be a mark on the floor or you could use a tiny object you make sure is directly on your target line.
Check out this excellent video from the Professional Golf Instruction Youtube Channel, explaining their process for aligning Skytrak.
I recommend buying a little laser that is capable of creating a line on the ground (rather than just a dot). This way you can look at exactly where your target line is pointing and adjust Skytrak accordingly.
These lasers are great for checking your alignment in general practice. You'll be able to see whether your feet, shoulders or club aim are where they're supposed to be. They're an excellent addition to putting practice too.
Preventing missed shots when using Skytrak Outside
Sunlight
Too much ambient light entering the high speed camera sensors on your Skytrak can impair the unit's ability to read your shots.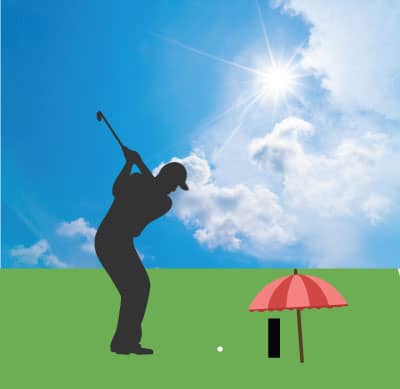 The Skytrak launch monitor uses a photometric system to capture and record the measurements of the ball, before analysing the data and giving you results. This means that the launch monitor takes high-speed shots of the ball from launch and afterwards.
Now, if the area where the cameras are located is hindered by anything, including the intensity of sunlight, it could lead to inaccurate measurements or no measurements at all.
This may occur both indoors and outdoors. However, most home golf simulator rooms will have dimmed lighting in comparison to outside use.
When using the Skytrak outdoors it is best not to place it directly facing sunlight. You want to limit the amount of ambient light falling directly on the Skytrak lenses. This is in contrast to the light falling on the ball, where brighter lights (up to a certain level) are a good thing.
Bright sunlight is more of an issue for those using exposed areas as golf hitting bays or those using the grassy area of a driving range. 
A solution to this would be to use a DIY sun shade for your Skytrak. You need lots of light on the ball and less on the monitor lens itself. A covering just above the Skytrak should do the trick. 
Check out our dedicated article featuring our 13 point checklist to diagnose why your Skytrak might not be registering shots.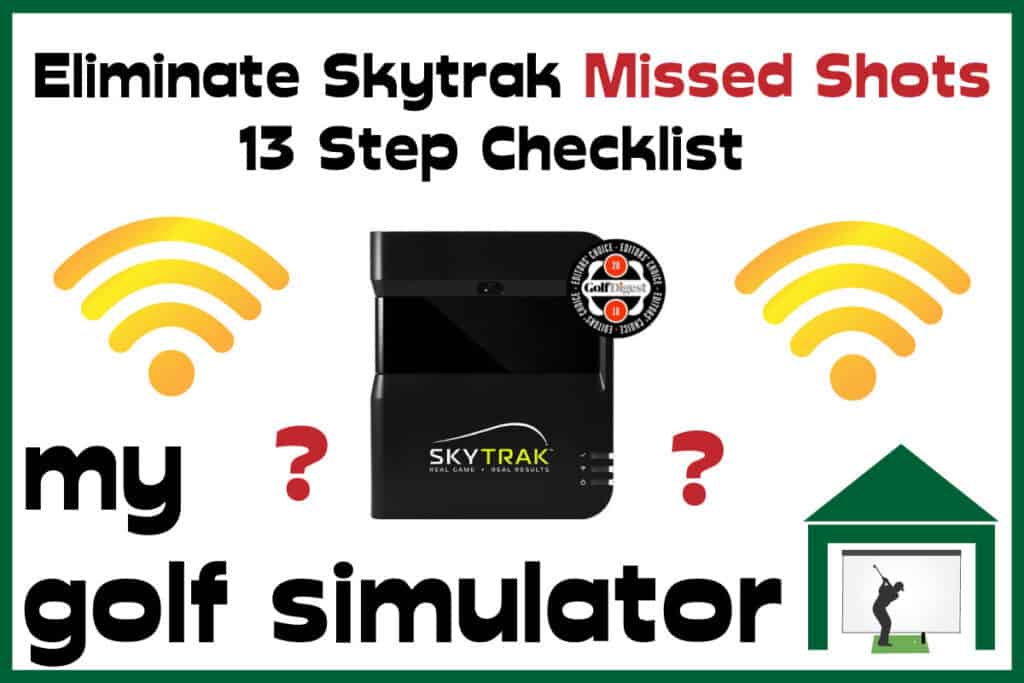 Protecting your Skytrak
Physically Protecting Skytrak
The driving range is a new place for your Skytrak. You are less accustomed to handling an expensive product here than you are at home in your golf simulator. There are other golfers and other people there too. The risk of damaging Skytrak is higher outside and at the range. 
In my opinion, the Skytrak metal case is absolutely essential when using Skytrak outside. To be honest I think its essential inside too. All it takes is one misplaced swing or wayward ball.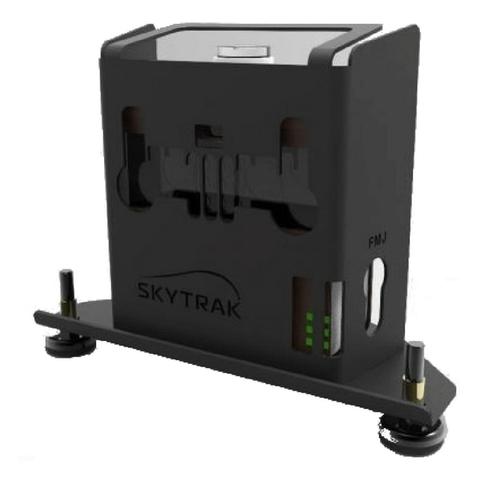 The risk of an extinction-level event for Skytrak is low in percentage terms but catastrophically expensive if it does happen. 
Please check out Skytrak's metal case here. 
Transporting your Skytrak Outside
I recommend purchasing a dedicated protective briefcase for transporting your Skytrak. 
This case should be used when travelling with Skytrak between your home golf simulator and literally anywhere else. 
Inside my Skytrak case goes
The Skytrak launch monitor itself
Skytrak's metal protective case
A spare charging wire and plug
A portable power bank
My iPad with charging cable
A notebook where i record my Bag Mapping results (my club distances and distance gaps). I also record progress with little challenges I use to practice
There is room to include one or two other practice aids. 
This case will only ever be found at the driving range, in my home golf simulator or in my car. I make a point of not leaving it anywhere else. 
This gives me piece of mind that I wont misplace or lose any Skytrak gear. 
Protection against accidental damage, theft, loss and more
You should buy insurance for your Skytrak.
Do you insure your mobile phone? Most smartphones are around half the price of Skytrak and I bet you've considered how rubbish it would be to lose your phone or accidentally damage it beyond repair.
Why wouldn't you insure an item of twice the value, which despite your best efforts, is at risk of damage from flying objects?
You can purchase gadget insurance for Skytrak, which covers you against accidental damage, loss, theft and more. I really recommend this step.
Connection problems when using Skytrak Outside
You need to choose a connection mode to use your Skytrak. The launch monitor needs to communicate with the Skytrak app on a compatible device. This could be a PC computer, a tablet or a phone. 
We have an in depth guide on Skytrak connection modes and which problems can occur whilst connecting here.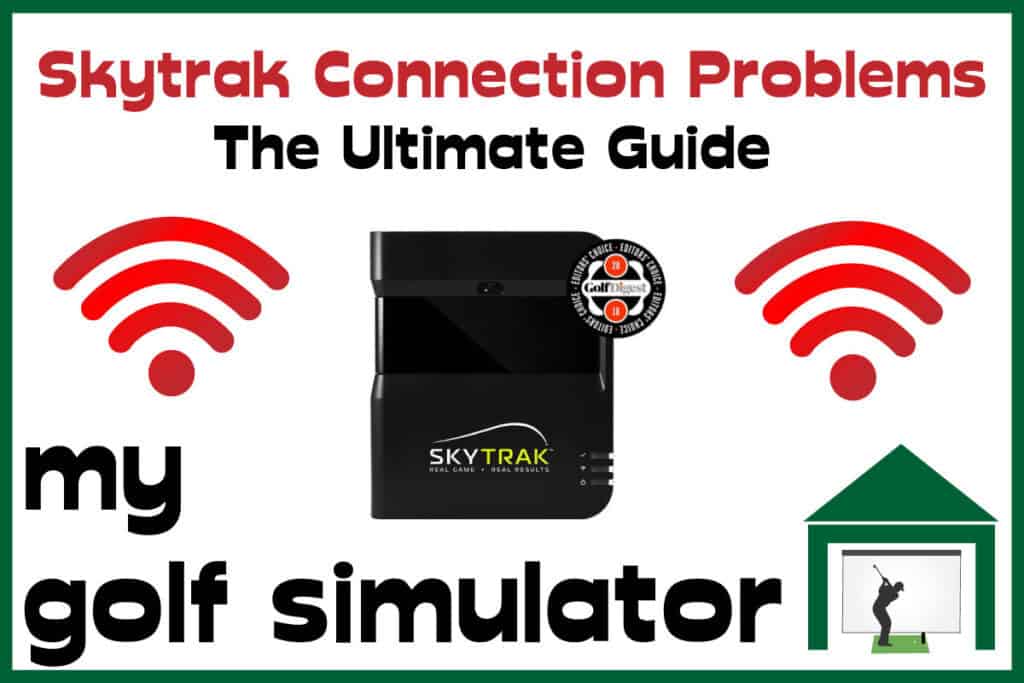 The problem outside and at the driving range is that you're unlikely to have a reliable or strong internet connection.
In the absence of such a connection your options are as follows:
Use Direct Mode 
Use a personal hotspot connection on your phone and access Network mode this way
Direct Mode
Direct Mode is best used when you can't rely on an internet connection. Taking Skytrak outside often means you're taking it out of the range of an adequate Wifi signal.
The Skytrak unit has a Wifi signal of it's own, and in Direct Mode, the device running your Skytrak app will have to connect to this.
You may have to manually connect to the Skytrak Wifi in your device's settings. You shouldn't have to worry about passwords, once you're connected, the two devices will link within the Skytrak app itself.
The disadvantage of direct mode is that you can't have an internet connection alongside the new link between your device and Skytrak.
This means you won't be able to sync your shot data in real time or play simulated courses or challenges online. Once you do go back online though (likely at home with your house wifi) you'll be able to sync your shot data to your Skygolf account.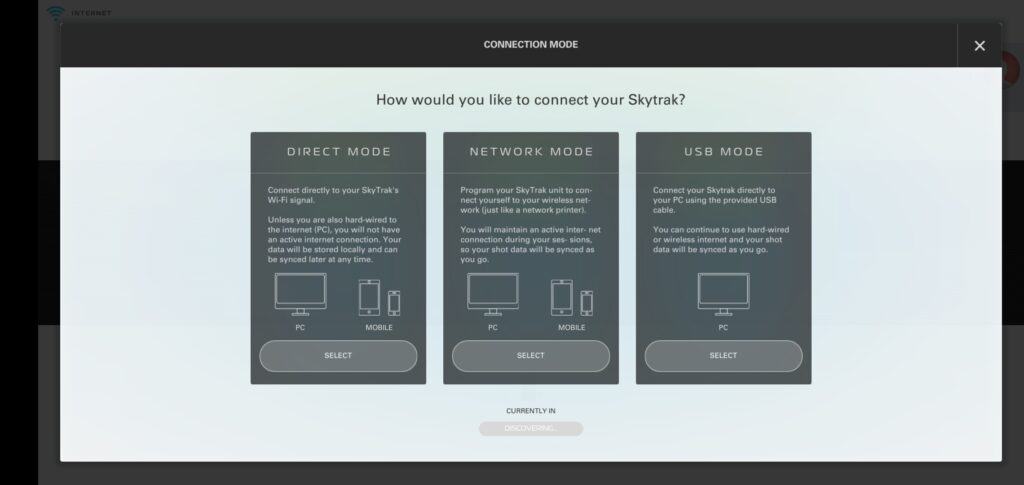 Direct Mode is best for driving range style practice and offline use of any other practice modes.
See our Ultimate Guide to Skytrak Connection Problems to learn more about Direct Mode. We have a step by step guide on how to connect to Skytrak with Direct Mode as well as troubleshooting problems you may encounter.
Personal Hotspot
A personal hotspot is a method of sharing the internet signal that your smartphone gets from the mobile network. You can share this with nearby devices that have Wifi capabilities.
Using this type of connection can allow you to access Skytrak's network mode even when you're out if the range of an adequate Wifi network.
The process of setting up and maintaining such a connection is an imperfect science though.
We have a dedicated article here all about how to connect to Skytrak using a personal hotspot. We include a 13 step process that will help you set it up.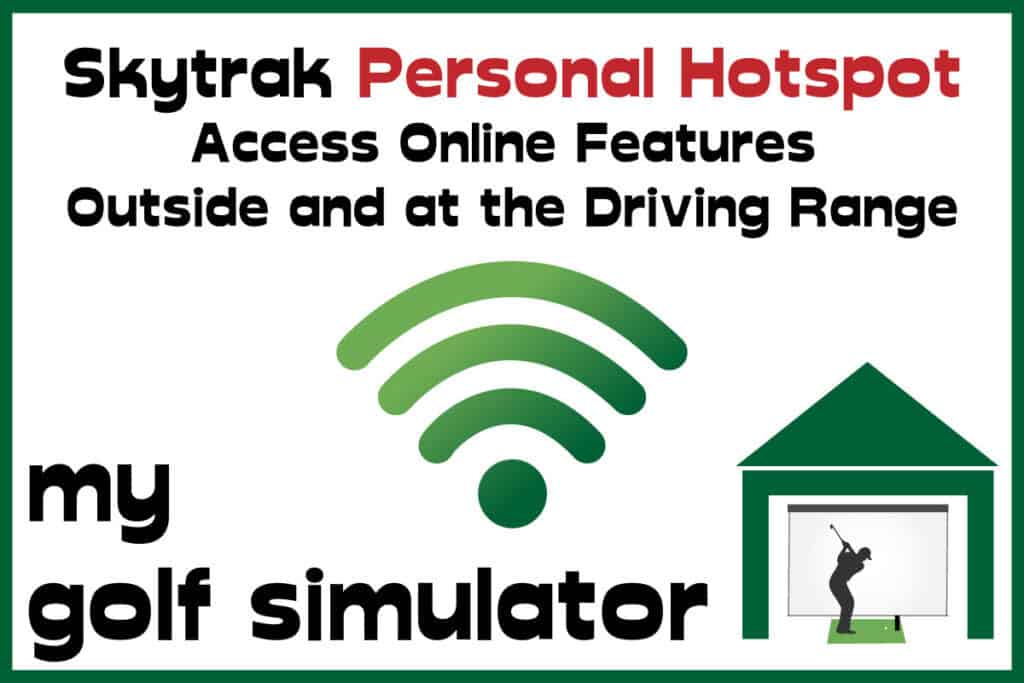 How to get the most from a driving range Skytrak session
What's the best piece of advice I can give for taking your launch monitor to the driving range?
Have a plan! 
Its no good to go to all the trouble of carting your Skytrak off to the range, spending 20 minutes looking silly trying to connect properly and then not knowing what you're going to practice. 
You can use Skytrak to practice your shot shaping,  play a simulated course or use a feature such as Bag Mapping to hone your distances. 
It could be that you try and complete a challenge on Skytrak better each time. 
As long as you have something to work towards competitively, you'll get the most from your Skytrak session. The notebook that lives in my Skytrak case is full of challenges I've set myself and lots of sets of results.
You need to gain a benefit from taking Skytrak to the range. Otherwise you could just leave it at home and go to the range without it.
Final thoughts (with our Using Skytrak Outside Checklist)
Right then. 
You're planning your Skytrak range sessions already, I know it. 
You want to test your launch monitor to see if the shot shapes and distances displayed on your device are accurate to what you can see in real life. Playing simulated courses will be even more real if you can see the ball flight use range targets to aim at.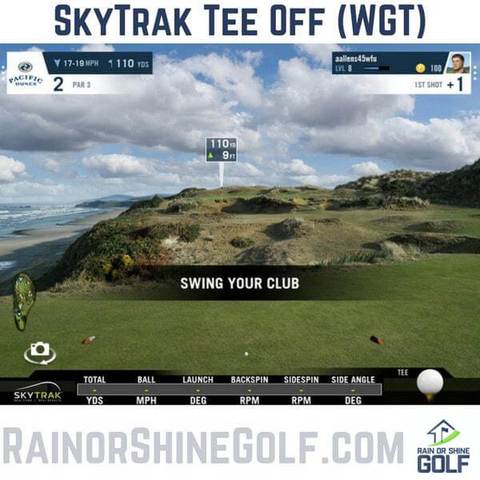 Let's recap.
This is a checklist of the things you need to plan and consider when taking your Skytrak to the range. Planning them ahead will mean you don't need to spend forty minutes setting Skytrak up when you get there.
You need to charge both Skytrak and your device, unless you plan on using a portable power bank
Is the app fully updated?
Are you confident quickly and efficiently aligning your Skytrak? You should practice this at home before leaving.
What's your plan for achieving the correct height for your Skytrak?
Are you taking Skytrak's protective case? (You should!)
Consider the weather and how bright a day it is and whether you need to shade your Skytrak's lenses
Which connection mode will you use? How confident are you setting this up quickly?
Will you use a case like me to transport Skytrak, or another method?
Have you insured your Skytrak?
What's your practice session going to entail? Which modes will you use? What will you work on? Which drills?
I hope this article has also answered some of the questions you had about using Skytrak in a home outdoor hitting area or at the driving range. 
If you've not yet bought your Skytrak, then please check out this link. It's such a fantastic launch monitor. Think of how much extra practice you'll get! 😀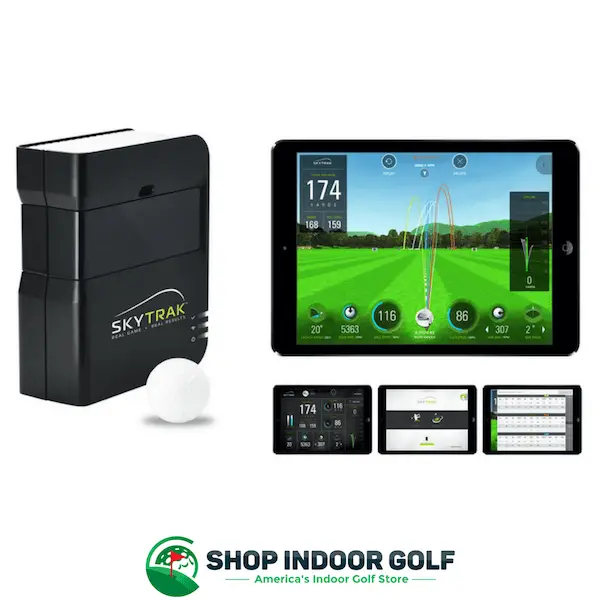 Here are some more articles I hope you'll find useful, thanks for reading!
Skytrak vs Mevo Plus – 27 Comparisons!
Check out my complete guide pitting the two big launch monitor rivals against each other across 27 domains, from space requirements, data, software compatibility, portability, misreads, accuracy, and more.
You will learn exactly which of these two excellent golfing machines suits you and your golf simulator setup the most!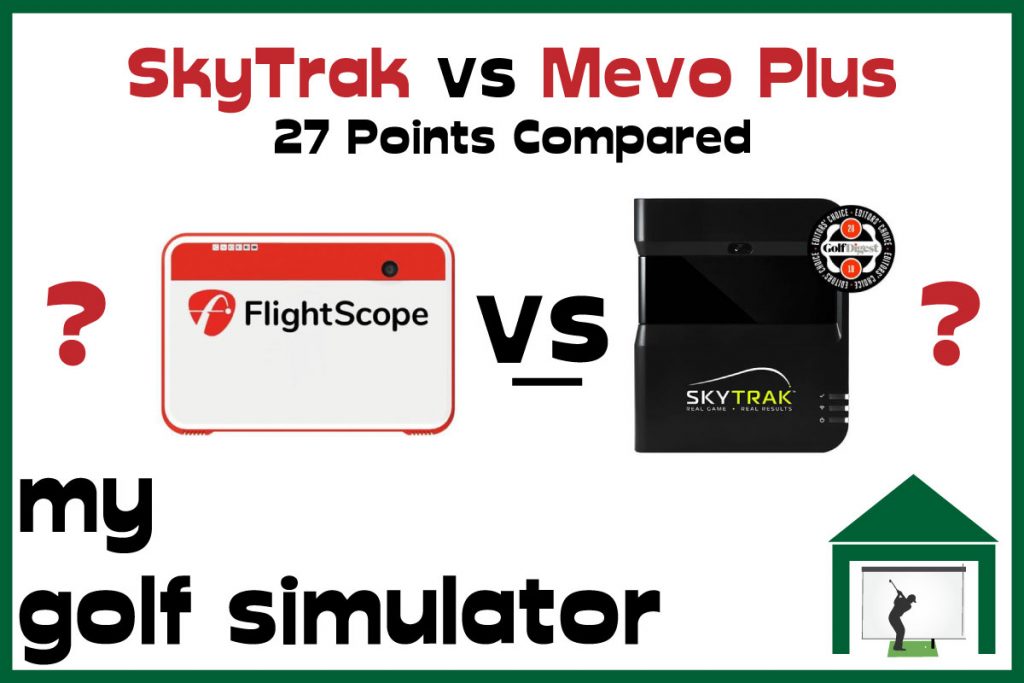 More Commonly Googled Skytrak Questions