Have you heard about using Skytrak Personal Hotspot? Do you want to use network mode at the driving range? What about connecting to your simulator software to play courses outside? When WiFi is unreliable or non-existent you still need a data connection. We show you how in this article.
You can use Skytrak Personal Hotspot on your smartphone to achieve a data connection on Skytrak, when you're outside of WiFi range. This allows you to connect to the internet in Skytrak's network mode and access the online features that make Skytrak so fun to use.
You can access skills challenges, bag mapping and more, as well as playing online courses and syncing your shots as you play.
Skytrak Personal Hotspot connection is an imperfect process though.
We show you how to connect Skytrak to your phone's personal hotspot in this article. 
You can also use a personal hotspot on a iPad or tablet as long as they are equipped with a cellular connection. I don't have a cellular connected tablet but the steps below should be the same for any device that is able to connect to the mobile network.
Using Skytrak Outside
Playing golf with Skytrak outside or at the driving range is likely to involve being outside of a good wifi or internet connection.
You can connect your iPad, tablet or phone to the Skytrak via Direct Mode and use the driving range function no problem. However, your shots won't be synced until you get your Skytrak home and connected back to your internet. You also won't be able to use any online features of your Skytrak.
That is unless you use your phone to set up personal hotspot wifi. You can then access the online features by connecting your Skytrak via Network Mode to the wifi network produced by your phone.
The connection experience often isn't perfect using this method though, and can be hard to set up at first, as previous Skytrak users have found. There are steps you can take in the setup process to maximise the chance of this method working.
We have several hacks in this article which help you if you've already tried a personal hotspot connection unsuccessfully.
What is Skytrak Personal Hotspot?
A personal hotspot is a way to share your phone's internet signal with other devices, in this case with the Skytrak launch monitor.
This means your phone can produce the wireless internet signal your Skytrak needs to access online features through network mode.
How Skytrak's network mode works inside your Golf Simulator
Network mode allows your device to communicate with the Skytrak unit via your home WiFi signal. They both communicate with the router which acts as a bridge between them. This allows a concurrent internet signal so you can sync shot data in real time and access online features. You will need this to play simulator software such as WGT and TGC.
You will need to connect Skytrak to Direct Mode on your device before going on to connect in network mode. This allows Skytrak to learn the network credentials of your device.
We have an in-depth article coming soon on Skytrak Connections and Connection Problems, in which we explain step by step how to connect to Direct and Network modes and also troubleshoot any problems you have doing so.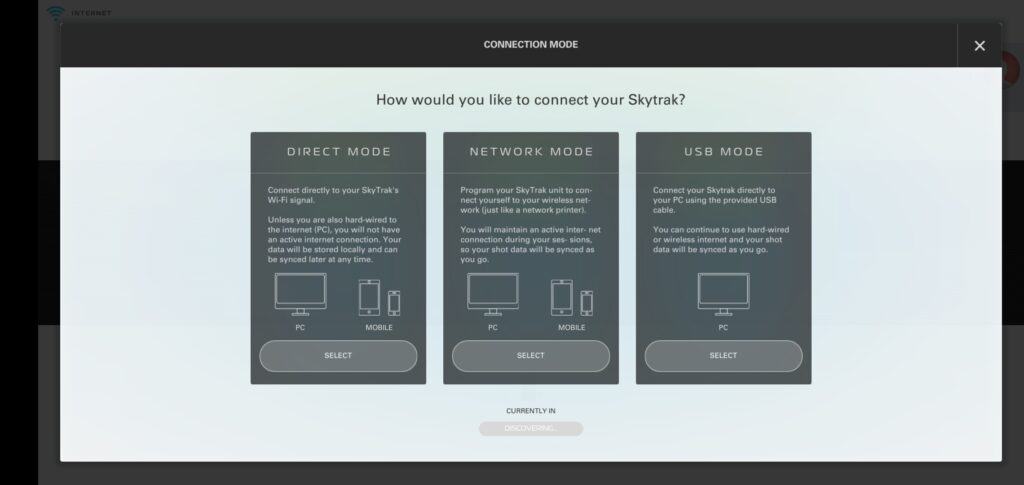 Using Network Mode Outside
When you're outside you're normally out of the range of a good wifi signal. Skytrak can connect to your phone, tablet or computer directly by using it's own built in wifi. This is how Skytrak's Direct Mode works. The downside though is that you can't access online features this way.
You need to access Skytrak's Network Mode to be able to use the online features of the launch monitor and app.
How to use Skytrak Personal Hotspot – 13 Steps
Turn on Skytrak and your iPhone or android phone
Make sure your phone's wifi connectivity is switched on.
Go to your phone settings and click on Mobile Hotspot or Personal Hotspot (depending on your phone you may find it in a sub menu of the Mobile Data menu).
Turn Personal hotspot on
You should see what your network name and password are.
See below our tips for optimising the network name and password to allow Skytrak to connect. Make a note of your network name and password.
The security type should be WPA2 but it can be configured on most phones.
Go to the Skytrak app and click on the central icon on the dashboard to enter the connections menu
Click on Network Mode
You will have to connect to direct mode first.
You should then click 'Proceed to Network Mode'. If this is successful you will then be prompted to give your phone's personal hotspot WiFi network credentials.
The Skytrak will then flash its lights in cycles before going all green if there is a successful connection. If you don't achieve a full house of green lights then consult the troubleshooting section in your Skytrak user guide or on their website. We have a dedicated post coming soon tackling other Skytrak connection problems.
Once the lights are all green, return to the dashboard and begin your Skytrak simulator session!
5 Tips to Avoid Skytrak Personal Hotspot Connection Problems
As we have said above, personal hotspot is not perfect. You may struggle with one or both of the following:
Difficulty getting the connection in the first place
Difficulty maintaining the connection
Next we try to offer solutions to deal with both of these problems:
You might need to change the name of your personal hotspot.
When I first tried to create a personal hotspot with my Samsung phone, the network name was 13 characters long and the password 12 characters long.
Skytrak struggles to recognise both network names and passwords that are over 11 characters long. You should aim to change your personal hotspot network name and password to something shorter in order for Skytrak to connect.
You will also have to make sure that you dont include any special characters (?!% etc) as Skytrak can't recognise them.
It would be easy to fall into this trap if you make a password to reduce the number of characters, but are used to using special characters in your other passwords.
Your network name and password are case sensitive too so make sure they're inputted correctly.
This is important as the pre-made network names and passwords are a random mix of letters and numbers, it's easy to make a mistake here.
Use the always on function on your phone so your Skytrak Personal hotspot doesn't time out
I spent some time researching the problems Skytrak users have had with personal hotspot connections. I found that many struggled for a while before realising their phone was dropping the signal due to automatically shutting off the screen into locked mode like phones do.
Several Skytrak users found they could maintain an adequate personal hotspot connection when they switched their phone to being 'always on' rather than having a timed lock.
Make sure the Wifi sharing option is ticked on your settings.
You can change this back afterwards if you'd rather not be sharing your Wifi connection post Skytrak practice session.
It depends on your location and phone reception
The spanner in the works for personal hotspot is your phone reception. If you don't have adequate cellular signal, you can't project an adequate personal hotspot network to your Skytrak.
There's nothing you can do to fix this except move to a location (or driving range) with better signal.
Don't expect a perfectly consistent signal
Despite implementing the steps above, please do remember personal hotspot and Skytrak are an imperfect partnership. You may have a signal drop during your practice, even with all the settings as they're supposed to be.
In this regard, I would advise trying to avoid sessions on Skytrak with personal hotspot connection where you spend a long time on one practice mode. This could be Bag Mapping or Wedge Matrix for example. If the connection drops you may lose the shot data from your session and have to start again.
However if using Skytrak with personal hotspot is your only means of accessing these modes then it's worth the risk.
Hope for the future
With 5G infrastructure being rolled out, I am hopeful that mobile data connections will be faster, more reliable and better suited to supporting your Skytrak needs through personal hotspots.
I am yet to test Skytrak on a 5G phone but I am to do this in the near future and will report back with an article on this site.
Using personal hotspot for Skytrak Network Mode connection is not a perfect science but it can provide a means of accessing Skytrak features outside and at the driving range.
We really hope this method works for you. I absolutely love using my Skytrak at the range. I can spend hours there working on my swing, I find it so relaxing. It helps me to see that the ball trajectory on Skytrak is very similar to what I actually hit in real life. I believe using my launch monitor like this adds a great deal to my experience of my golf simulator at home.
If you haven't bought Skytrak yet, I couldn't recommend it enough. You get so much launch monitor for your money, it can't be beaten at that price point. Check out Skytrak here, you won't regret it!
More Commonly Googled Skytrak Questions