Is Skytrak Portable? Can you take it outside? What about to the driving range? Have you thought about how you'll transport it there, how you'll protect it? There are a lot of potential headaches to overcome when learning how to take Skytrak with you outside.
Skytrak is definitely portable! You can use Skytrak at home, take it outside into the garden, to a friend's house or to the range. You need to confidently and quickly set up your Skytrak, transport it safely and protect it properly. 
In this article we cover how to set up Skytrak quickly and efficiently, how to transport Skytrak safely and lastly we provide a checklist for moving your Skytrak from A to B. 
Skytrak is portable! Where can you take it?
Your home golf simulator room is not the only place you can use your Skytrak launch monitor. 
There is so much opportunity outside of your home to use SkyTrak to it's full potential.
Making SkyTrak Portable – You can take Skytrak to the Driving Range
Why not take advantage of all the ball flight data Skytrak gives you, whilst actually seeing the shot take off from the driving range. 
You can do this when, for whatever reason, you simulator room is out of action. You might be so eager to start your golf simulator experience that you buy Skytrak before you've set up your full simulator space. 
Golfers can even buy and use Skytrak when they dont have enough space at home for a full simulator. 
If you are happy taking Skytrak to the range then you can use the driving range as your golf simulator space. You dont need to worry about headaches related to projectors, impact screens or room dimensions and it even comes with a free golf mat.
You can benefit from access to all the data that SkyTrak provides about your swing. It's also really fun! 
What's the biggest downside of launch monitor practice at the driving range?
One drawback of range practice with a launch monitor is that you have to use range balls, which are inferior to premium balls and can generate inaccurate and inconsistent spin and ball flight readings.
We have a dedicated post coming soon covering the use of range balls with launch monitors.
My advice is that you can still use your Skytrak at the driving range and have a great time. You can also use it to really help your golf game with fun challenges and targeted practice.
Use your Skytrak driving range practice to work on shot direction and shape rather than being too hung up on your distances. You can also purchase a Skytrak accessory like SkyPro which adds all the benefits of club data to your setup.
This supercharges Skytrak into a launch monitor to rival the very best.
You can use Skytrak outside in a garden golf simulator hitting bay 
Okay, so you really want a Skytrak golf simulator but you dont have the space indoors. 
Why not create a hitting bay outdoors?
A outdoor hitting bay with netting, set up with an iPad can set you back a fraction of what a full indoor build can cost. 
You can save on the impact screen, projector and gaming PC. That's a lot of money saved! A portable golf mat will damage your wallet a lot less than a fixed premium mat too! 
Depending on the size of your garden and the neighbour situation where you live, you could even put a covering over the top of your hititng bay that would protect it from most of the bad weather. I'm thinking a golf gazebo! 
Check out the Cimarron Masters Golf Net Enclosure With Complete Frame here. This makes a fantastic outdoor hitting bay!
Skytrak is portable enough for you to take it to your friend's house 
Has your friend got a hitting bay? Does your friend live somewhere with a big field? Hit your shots there at your own risk haha!. 
Skytrak is a pretty good piece of kit to be able to show off! 
Use our tips and checklist below to make sure you look don't look like a lemon when you're flaunting your prized possession!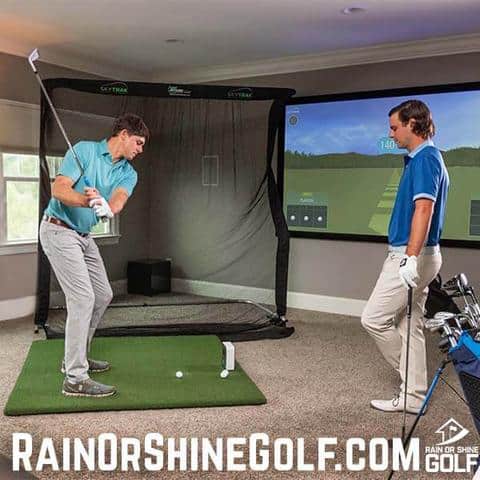 You can use Skytrak to Teach
Golf teaching professionals will need to use their Skytrak launch monitor in a variety of places to get the most value. 
You can use Skytrak at 
Your club's driving range
The short game practice facility at your club
Your club's practice nets/hitting bay
Your club's indoor golf simulator (if they have one)
Any similar facility at another club or academy
At your own home golf simulator or hitting bay
You should become an expert in your Skytrak. 
This means knowing not only how to use the ball flight data your Skytrak provides but also how to expertly set up, align, transport and protect it. 
Coming across confident and efficient when handling your kit is important. 
Utilising the tips below and checking out our range of Skytrak articles are the first steps you can take. 
Don't forget to keep Skytrak fully charged and updated
Getting to the driving range and realising your Skytrak is about to die is such a pain! I used to be terrible for losing charging cables and always having to run around the house looking for the right one.
My Home charging station 
When I built my golf simulator room, I decided to put an end to this frequent habit of running around like a headless, frustrated golfing chicken. I bought a tool bench and had several good quality electric sockets installed above it. This was my new charging station. I would store all my charging cables and my devices here, including Skytrak, my Garmin Approach G80, my LiveView Pro Camera, my SkyPro, and several more.
I'm a golf-tech nerd!
I would make a specific point of not taking Skytrak (or it's charging cable) anywhere else in the house. This means there should be no situation in which I've left it there.
My Skytrak is always fully charged and ready to go!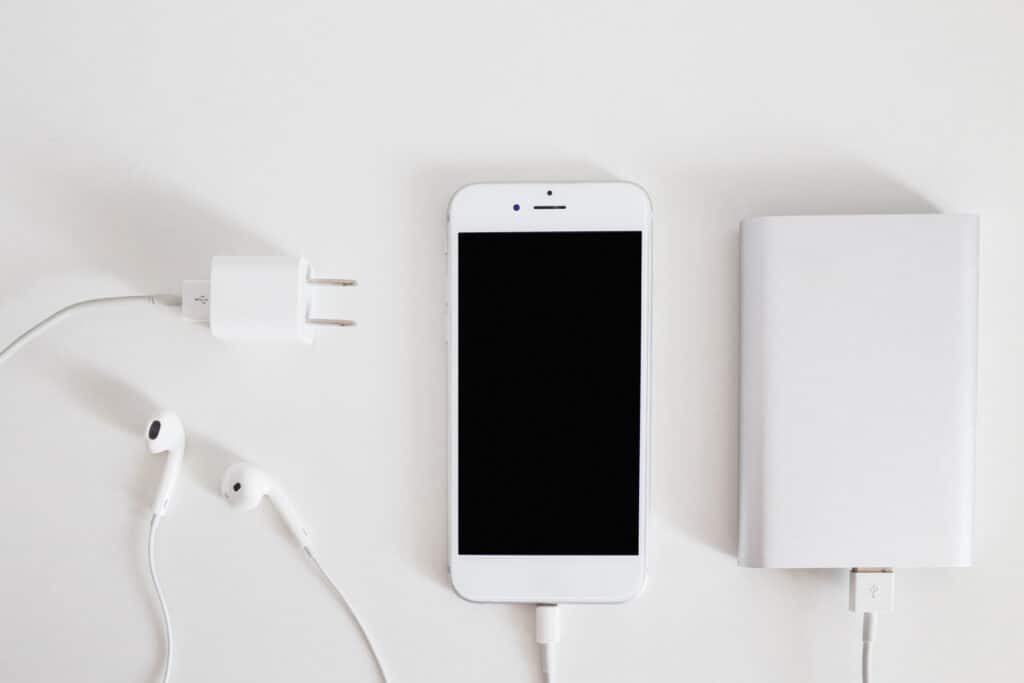 Have a connection plan for your Skytrak
Before you set off on your Skytrak journey, make sure you're confident connecting your Skytrak in direct mode. 
This will be your go-to connection mode if you don't have an internet connection. 
The downside to direct mode is that you wont be able to have a concurrent internet connection with which to sync your shots to your profile or to use online features (including your simulation software). 
SkyTrak owners who struggle with connection problems will find this article really useful. It's our Ultimate Guide to SkyTrak Connection Problems. You'll learn all about the different ways to connect your device to your SkyTrak launch monitor and then be able to diagnose and fix each problem that arises along the way.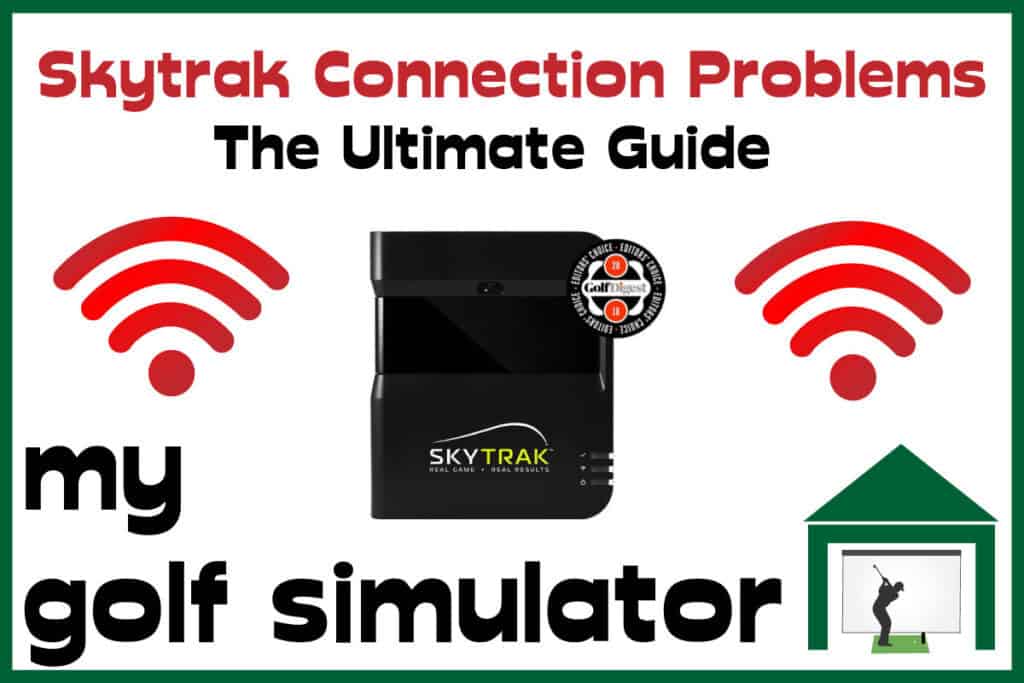 If you're outside of wifi range and still wish to access online features via network mode, fear not, you still can! You can access your mobile phone's personal hotspot to share the 4g (and soon 5g) signal and access network mode. 
We have a dedicated post all about using a personal hotspot to connect to Skytrak. Check it out here. 
You Need to Know How to Align your Skytrak Outside
Alignment is paramount to achieving accurate results with Skytrak when you're outside. You need to consider both horizontal and vertical alignment for your Skytrak unit, this sounds complicated but once you nail down the process it doesn't take long.
Skytrak's protective metal case helps massively with vertical alignment too.
Get Skytrak at the right height
If Skytrak is sat too high or too low compared to your golf mat, you risk frequent missed shots. The ball flight data you do receive is likely to be less accurate too.
Skytrak needs to be placed on a platform which is entirely level with the top of the golf mat, where your ball sits. Skytrak should not however be placed on the mat itself.
When a golf club strikes a ball from a golf mat, it causes vibrations within the mat and movement of the fibres around the impact area.
Such movements are small but they affect the accuracy of Skytrak's measurements. Skytrak needs a firm base without these vibrations and movements in order to make the most accurate measurements possible.
So, how will you manage perfect vertical alignment?
You need a flat platform for Skytrak just off the side of your mat, where a ball tray usually goes. You can sit Skytrak in the ball tray as long as it's level, and adjust the feet of Skytrak's metal case in order to achieve the right height.
Placing the Skytrak on a driving range mat is the easiest way to get around this and you can still have a practice session this way, just note the above points about accuracy.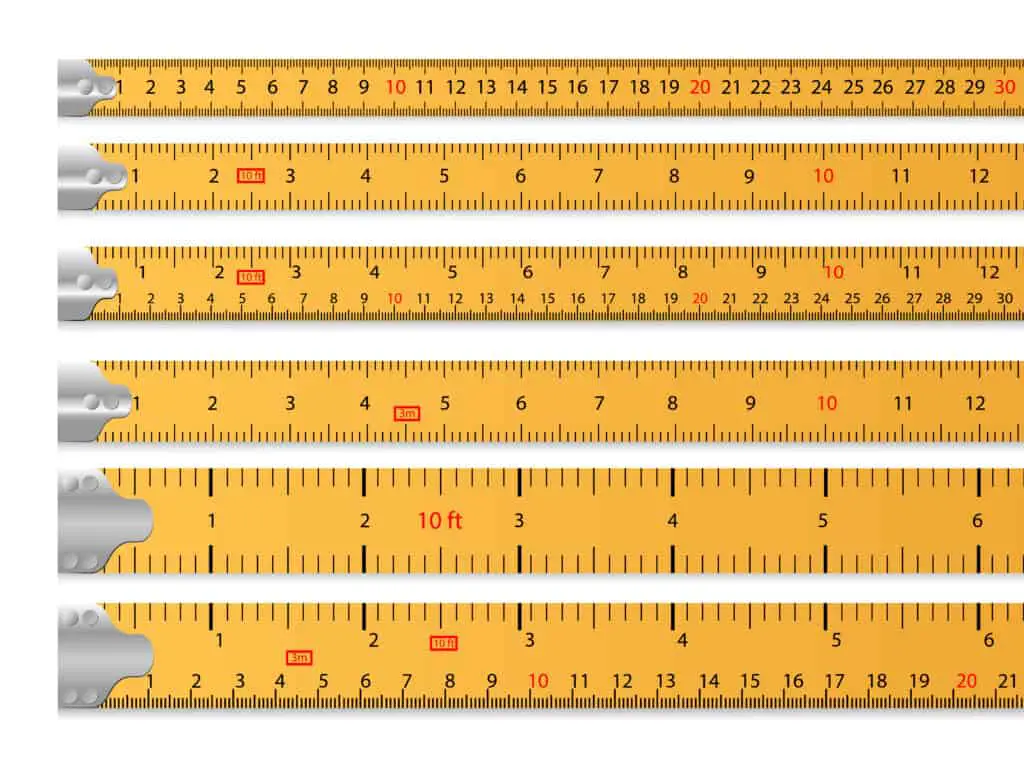 Why not make a little platform to sit within the ball trays at your driving range. This is really for golfers who go to the same range each time. You'd have to measure the shape and required height to the millimeter.
I enjoy little DIY projects that make my golf simulation efforts easier, it's so satisfying!
Getting the Horizontal Alignment Correct when using Skytrak outside
Horizontal alignment is just as important as vertical alignment, if not more so!
You'll know if your horizontal alignment is off when you're at the range as the shots that come up on your device screen will be very different to what you see in real life.
You need to swap what would be the centre of your impact screen at home for a new target in your driving range bay. You need a target, both long distance down the driving range and just in front of you, such as a mark on the floor.
I recommend buying a laser pointer capable of creating a line on the ground (rather than just a dot). You can see exactly where your target line is pointing and adjust Skytrak as required.
Take a look at this great video from the Professional Golf Instruction Youtube Channel, explaining their method of aligning Skytrak.
I recommend practicing your Skytrak alignment setup at home a few times. You'll be so much more confident sorting out Skytrak when you arrive at the range. Try and get your setup time, including placement, connection and alignment down as low as you can.
How to safely transport Skytrak
If you've read some of our other SkyTrak posts, you'll know all about my SkyTrak briefcase.
This is a metal suitcase with a lock, designed for air travel. I bought it on ebay for £35. It has padding on the inside and is spacious enough to fit my SkyTrak, it's protective metal case, my charging and USB cables, my power bank and my notebook in which I record my golf practice.
There's plenty room for extra swing aids or other equipment. I usually take my LiveView Pro Camera and SkyPro too.
I take this case with me whenever I'm transporting my Skytrak. The case only ever exists in my golf simulator room, in my car or at the driving range. I make an effort not to leave it elsewhere in the house.
How to Physically Protect Skytrak
Never, ever use Skytrak without its protective metal case. 
SkyTrak needs to be close to the golf ball, without sustaining damage.
You can overcome this seemingly impossible compromise with Skytrak's metal protective case, which allows the monitor to record ball flight data while protecting it from shanked golf balls and flailing clubs. 
For those thinking of using Skytrak without the protective metal case, consider whether you'd put your new smartphone anywhere near the swing path of your 9 iron. I wouldn't ?
You can alter the height of your SkyTrak using the adjustable feet on the metal case. This is a useful feature allowing you to alter the vertical alignment that is so important for registering shots and making sure the data given is accurate. This is a common problem for SkyTrak users given the unit needs to be at the same level as the ball but ideally not on the golf mat itself.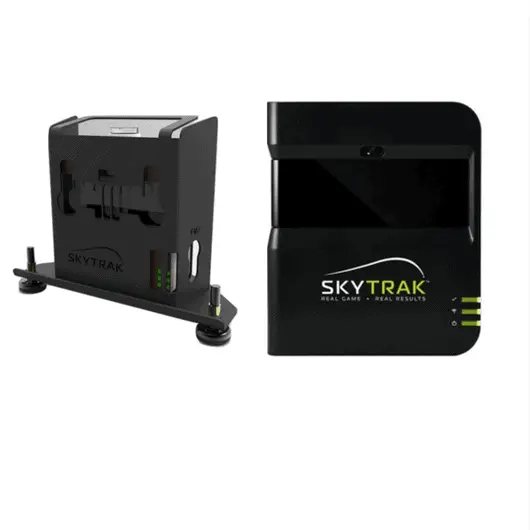 You can buy Skytrak's protective case here.
Consider using an impact bag too with Skytrak
SkyGolf suggest using an impact bag in your SkyTrak setup. The idea is the it gives the launch monitor further protection against errant club strikes. Click here to see a picture of this setup.
If you plan on relying on the SkyCare repair program, you're expected to use BOTH the metal case AND an impact bag in your setup, whether you're at home, at the driving range or elsewhere.
Should you insure your Skytrak?
Yes! You should insure your SkyTrak. I need to repeat myself, please, insure your Skytrak!
You've bought a launch monitor costing two grand. You're also planning to place it a few inches from a club travelling around 100mph and a ball travelling quite a bit faster. And that's not to mention the added risk associated with transporting it around. Can you see the potential risks here?
Insuring your Skytrak protects you from losing all your money, this can happen easily, for example if you:
Destroy your Skytrak with a club, a ball, or or you drop it onto the floor
Lose your Skytrak
Have your Skytrak stolen
Have Skytrak vandalised
Lose your Skytrak to a fire or other disaster.
Skytrak costs 75% more than my premium smartphone cost me. I would never think of not insuring my mobile phone.
Imagine how gutting it would be to drop your Skytrak and it smash. I'd be so upset! It gives me piece of mind to know I'd have protection in place from a nightmare scenario like this. 
Check out our dedicated post on how to protect your Skytrak. We talk about all these things in more detail and explain all about the SkyTrak manufacturer warranty as well as the SkyCare repair program.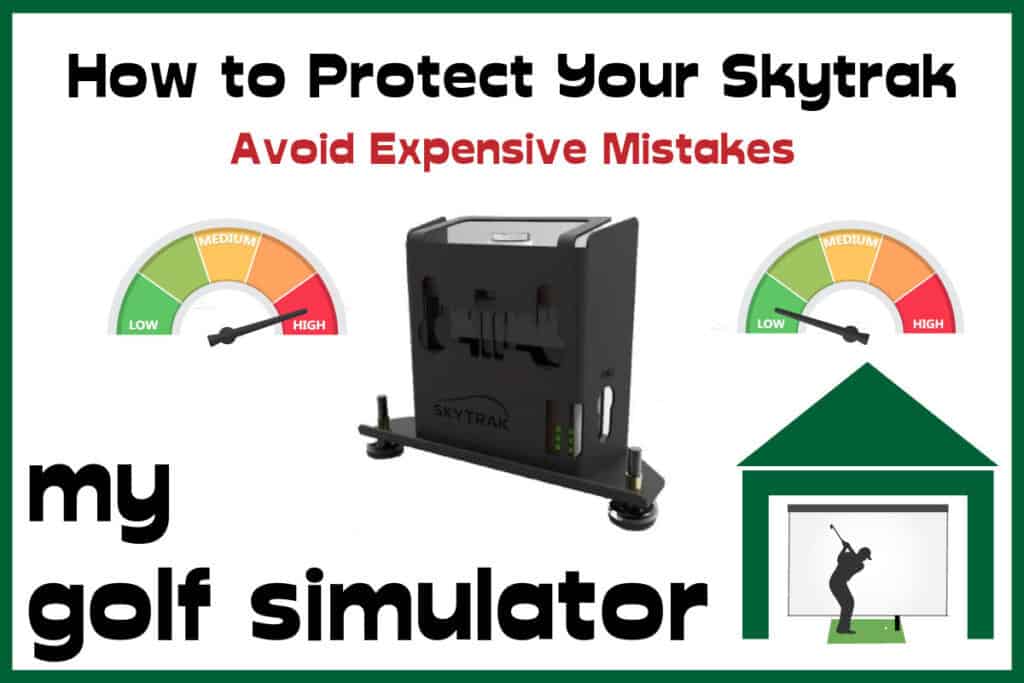 Making Skytrak Portable – Your checklist 
What's better than a home golf simulator? A portable golf simulator that you can use at home and also take outside into the garden, to a friend's house or to the range. 
Let's recap.
Use this checklist to safely, confidently and efficiently transport your Skytrak around. 
Ensure Skytrak is Charged
Have a connection plan with a backup connection plan too (direct mode is usually a reliable backup).
Transport Skytrak safely in a dedicated 'Skytrak Briefcase'. You can take any cables, accessories and training aids in here too. 
Insure your Skytrak (important!)
Use Skytrak's protective metal case
Be confident to quickly and correctly align Skytrak and set up its connection. 
Return Skytrak to it's rightful place in place  golf simulator room. Dont leave it in any other room in the house. 
I hope you enjoyed this article. After reading, you should be more confident taking Skytrak out into the world outside your simulator room.
We have a dedicated article all about using Skytrak outside. We cover issues like lighting and alignment.
If you haven't yet bought Skytrak, I REALLY recommend this launch monitor. 
It's a fantastic piece of equipment that will get you playing more golf. You'll have loads of fun whilst using data to improve your game.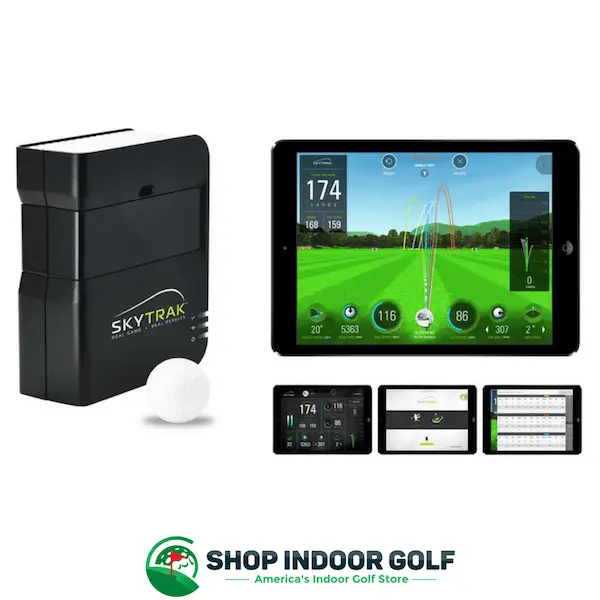 We have many other articles all about how to get the most out of your Skytrak. Please take a look. Thanks, Alex
Skytrak vs Mevo Plus – 27 Comparisons!
Check out my complete guide pitting the two big launch monitor rivals against each other across 27 domains, from space requirements, data, software compatibility, portability, misreads, accuracy, and more.
You will learn exactly which of these two excellent golfing machines suits you and your golf simulator setup the most!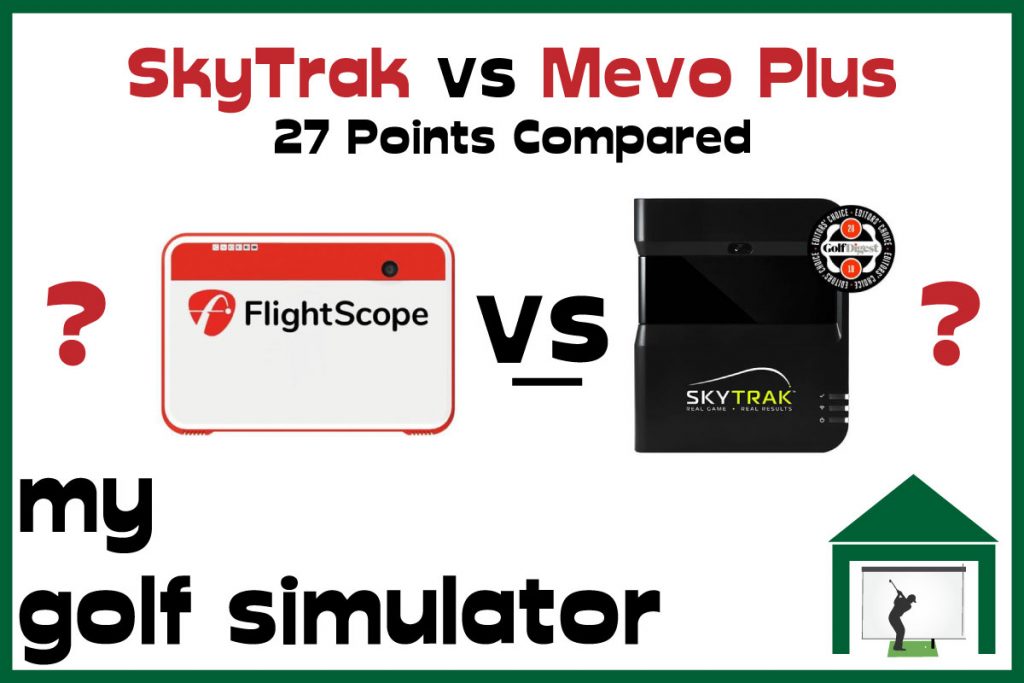 More Commonly Googled Skytrak Questions