Flightscope Mevo Plus and Garmin Approach R10 are both extremely popular radar-based launch monitors. This article will pit Mevo Plus vs Garmin R10 across 18 key areas, so you can decide which is best for you based on your specific golf simulator needs.
| Mevo Plus Strengths | Garmin R10 Strengths |
| --- | --- |
| Established and Frequently Updated | Low Price Point - Promises Excellent Value - Easier to 'try out' |
| Excellent Simulation Software Compatibility (including GS Pro) | Garmin's Extensive Directory of Courses Available in Home Tee Hero App |
| Entirely Portable | Entirely Portable |
| Fusion Tracking Upgrade to enhance accuracy | Requires no metallic dots or special golf balls |
| Pro Package Upgrade offers advanced club data | Club data available at excellent price |
| More expensive than Garmin R10 but still excellent value | Upto 10 hours battery life |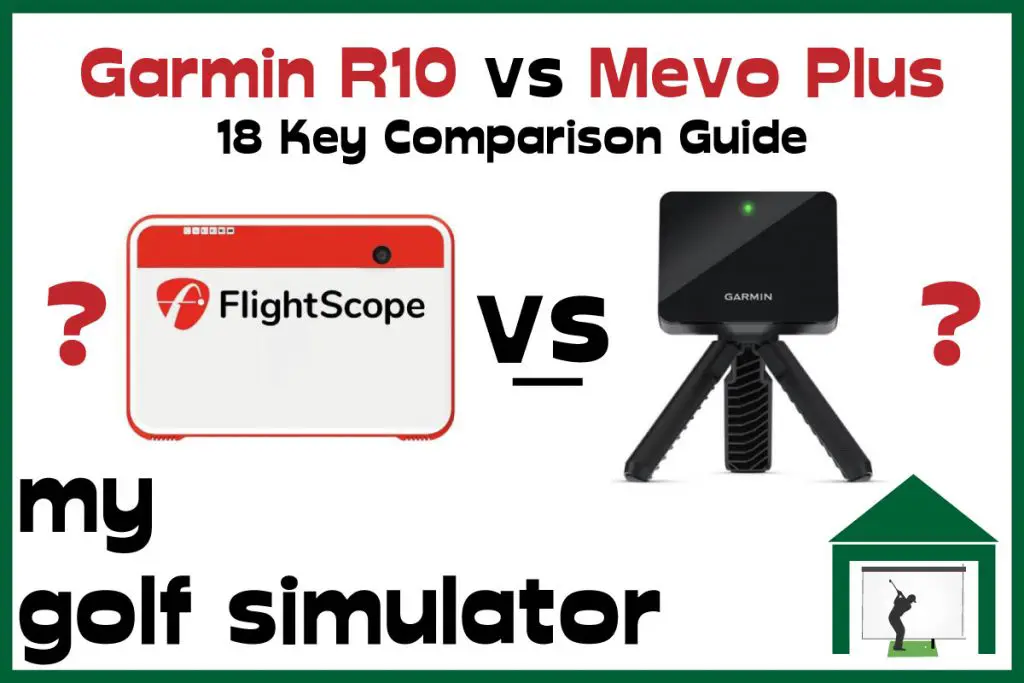 History, Release Date and Market Reception
The Garmin R10 Approach was released in 2021 and sent an earthquake through the launch monitor market, offering portability, club data and broad software compatibility for an amazing price of under $600. There is often difficulty getting ahold of a R10 unit as they are so popular!
The Flightscope Mevo Plus is a couple of years older, and has had time to tease out all the teething problems that come with a new launch monitor release.
Then in early 2022, Flightscope upgraded the Mevo Plus with their flagship Fusion Tracking technology (more on this later), truly optimizing accuracy. The addition of the Mevo Plus Pro Package adds advanced club data to the already-excellent package.
Mevo Plus has become one of the most popular launch monitors on the market.
Data Measured
What Data Does Mevo Plus Measure? (Standard Package Vs Pro Package)
The following table displays the launch data recorded by the Mevo Plus as standard and the extra data parameters available with the Mevo Plus Pro Package upgrade: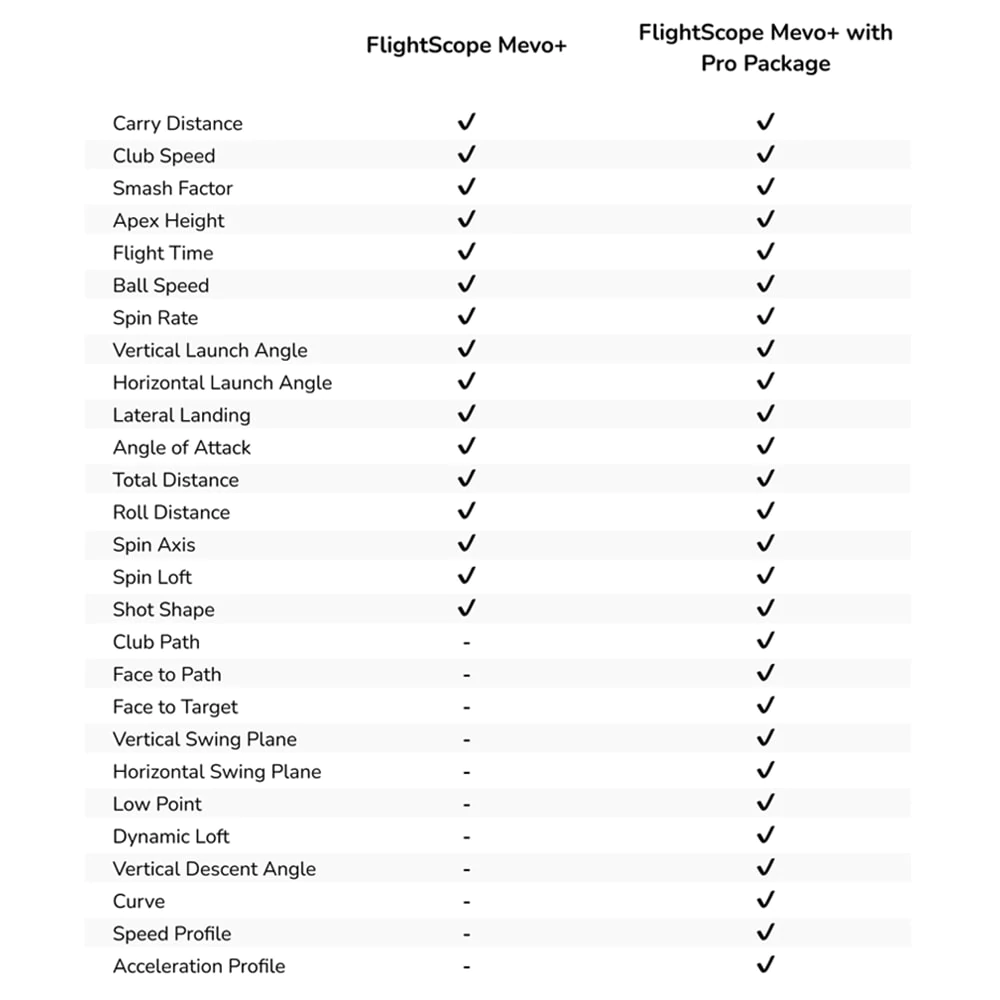 Even without the Pro Package upgrade, the Mevo Plus offered a solid suite of launch data. However, I believe the accurate club data in a launch monitor costing under $3000 is a very tempting deal!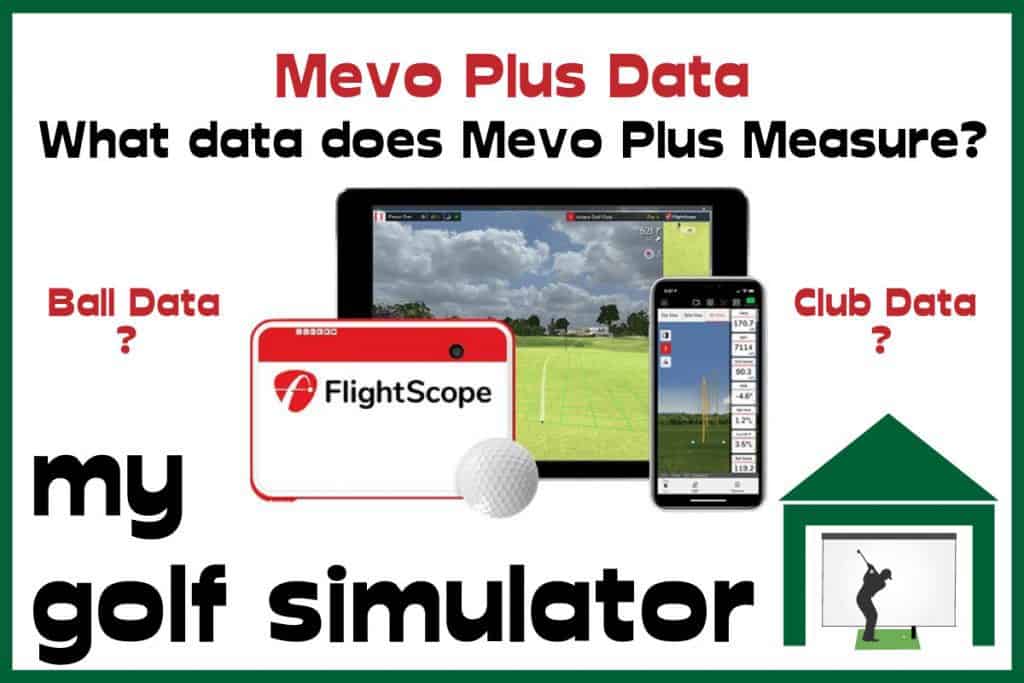 Two huge upgrades came to Mevo Plus in early 2022, which comprised one free and one paid firmware update.
The Mevo Plus Pro Package brought advanced club data to the table, giving Mevo Plus owners access to data parameters such as club path and face-to-path, these are data points previously only available with very expensive equipment!
The second update is free and boosted the accuracy of the Mevo Plus using Flightscope's patented Fusion Tracking technology. This tech combines the radar system in the Mevo Plus with advanced image processing to improve data accuracy. 
Again, Fusion Tracking was previously exclusive to more expensive hardware, in this case, the Flightscope X3.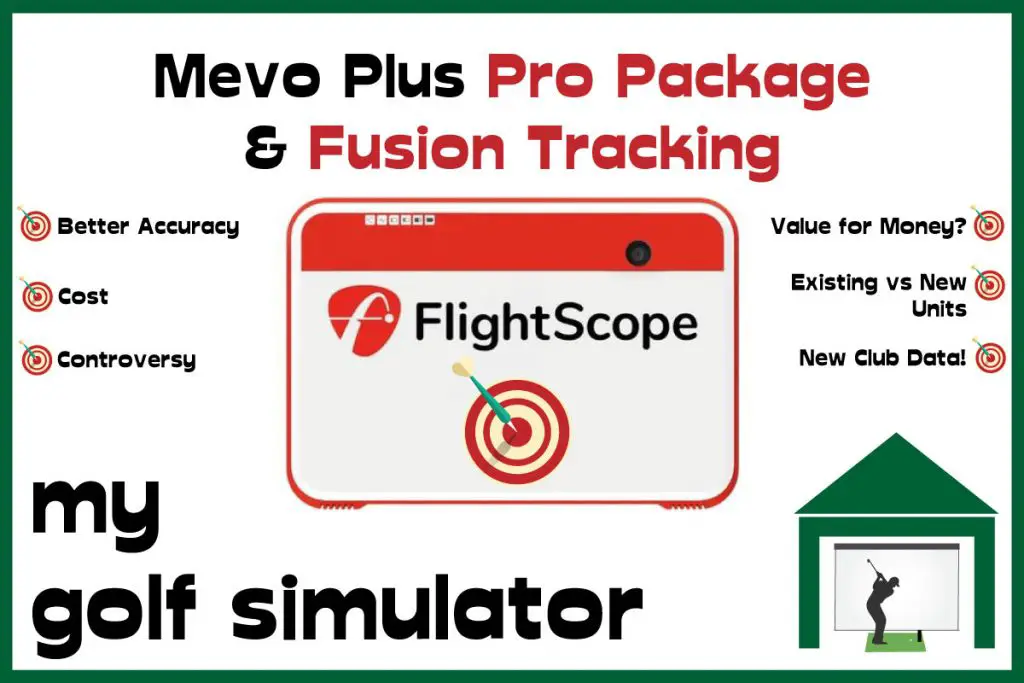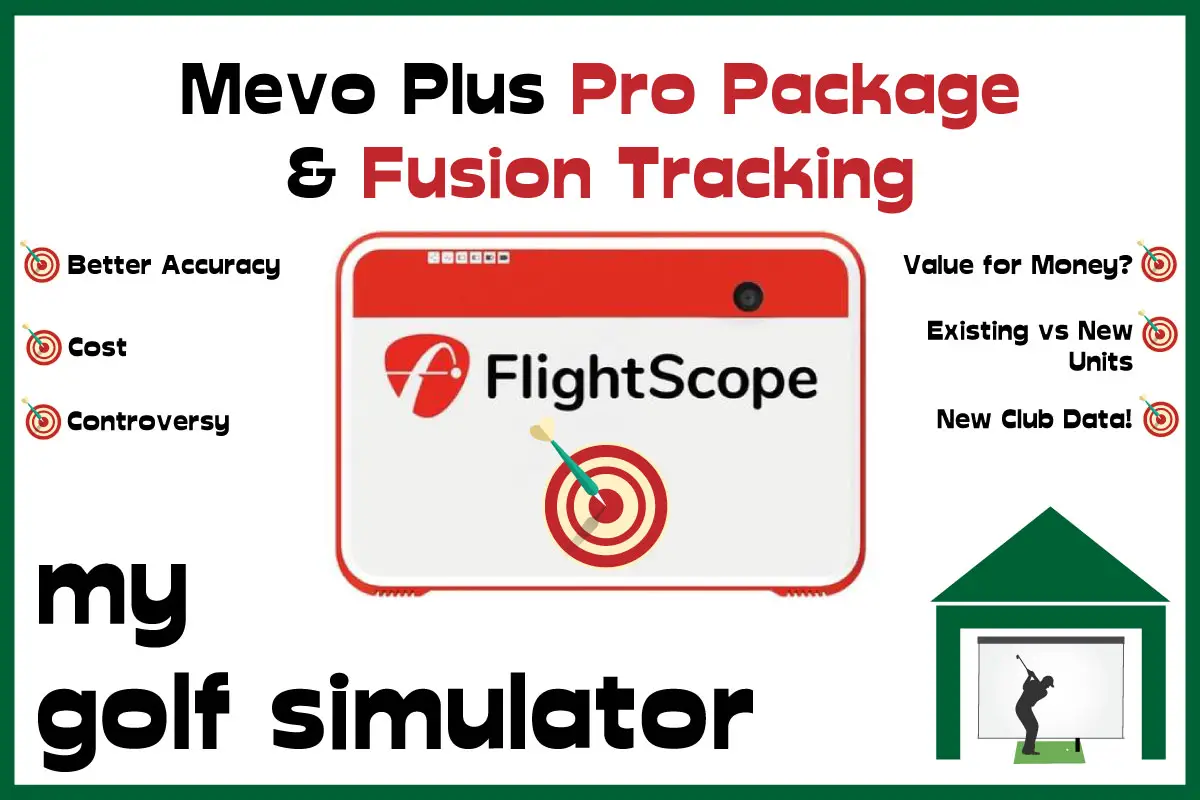 What data does Garmin R10 measure?
The following table explains the launch data parameters recorded by the Garmin Approach R10, split into those which are directly measured and those which are calculated by modelling, with associated published error margins:
These are the golf ball launch data metrics that are featured by the Garmin Approach R10 Launch Monitor, split into those that are directly measured and those which are calculated by the onboard algorithm. Accuracy/Error Margins are listed where they are published by Garmin. Source:
Garmin
| Garmin R10 Data - Directly Measured | Garmin R10 Data - Calculated Parameters |
| --- | --- |
| Ball Speed (+/- 1mph) | Spin Rate / Total Spin |
| Clubhead Speed (+/- 3mph) | Spin Axis |
| Launch Angle (+/- 1 degree) | Carry Distance (+/- 5 yards) |
| Launch Direction (+/- 1 degree) | Total Distance |
| Back swing and down swing times | Club path |
| | Face Angle (+/- 2 degrees) |
| | Face to Path |
| | Apex height (+/- 5 feet) |
| | Smash Factor |
| | Angle of attack |
| | Swing Tempo |
| | Deviation and Deviation Distance |
You get an amazing amount of data with the Garmin R10, especially given the lower price point in comparison to other launch monitors.
A few years ago, you'd have to spend many thousands of dollars to get this suite of data, now it is available in a launch monitor that is portable and boasts excellent software compatibility.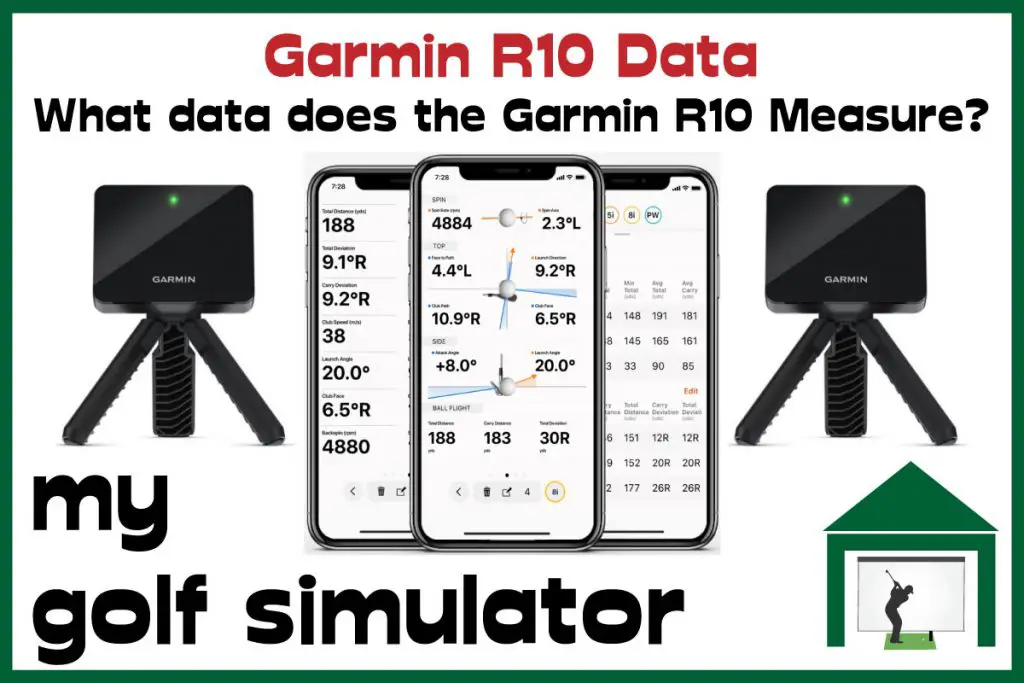 How do they work?
How does Mevo Plus work?
Mevo Plus is a portable radar-based launch monitor, which tracks the flight of the ball and the movement of the clubhead in detail. It calculates how the ball is moving by comparing emitted and received electromagnetic waves.
To do this, Mevo Plus needs to emit its radar signal into the golf simulator room area without interruption or any objects blocking the way. Mevo Plus needs an adequate 'view' of the area, meaning it should be placed behind the hitting area at the correct distance and tilted appropriately, which we will discuss later.
Mevo Plus also lets you integrate smartphone swing video footage into your practice, which is a cool feature!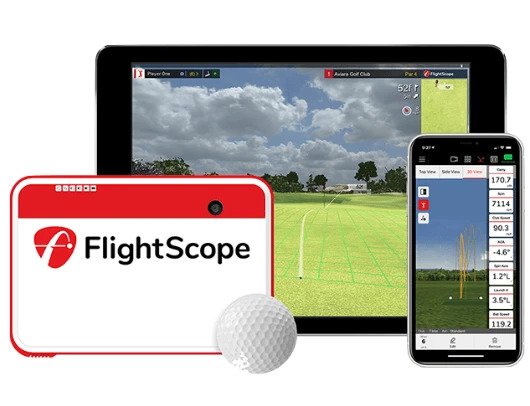 How does Garmin Approach R10 work?
Just like Mevo Plus, the Garmin Approach R10 is a portable radar-based launch monitor, that works by emitting a radar signal into the golf simulator room area and comparing the emitted waves with the reflected waves that are received back.
The received waves will be changed by a moving projectile (the ball and the clubhead) moving through the radar field.
Software and Apps
Mevo Plus Software Options
The following golf simulation software programs are compatible with Flightscope Mevo Plus:
GS Pro
TGC 2019
E6 Connect

The Mevo Plus comes bundled with a limited version of E6 on iOS devices. this includes five golf courses (Wade Hampton, Aviara, Stone Canyon, Sanctuary, Belfry), 17 ranges, and a mini-game. You'll have to purchase the full E6 to use it on PC or to access the full features. This is a great way of getting into your golf simulator early before you've fully completed your setup (gaming PC etc).

Creative Golf 3D
Awesome Golf
The FS Apps
Mevo Plus and GS Pro
There had been a lot of speculation recently about whether official integration with GS Pro was coming for the Flightscope Mevo Plus. Announcements were delayed somewhat as Flightscope threw all their efforts at the fantastic Fusion Tracking Update and Mevo Plus Pro Package.
Alongside these upgrades, GS Pro integration promised to turn Mevo Plus into a serious competitor to even some top-of-the-market launch monitors.
Flightscope listened. They have worked closely with the team at GS Pro to produce a high-performing seamless integration, which includes all the club data parameters featured in the Mevo Plus Pro Package and the enhanced accuracy that comes with the Fusion Tracking update. It's a real win for Flightscope.
The Mevo Plus FlightScope FS Apps
Mevo Plus ships with the FS Golf App and the FS Skills app, which are designed for mobile or tablet use.
The FS Golf App is the main application for practice with the Mevo Plus, featuring driving ranges and swing video integration.
Check out this excellent video from Golf Simulator Videos Youtube Channel showing you the latest updates with the FS Golf App.
FS Skills is an app designed for apple and android tablet or phone use and gives the user lots of different skills challenges and target games with which to have fun and improve.
There is also the E6 App bundled with the Mevo Plus which features all the extra practice facilities and golf courses listed above, so you can play simulated golf on PC right out of the box.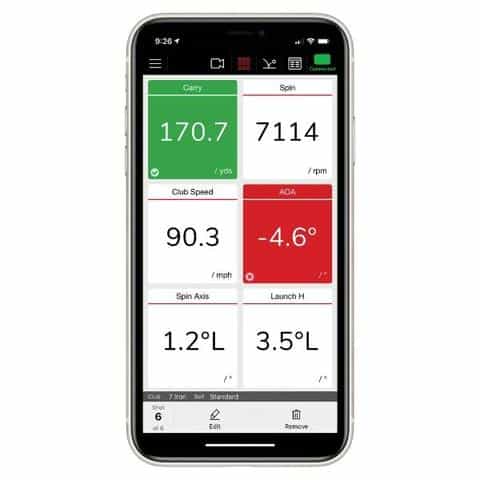 Garmin R10 Software Compatibility
The following golf simulation software programs are compatible with the Garmin Approach R10:
Garmin Golf App
Home Tee Hero
E6 Connect
TGC 2019
Awesome Golf
Garmin R10 is not officially compatible with GS Pro, but some golfers have managed to connect the two using a community interface. See the 'r10-owners' tab on the GS Pro Discord for more information.
You can learn more about the golf simulation software compatibility of Mevo Plus, R10, and many more launch monitors in my in-depth guide.
Garmin R10 App
The Garmin Golf App is feature packed and unlocks all the features of the Approach R10. There are some basic features included for free but the majority of the golf content is available through a monthly or annual subscription. This package is very reasonable though at around $99 per year.
Included in the Garmin Golf App paid subscription is:
Driving Range mode
See your club and ball data and review statistics and trends
Home Tee Hero Golf Simulation with over 42,000 courses as part of Garmin's extensive library
Weekly tournaments against golfers all over the world
Connect and play with friends
Track club performance
View swing videos alongside launch data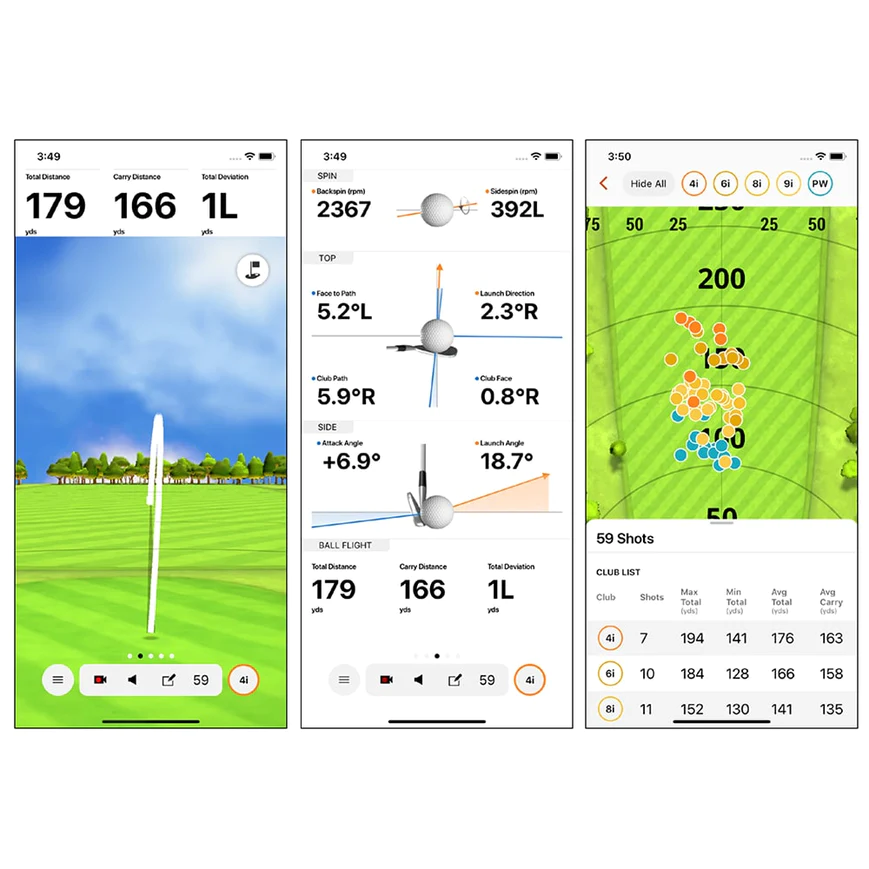 Space Requirements
Both the Mevo Plus and Garmin R10 require more indoor space than camera-based launch mointors such as Skytrak and Foresight GC3. The Doppler Radar technology employed by the Mevo Plus and R10 means they need enough room to view your swing, the ball's impact and the initial flight and upward arc of the ball.
Both the R10 and Mevo Plus also excel outside where space is more plentiful.
Mevo Plus Space Requirements
Mevo Plus requires an absolute minimum space of 16ft (4.9m) long x 10ft (3.05m) wide x 10 ft (3.05m) high for indoor use. Smaller spaces may allow you to swing and achieve shot information but there may be inaccuracy and misreads.
You can learn much more about Mevo Plus Space Requirements in my dedicated article here, including the Mevo Plus Indoor Mode and Short Indoor Mode.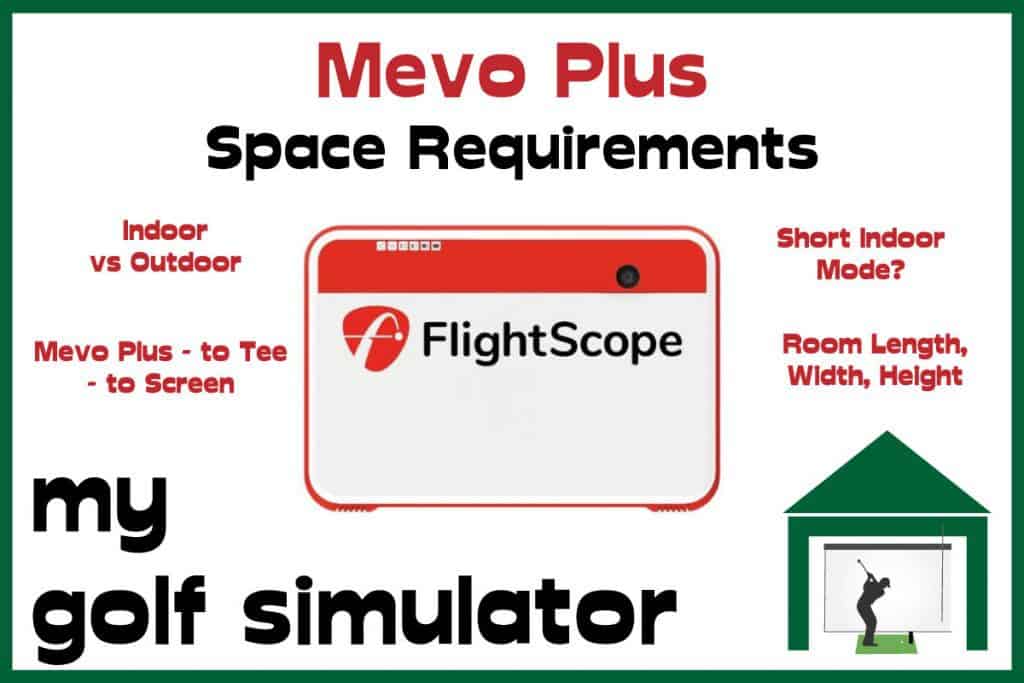 Garmin R10 Space Requirements
The Garmin R10 Launch Monitor requires at least 15 ft of total room length in order to be used indoors.
The 15ft of room length that the Garmin R10 needs is split into the distance between the launch monitor and hitting position (6-8ft), the distance from hitting position to net or impact screen (8ft +), and the gap behind the net or screen (1ft +). The total will be 17ft or more if you use the 8ft R10-to-ball distance.
As ever when considering room length with the Garmin R10, you should think about projector position, bounceback, safety and your ability to make comfortable swings.
I recommend a minimum room width of 10ft to use the Garmin R10 launch monitor, 15ft of width is much more comfortable. The Garmin R10 does not mandate a minimum room width in which to work properly, but you need to be able to swing your longest club freely without worry of striking the wall behind.
I believe you could theoretically use the Garmin R10 launch monitor in a room smaller than 10ft wide depending on your height and swing plane, but it would be cramped and you'd be at risk of striking the wall. 15ft of room width would allow you to address the ball with a central aim point.
From a height perspective, I recommend at least 10ft of room height, though Garmin doesn't recommend a specific height for the Garmin R10 to work. You need enough room to freely swing the club, 8.5-9ft may be doable for some, but 10ft is always more comfortable.
You can learn more about the indoor and outdoor space requirements of the Garmin R10 in my dedicated article here.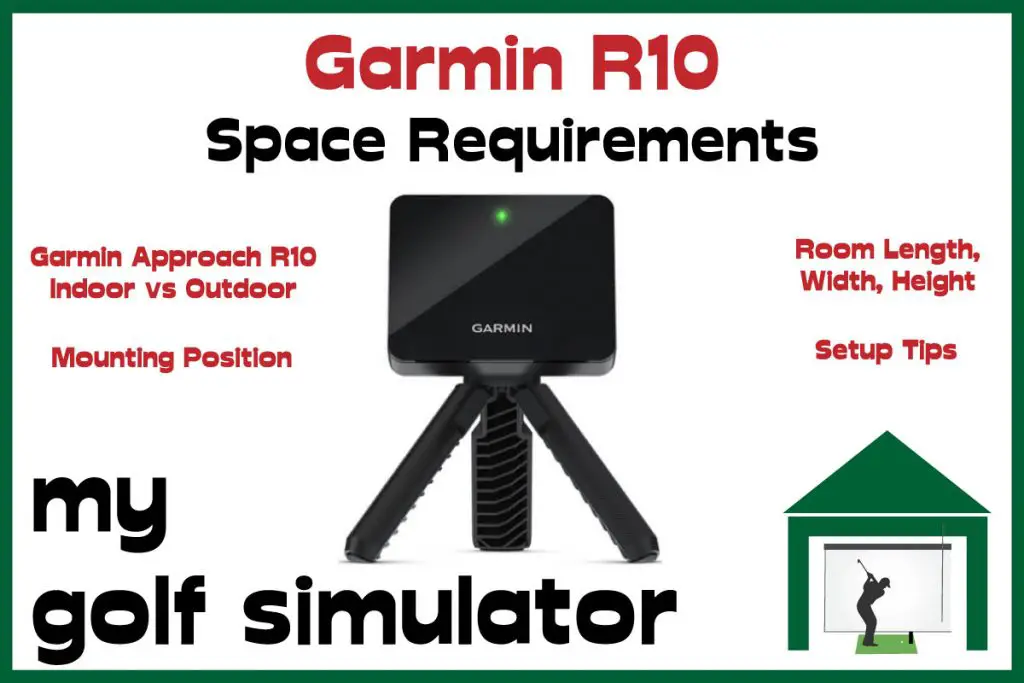 Launch Monitor Placement and Alignment
Mevo Plus Placement and Alignment
There is an easy alignment setup within the Mevo Plus software. Getting the right alignment and tilt settings can sound daunting but it is simpler than it seems (and even easier if you buy the Fixed Alignment Dock protective case).
Check out this excellent video from the Golf Simulator Videos Youtube Channel showing you how to set up Mevo Plus out of the box.
There are three modes in Mevo Plus setup, which help it work out the optimum area of your golf simulator space to target its sensors. These are outdoor mode, indoor mode, and short indoor mode. You can switch between them in the setup settings.
Golfers using Mevo Plus in a more confined space should choose the short indoor mode and this will allow Mevo Plus to focus its sensors correctly.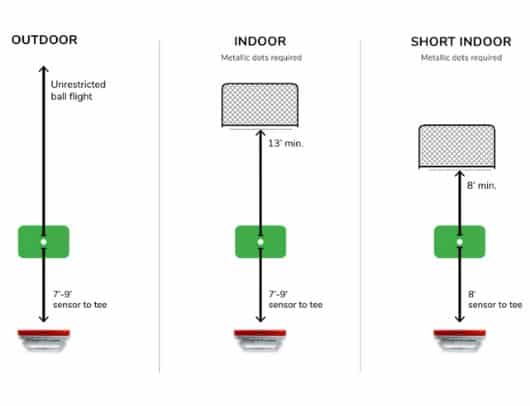 Ground Level and Tilt Angle
I really recommend the Mevo Plus Fixed Alignment Dock, which serves both as a protective case and also your easy way to achieve proper alignment and tilt on the Mevo Plus.
You will find when you set up the Mevo Plus that it needs to be tilted to certain numbers of degrees and the setup process takes you through this. However, the Fixed Alignment Dock has adjustable settings that automatically tilt and align the Mevo Plus so you can be confident in the accuracy of your setup.
There are pre set positions for tilt, vertical height and lateral position. These really help you easily set the Mevo Plus to the right position for the software program you are using. E6 has slightly different setup requirements to the FS Apps for example, and changing between them requires a change in Mevo Plus setup.
The Fixed Alignment Dock can also be fixed to the floor for a more permanent setup, though it can even be fine-tuned vertically and laterally whilst in it's fixed position.
Optimizing the vertical height of the Mevo Plus can also be important for getting the putting setup just right too.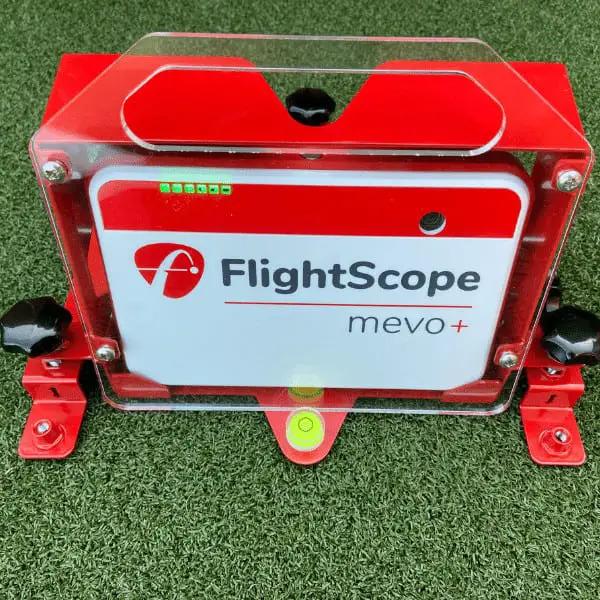 Garmin R10 Position and Alignment
You can see from the diagrams below that the Garmin R10, just like Mevo Plus, sits behind the hitting area taking full view of the golf simulator space. You can see the length requirements split into sections too.
The R10 must be sat at the same height as the golf hitting surface, which may mean you need to elevate it a couple of inches if you're standing on a freestanding golf mat. I like that the tripod included with the R10 sets the launch monitor at the correct tilt angle automatically.
There are now products available that fix the R10 in position (just like the Mevo Plus dock) so that you don't accidentally knock it out of place and alignment.
I like how you can hit from an area 2ft wide (1ft on either side of the target line) with the R10, this allows a bit of flexibility if your hitting area is getting worn or if it helps you shape a shot better in your simulator.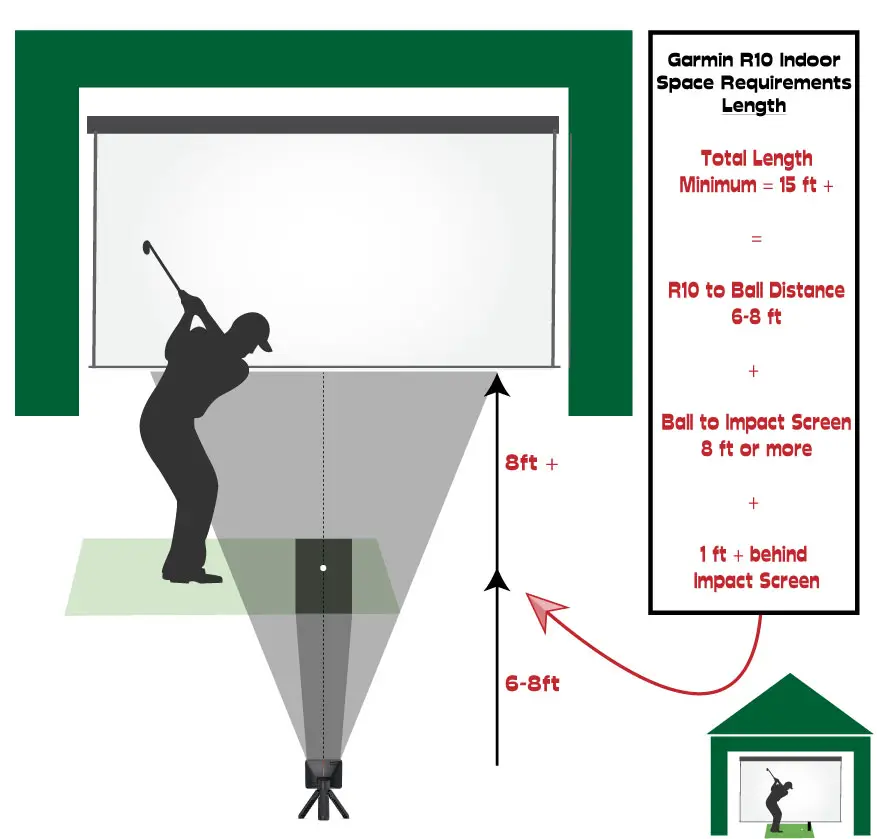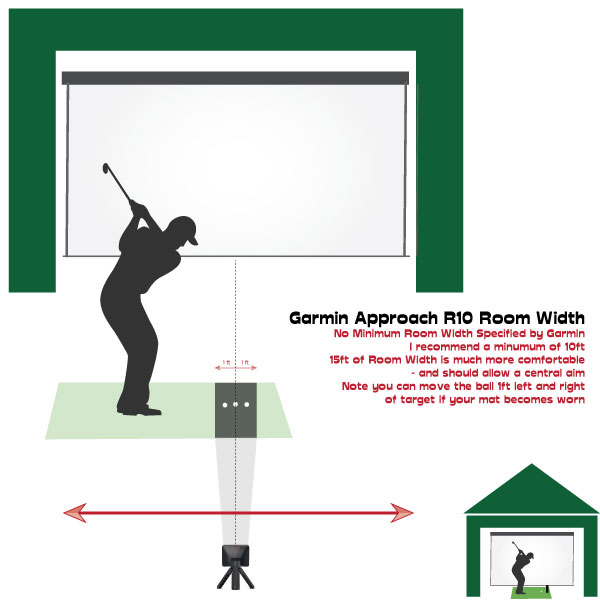 Left Handed Use
Mevo Plus and Garmin R10 for Left-Handers
Both the Mevo Plus and Garmin R10, as radar-based launch monitors, have the advantage of being able to track both sides of the golf simulator space at the same time.
So both can be used concurrently by both left and right-handed golfers as long as there is enough room width to allow both to swing with a hitting position in the center of the golf simulator.
This means you can have local matches with your buddies without having to move either unit
Whilst the radar can track both left and right handed golfers hitting the ball, the benefit is only gained from having the same hitting position (centrally). If you would constantly have to move the ball (and likely the launch monitor itself behind) from one side of the hitting mat to the other then the benefit of the radar-based system is no longer there.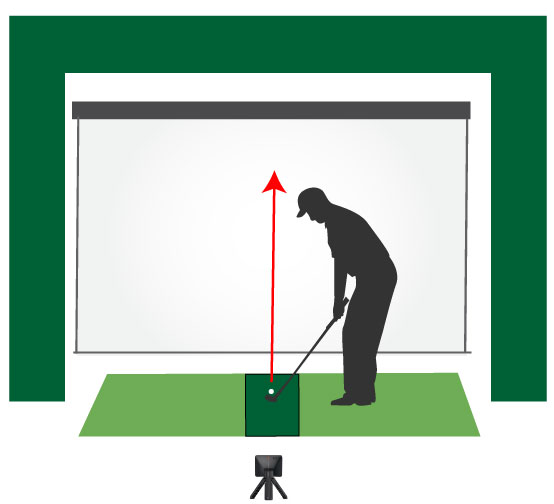 System Requirements
Mevo Plus System Requirements
Here is a list of recommended PC specifications for a computer to run Golf Simulator Programs with the Flightscope Mevo Plus Launch Monitor
| Component | Recommended Specification for Mevo Plus on PC |
| --- | --- |
| Processor (CPU) | Intel i5 (or newer) |
| RAM | 8GB + |
| Graphics Card (GPU) | Nvidia 1070 Graphics Card or equivalent (Dedicated GPU with DirectX 11 Support) |
| Hard Drive Space | 25 GB |
| Operating System | Windows 10 (64 bit) |
| Internet Connection | Required |
To use the FS Golf and FS Skills Apps, you'll need devices that meet the following requirements:
Apple iPhones or iPads with iOS 12 or later
Android Phones or Tablets using Android 6.0 (around 2015 models or later)
Bluetooth LE 4.0 or later on either Apple or Android
Garmin R10 System Requirements
The system requirements for the Garmin Approach R10 are modest and unlikely to be a problem for the majority of golfers. Remember if you wish to use the R10 with compatible PC based programs (eg E6) then you'll need enough computing power to run the simulation program as well as the R10 itself.
PC

Windows 7, 8, or 10
Intel Core 2 Duo @ 2.0 GHz or higher
2GB RAM or higher 

Apple iOS

iPhones or iPads offering 3D graphics support. This should be all models released post 2015.

Android

Android smartphones or tablets containing Octa-core (or dual quad-core) processors are compatible. This is likely to be nearly all devices released post 2015.
Do you need special balls, dots or stickers?
Mevo Plus Ball and Club Requirements
Mevo Plus requires metallic stickers to be applied to the golf ball when indoors, to maximise the accuracy of the spin readings. Radar launch monitors can have difficulty reading spin without extra assistance and these reflective stickers are what Mevo Plus uses.
While you need to add stickers to Mevo Plus, you can use any premium golf ball you wish. You can also use the Titleist RCT balls, which are Pro-V1 quality balls designed with metallic imprinting , especially for simulator play.
Some competitor launch monitors require specific balls imprinted with metallic dots, and these balls are often not comparable to a premium Titleist Pro V1.
You can buy extra stickers from Flightscope here. Check out this independent online store too which sells reflective dots and stickers for launch monitors in bulk.
Mevo Plus does not require stickers outdoors as it has enough room to track the ball flight so that it generates accurate spin readings without reflective stickers.
Garmin R10 Ball and Club Requirements
You do not metallic dots, stickers or otherwise special golf balls with the Garmin R10. In fact, it has been found that these metallic additions actually impede the accuracy of the R10 and its radar sensor. The same applies to the Titleist RCT balls.
Portability, Battery Life and Outdoor Use
Mevo Plus Portability and Battery Life
Mevo Plus is also extremely portable. It can comfortably fit within a golf bag, though i recommend taking a dedicated backpack for both the Mevo Plus and it's protective Fixed Alignment Dock.
Lots of the principles in my Protect Skytrak post also apply to taking Mevo Plus outside, such as physical protection, insurance against accidents and theft, and being confident in setup and alignment.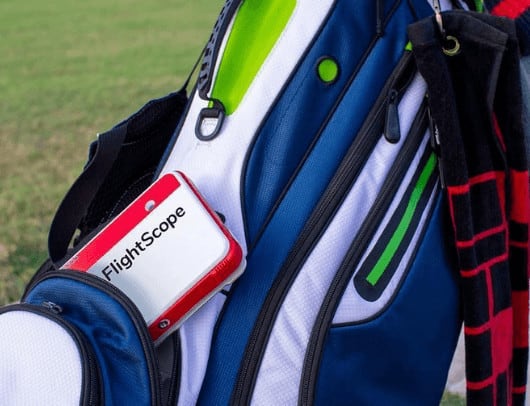 Mevo Plus will give a battery life of two hours in practice mode and 1.5 hours when playing simulated courses.
Again, I recommend you pack a portable charging power pack with your Mevo plus when you take it out. Why not dedicate a backpack or briefcase to the Mevo Plus and make sure there's enough space inside for the power bank. A good quality (beefy) 25000mAh power bank only costs around $30, so its a sound investment to sure up your Mevo Plus battery life when heading out.
Mevo Plus Indoor vs Outdoor use
Mevo Plus can be used inside but you need adequate space. Due to the radar technology in use, Mevo Plus requires rooms that are a little larger than most launch monitors.
Mevo Plus performs well and records accurate measurements in an indoor golf simulator, but there are considerations to make with your setup.
You will need a flat floor without many objects in the way, Flightscope also recommends against using fluorescent flickering lights, large metal objects and rotating objects like fans or air conditioning.
Mevo Plus also requires reflective stickers to be applied to the ball for accurate indoor spin readings, ideally with the sticker pointing up or down (along the initial spin axis of the ball). There are stickers included with each Mevo Plus and they can also be replenished at the Flightscope website.
Mevo Plus excels in outdoor spaces when space is much more plentiful. You don't need reflective stickers and Mevo Plus doesn't tend to mind what the lighting conditions are. Mevo Plus has up to 100 yards of ball flight to hone in it's readings too to maximize accuracy.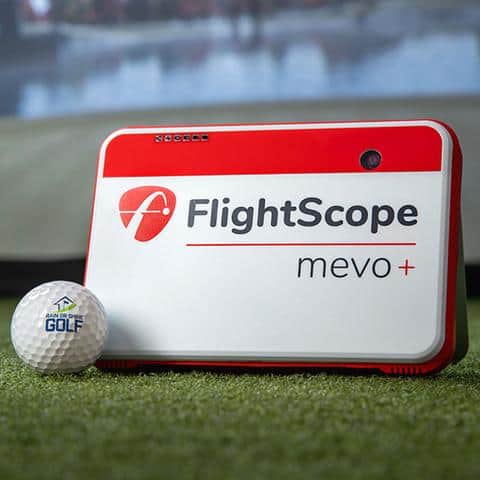 Garmin R10 Portability and Battery Life
The Garmin R10 is entirely portable, only weighing 228g with tripod attached. The R10 also boasts an impressive maximum of 10 hours of battery life, which is simply excellent.
With portability, comes the need to ensure proper setup on each end of the transport of the R10 from inside to outside. You just need to make sure you perfect the quick setup procedure and you're good to go!
Garmin R10 Indoor vs Outdoor Use
Both indoors and outdoors, you'll have to ensure you have enough room behind you down the target line (between the R10 and the ball (6-8ft). Outdoors, if using a net you'll have to conform to the same space requirements as if you were using the unit inside.
However, if there is no net then the R10 will be able to track the ball for much longer as it takes flight. This means the R10 is able to more accurately detect ball spin, either by direct measurement or based on the ball's trajectory and other radar inputs. This means spin misreads are less common with outdoor use than indoor use.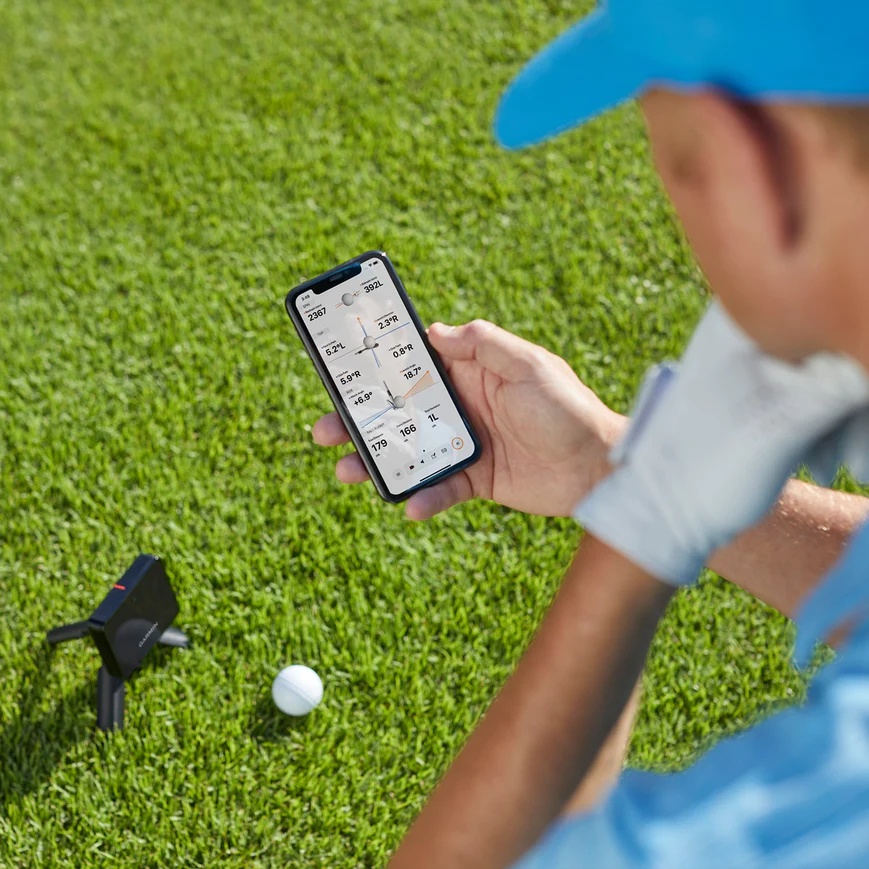 Inside, many of the factors above that affect the accuracy of the Mevo Plus radar should be considered with the R10 too (eg flickering fluorescent lights and moving metal objects such as fans). Again, remember that a big difference between Mevo Plus and R10 is that R10 does not require metallic dots or stickers on the golf ball (this indeed hampers accuracy rather than helping it).
Connection Issues
How does Mevo Plus Connect? Are there problems?
Mevo Plus has it's own wifi signal, you can use this signal to connect directly to the Mevo Plus from your phone or tablet when using the FS apps. If you need to connect to the PC with Mevo Plus, you can do so via wifi too but the network settings have to be correct (this is easy once you get the hang of it). Check out this video from Golf Simulator Videos for more information.
If you do struggle with connectivity with these launch monitors, I recommend checking out Facebook Groups and fora specific to each unit. The same question is very likely to have been asked before if you search for it within the group.
I've written dedicated articles on Skytrak connectivity (as it was my first launch monitor), and I will aim to publish similar content on Mevo Plus in the coming months.
How does Garmin R10 Connect?
The majority of the golf you'll initially play on the R10 is through the Garmin Golf App, usually on your phone (but this can be on a tablet or on PC). You will connect the R10 itself with the Garmin Golf App through a wifi signal.
There is a 'play on PC' option on the Garmin Golf App which will allow you to play through the PC as long as your PC is connected to the same wifi signal.
If there are connectivity problems with the R10, it is usually due to a poor wifi signal, or issues with wifi passwords and security. When using the R10 on PC software programs, you may need to ensure that the program is not blocked by your firewall. Running your programs specifically as an administrator (right click, 'run as administrator'), may be the solution to firewall issues.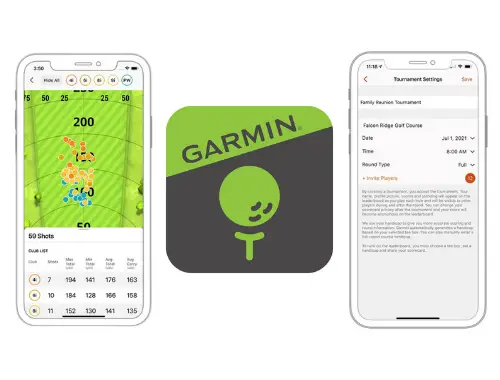 Do they Miss Shots? Misreads and Total Misses
Garmin R10 Misreads
The R10 is more likely to have the occasional misjudgment of spin rate than it is to completely miss the shot pickup.
Indoors, the R10 calculates spin rates and directions by a machine learning model based on radar inputs from the parameters which are directly measured (club and ball speed, launch angle and direction). It doesn't get this perfect 100% of the time, and you will sometimes see a shot with a spin rate that is quite different to expected (eg 4000 rpm on a wedge shot).
This should be the rarity and not the norm though, and it should not be a dealbreaker for you on a $600 launch monitor.
Mevo Plus Misreads
Mevo Plus can also fail to register shots, but this should be a rare occurrence if all is set up correctly. There have been numerous updates to firmware over the life of the Mevo Plus, which have ironed out many of the teething issues faced by early-adopting golfers.
Mevo Plus is older than the Garmin R10, so the R10 might have a similar period of ironing out teething issues. However, from the reaction I have seen so far, I don't believe there are major issues with missed shots and the R10.
Mevo Plus has a larger hitting area than its competitor Skytrak for example, which is several inches wide rather than using a red dot (which was often a point of issue). Camera-based launch monitors like Skytrak were also sensitive to points like the colour of ball and tee, which is no issue with radar units like Mevo Plus and Garmin R10.
Check that you don't have lots of reflective metal items in your simulator and that there are no rotating objects or flickering fluorescent lights as these can interfere with the radar sensors according to Flightscope.
Shot Delay
All launch monitors have a shot delay, just some are noticeable (and occasionally problematic) and some are nearly seamless. A shot delay is the time between the strike of the ball and the shot being rendered on screen. This time period starts to affect the experience once you get over around 2 seconds.
The launch monitor needs to record the launch data, transfer it to the software application which then uses it to calculate shot parameters, then project this onto their software interface. This will take some computing power and hence a little bit of time.
Mevo Plus has a shot delay but it is less than that which you'll experience with its traditional competitor Skytrak. Compared to the Garmin R10, the shot delay is pretty similar. Expect to wait about 0.5-1 seconds between impact and the shot being rendered on the screen. Compared with other launch monitors, half a second is excellent!
This is enough to barely notice but not enough to harm the experience at all.
When you think of what has to happen between impact and the shot appearing, you can understand why there is a delay.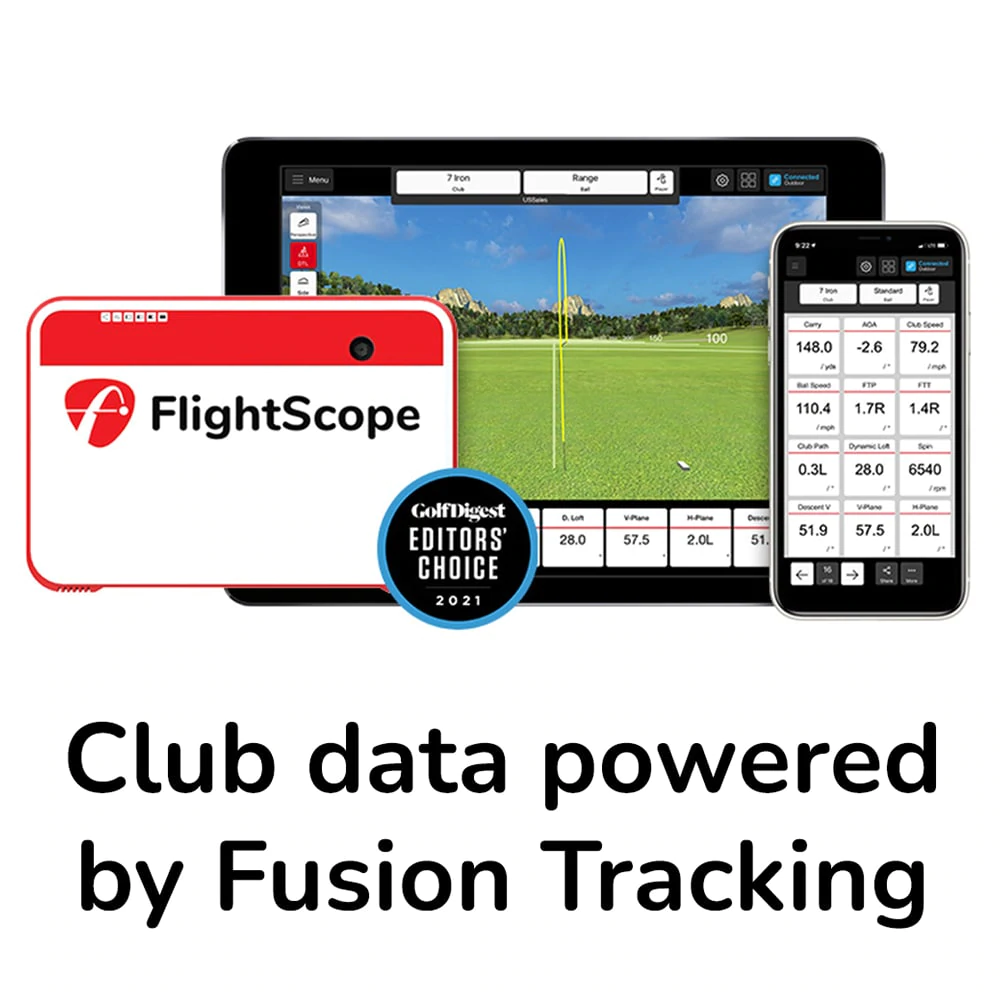 Accuracy
Mevo Plus Accuracy
Mevo Plus has had longer to establish a reputation for accuracy than the Garmin R10 has, similarly to the way it has been able to tease out any setup and misread problems over time.
When set up correctly, Mevo Plus is also a very accurate launch monitor.
I recommend ensuring there are no fluorescent flickering lighting, heavy machinery, lots of metal objects or anything rotating (think fans or air con) nearby in your Mevo Plus simulator.
These objects interfere with the return and capture of the radar signals that the Mevo Plus is trying to track and are mentioned in the FAQs section on Flightscope's website.
Whilst Mevo Plus can easily be used inside and shows strong accuracy results, it really excels outside, as it has more time to track the ball in it's flight. Check out this video from ND Golf Youtube Channel comparing the Mevo Plus to the market-leading GC Quad when used outside.
The FS apps don't currently feature settings for elevation and environmental or wind conditions, though if you use Mevo Plus with a third-party software program you'll be able to change these settings as the software allows.
Note that the upcoming free Fusion Tracking upgrade will imbue the Mevo Plus with Flightscope's patented Fusion Tracking technology which combines radar ball monitoring with advanced image processing for optimal accuracy.
This will be a huge upgrade for the Mevo Plus, elevating an already accurate launch monitor to compete with some of the best systems on the market.
Garmin R10 Accuracy
The Garmin R10 Approach offers very good accuracy for its position in the launch monitor market. You need to know where to pitch your expectations with a $600 launch monitor, and not compare it to the minute error margins offered by Trackman and GC Quad.
You can expect enough accuracy from the Garmin R10 to play realistic simulated golf, to work on a wide variety of aspects of your golf game and also to have fun. There may be the odd low spin reading, and the error margins on specific launch parameters are wider than premium launch monitors, but the accuracy is excellent for the price tag.
Here are the published error margins in a table split between directly calculated parameters and those modelled by an algorithm. You can see that there are only a few parameters that are directly measured. You can learn lots more about the accuracy of the Garmin R10 in my dedicated post here.
Indoors, Garmin also state that the readings for spin are calculated based off the other radar inputs and a machine learning model. Most of the time this will work well, occasionally you'll get some low-reads. It is one of the considerations to make when buying a less expensive launch monitor for your sim.
Outdoors, the R10 can measure the spin directly but may use the trajectory of the ball alongside other radar inputs to assist.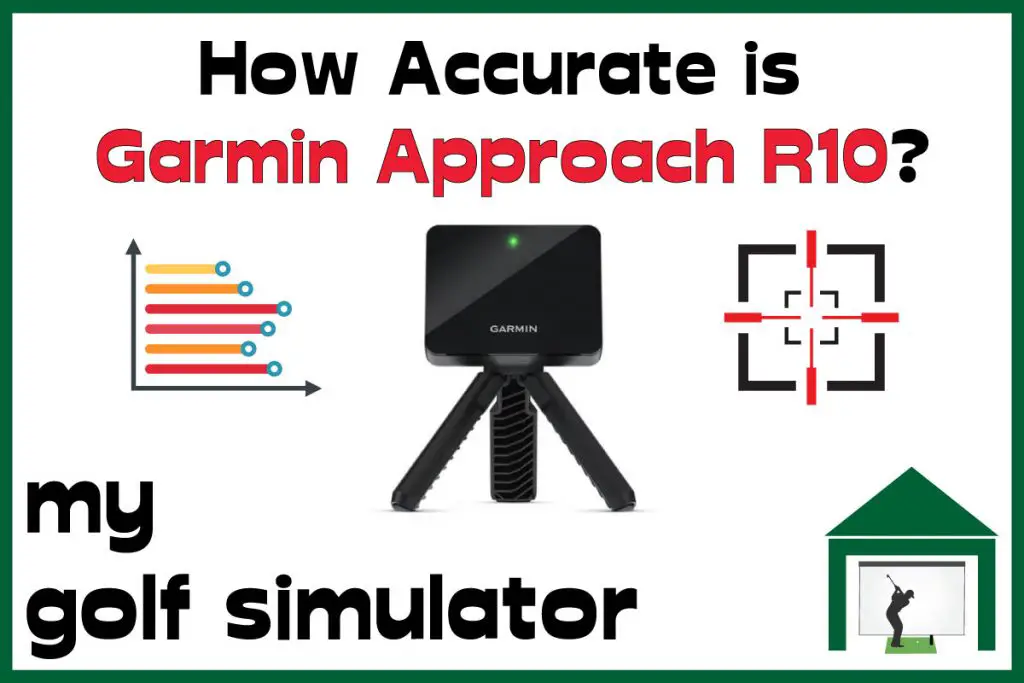 Putting
Unfortunately, there is no putting ability on the Garmin R10 Approach. However, I don't think this is necessarily a bad thing.
The R10 is priced low compared to other launch monitors and I would rather have quality and accuracy from the radar on full shots and let Garmin concentrate on optimizing this feature. Putting is difficult for a radar-based system to get right at the best of times, so to expect a $600 launch monitor to do it correctly is a big ask.
With the R10 as your golf simulator launch monitor, I would set it up to assume putts are either two putts or gimmes and then create a putting practice area on your simulator floor.
You can often get more from a setup like this, being able to work on aim and start line, rather than trying to work out if your launch monitor picked up the roll correctly.
Putting on Mevo Plus
Mevo Plus is also able to read putts and does so well for most people, but there can often be some issues. The perfect Mevo Plus putting setup doesn't match perfectly with the perfect setup for reading the flight of an iron shot. 
Problems with the height and tilt of the Mevo Plus as well as the use of reflective stickers can all have an impact. Changing these features can affect the pickup of shots in the main game too.
You also need the distance between the ball and the screen to be completely flat which is probably going to entail having the mat flush with the floor.
Flightscope has previously suggested those having problems turn on gimmes for putts under 10ft at the moment, though I believe they are working on this with future updates.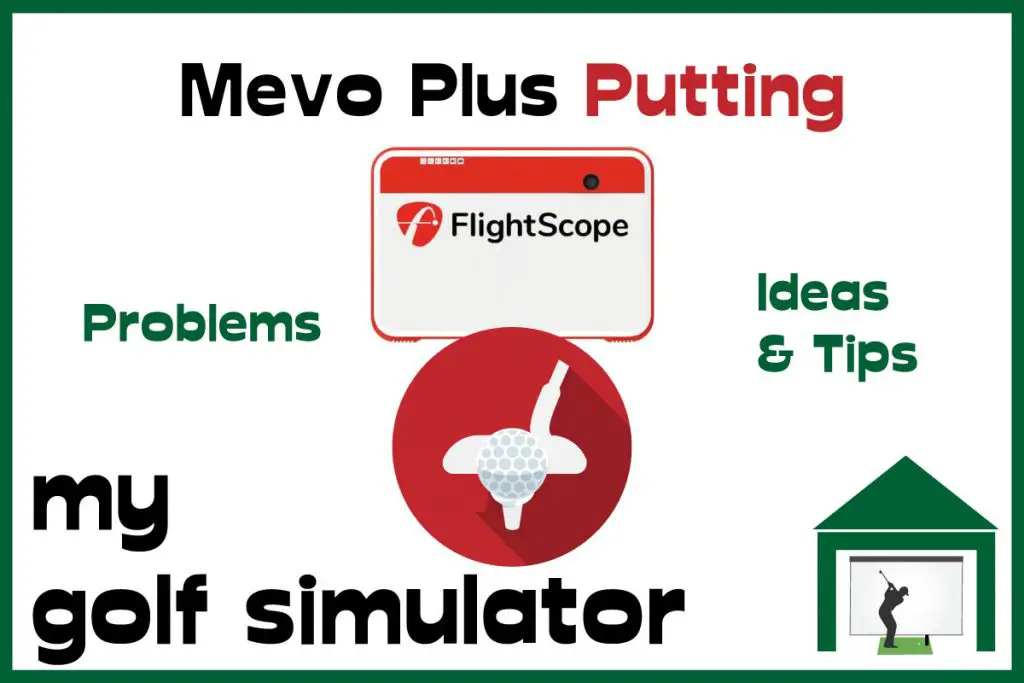 Short game, Wedges and Chipping
Mevo Plus Short Game
Mevo Plus can either work very well for golfers or it can fail to read certain chip shots. In a similar fashion to putting on Mevo Plus, you need the unit level with the hitting surface and (it may seem obvious) but you need to change your chosen club type in the software to wedge.
It's also worth checking you've fully updated Mevo Plus. Facebook Groups are a goldmine of information on setup issues for Mevo Plus.
Mevo Plus can struggle with very short chip shots, but puts in a great job at accurately reading distances on wedges and pitch shots, especially when used outdoors. I hope that the upcoming Fusion Tracking upgrade will improve the Mevo Plus' ability to accurately record a wide range of short game shots.
Check out this excellent video from the Scott Hogan Golf Youtube Channel showing you the E6 practice areas being used on Mevo Plus.
Short Game on Garmin R10
The R10 is positioned in a similar fashion to the Mevo Plus, behind the golfer down the target line. Both are radar-based launch monitors and hence both require proper setup and an adequate tilt to gain a 'view' of the golf simulation space. On short shots, the radar needs to see the club strike the ball on a chip shot and the short flight of the shot.
We've said in the accuracy section, that occasional low spin numbers indoors can be one of the things that the R10 does get incorrect. This issue is much more infrequent when you use the R10 outside. Even indoors, the R10 definitely adds value to your wedge game sessions, allowing you to hone in your angle of attack, carry distance, and trajectory.
How easy is it to damage the launch monitor?
Is Mevo Plus Easy to Damage?
Mevo Plus sits well behind the golfer at the back of the golf simulator room. It is, therefore, less likely to be struck with a stray golf ball or club. However, this could still technically happen.
Mevo Plus is still vulnerable to ricocheting golf shots, especially in small rooms, and could still fall victim to hazards such as spills, children, pets, theft and being dropped.
Many of the points in our post above about protecting Skytrak also apply to Mevo Plus. You can purchase a protective case for Mevo Plus which also serves as an alignment and tilt dock, with preset positions to make setup and alignment so much easier.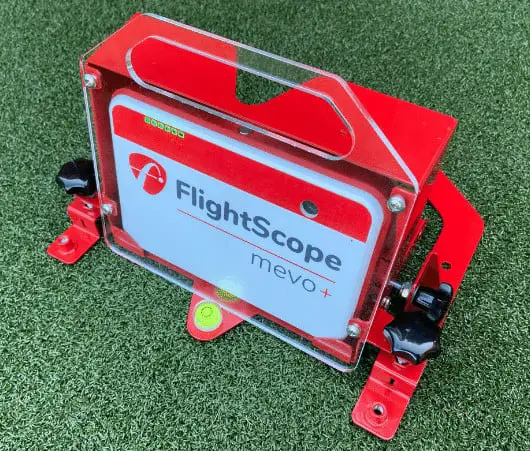 Does Mevo Plus come with a Warranty?
Mevo Plus comes with a 1 year hardware warranty on manufacturer defects. Flightscope do say they are committed to providing Mevo Plus owners with information and advice whenever there is a problem.
Is Garmin R10 Easy to Damage?
Like most launch monitors, the Garmin R10 is vulnerable to a strike from a stray golf ball or club swing. However, the unit is small and sits well behind the golfer down the target line. Given the portability of the R10, you may risk damaging it if you don't take care when transporting it between indoor and outdoor setups.
Whilst it is not as expensive as other launch monitors, it is still probably worth insuring the R10 if you can. I add my golf simulator tech products (launch monitor, projector, PC) as special items on my home insurance plan which protects them against theft and damage.
Does Garmin R10 come with a warranty?
Garmin offers a 2-year warranty on their products, which includes the Approach R10.
Cost, Availability and Resale
Mevo Plus costs around $2000 with the option of a Pro Package upgrade whereas the Garmin R10 approach costs around $600 plus an optional annual subscription. Mevo Plus requires no subscriptions other than those required by third-party simulation apps.
Mevo Plus
Mevo Plus also costs around $2000 though it does not require an annual subscription. It also ships with an excellent helping of features from E6, including practice facilities and 5 courses so you can play simulated golf straight away.
You get a lot of launch monitor and features for your money with Mevo Plus! You will need to add on full feature simulation program costs to that of your Mevo Plus if you choose to purchase them, though note the E6 iOS package that comes alongside a Mevo Plus purchase is a great addition.
The recent Fusion Tracking update is free, which is an amazing upgrade! The Mevo Plus Pro Package will add advanced club data which used to cost golfers many thousands of dollars, for a one-time fee of $1000 with no ongoing subscription. This is a good deal in comparison to competitors with recurring subscription models.
There is a myflightscope.com cloud service that allows you to store your stats and up to three videos per month for free. You can choose to purchase extra storage if you'd like to store more.
Garmin R10
Garmin R10 costs just under $600. There is a free and a premium subscription, the annual plan costs around $90 and allows access to Home Tee Hero virtual rounds (with Garmin's extensive library of courses – you may find your local course available to play) and the ability to store video clips.
The R10 has sometimes been difficult to get ahold of, with delays on fulfilment of orders at most vendors. This may have been related to the pandemic but it shows the popularity of the unit.
I often say that the R10, at $600, is much easier to try out than a more expensive launch monitor is. You don't have to outlay thousands of dollars to see whether you can get value and game improvement from a launch monitor purchase, and if you don't you can sell it on. The resale value of the R10 has been extremely good recently, particularly given the short supply of new units.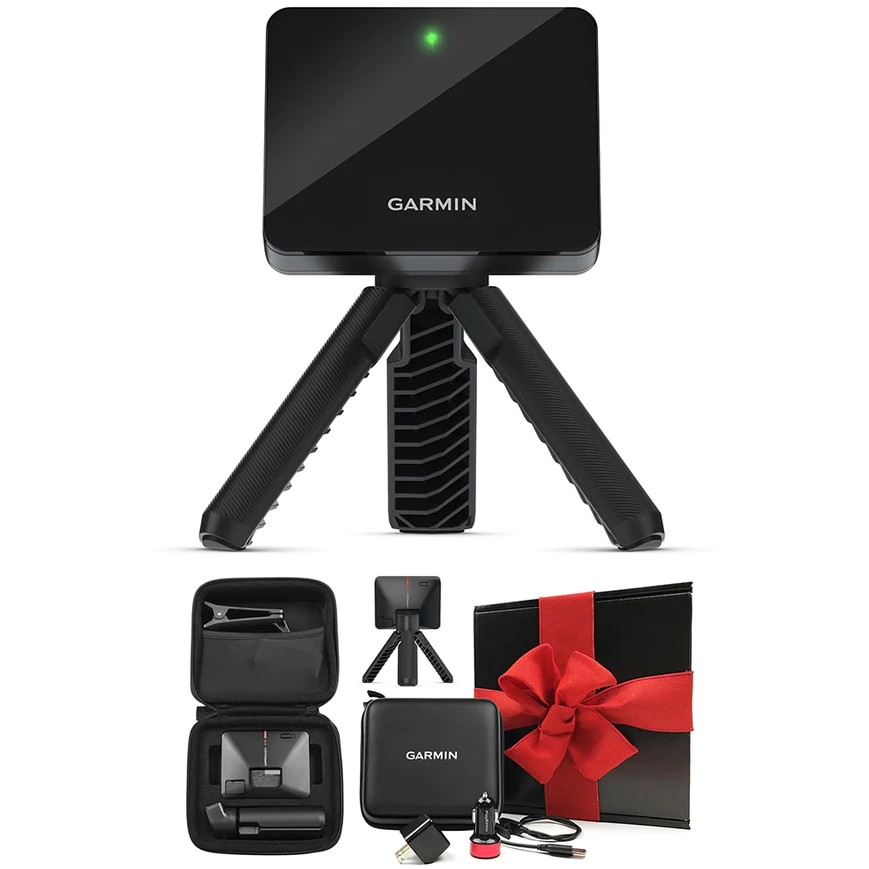 Comparing the Mevo Plus and Garmin R10 Directly
Be wary of Youtube videos that compare the two launch monitors concurrently. It is very difficult to compare two radar based launch monitors at the same time. The setup must be correct for both, with both calibrated and aligned properly. Both the Garmin R10 and Mevo Plus need to sit behind the golf ball on the target line, so would be expected to get in each other's way.
The Mevo Plus also requires the use of metallic dots on golf balls (or Titleist RCT balls), whereas the Garmin R10 does not need dotted balls (and Garmin actually state that metallic dots will hamper the performance of the unit). So it is difficult to find a ball that works perfectly for both.
Some videos comparing Mevo Plus and Garmin R10 also repeatedly state that the R10 is entirely on par with the Mevo Plus and can achieve the same accuracy and performance. Whilst the R10 is a fantastic product, remember that it is less than a third the price of a Mevo Plus and the expectations on accuracy, spin data, error margins and the ability to hit putts should not be the same.
Who Should Buy Flightscope Mevo Plus and Who Should Buy Garmin R10 Approach?
The decision between the Mevo Plus and Garmin R10 is less about practical differences in a golf simulator (as in a decision between radar and camera-based launch monitors) and more about cost, value, software options, putting, and the confidence of data accuracy.
| Mevo Plus Strengths | Garmin R10 Strengths |
| --- | --- |
| Established and Frequently Updated | Low Price Point - Promises Excellent Value - Easier to 'try out' |
| Excellent Simulation Software Compatibility (including GS Pro) | Garmin's Extensive Directory of Courses Available in Home Tee Hero App |
| Entirely Portable | Entirely Portable |
| Fusion Tracking Upgrade to enhance accuracy | Requires no metallic dots or special golf balls |
| Pro Package Upgrade offers advanced club data | Club data available at excellent price |
| More expensive than Garmin R10 but still excellent value | Upto 10 hours battery life |
As both the Mevo Plus and R10 are radar-based launch monitors, they both excel in larger spaces and outdoors and can accommodate left and right-handers at the same time.
Golfers choosing Mevo Plus will also enjoy a fantastically small half-second shot delay which is comparable to the best launch monitors on the market.
I expect the Garmin R10 Approach to provide accurate launch data and I have seen nothing to suggest the opposite since its launch, however, the Mevo Plus has had longer to establish a reputation for accuracy.
The recent Fusion Tracking update and Mevo Plus Pro Package are extremely exciting. With these upgrades alongside integration with GS Pro, I believe the Mevo Plus will be a clear winner and will compete with the higher end of the launch monitor market at an unbelievable price point.
However, at $600, you get so much launch monitor for your money with the Garmin R10 Approach. There is nothing to stop golfers from trying out the R10 and upgrading or selling it if you fancy a more expensive unit.
I expect the R10 to retain a high second-hand selling price so this is a solid option for those who are on the fence. It's a lot easier to 'try out' a $600 launch monitor than one costing thousands.