Have you wondered about building your golf simulator in a shed, cabin or outbuilding? What are the specific considerations to make in doing so? This article covers the decisions you'll need to make when building a golf simulator shed.
Golf simulator sheds allow golfers to build a simulator at home when they do not have enough room inside the home. You gain privacy whilst maintaining the use of all indoor space. However, you need to consider internal and external size, planning permission, power, lighting, heating, and security.
You can build a space to relax and practice golf whilst maintaining the normal use of the rooms inside. Building a golf simulator shed can be expensive though and there are several considerations to make from the outset which we will discuss in detail in this article.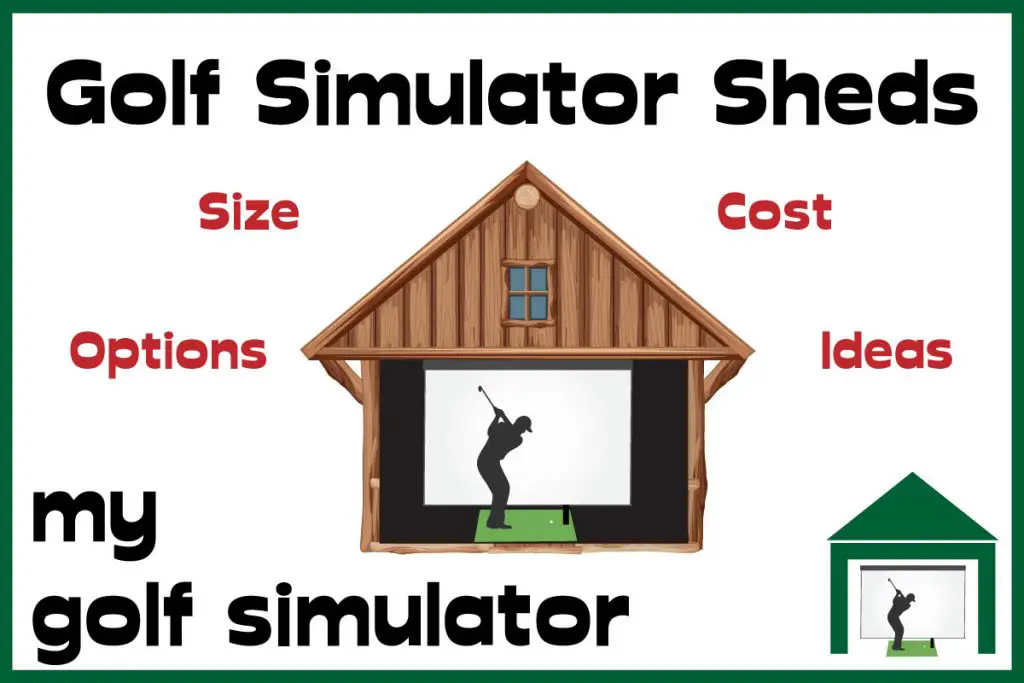 Golf Simulator Shed Size – Really Important
With a golf simulator shed or cabin, you not only need to consider the internal dimensions, but the external size too. 
Whilst the internal size of the shed room is important for all your golf simulator considerations, the external dimensions matter more for planning permission (as discussed below) and if you have limited garden or outdoor space. 
Many people struggle with golf simulator room dimensions inside, often not having the width or height required to make a driver swing, avoid indoor swing syndrome or achieve a central aim. 
This can be just the same in a golf simulator shed. You'll need a large shed, cabin, or outbuilding to feature a golf simulator, you'll also need a large space to build your shed if it's not already built.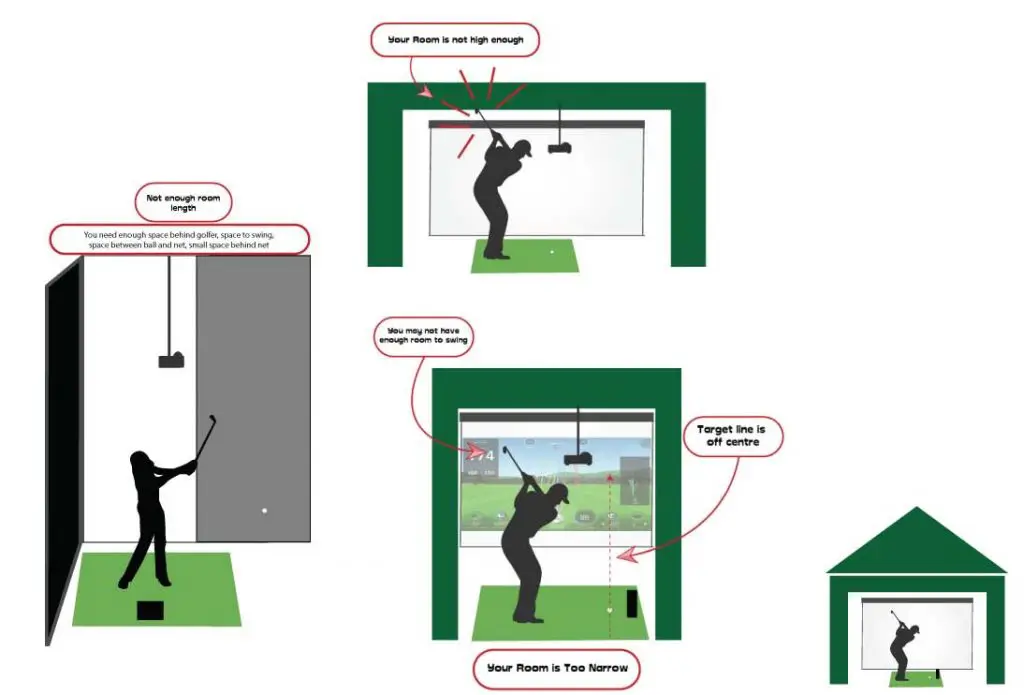 Golf Simulator Shed Height
The minimal internal ceiling height you need for a golf simulator is 9ft. If you're short you may get away with 8.5ft but you'll struggle to hit driver. I recommend 10ft of ceiling height however for golfers to comfortably hit all clubs. Some taller golfers may need higher.
In a golf simulator shed you need to consider the height of the eaves and the apex of the ceiling. You might have plenty room height if measured from the apex in the centre of the cabin, but the height of the eaves is just as important.
Golf simulator sheds that aren't tremendously wide will mean that the eaves (downsloping part of the roof) will be at risk of interfering with your swing. Wider sheds might mean you get away with this.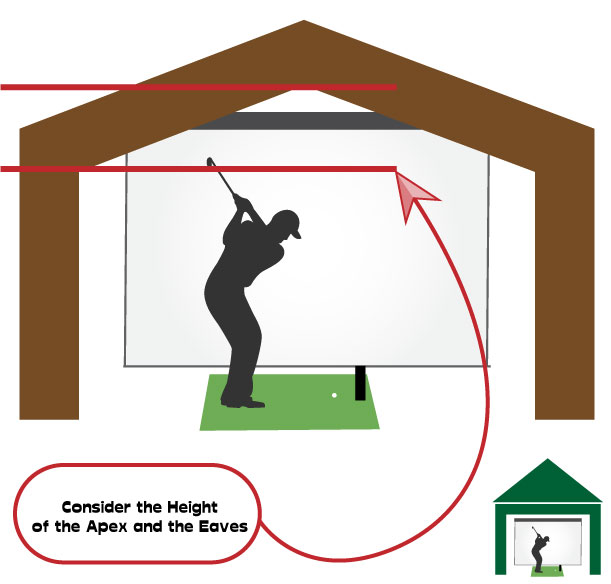 The external height of any shed, cabin or outbuilding has implications for planning permission as we will come on to look at below.
 You may even have seen golfers on simulator forums or YouTube that have dug down into the soil to provide a lower base, with enough room to swing whilst still being underneath the specific height limit specified in their planning laws. Golfers will go to extreme lengths to get their dream simulator!
Golf Simulator Shed Width
I recommend a minimum room width of 15ft to allow a central aimpoint. You could feasibly make golf swings in a shed that is 10ft wide, but you might have problems with the sloping eaves on the ceiling and your aim would be aligned with the side of the impact screen or net.  
In my post on the general principles of golf simulator room dimensions, I discuss golf simulator room width in much more detail. 
The width of the simulator shed or cabin must take into account the width of the walls, any wall insulation and anything external like an overhanging roof.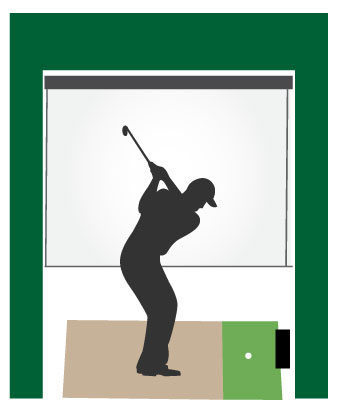 Golf Simulator Shed Length
Golf simulator sheds or cabins must be long enough to allow you to make a golf swing, for the ball to fly and then collide with your impact screen and net, and there must be around 1-1.5ft of room behind the screen for it to deform. You'll need at least 12ft in room-length as a minimum but sheds 18ft long will provide a much more comfortable experience. 
Again, the internal golf simulator cabin length will be slightly less than the length of the cabin itself. There will be extra space taken up by the wall width and anything overhanging on the outside.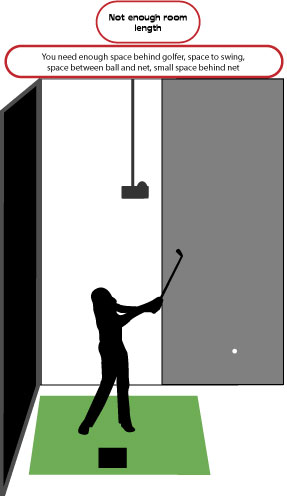 Golf Simulator Shed Planning Permission
One of the biggest problems with golf simulator sheds, cabins and outbuildings is gaining permission to build. It can be really frustrating to have to ask permission to build on your own property but these structures tend to be large and can adversely affect neighbours or others in your area. 
Hence, there are rules for which buildings need permission, and these rules change depending on your area. 
UK Golf Simulator Shed Planning Permission – an example
In the UK, sheds, cabins and outbuildings are considered permitted development (you can build them without formal approval) unless they fall foul of specific limits. If your intended simulator shed is bigger than the limits set out here then you need to make a formal planning application. These include (but are not limited to) the following, as per the government's Planning Portal site:
"Outbuildings and garages to be single storey with maximum eaves height of 2.5 metres and maximum overall height of four metres with a dual pitched roof or three metres for any other roof.
Maximum height of 2.5 metres in the case of a building, enclosure or container within two metres of a boundary of the curtilage of the dwellinghouse"
So, you can see that 2.5m (just over 8ft) is your maximum height if your shed is within two metres of the boundary of a property. If you plan on building your shed near the boundary of the property you'll have to ask for planning permission as it's too short to allow a simulator build.
You might be able to build a shed away from your property boundary, with eaves at 2.5m and an apex at near 4m, but you'd have to check everything else was in order. You must check all the necessary regulations before starting work on a simulator shed.
Planning Permission + Approval in the US and Elsewhere
In the USA, building regulations are different between each state and each county. I recommend you contact your building inspector department to find out exactly what is allowed. It may not be as stringent at it is in the UK, it may be more so. Just make sure you know exactly what you're allowed to build before you start, goof luck!
Golf Simulator Shed Power
You will always need power to your golf simulator shed, unless you only intend to build a simple hitting bay. Even then, you'd need good windows for lighting and it might get cold pretty quickly at night. 
Without power, you'll need to rely on the battery for your launch monitor, you won't be able to power your projector or computer and you'll be cold and in the dark. One of the biggest advantages of a golf simulator is the ability to get lots more practice in the evenings and when it's dark. Therefore, power is essential for a golf simulator shed. 
I recommend asking a certified electrician to come round and lay a power cable to your shed from the house mains supply. This needs to be safe and reliable. If you move house you'll need to show proper certification that all the electrical work is up to scratch too. 
I also recommend asking the electrician to install numerous plug sockets in your shed, and I'm talking lots of them. 
You'll need power for the following things in your golf simulator:
Launch monitor charging
Projector
PC
TV or monitors
Camera use
Lighting
Heating
Security Systems
Any other Charging
Any other games/electronics being used
That's 10 sockets right there, you may be able to chop and change these at times and you won't have them all on at once, but I recommend seeking to have at least 3 and probably 4 double sockets in any golf simulator space.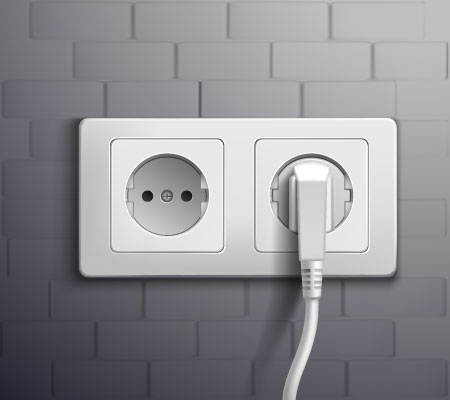 Do not rely on multiplug adapters from a single socket as this could represent a fire risk.
I like having the option of a socket on the inside of the house that controls the whole power supply to the shed. My security system is separate to this. 
You should also consider internet access in your golf simulator shed. You'll either need to locate the shed within Wifi range of the house, or run a long ethernet cable from inside your home. You can sometimes get away with a personal hotspot connection but this is not a robust solution. 
Golf Simulator Shed Heating
A golf simulator shed, like any outbuilding, requires you to think about heating. Unless you live in a very warm climate, you'll find that cold temperatures will prevent you using your golf simulator if you don't take active steps to warm up. 
The idea of a home golf simulator is that you can practice at home, all year round, rain or shine, warm or cold. This means your golf simulator must be a warm place to be. Trust me, if your simulator is cold, you won't use it!
There are three elements to consider in order to keep your golf simulator space nice and warm:
Insulating your shed
Reducing gaps and drafts
Active warming such as electric heaters
Golfers who choose to use active heating to warm their golf simulator should note the potential associated fire risks and keep the heater away from artificial turf, netting, blackout fabric, and other flammable materials. Ensure you have adequate plug sockets in your shed in order to run your heaters, I would definitely avoid attaching high-power items like these to multiplug adapters.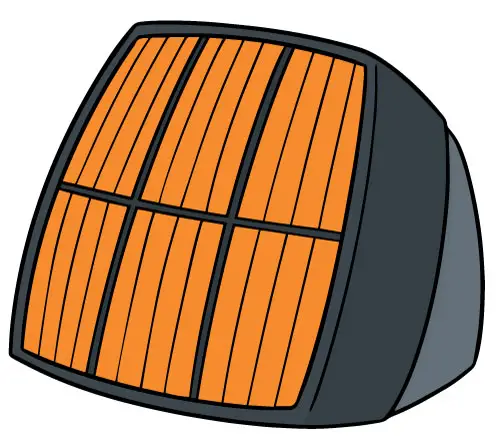 Bear in mind that adding insulation to the wall of a small shed can actually add width to the walls and reduce the width in which you can swing slightly. The difference can be slight but important. This is something to think about if you only have a small space to work width when using or designing your shed. 
I believe it pays dividends to invest in a quality shed that has well sealed doors and windows and a proper roof. You don't want gaps and holes sapping all your heat and making it feel like you're effectively outside.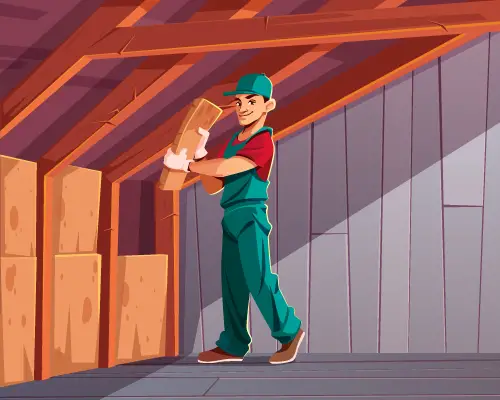 You'll find there will be more attention played to these details when you purchase a high end outdoor office building, compared to a simple wooden garden shed. 
You will tend to get what you pay for here. If you intend to design such a shed from scratch I recommend making insulation and heat loss a consideration right from the start. 
Golf Simulator Shed Lighting
The lighting in your golf simulator space is really important, you need enough light to see what you're doing but not too much that it interferes with your launch monitor or causes a washed out projector image. In a golf simulator cabin, you'll have to rely on electric lights as well as ambient lights from windows. 
There is a lot to be said about where the light is pointing as well. You must avoid shining a very bright light directly onto the camera or sensor on your launch monitor. This is why Skytrak and similar products sometimes struggle with misreads in the brightest sunlight outside if they're not in the shade. 
You must also avoid flickering lights when using radar launch monitors like Mevo Plus as this can affect the accuracy of the data recording. 
Many golfers choose a low brightness electric lighting solution in order to see what they're doing, whilst aiming a bright spotlight directly onto the hitting area over the ball. This keeps too much light from hitting the launch monitor sensor, helps the projected image show up brightly on the impact screen and maintains the golfer's ability to swing normally. 

A bright spotlight illuminating the golf ball is optimal because your launch monitor (camera-based models in particular) will have a good view of the spin of the ball, whilst the camera lens remains unhindered by super-bright ambient light. 
Some premium launch monitors such as Trackman have specific lighting requirements, recommending track lighting in order to achieve the perfect setup. 
Golf Simulator Shed Security
Consider the security implications of storing thousands of dollars worth of equipment in a shed, cabin or garden outbuilding. 
Your golf simulator space is likely to be completely detached from any security system you have in place for your main house. There may also be blind spots around the shed in which thieves could approach. 
I recommend prioritising security when designing a golf simulator shed or cabin, you should include money for alarms and cameras in the budget for your build from the outset. 
You should have a working alarm on doors and windows, and cameras covering right the way around the shed. There should also be a robust locking mechanism on all doors and windows.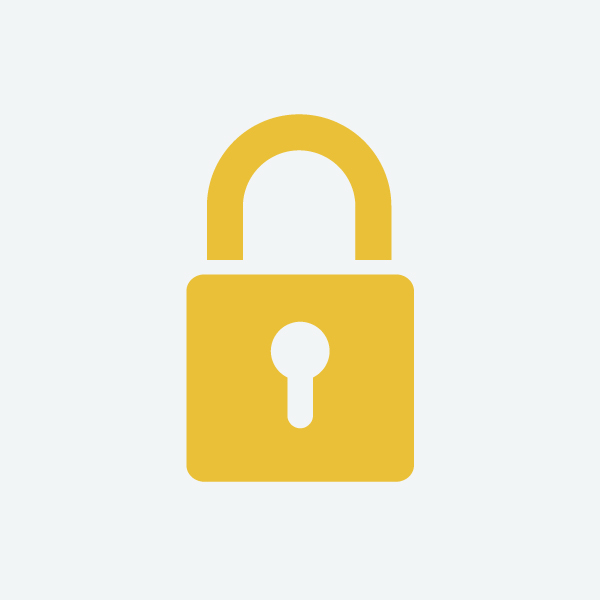 You may wish to remove your launch monitor from your golf simulator shed or cabin every time you use it, storing it in the house. You may even take your computer with you too. This can be a faff though, especially if you need to recalibrate the launch monitor each time. 
Golf Simulator Shed Launch Monitors and Equipment
So you've considered all of the above points in your golf simulator shed design. Now, which equipment should you buy? Are there any pieces of equipment not so suited to a golf simulator cabin?
In general, radar-based launch monitors like Trackman and Mevo Plus need larger indoor spaces to achieve optimal accuracy than camera-based launch monitors do. For this reason, they are less likely to be perfectly suited to a golf simulator shed, unless you have space and funds to build a large cabin.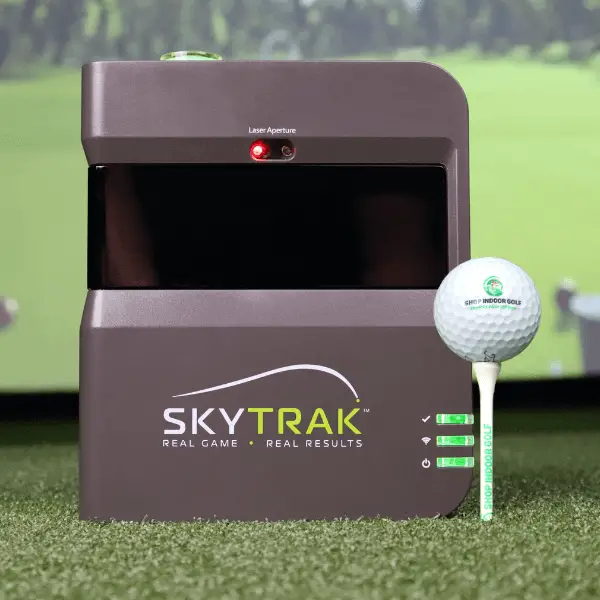 Golf simulator sheds are often small on the inside and you might just have enough room to swing, sacrificing goals such as central aim. Skytrak, GC2 and GC Quad have more modest space requirements and are excellent choices here. They can also be picked up and taken in the house if security is a big concern.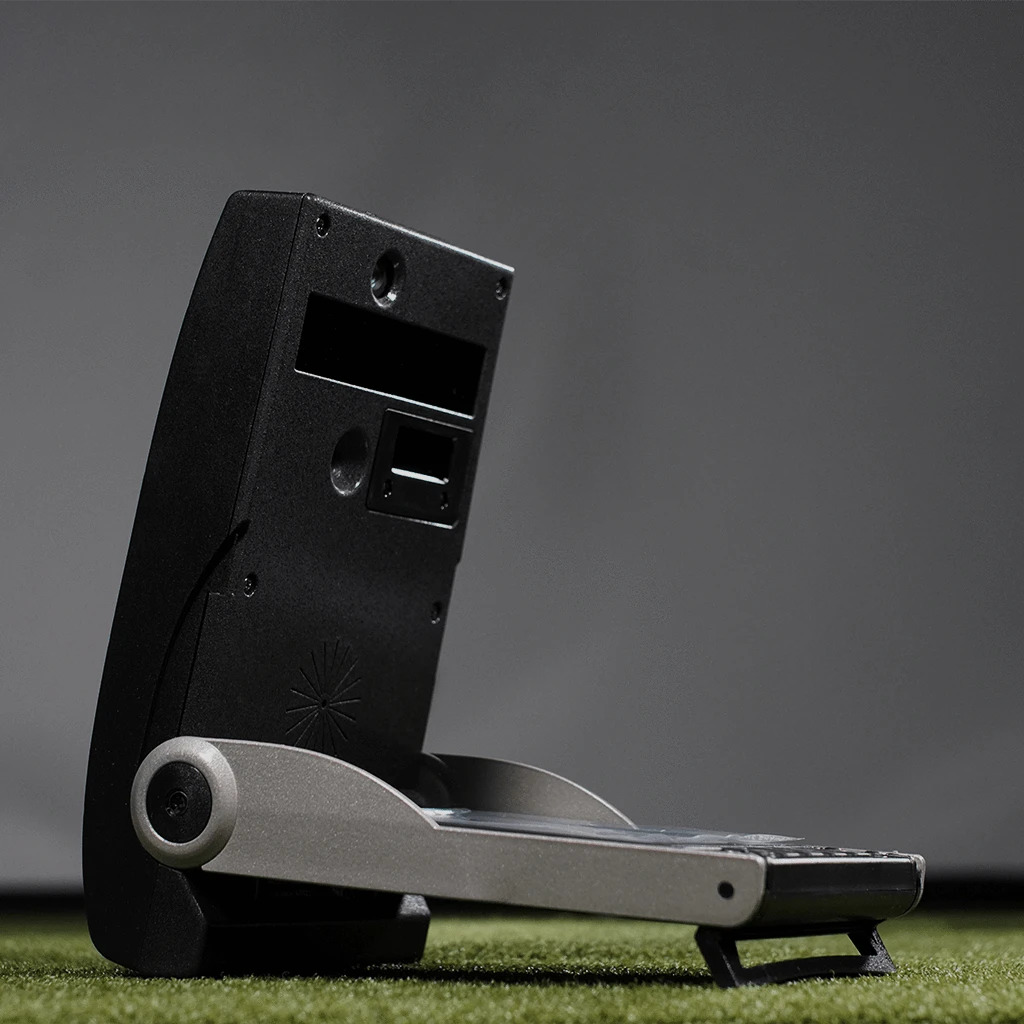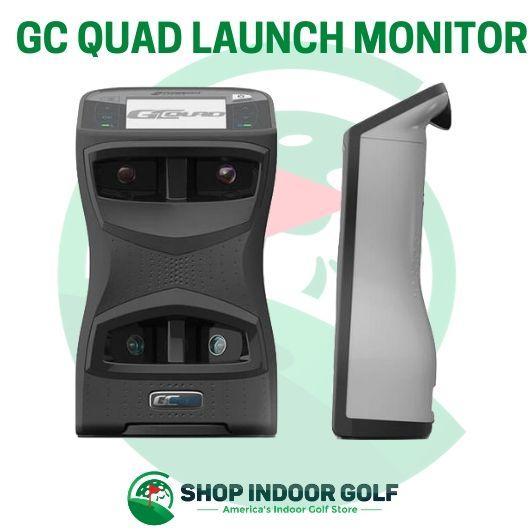 Many golfers with simulator sheds use a laptop for their computer needs, so they can pick it up and take it inside at the end of a session. I recommend keeping the computer station tidy and ready for replacing the laptop, I have cable ties that hold all the cables on the edge of the table ready for reconnection. 
Impact Screens in golf simulator sheds require consideration of all the same principles as inside the home. You'll need to worry about bounceback (and to a lesser extent, noise) and ricochet. 
You're still likely to need to use an enclosure frame to hang your screen, though it could feasibly be hung from the shed ceiling and walls using the same bungees and ties. I always recommend protecting the walls and ceiling though, so side netting or an enclosure is a must. You wouldn't want to punch a hole in your new simulator shed as soon as your start. 
Conclusion
There is a big difference between the sheds that golfers use for their golf simulators. You could try to build your dream setup in a small wooden garden shed. Others manage to utilise metal shed buildings or even premium outdoor office buildings.
Whichever material is used to construct your golf simulator shed, you'll have the same issues to think about.
I hope this article has provided useful information for you as you plan your simulator. 
Check out my related articles below, I've already written about the key considerations and challenges with building a golf simulator in your garage and basement. Take a look if they're options you have to build your golf simulator!