Golf simualtor screens are a key part of every full simulator setup. In this article, I will demonstrate the key elements to bear in mind while selecting a golf simulator screen.
The Premium Screen from Carl's Place is the best golf simulator screen currently on the market in 2023. Images with a 4K resolution are displayed on this triple-layered, cushioned screen with incredible quality and very little light bleed. On impact, there is barely any bounceback or noise.
You will learn to choose a golf simulator screen that is the ideal size and aspect ratio for your setup, enabling the display of an amazing, high-resolution, brilliant image with little bounceback.
What Kind of Screen do you need for a Golf Simulator?
The following qualities form the essential criteria for a golf simulator screen that will be perfect for your simulator setup:
Golf Simulator Screen Materials
One of the most important parts of a well-executed golf simulator screen is that it shows a bright, clear, and sharp image.
Multiple layers of polyester, tightly woven into a mesh, are frequently used to construct golf simulator screens. Due to the fine weave, very little light "bleeds" through the screen surface, allowing as much light as possible to be reflected back as an image.
The more compact the weave, the better. The screen display will be smooth and grain-free. Surfaces that are rough and grainy will be the norm for low-quality or extremely low-budget displays.
Carl's Premium Golf Simulator Screen has a surface with bright white, ultra-tight weaves that increase reflected detail and, in turn, image quality.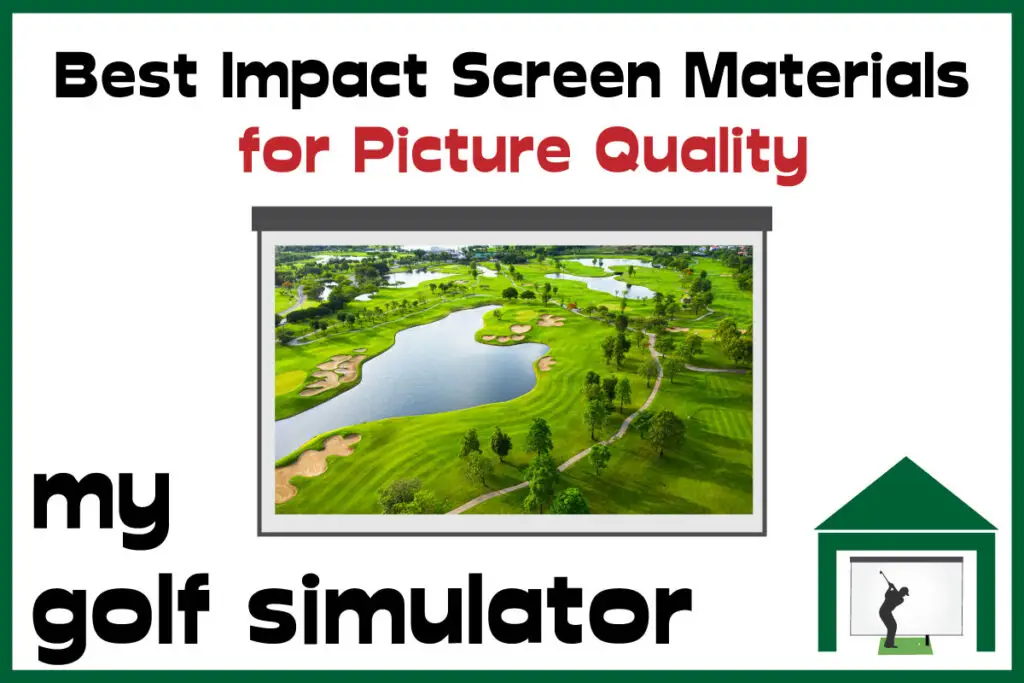 Size and aspect ratio that work well in your golf simulator space
The aspect ratio of a projection screen is the proportion of its width to its height. This is a significant number that is also utilized in media displays (such as television, computer screens, and importantly, projectors).
The objective is to fill your golf simulator screen with your projected image, leaving no wasted or unused space on the sides, above, or below.
Both Full HD and 4K video resolutions have an aspect ratio of 16:9. 16:9 is the widest of the regularly used aspect ratios in golf simulator settings, therefore you'll need appropriate room width if you choose a screen with proportions that match this ratio.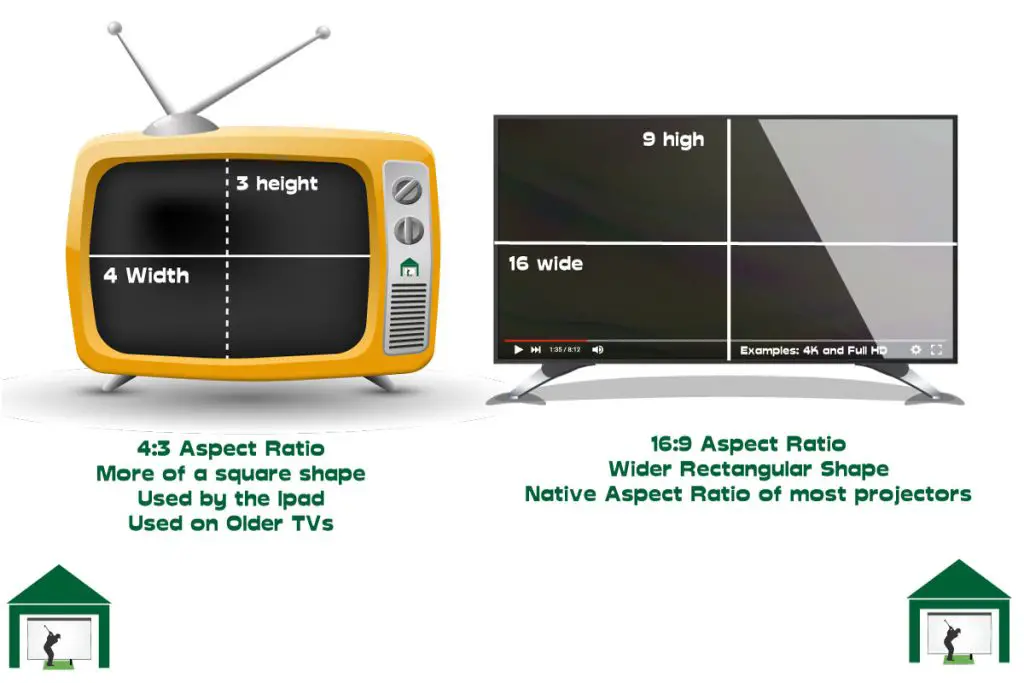 If you choose a golf simulator screen whose width and height do not correspond to one of the standard aspect ratios, it is highly improbable that the projected image will occupy the entire screen, with no wasted space on the sides or above and below the image.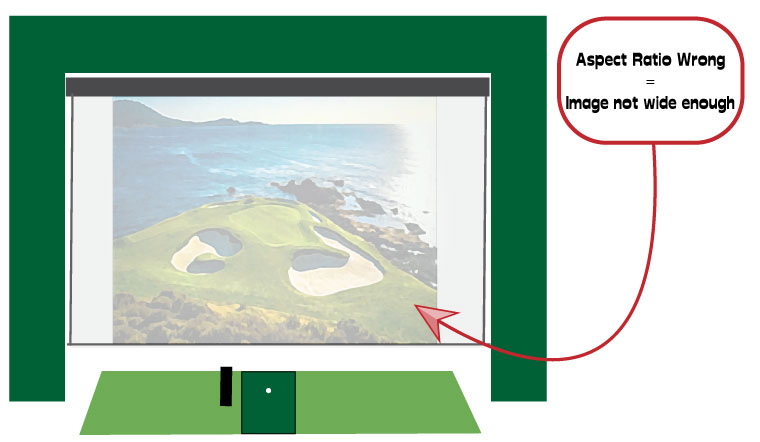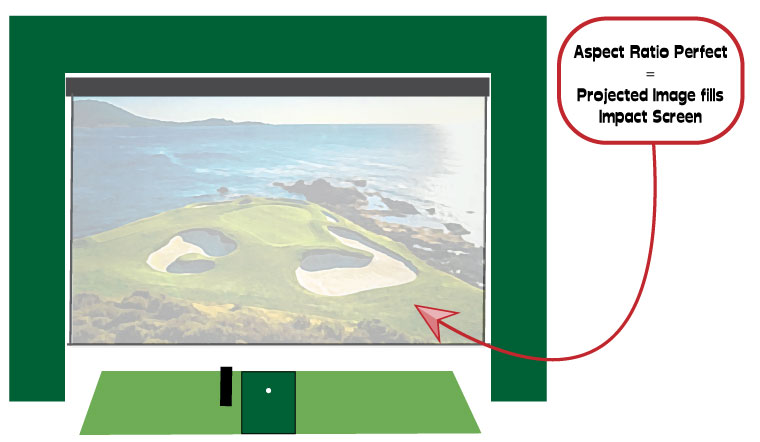 Depending on the available height and width of your room, you will need to decide whether to buy a golf simulator screen that conforms to either a 16:9 or 4:3 aspect ratio. A few golfers will also consider a 16:10 or 1:1 setup.
16:9 and 16:10 are wider aspect ratios and suitable for golfers with plenty room width. 16:9 is the natural aspect ratio of Full HD and 4K resolutions, meaning your image won't be stretched when projected onto your screen.
Here is a table of example 16:9 golf simulator screen sizes from Carl's Place, they also include the outer and viewable screen dimensions too, which are important measurements when planning your projector image size.
Here is a list of golf impact screen sizes in a 16:9 aspect ratio. All these impact screen sizes are available at Carl's Place in either Premium (highest quality), Preferred (great value) or Standard (for those on a budget). 

16:9 is the most commonly used aspect ratio for an impact screen and it is the standard aspect ratio used for a Full Hd or 4K display, though it does require more room width than a 4:3 screen.
| ASPECT RATIO | Screen Width (Ft) | Screen Height (Ft) | Outer Dimensions (inches) | Viewable Screen Size (inches) | Viewable Screen Size (Diagonal) |
| --- | --- | --- | --- | --- | --- |
| 16:9 | 13 | 7.7 | 91x159 | 86x154 | 177 |
| 16:9 | 14 | 8 | 96x166 | 91x161 | 185 |
| 16:9 | 15 | 8.5 | 103x180 | 98x175 | 200 |
| 16:9 | 16 | 9 | 108x188 | 103x183 | 210 |
| 16:9 | 17 | 9.5 | 114x198 | 109x193 | 222 |
| 16:9 | 18 | 10 | 120x210 | 115x205 | 236 |
4:3 is suitable for more narrow golf simulators, those without 15+ feet of room width for example. 1:1 aspect screens are perfectly square and are a means to building a simulator setup for those with the most difficult (narrow) rooms. Even with a 1:1 screen, you will probably project the image in 4:3 and so there will be some unused screen at the top and bottom.
Here's a table of example 4:3 golf simulator screen sizes from Carl's Place, they also include the outer and viewable screen dimensions too.
Here is a list of impact screen sizes available in 4:3 aspect ratio. All of these screens are available for purchase from Carl's Place in either Premium (highest quality), Preferred (great value) or Standard (for those on a budget).
| ASPECT RATIO | Screen Width (Ft) | Screen Height (Ft) | Outer Dimensions (inches) | Viewable Screen Size (inches) | Viewable Screen Size (Diagonal) |
| --- | --- | --- | --- | --- | --- |
| 4:3 | 10 | 7.7 | 91x120 | 86x115 | 144 |
| 4:3 | 10.5 | 8 | 96x126 | 91x121 | 151 |
| 4:3 | 11.5 | 8.5 | 103x136 | 98x131 | 164 |
| 4:3 | 12 | 9 | 108x142 | 103x137 | 171 |
| 4:3 | 12.5 | 9.5 | 114x150 | 109x145 | 181 |
| 4:3 | 13 | 10 | 120x159 | 115x154 | 193 |
Learn more about aspect ratios and golf simulator screens in my dedicated article here. I also have an article devoted to golf simulator screen sizes, with a more in-depth look at the topic.
Minimal Bounceback and Noise
The term "bounceback" refers to the phenomenon that occurs when a golf ball hits an golf simulator screen and then elastically recoils back toward the golfer. Golf balls have the potential to bounce back at fast speeds and with unpredictable directions, both of which can be hazardous. The degree to which the screen is secured to the frame has a direct bearing on the amount of bounceback.
When the screen is fastened with high degrees of strain, you should anticipate having a greater amount of bounceback. Because the ball will hit the screen with more of its initial kinetic energy in simulator rooms with limited length, bounceback presents a greater challenge. This is because the ball will hit the screen with more of its original kinetic energy.
You can lessen the amount of bounceback you experience by loosening the tension on the attachment of your golf simulator screen and striking the ball from a location further away from the screen.
If bounceback is a very bothersome issue, another option is to install a soft surface, such as a memory foam mattress, on the wall behind your screen. Alternatively, you might install soft grass beneath and in front of your screen.
In the piece that I have dedicated to the topic, you will find a number of additional golf simulator screen bounceback-reducing solutions. You should also check out my article on sound and soundproofing in a golf simulator.
There is also a problem that I call a "ricochet," which is a more dangerous type of bounceback. This is when the ball will career off of the frame of the simulator enclosure or the wall that is behind the screen (if it is mounted too close). These ricochets have the potential to travel in any direction and at a great speed, putting anybody and anything in the room in peril.
Because of the need for commercial golf simulator enterprises to spare no effort in ensuring the well-being of their clients, bounceback is a factor that should be given considerable attention.
The amplitude of the noise that is produced when the golf ball impacts the golf simulator screen is closely connected to the concept of bounceback. In most cases, the noise that is produced upon impact will be louder in settings that have a high degree of bounceback, such as those with taut screens.
By fastening your screen with less tension, you may lower the amount of noise, which is useful for individuals who have neighbours whose homes are adjacent to their own and who have sleeping children. In the piece that I've dedicated to the topic, I cover a number of other soundproofing strategies for golf simulators.
How will you Fix your Golf Simulator Screen
The majority of golf simulator screen surfaces are encircled by a black border that has eyelets (small holes) in it. These eyelets allow a bungee cord to be threaded through the border and then tied. These bungees can be fastened to the framework of an enclosure or to fixings on a surface that is there permanently, such as a wall.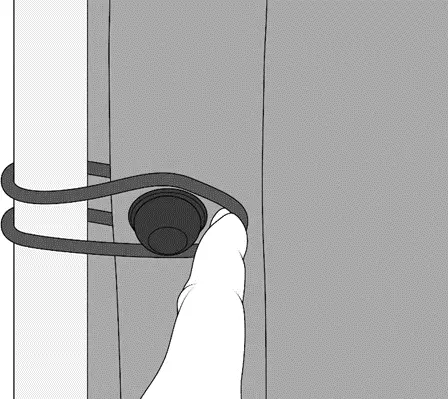 There are additional methods available for fixing your golf simulator screen, such as permanent installations and retractable installations. Check out the article that I wrote devoted entirely to the topic of golf simulator screen fixation.
Take a look at Carl's Place's 9-inch and 6-inch bungees while you're there. Extra bungees can be purchased from Carl's Place with or without the company's golf simulator screen products.
Can I use a regular Projector Screen for a Golf Simulator?
A regular projector screen is not suitable for a golf simulator. It is likely to receive a projected image very well but it will not withstand the impact of repeated golf ball strikes at high velocity. The golf ball will fly through a regular projector screen which could be dangerous.
How Far Should a Screen be from the Tee in a Golf Simulator?
Within your golf simulator, the distance between the hitting area and the screen should be at least 6-7 feet and can be as far as 14 feet or even farther. Many golfers choose around 10ft.
The optimal distance from the tee to the screen should strike a compromise between immersion and realism, a reduction of bounceback, and the ability to obtain the highest achievable accuracy from your launch monitor.
The length of a golf simulator room can be divided into three smaller distances: tee to screen, tee to back wall, and gap behind the screen. More space will be required if you need to position your launch monitor behind you, as is required with radar-based systems.
In most cases, an individual's ambitions for a golf simulator are not usually derailed by a lack of length as much as they are by insufficient height and room width.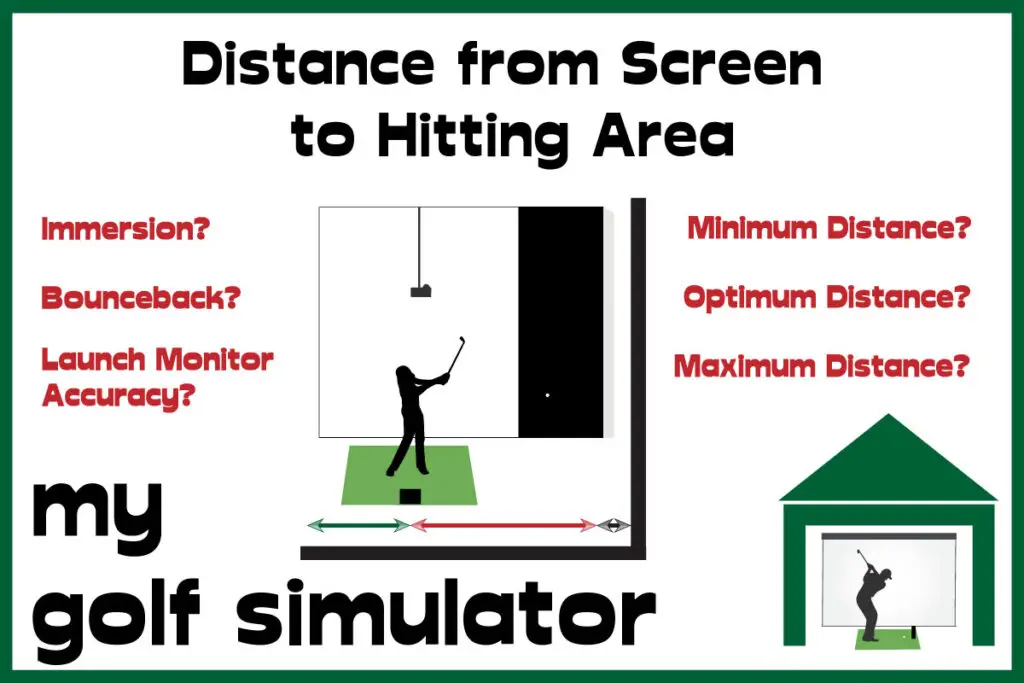 Summary
Do you need a Special Screen for a Golf Simulator?
The perfect golf simulator screen for your home golf simulator setup will feature the following:
Premium multi-layer tight weave bright-white polyester material, which allows minimal light to bleed
through the screen.
Eyelets within a border will allow easy attachment to your enclosure or frame with bungees
An aspect ratio that is suitable for your golf simulator space (usually 16:9 for wider spaces or 4:3 for more narrow rooms).
Cushioning to minimize bounceback and noise on strikes
An affordable price
Durability and rating for impacts well above the average golf ball speed
I believe Carl's Premium Screen offers all of these features and more. The Premium screen is available in a range of sizes and aspect ratios. If you want to make the most of your golf simulator, the screen is one of the most important components.