Are golf simulators expensive? Yes, they can be. There are 8 core components in a full golf simulator setup. We cover the costs of each golf simulator item and describe 5 levels of setup in ascending order of total expense. Check out our interactive Golf Simulator Costs Calculator too for a much better idea of how much your project will cost.
Golf simulator costs vary wildly from under $1000 to $70,000 depending on your needs and goals. A full golf simulator setup with a protector, quality hitting mat, enclosure, impact screen, simulation software and Skytrak Launch Monitor will likely cost around $7000.
Towards the end of this post we cover the Hidden Costs in a Golf Simulator and the costs of Golf Simulator Finishing Touches, as well as how to splurge on luxury golf simulator items.
Please note all the suggested prices in this article are either approximations or taken from prices published in January 2021. They may change. Also, when looking at the prices of projectors, screens, and enclosures, make sure you make choices and combinations that will fit the size of your golf simulator space. You need to get the throw ratio and aspect ratio right. We have lots of information on these features – have a look here.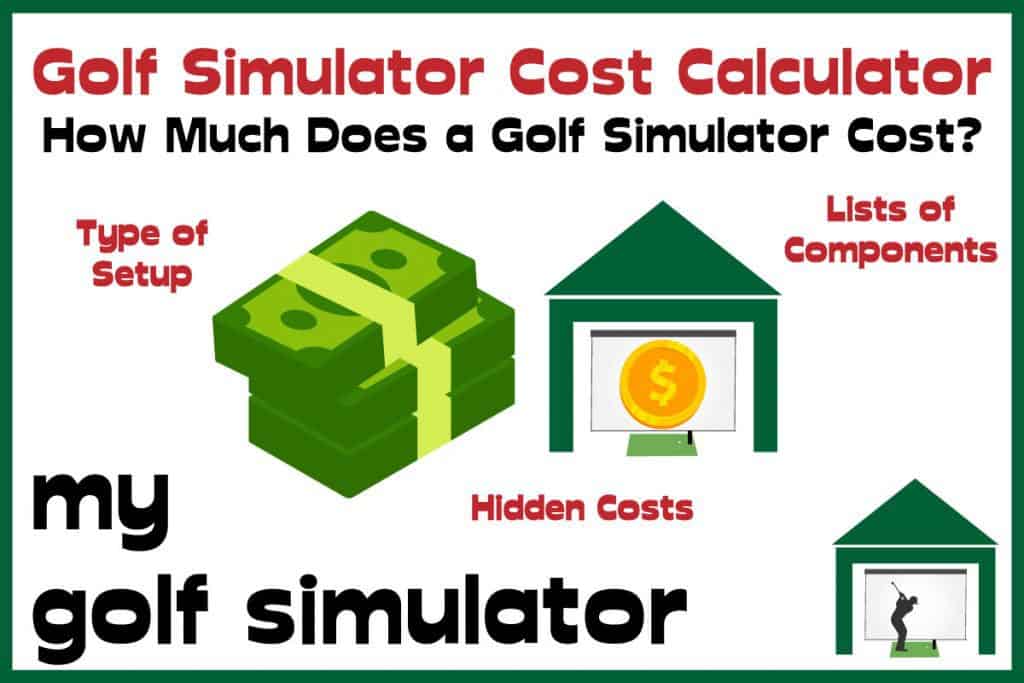 How much does a Golf Simulator Cost?
A full golf simulator setup contains the following core categories products, in a variety of shapes, sizes and levels of quality:
Launch Monitor
Hitting Mat
Enclosure with Frame, Netting and Blackout Curtains
Projector
Impact Screen
Simulation Software Subscriptions
A PC, Tablet or Smartphone
Clubs, Balls and Tees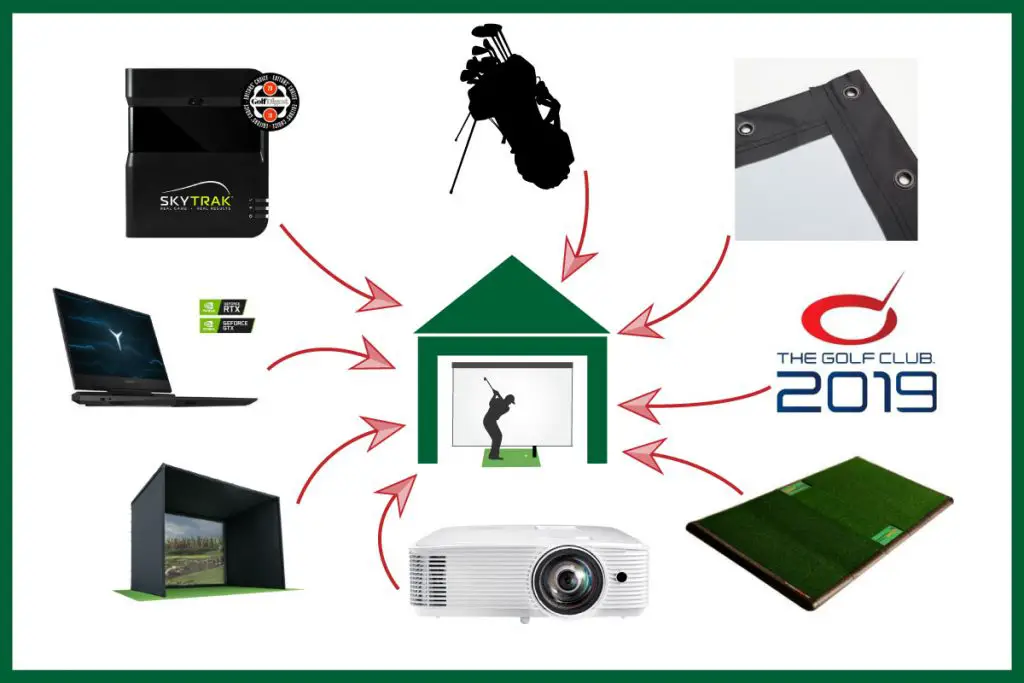 There are also several extra items that you will need for your golf simulator, each of which will cost extra:
Wiring for projectors, computers and other electronics
Protection for your ceilings and walls
Swing Cameras and Mirrors
Putting Mats and Training Aids
5 Further Hidden costs we cover at the end of his article
Golf Simulator Cost Calculator
[stm-calc id="2826″]
Links to Components in the Cost Calculator
Check out all the Products and Deals Mentioned in the Cost Calculator Above
Enclosures
DIY Screen from EMT Piping
Projectors
Optoma GT1080 HDR
Optoma EH200ST
The Optoma EH412ST
Optoma GT 1090 HDR
The Optoma EH460ST
Simulation Software
Costs of DIY vs Package Golf Simulators
You will usually save money by taking a do it yourself approach, though there are some great deals where savings can be made. See the EYE XO deal below from Shop Indoor Golf.
Package deals can allow you to pick up several great components all in one purchase, and takes out a lot of the guess work too.
The biggest saving you'll probably make is by constructing your own metal frame enclosure. The components you'll need for this are:
1 inch diameter metal piping or EMT
1 inch diameter corner pieces
A saw capable of cutting metal pipe
Foam insulation for the piping.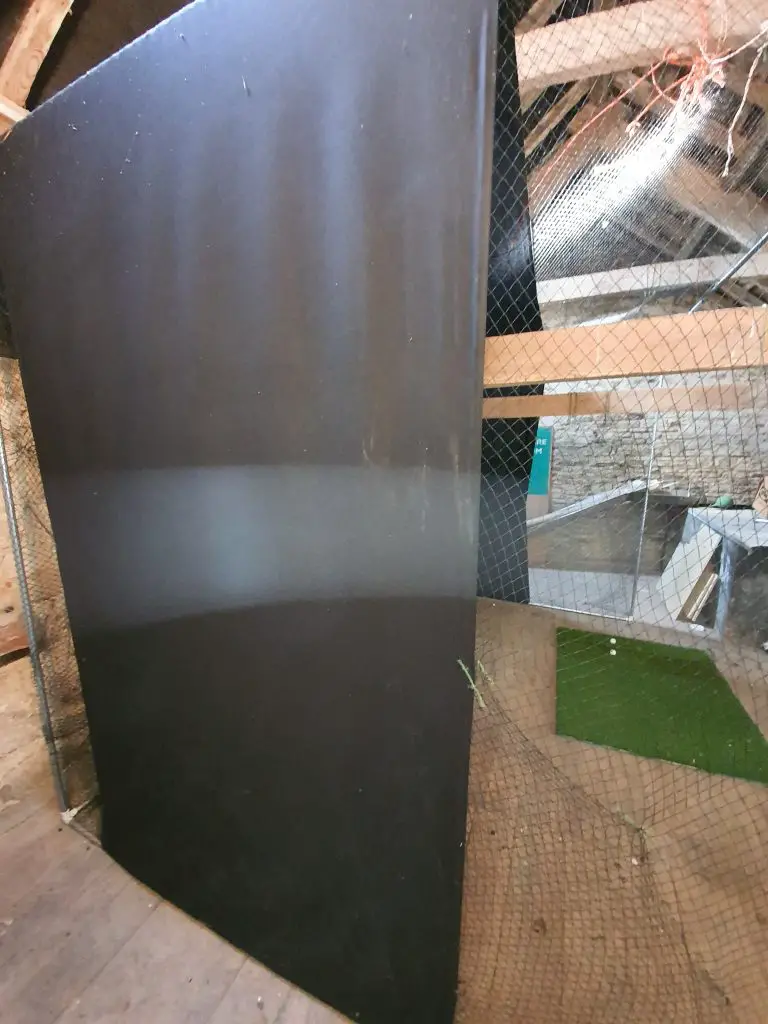 You can then draw a cuboid enclosure diagram and mark out your sizes. This can be a great way of making a custom enclosure for your space, and you can make it as deep as your room will allow. I recommend removing the long width piece of pipe from above the golfer's head. The structure will still stand without it and it won't get in your way.
Costs of Used vs New Golf Simulator Components
I would usually recommend new components due to the intact warranty and added confidence you'll have that everything will work as it should. However you can get some excellent deals on second hand parts. Consider a second hand gaming PC if you need some graphics power but your budget is tight.
The prices of launch monitors have been inflated recently given the lack of supply caused by world events.
5 Golf Simulator Setup Types + Lists of Example Components
Simple Hitting Bay
The cheapest form of home golf swing practice is to set up a simple hitting bay with a net, enclosure and mat. This could me inside or outside and you only really need enough room to swing.
Golfers with severely limited space may choose this setup, especially as it can be easily setup outside.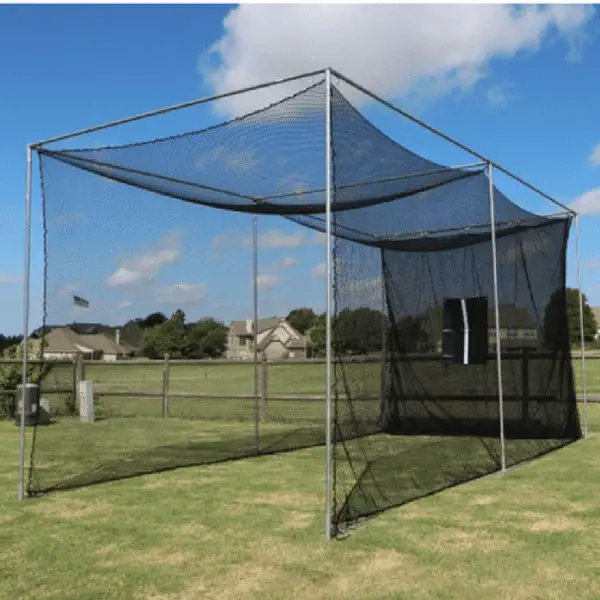 The minimal list of golf simulator components you need for a simple hitting bay are:
Golf enclosure
A Golf Net (you may choose to use a net with side extensions rather than a metal frame enclosure, see The Net Return Nets).
Golf Mat (this does not need to be an expensive one – there are many budget mats on amazon.com)
Clubs, Balls, Tees
Approximate Cost for this Setup Outdoors: $500
This setup can be combined with swing cameras or even a launch monitor and iPad setup. This way you have everything except the projector and impact screen.
Many people combine Skytrak, an iPad, and a golf net for a budget home golf simulator!
Affordable Golf Simulator Cost – Full Setup
A golf simulator with a full setup is what I consider to include a projector, impact screen and simulation software.
You can approach a full golf simulator setup by buying the parts separately and even building the whole thing yourself, or going for a package deal. We talk about this more later in this article.
This category of golf simulator setup is one that fulfils the idea of a full setup but that remains as affordable as possible.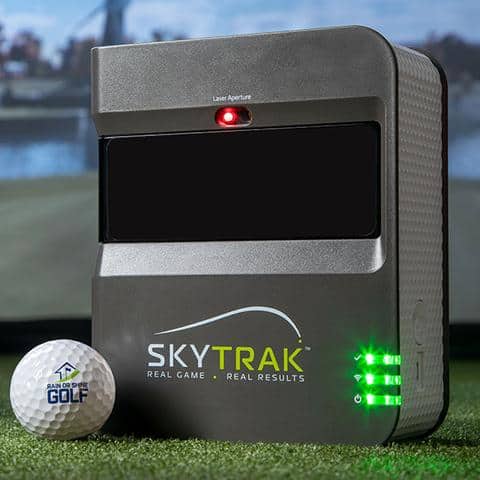 Affordable Range DIY Example Core Components
Consider the following components for an affordable full golf simulator setup:
Total approximate cost of core components: $5990
You will have to factor in the hidden golf simulator costs and finishing touches at the bottom of this page too.
You can make this setup even cheaper by using your own PC (providing it has sufficient performance) or using a tablet/iPad setup. The costs of a golf simulator PC are quite variable depending on your build and are higher for laptops.
Affordable Range Package Deal Example
Check out this prebuilt Skytrak SIG10 Golf Simulator Package from Shop Indoor Golf which contains everything you need to get started with your home golf simulator, including:
Skytrak Launch Monitor
Skytrak Protective Case
Optoma HD Projector
SIG 10 Enclosure with Side Barrier Netting and Landing Turf
Choice of Hitting Mat
Floor Mounting Projector Case (Optional use)
All the cables needed
At the time of writing, this package costs just under $7500.
The only thing you might consider adding is a simulation software program like TGC 2019.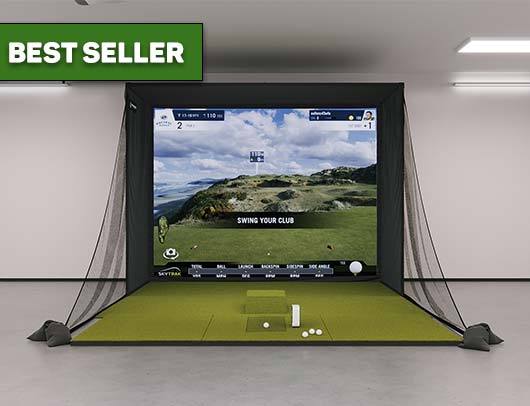 I recommend prioritising a good golf mat, as over time a poor mat will start to hurt your joints when you get into thousands of shots.
As long as you can configure your setup to allow an acceptable projector positioning that doesn't cast shadows, fills your impact screen with the image, and is out of the way of your swing, then you should be ready to go. There's a lot to consider with projectors, please take a look at our projector articles to learn more.
Mid – High Price Golf Simulator Cost – Full Setup
This golf simulator setup is for golfers who can afford to pull the trigger on a few more premium components. You'll benefit from a larger screen and enclosure and the additional features and club data offered by the Uneekor QED.
You can always go for a smaller screen and enclosure if you can't quite accommodate the screen described below.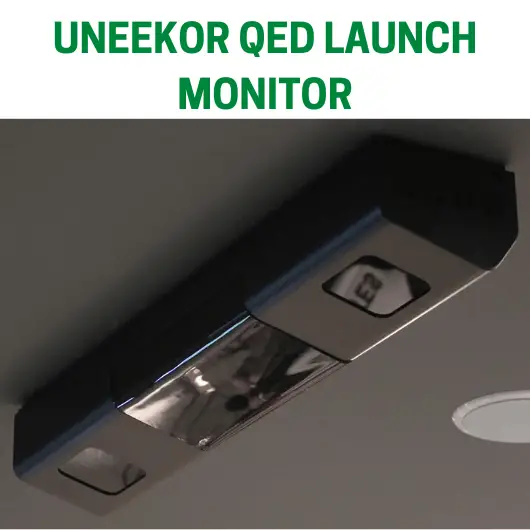 Mid – High Price DIY Example Components
Total approximate cost of core components: $12290
Again, you could make this simulator setup cheaper by using a PC you already own. I made my own enclosure and found it quite straight forwards but if you'd like to buy a pre-designed enclosure then check out the DIY enclosure from Carl's which you can combine with their Premium Impact Screen.

Mid Price Package Deal Example
Check out this excellent Uneekor QED Package from Shop Indoor Golf, which contains all the golf simulator components you'll need, including:
The Uneekor QED Launch Monitor
Optoma EH412ST Projector + Floor Mounting Enclosure Box (optional use)
SIG 12 Enclosure, Landing Turf, side netting and Premium Impact Screen
A choice of a Fairway Series or SIGPRO golf hitting mat.
A Uneekor Ceiling Mount and 2 dozen Uneekor Golf Balls
This package, at the time of writing, costs just under $12,900.
Again you'd just need to decide whether to upgrade Uneekor's base software to their premium packages Refine or Succeed, or choose another program like TGC 2019.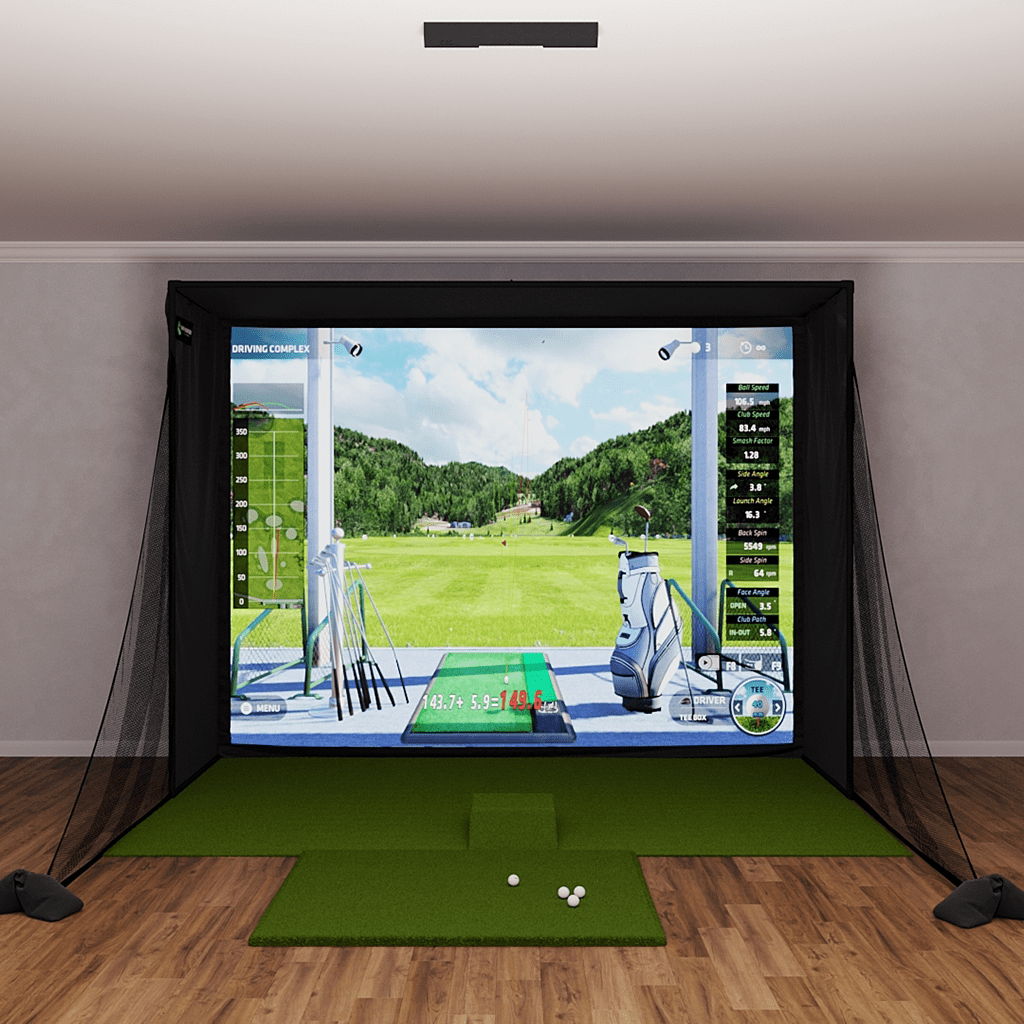 Premium Golf Simulator Cost – Full Setup
This is my ideal golf simulator setup. I will continue to dream about being able to own an ultra high end golf simulator setup such as those provided by HD Golf, Full Swing Golf and About Golf.
Short of these golf simulator behemoths, this is the next best thing, and these products are still absolutely amazing. This setup features my favorite products from across the launch monitor market.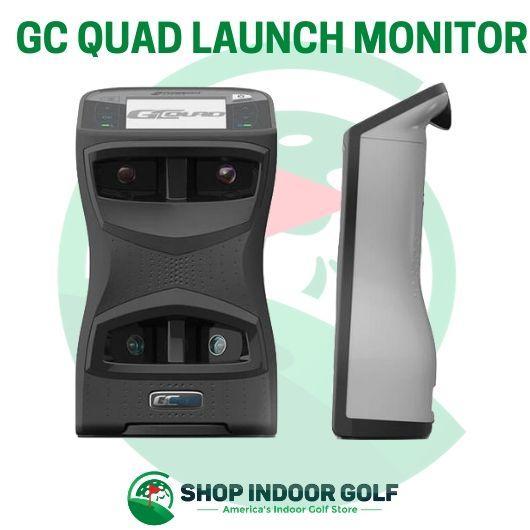 Premium Golf Simulator – DIY Example Components
Premium Package Deal Example
Shop Indoor Golf's Uneekor EYE XO SIG12 Package is an amazing deal, featuring everything you'll need to get setup with your EYE XO Golf Simulator.

This deal features the following high quality pieces:
SIG 12 Enclosure and High-Quality Impact Screen
Optoma HD Projector
A Choice of Hitting Mat – the 4x10ft SIGPRO mat allows central hitting for left and right handed use
Landing Turf to reduce Bounceback
Ceiling Mount for the EYE XO
Side Netting for the Enclosure
All required cables
Floor Mounting Box for your Projector (optional use)
You can also choose to upgrade the EYE XO View software to Refine or Succeed or adding TGC 2019
This deal comes to a fantastic price of approximately $15,900.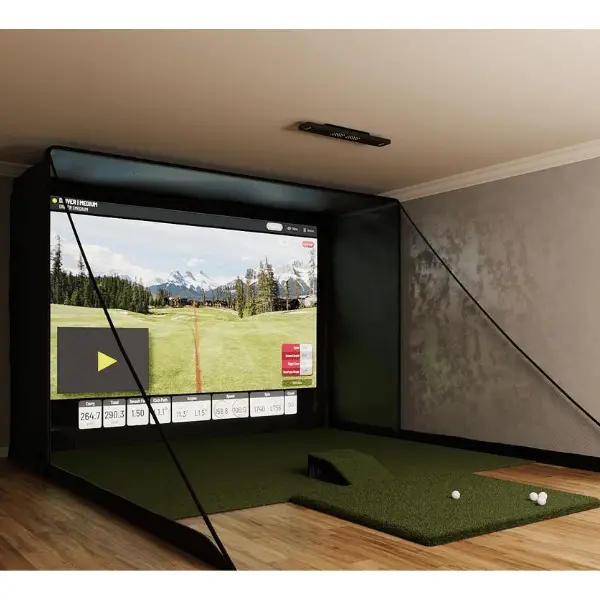 GC Quad Package Deal
Alternatively, you should check out Shop Indoor Golf for an amazing fully equipped golf simulator setup featuring the Foresight GC Quad!
The GC Quad SIG 12 Golf Simulator Bundle features the following:
The GC Quad Launch Monitor (approx $14000 base price, $20,500 with Advanced Putting Analysis and Club Head Data)
FSX Simulation Software
The SIG 12 Enclosure and Premium Screen from Shop Indoor Golf
Optoma Full HD Projector
SIG Pro Central Hitting Mat with Tee Line Turf – for left and right-handed use.
Landing Turf and Side Netting
Floor Projector Mount Box (Optional Use)
All necessary cables
This setup will cost you approximately $20,400 without the Advanced Putting Analysis and Club Head Data Add ons, and approximately $26,900 with both included.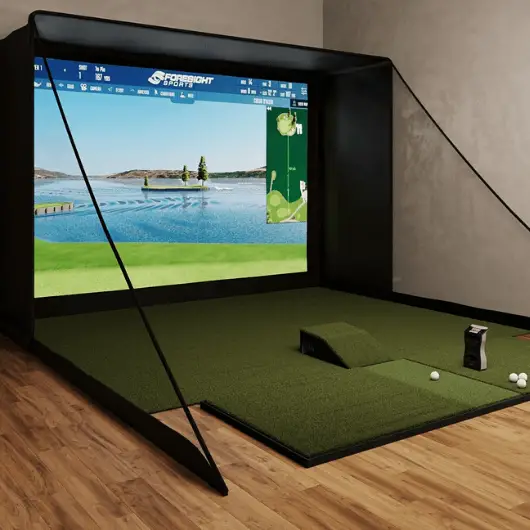 Ultra Luxury Golf Simulator Cost – Full Setup
Lastly, we have the ultimate in home golf simulator technology, HD Golf.
HD Golf Simulators uses advanced components and technology to provide comprehensive and accurate club and ball data, then giving you the ultimate golf simulator experience. The graphics are sublime.
You can also turn your golf simulator into a space to simulate lots of other sports such as Soccer and Football.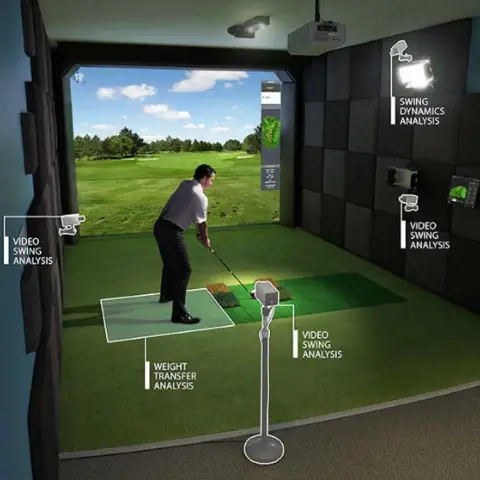 Everything you need from a golf simulator is included in an HD Golf Package. Check it out at Shop Indoor Golf Here. Packages range from $56400 to $69035.
Hidden Costs with a Golf Simulator
Hidden and Extra Costs of a Golf Simulator Build
The following are the hidden costs of a golf simulator, which many don't consider until they've actually cleared out their space, bought equipment or even finished their simulator:
Heating – Is your golf simulator planned for the garage? Those who live in northern areas with colder winters will find the temperature in the garage not dissimilar to being outside. You'll spend money on garage heaters, insulation and even new windows and doors. Many people spend a lot more on heating and power inside the home too when using their simulator.
Electric Work – I recommend asking an electrician to assess your golf simulator space before you start construction. You're going to need lots of plug sockets and a dodgy adaptor trailing across the floor is not ideal. Have 5-10 additional plug sockets installed and you'll not need to worry about running out. Remember, you'll need to plug in your launch monitor, projector, computer, charging cables, screens and any portable lighting or heating appliances, plus loads more.
Power Consumption – You will naturally use lots of power when running your golf simulator. Probably not a lot more than if you were doing other home entertainment activities but if you use your simulator a few hours a day then it will mount up.
Room and Home Alterations – will you need to raise a roof, build an outdoor room or shed or knock down a wall? These alterations can allow your simulator dreams to come true but could cost more than the simulator itself! Always get a report from a professional before embarking on such construction projects too!
Lighting – you will need to make some adjustments to the lighting in your golf simulator. You can start out with a simple pendant lightbulb hanging from the ceiling but after a while you'll start playing with the optimal lighting for your launch monitor and even adding some coloured or smart lighting options. Greens obviously work well in a golf simulator!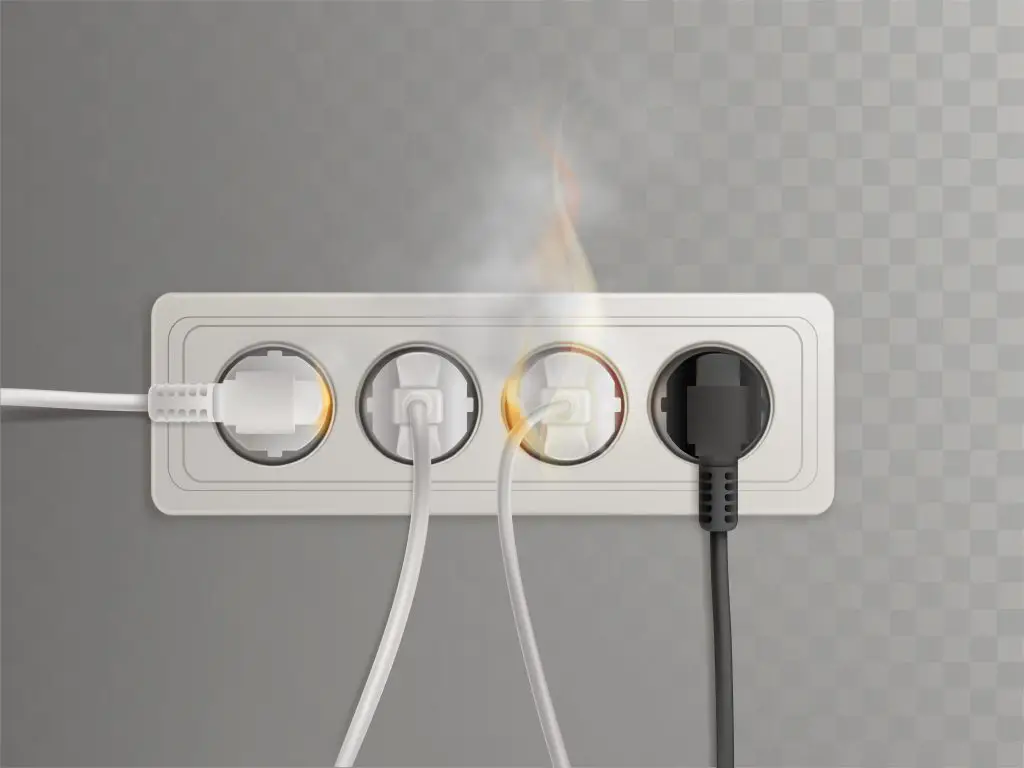 Golf Simulator Finishing Touches
There will absolutely be finishing touches to add to your golf simulator. These are the items that make it yours, that make it Pinterest and Facebook worthy. I'm thinking of:
Extra artificial grass and putting turf for the floor
Training aids
Wall art
A beer fridge or a bar
Seating
Golf memorabilia
Any home theatre equipment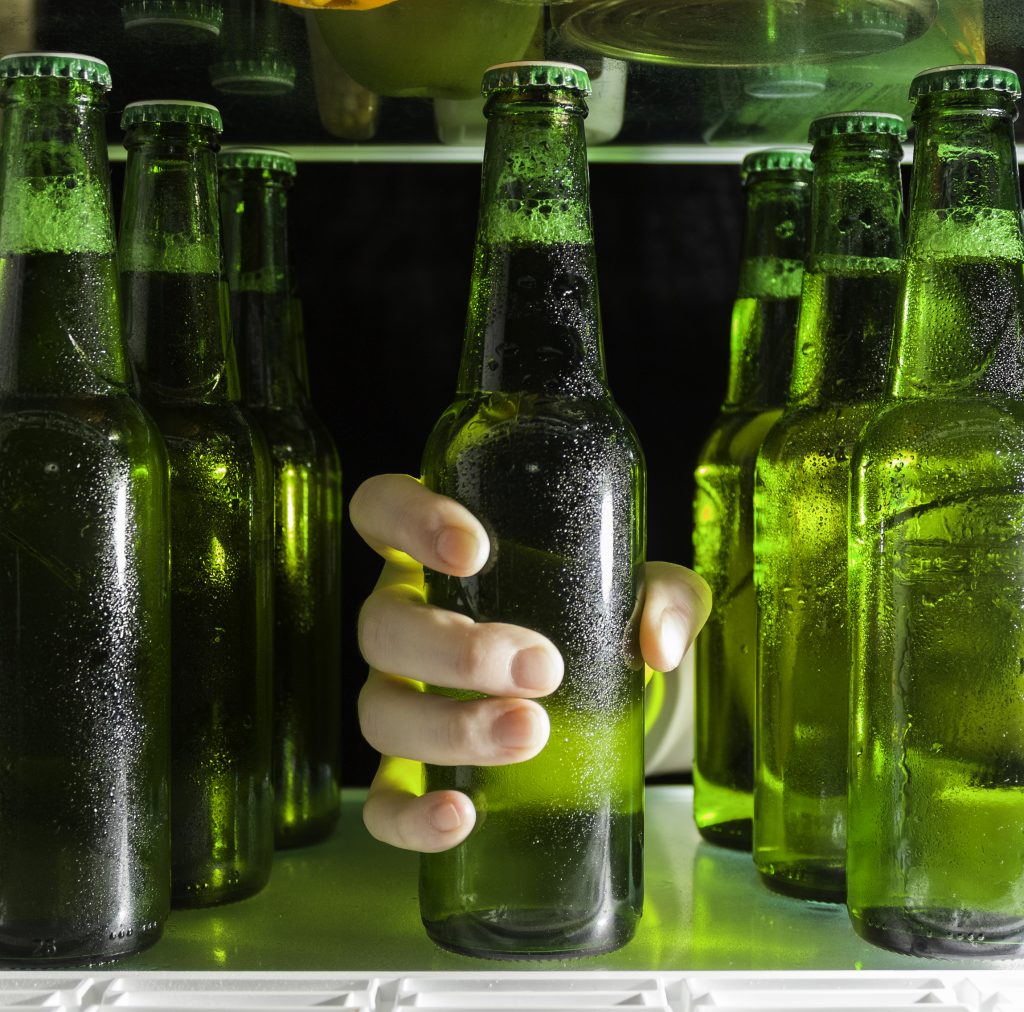 What Factors Increase the Cost of a Golf Simulator?
The following factors will increase the cost of a home golf simulator:
Size – bigger means more expensive. You'll need a bigger impact screen, more enclosure material and netting. You may have enough room for a premium centre line hitting mat. The increased size in your simulator may convince you to go for a more premium launch monitor as well. That's not to mention you'll have more room for all the extra swing analysis options like cameras and other training aids.
The big items –
Golf Simulator Cost Saving Tips
I recommend checking out the GS Pro Simulation Software while it is still in beta mode. Until the full launch the software is available for just $30. GS Pro isn't available with Skytrak or Mevo Plus but is a great option with Uneekor QED, EYE XO and GC2.
Consider going for a DIY enclosure as we explain above, this can be a massive cost saving.
Start small and build up over time. If you can't quite afford your dream EYE XO of GC Quad setup then start with a Skytrak or Mevo Plus and work up. Similarly, if you can't budget for a full setup golf simulator then just start with a simple hitting bay.
Are Home Golf Simulators Worth it?
Yes! A Golf Simulator is absolutely worth the cost, though there are many different types of golf simulator setup and you should aim to build one that suits your budget as well as your dreams.
There are so many ways to practice your golf game and have fun in your simulator. It is your home practice and coaching facility, your entertainment centre, somewhere to hide and somewhere to show off.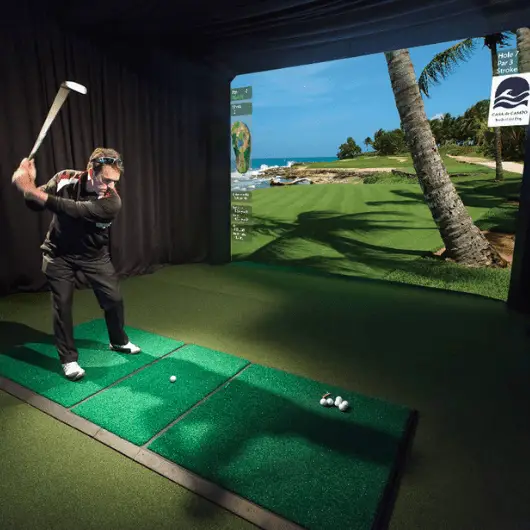 There are lots of decisions to make when planning a golf simulator. Try and set a budget that works for you and your family and stick to it. See where you can make savings that will allow you to spend bigger on the core components.
Upgrade your Golf Simulator Build as you go
I also think a golf simulator doesn't have to be 100% finished on the day you cut the ribbon on your new build. You can add to it and upgrade as time goes on. Your launch monitor, mat, and even your screen can be easily chopped and changed. As long as you have space you can upgrade right through from a simple hitting bay to a luxury setup.
Good luck with your golf simulator build! 😀