When I spend a lot of money on a premium golf mat for my golf simulator, I expect it to be able to allow me to hit my driver by teeing up the ball. Personally, I prefer to be able to tee the ball up as I would on the course.
Golf Simulator Mats including the Fiberbuilt Tee Box Mat allow standard wooden and plastic tees to be placed directly into the turf. They have high density turf that allows the tees to be placed without fixing or creating holes.
Many other premium mats allow other methods of teeing up your ball such as specialised tee holders and rubber driving range style tees.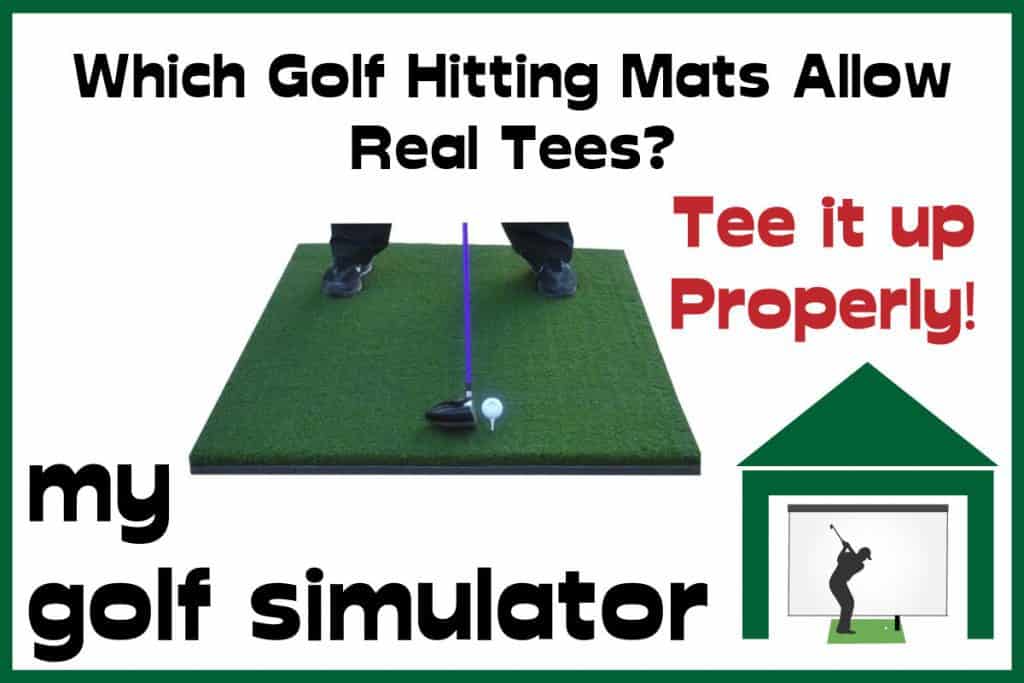 How does teeing up your ball work on a simulator mat?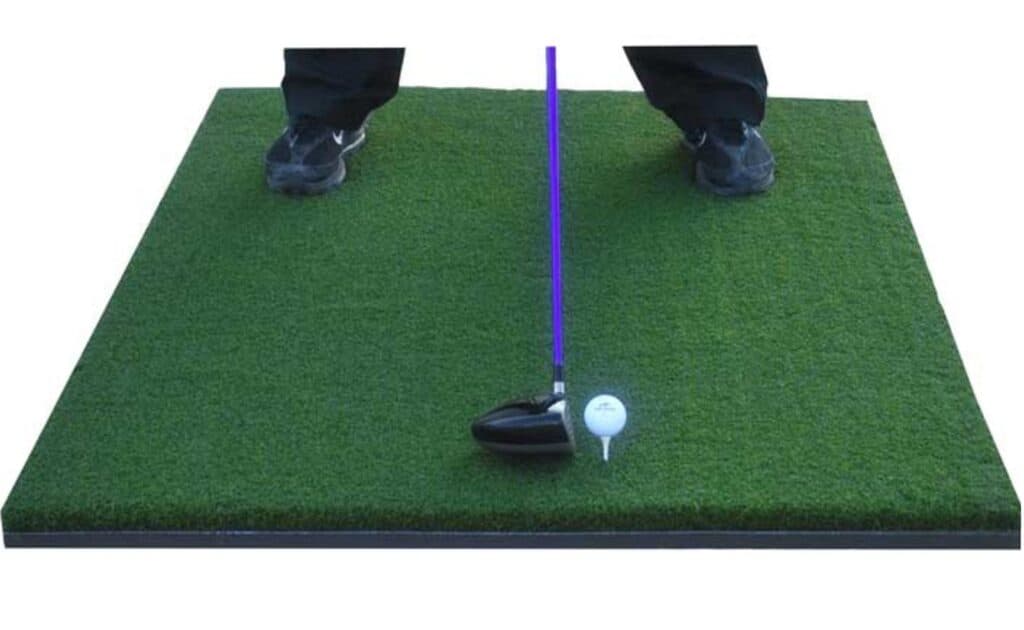 Which Golf Simulator Mats allow the Direct Placement of a standard Tee?
Golf simulator mats with high density and good quality turf can take real tees, which is great for golf simulators. It increases the realism and fidelity of your home golf experience.
I find that using real tees simulates being out on the golf course the best. They allow you to aim and address the ball just like you would on the course. I don't like driving range mats in general as I find the big rubber tee is always slightly wrong in height and makes a thud when I hit (particularly with iron shots). 
The Fiberbuilt Tee Box Mat
Fiberbuilt build are a major golf mat manufacturer that produce a range of popular golf mats. Their Tee Box mat features high performance turf into which you can place a real tee.
Fiberbuilt say this mat features unmatched shock absorption and a realistic ball flight from driver shots to wedges. Check it out here at Top Shelf Golf.
The Real Feel Country Club Elite Golf Mat
As we describe above, the Real Feel Country Club Elite Mat allows for this method with ease. This mat comes in a variety of sizes from 4x5ft to 5x10ft. 
Real Feel say that the mat features 'True Divot Action' which gives a realistic amount of forgiveness compared to real grass on iron and wedge strikes. This means the mat isn't too forgiving on fat shots like other mats and will give you realistic feedback on your strikes. 
This coupled with the ability to tee the ball anywhere on the mat surface makes a great simulator mat! You can turn it round for extra durability too!
The Cimarron Ultimate Golf Mat
This is a fantastic mat available for a more modest budget than it's more expensive competitors. 
Measuring up at 4ft x 6ft, the Cimarron Ultimate golf mat has three 1 foot portions of hitting turf. This simulates play from different lies. The outermost section is of higher density and allows the placement of a wooden or plastic tee. 
It also features a 1ft section of fairway turf and another section of semi-rough turf. The very first simulator mat I bought (I don't even know what brand it was, I got it from Amazon) had a section with rough on it. I found this excellent for practicing flop shots as I could slide the club under the ball easily. 
The Cimarron Ultimate Golf Mat also features three holes for rubber tees if you fancy using them too. It really is a very versatile mat at an excellent price!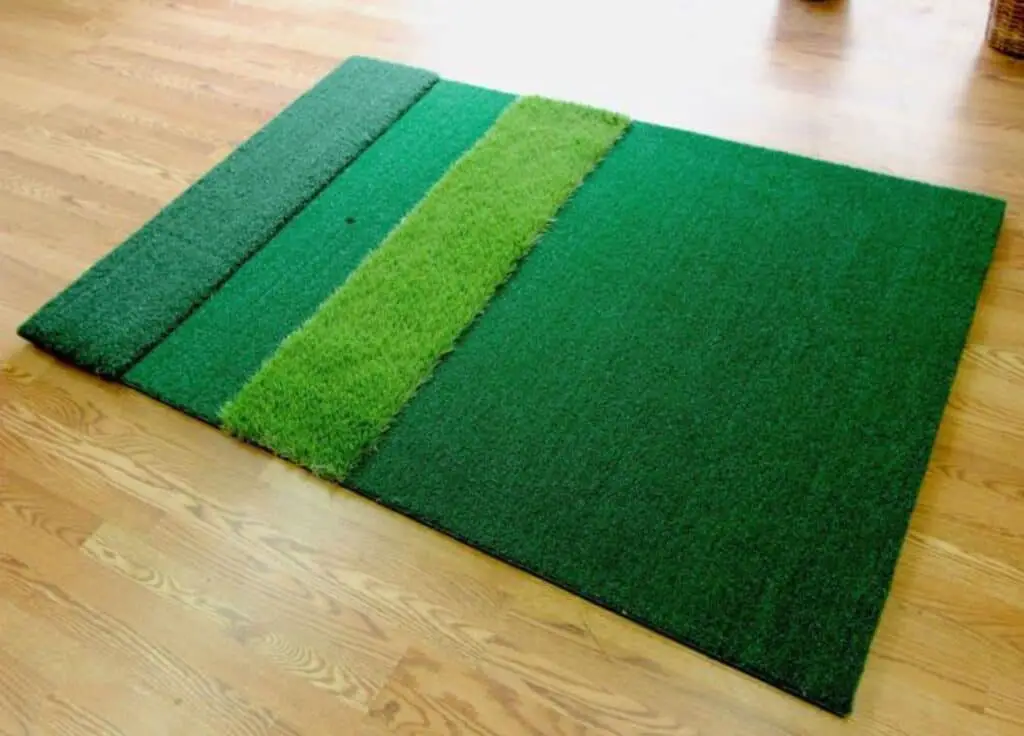 Cimarron also produce another fantastic mat with a single turf density called the Tee-Line High Density Golf Mat. This mat also allows you to stick the tee directly into the mat.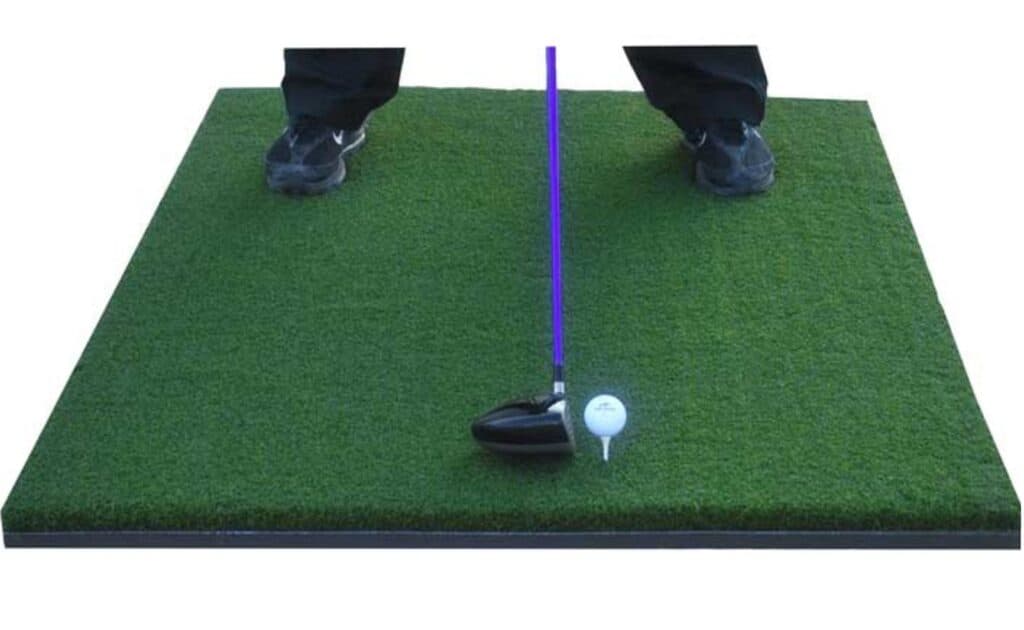 Can you use Driving range style rubber tees at home?
Many premium golf mats allow the placement of rubber tees, you're probably well accustomed to these at the driving range. Most golfers find these tees absolutely fine to play with and are well used to them. I find them absolutelty fine for driver and 3-wood shots but I find them clunky with irons. 
Maybe that's a reflection of the quality of my strike rather than the tees!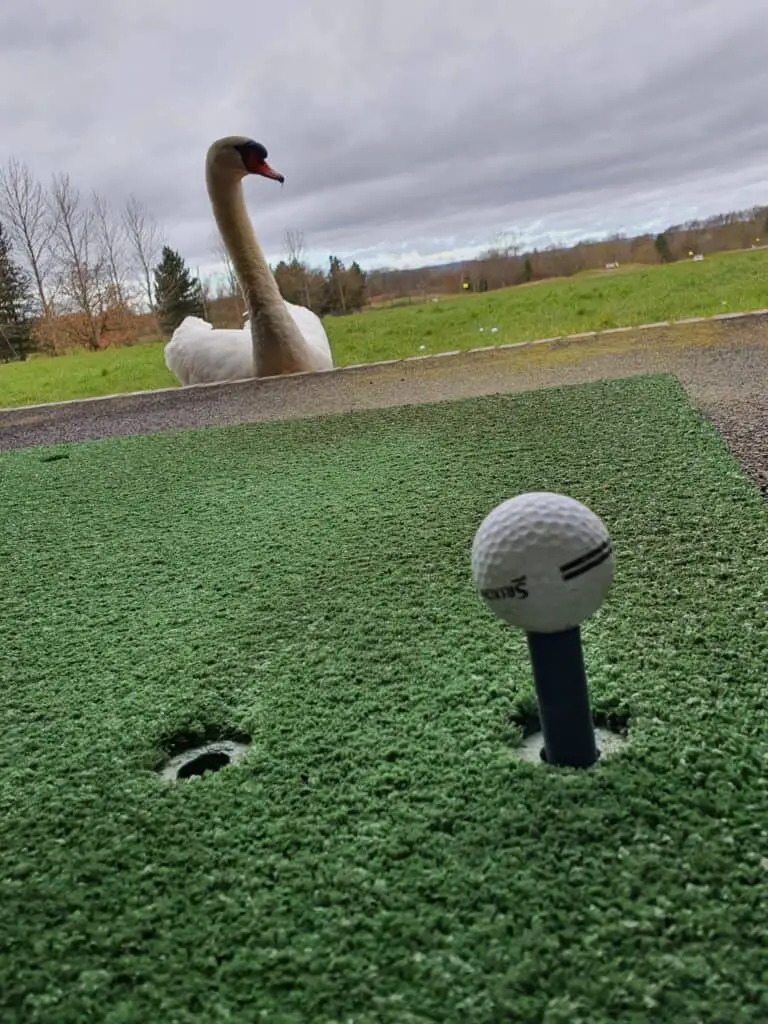 Premium golf mats that allow rubber tees to be placed include the Cimarron mat as above (which is very versatile)! 
A popular mat in the UK is the Golf Academy Teaching Mat. This is a driving range style mat with cutout holes in which you can place rubber tees of varying heights. The painted markings on the mat simulate an ideal swing arc to help you with your practice.
The Net Return Pro Turf Golf Hitting Mat
The Net Return Pro Turf is an extremely popular, large and versatile hitting mat. 
It is larger than many of it's competitors and comes as a one piece mat. This means it can be turned around, increasing the durability as you use different sides of the mat. The large size means that it can also provide a surface to catch the landing balls. 
The manufacturers of the Net Return Pro Turf mat encourage you to cut your own holes in the turf to allow rubber tees to be placed anywhere on the mat. 
Net Return also provide a small piece of higher density turf that you can place within your larger mat. You need to cut out a section of your mat to fit it inside, but it allows you the ability to hit using real tees!
They also allow you to cut out a golf hole as the mat also doubles up as a putting green. This is the mat to go for if you want to incorporate putting into your setup and don't want extra hassle!
Golf Simulator Mats with Specialised tee holders
Fiberbuilt Launch Monitor Studio Mat
This is a premium and popular mat that will complement any golf simulator! 
The Fiberbuilt comes with four holes that accommodate special adjustable tees underneath the playing surface, at various points from front to back. This allows the golfer to move the ball forward and backward in the stance. 
You can then adjust the tee height up and down depending on the club you're hitting. The polymer tees are said to be very durable and are not expected to break even when hit with a driver.  
Even if you did break them or lose them, you can buy two more adjustable tees from Fiberbuilt's website. 
Fiberbuilt FlightDeck
Fiberbuilt's FlightDeck mat is their ultra portable hitting mat you can use in your indoor simulator. Then you can pick it up and take it outside on a sunny day. 
The FlightDeck mat is an oval shape which you can turn round to help with alignment. You can also purchase attachments that turn it into more of a fixed practice station. As with their larger mats, the FlightDeck mat is rated for up to 300,000 shots. This should last an individual golfer a long long time!
Similarly to their larger mats, the Fiberbuilt FlightDeck mat allows for Fiberbuilt's special adjustable tees to be used. 
True Strike Golf Simulator Hitting Mats use adjustable tee holders
True strike is a major golf mat brand, specialising in highly modular and customisable mats. Truestrike mats include a specific hitting portion which features a silicone gel under layer. This is said to allow the golfer to 'hit down and through' the shot confidently, with an expectation of a realistic strike and a reduced chance of injury. 
Check out the TrueStrike Academy Mat, and a range of alternative TrueStrike mats at Top Shelf Golf.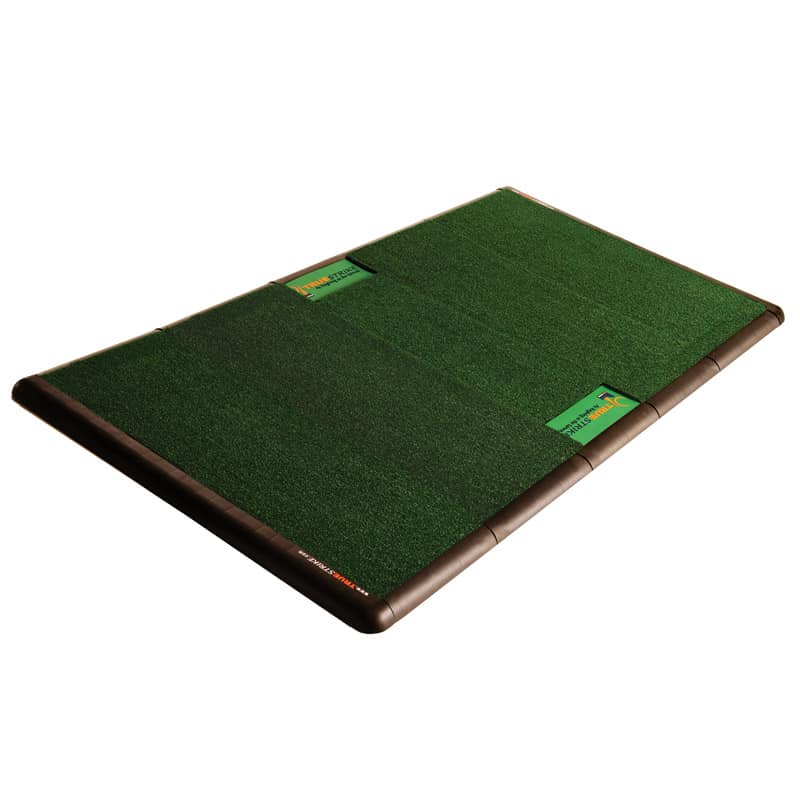 The True Strike Mats also feature adjustable tees fitted into tee holders underneath the mat. Each mat comes with a True Strike Tee Holder and either a long or a short tee that fits into the holder. These tees are durable and shouldn't snap under normal circumstances.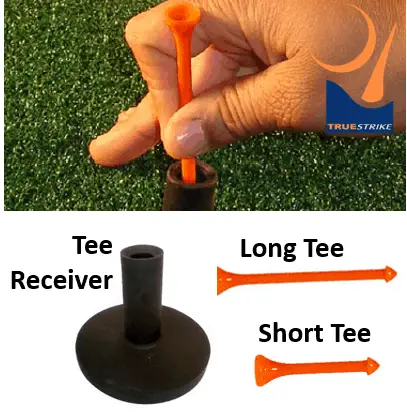 Using Funky Plastic Tees in your Golf Simulator
Have you ever seen the plastic tees that stand up on their own? Some have a upturned pyramid shape, some more like a cone. They're often extremely light.
Occasionally you may find that your simulator hardware struggles to pick up the shot when using tees like this. However, in general, they should work just fine with some fine adjustment of position. You can use them on any mat as they don't require holes and it doesn't matter how dense your turf is.
Be careful with white tees in particular when using photometric launch monitors like Skytrak. The white colour being the same as the golf ball,
Conclusion – Which mat to choose if you want real tees?
How you wish to tee up your ball is one of the key considerations to make before buying your premium simulator golf mat. 
All the mats described above are premium high-quality mats with many excellent features. They will complement your simulator and allow a great hitting experience. 
My recommendations for golf mats allowing real wooden or plastic tees to be placed directly into the turf include the Fiberbuilt Tee Box Mat, The Cimarron Ultimate Golf Mat and the Real Feel Country Club Elite Mat.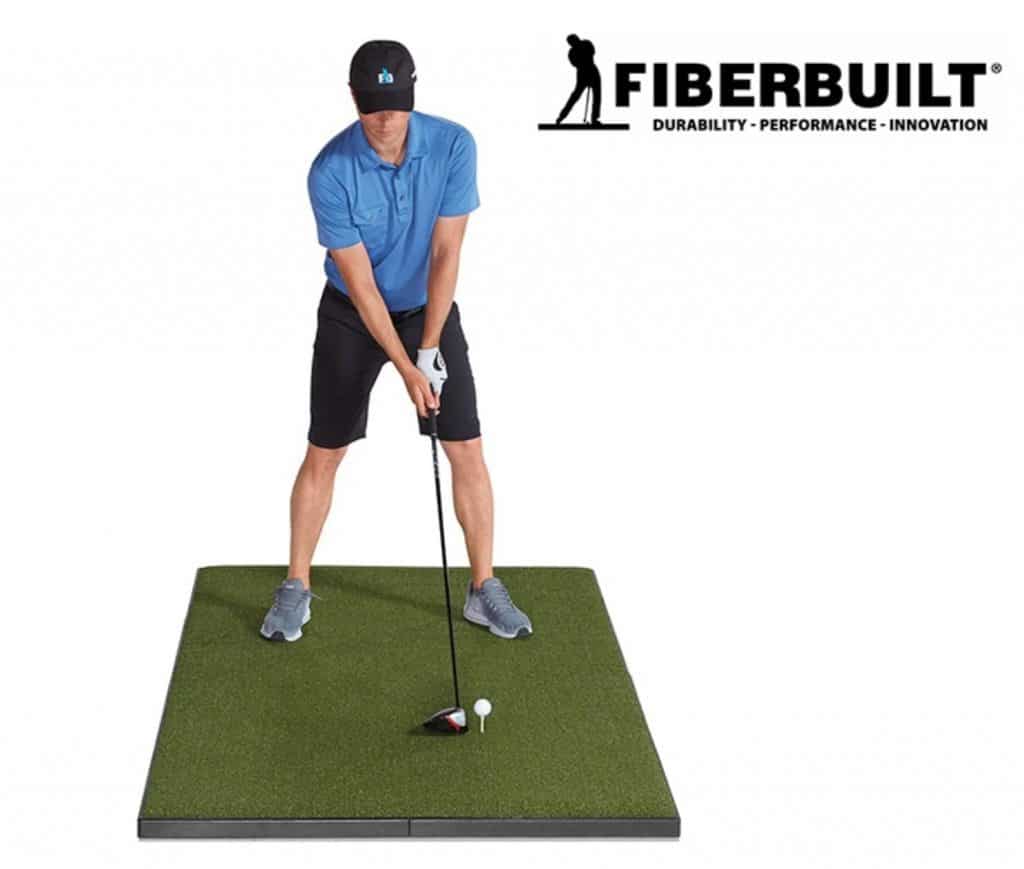 Some manufacturers produce small pieces of turf that take real tees that can fit into your larger mat. You can add such a section to the excellent Net Return Pro Turf mat. Other premium mats come with their own specialized tee holders as we describe above.
You can look at our golf mat comparison table for further information about our recommended premium mats. 
I hope you found this post helpful and you now know much more about your options for teeing the ball up for long drives in your simulator!
Good luck on your journey to building your perfect home golf experience!