A portable golf mat is a fantastic and versatile way to practice your golf game in a variety of conditions. You can improve your practice at the course, or expand practice facilities at home. More practice is never a bad thing. Having a portable golf mat will allow you to maximise your practice time in among your busy schedule
Why a portable golf mat is a good investment
Do you struggle with getting enough practice in? Between work, family and all the other distractions in life, it's hard to devote a hours at a time to go practice chipping!
How much do you think your game (and particularly your short game) would improve with access to even 10% more practice time?
A portable golf mat will allow you to practice more, particularly your short game.
It will allow you to practice at home, in wet weather and when you have too little space for your dream simulator.
Chipping practice in the garden
Having a little garden chipping setup can be a fun way to get half an hour's short game practice in.
Add up the time it takes you to commute back and forth to the course and getting a little short game practice soon becomes a longer task, taking up a large proportion of your day. If you're like me you sometimes lack the discipline to stay off the driving range hitting full shots too.
Depending on the size of your garden, you can practice different distances and challenge yourself a bit more.
The benefit of a portable golf mat when chipping in your garden is that you won't create divots in your lawn. You can carry it around to any location in the garden as you change up your practice.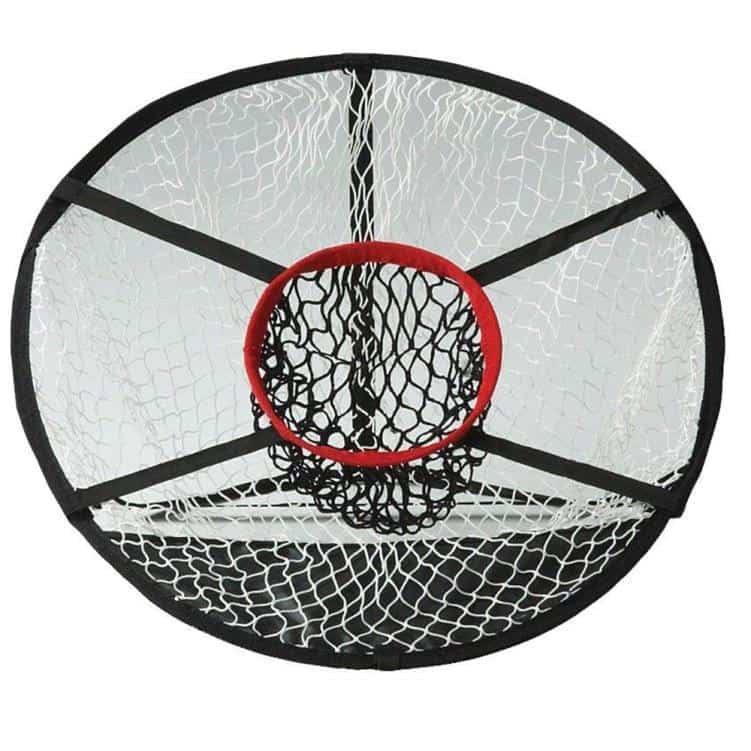 I combine mine with a chipping net and a laundry basket to practice chip shots and flop shots.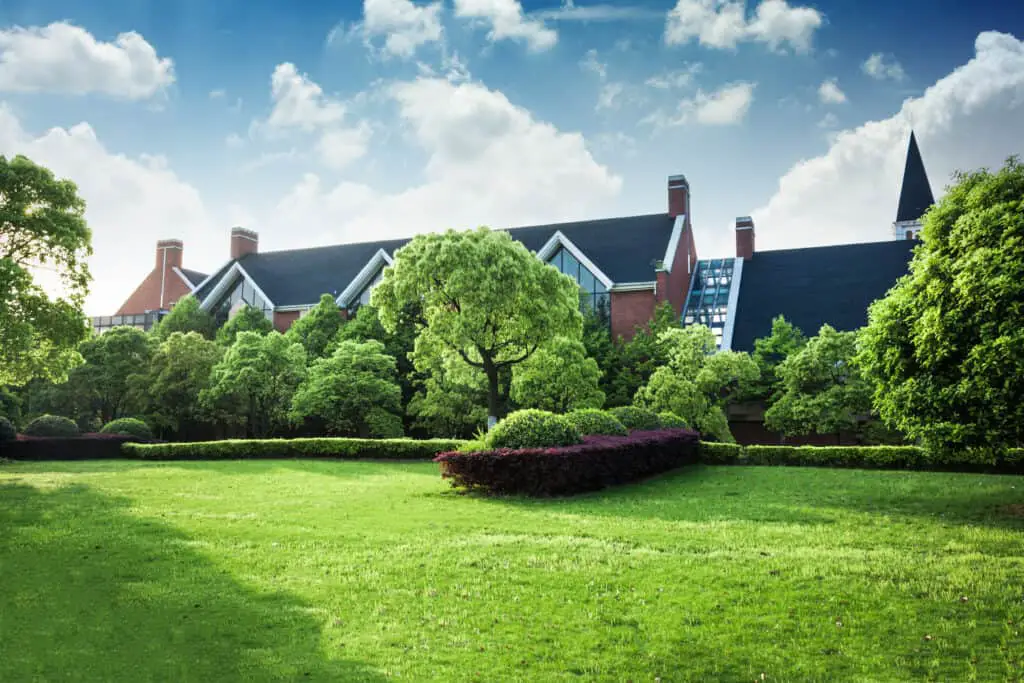 Disclaimer: please be careful not to thin any shots into next door, onto the road or anywhere else where flying golf balls wouldn't be appreciated. Mygolfsimulator.com is not responsible for the consequences of this 😀
Take the mat to the short game area
I love to practice my short game all year round. I find it motivating to think that I will start the season in April with my short game intact and not a massive weakness, like a lot of club golfers.
Achieving this feat means practicing short shots throughout the winter. I need to be able to get to the short game area when it's cold, wet and muddy.
To do this I take my portable mat and place it down on the mud. I have a small, light portable mat in the car in a box. I carry the box along with my wedges, out of the car, and to the short game area. Yes, the bottom of this mat is permanently muddy, but this is the only thing I use it for. After use, I put it back in its box and then into the car again.
I can also use it in the garden this way.
My winter practice allows me to be confident with my strike from harder turf even when every part of the practice area is sodden wet. I still hit shots off the wet turf but this allows me vary my practice which is what it's all about.
Create a hitting bay for those with very limited space
A portable golf mat allows those with not much space available to still attain a hitting bay to practice their golf at home.
One of my friends, Adam, has a space only 8ft wide and he uses a carpeted surface to stand on and a portable mat to hit from. This allows him to practice his wedge game. He uses the Garmin G80 GPS and Launch Monitor to tell him how far each shot has flown and he uses this set up to dial in his wedge distances all year round at home. He always knew he didn't have the room to have a full simulator but is more than happy with his setup.
Invite your left handed friend round to use your simulator
Do you have a left-handed friend who wants to challenge you in your simulator? You can read more about mats for left-handers in our dedicated article here.
Portable mats are generally small and can be moved between left and right sides of a simulator space. This means you can accommodate left-handers in your small space without the necessity to have a big wide mat.
My favorite Portable Golf Mats
The True Strike Portable Golf Mat
This mat is reactangular and can be fitted into any simulator space. It the heaviest and sturdiest of our portable golf mats at 15kg. At this weight it is clearly a robust hitting mat, but it can still be picked up and put in the car.
The True Strike Portable Mat can be turned around for left handed use like all good portable golf mats. 
Like other True Strike products, this mat is modular in design and features their silicone gel underlayer that is said to provide realistic strikes and reduce the chances of injuries.

The True Strike Portable Mat is a more premium portable golf mat that can even feature in your full simulator set up.
The Fiberbuilt Flight Deck
The Fiberbuilt Flight Deck mat is an extremely popular portable mat, featuring many of the benefits found in Fiberbuilt's larger more expensive premium mats. 
This mat is oval-shaped to allow practice in any direction and this provides a guide to the correct swing path. You can anchor the mat in the ground using large tees and the provided holes. This mat also features Fiberbuilt's specialized tee system. 
Fiberbuilt say that this mat has been extensively tested and has been shown to reduce 'turf shock. This allows golfers to hit 'down and through' the shot confidently. The turf is rated for durability through 300,000 shots so it is likely to last you a long long time!
Whilst this mat is sturdy and sits in a rubber base, it is relatively lightweight at 6.9lbs (3.1kg). This mat is easy to pick up and transport around. At under $100 it is an absolute steal too!
My favourite semi-portable golf mat – The Cimarron Ultimate Golf Mat
Okay, so this is a full-size mat and you might look a bit silly getting it out of the car at your local chipping green!
This mat has all the usability you seek in a full-size golf simulator mat whilst being light enough to lift and roll-up. The mat weighs 35lbs (15.9kg) so it's sturdy enough but you can still move it around.
This mat can be used in any outdoor practice area you may have at home. For example, you could place the mat in the garden or your own outdoor hitting area.
The Cimarron Ultimate Golf mat features three hitting sections and a stance mat section. One of the hitting sections is a high-density turf that allows the placement of tees. Another is standard fairway turf and the third is higher artificial grass that simulates hitting from rough. 
The hidden benefit to this rough turf is the ability to practice flop shots. You can really slide the club under the ball with ease. I love practicing my flop shots in the garden and garage. Watch the ceiling if it's not in your netted simulator enclosure! It goes very well with a chipping net (or just a box or laundry basket) for this purpose.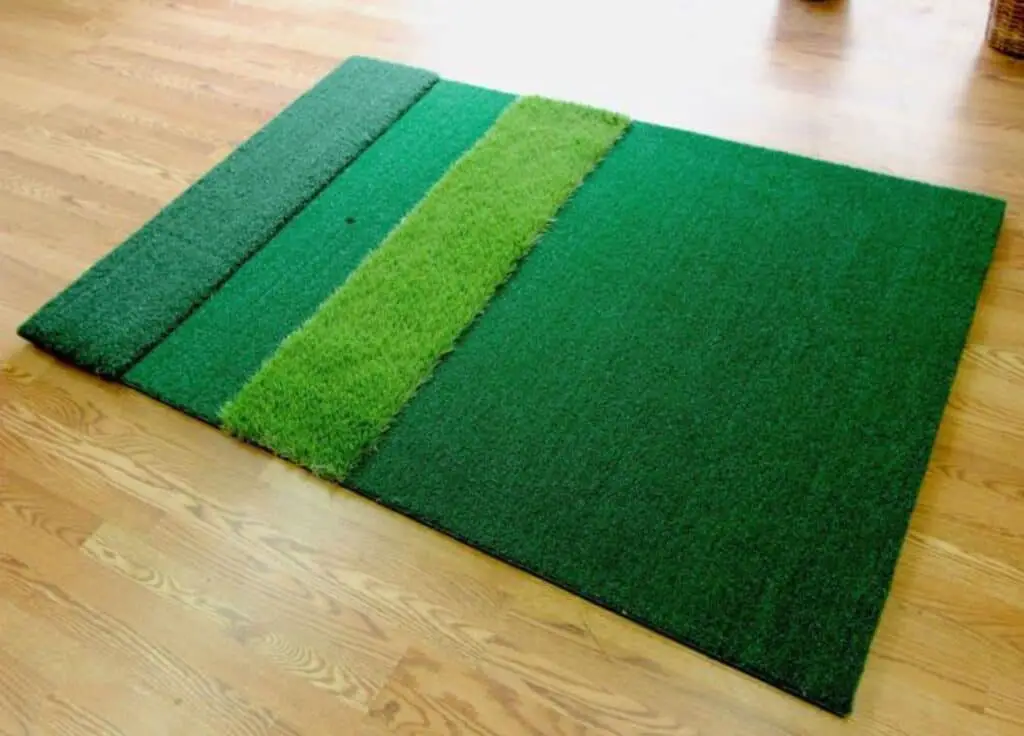 Conclusion – Hone your short game with a Portable Golf Mat
I hope you've found this article helpful in your search for a versatile and portable golf mat. There are some great options to choose from.
A golf mat is an essential part of a home golf simulator and a mat that can be taken outside is even better!
If you're unsure about buying a portable mat just think of all the extra short game practice you'll get in in the winter and how sharp your game will be for the first monthly medal of the season!
Please take a look at our other articles answering questions on all things golf mats and golf simulators!