The Uneekor Eye XO boasts some of the best features on the launch monitor market, at an outstanding price. You get a great suite of club and ball data, non-ball marking technology, a broad range of software compatibility, and simultaneous left and right-handed use. But, is the Uneekor Eye XO accuracy good enough?
The Uneekor Eye Xo launch monitor has been shown to be extremely accurate, using dual high-speed cameras to record club and ball data from a fixed position above the golfer, with few misreads. Uneekor publish accuracy error margins which can be seen in the table below:
| | | |
| --- | --- | --- |
| Measurement | Accuracy | Until Of Measurement |
| Backspin | +/- 100 | Revolutions Per Minute (RPM) |
| Topspin | +/- 100 | Revolutions Per Minute (RPM) |
| Side Spin | +/- 50 | Revolutions Per Minute (RPM) |
| Spin Axis | +/- 0.2 | Degrees |
| Ball Speed | +/- 0.3 | Miles Per Hour (MPH) |
| Ball Launch Angle | +/- 0.5 | Degrees |
| Ball Launch Direction | +/- 0.25 | Degrees |
| Club Speed | +/- 0.5 | Miles Per Hour (MPH) |
| Club Path | +/- 0.3 | Degrees |
| Club Face Angle | +/- 0.25 | Degrees |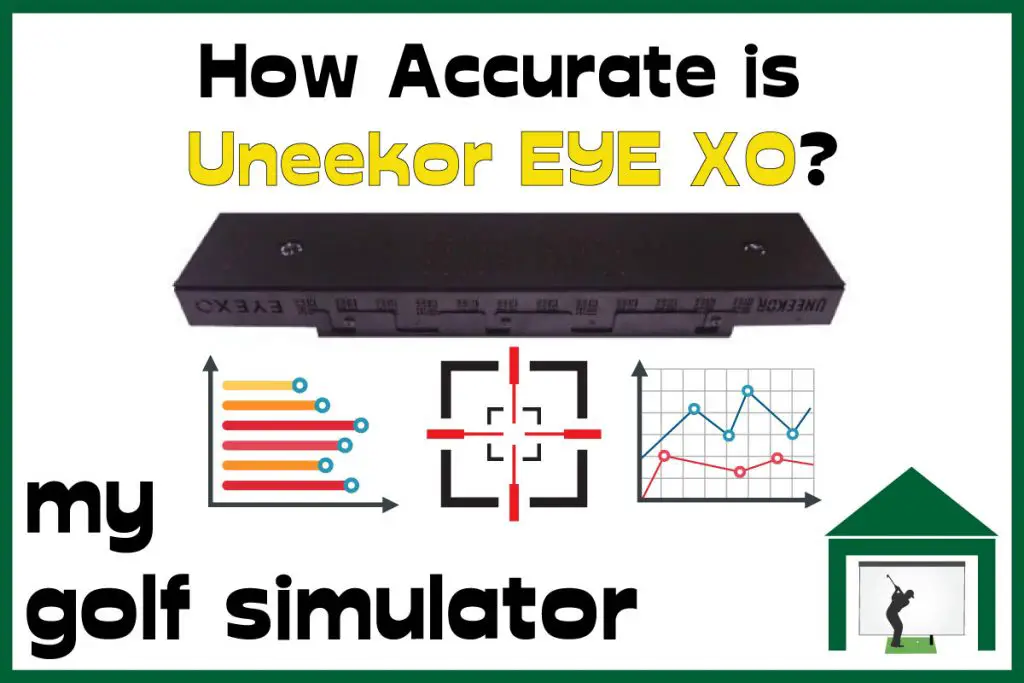 What does Uneekor say about the accuracy of the EYE XO?
The Uneekor EYE XO uses dual high speed cameras to record the movement of the club and ball before, during and after impact. Camera based systems tend to be optimally suited to indoor golf simulation, which is perfect for the EYE XO's fixed position.
Uneekor publish a list of accuracy error margins for each data point measured by the EYE XO on their website, which you can also see below:
| | | |
| --- | --- | --- |
| Measurement | Accuracy | Until Of Measurement |
| Backspin | +/- 100 | Revolutions Per Minute (RPM) |
| Topspin | +/- 100 | Revolutions Per Minute (RPM) |
| Side Spin | +/- 50 | Revolutions Per Minute (RPM) |
| Spin Axis | +/- 0.2 | Degrees |
| Ball Speed | +/- 0.3 | Miles Per Hour (MPH) |
| Ball Launch Angle | +/- 0.5 | Degrees |
| Ball Launch Direction | +/- 0.25 | Degrees |
| Club Speed | +/- 0.5 | Miles Per Hour (MPH) |
| Club Path | +/- 0.3 | Degrees |
| Club Face Angle | +/- 0.25 | Degrees |
What Data does EYE XO Measure?
The Uneekor EYE XO is the latest launch monitor from Uneekor, and its flagship product. The Eye Xo operates using high-speed cameras, mounted above the player to get a complete view of the swing, the moment of impact between the club and the ball, and the initial ball flight.
It's important to realize that these cameras are much, much faster than normal types of camera. The very fastest smartphone cameras can capture about 120 frames per second for their "slow motion" modes. The Uneekor EYE XO uses cameras that capture about 3,000 frames per second. That's around 25-30x faster than a smartphone. It's also quite a bit faster than your average DSLR camera.
The Uneekor EYE XO can track the spin on a golf ball but unlike the Uneekor QED there's no need to buy (or make) specially marked golf balls for this purpose. That's a big selling point.It means you're not constrained to a small range of golf balls when using the Uneekor EYE XO, you can use your own preferred golf ball including the premium brands that you would normally use outside.
The Uneekor EYE XO measures the following ball flight data parameters:
Ball Speed
Side Spin
Back Spin
Side Angle
Side Total
Launch Angle
Angle of Descent / Land Angle
Flight Time (modelled and calculated)
Distance to Apex (modelled and calculated)
Carry, Run and Total Distance (modelled and calculated)
The suite of club data measured by the Uneekor EYE XO is fantastic and won't be beaten at a lower price:
Club Speed (measured)
Dynamic Loft
Angle of Attack
Smash Factor
Club Path
Club Face Angle
Club Face to Path
Club Lie Angle
Club Loft Angle
Impact Point Vertical
Impact Point Horizontal
You can learn lots more about the ball and club data measured by the Uneekor Eye XO in my dedicated article here.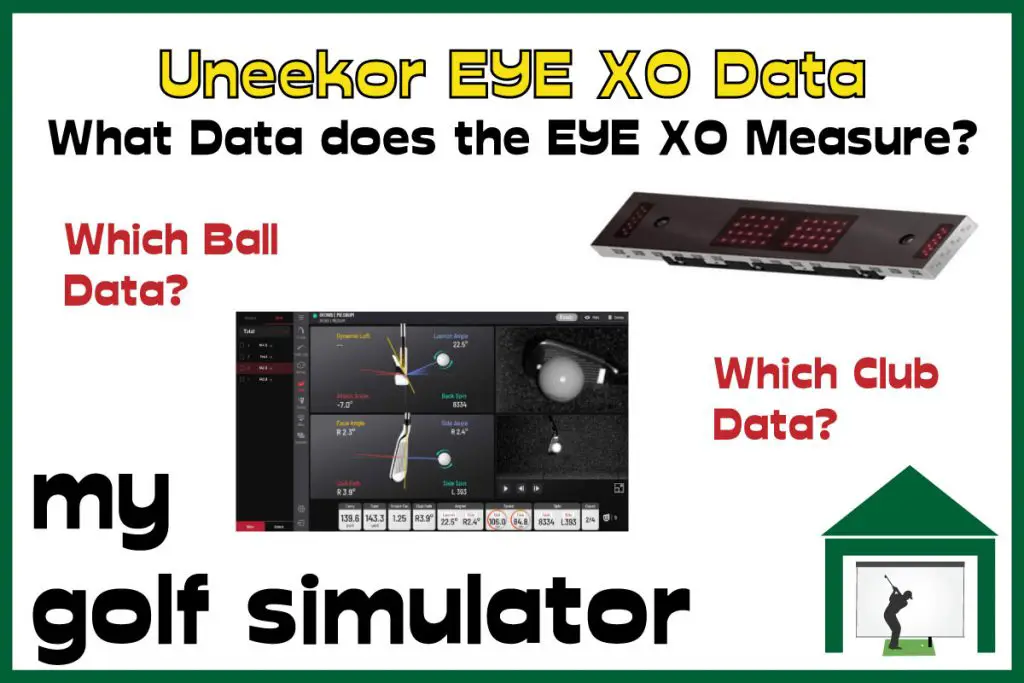 Another change from the Uneekor QED is that the Uneekor EYE XO uses a different Uneekor software package as standard – Uneekor View (as opposed to Uneekor Ignite). This is necessary because the Uneekor EYE XO generates more data than the QED does. This is also the first software package from Uneekor that offers cloud backups which can be quite nice if you want to ensure that all your data is saved permanently for posterity and long-term analysis.
The additional data includes Club Loft Angle, Lie Angle, Attack Angle, and Vertical and Horizontal impact points. It also offers a much higher resolution output of the club path and can better detect the ball impact spot on the clubface.
The standard software package, View, is intended as a training and coaching package with it's own driving range and options for slow-motion video playback of your swing and of the impact with the ball. These are Uneekor's Optix features. You'll need to buy an upgraded Uneekor package such as Refine, or a 3rd party simulation package such as TGC 2019 in order to play simulated courses.
This system is an upgrade from the QED and that means that there's a reasonable price difference between the two. The Uneekor EYE XO is going to set you back around $10,000 compared to the $7,000 QED.
I believe that the Uneekor Eye Xo is a premium launch monitor that should be considered alongside the Trackman and GC Quad. The amazing software compatibility, a broad range of club and ball data, and non-ball marking technology make it a really solid launch monitor purchase.
Sure, it's probably further away from many casual golfer's budgets than its cheaper counterpart, but I believe it is worth the $10,000 price tag all day long!
The Eye Xo sits almost halfway along the serious launch monitor price scale. At one end you have SkyTrak and the Mevo+ which retail for around $2,000, and they are both fantastic products in their own right and well worth the money.
Up at the higher end of the launch monitor market, you have the Trackman TM4 and Foresight GC Quad and GC Hawk (and of course the ultra-premium options such as HD Golf and Golfzon). The Uneekor Eye Xo is significantly cheaper than these launch monitors, with a comparable data output and golf simulator experience.
Although $10,000 is a fantastic price for the Eye Xo, it is still a lot of money. For that investment in your golf game, you should expect a high degree of data accuracy. Now, we'll examine how accurate the Eye Xo really is.
What sort of accuracy testing has been done on the EYE XO?
Uneekor's EYE XO is a relatively new product, launching in early 2020, just before the world turned upside down. Despite this, the EYE XO has developed a reputation throughout the golf simulator market as a premium launch monitor.
I am a member of numerous golf simulator groups in forums and on social media. I often hear golfers complaining about misreads, setup and accuracy problems with their Skytrak, Mevo Plus or other launch monitors. There are very rarely such problems with Uneekor's launch monitors.
As long as you set the machine up properly at the start, given it's fixed position above the golf simulator space, the EYE XO should remain accurate for the long term. Though despite a good reception and anecdotal evidence from hundreds of golfers, there is little published raw data on the accuracy of these high-end products.
I did find some well conducted and written research comparing the Uneekor EYE XO with the Trackman 4 and GC Quad.
Here is a link to a study published on golfsimulatorguide.net, where the accuracy of the Uneekor EYE XO, Trackman 4 and Foresight GC Quad was compared across 25 shots with a 5 iron. The conditions of setup were nearly ideal (noting a EYE XO mounting height slightly below the recommended position of 9ft).
This study found highly comparable results between the three launch monitors, though it did find the carry distance with the GC Quad a little higher, the authors speculating that the carry distance is inflated on this launch monitor, rather than reduced with the EYE XO.
A separate comparison on this site compared the readings of angle of attack, path and lie angle on the EYE XO with the Trackman 4, across 30 9 iron shots. The readings were found to be very similar.
Overall, the real-world data suggests that the Uneekor products are very solid, dependable monitors with a high level of reliability.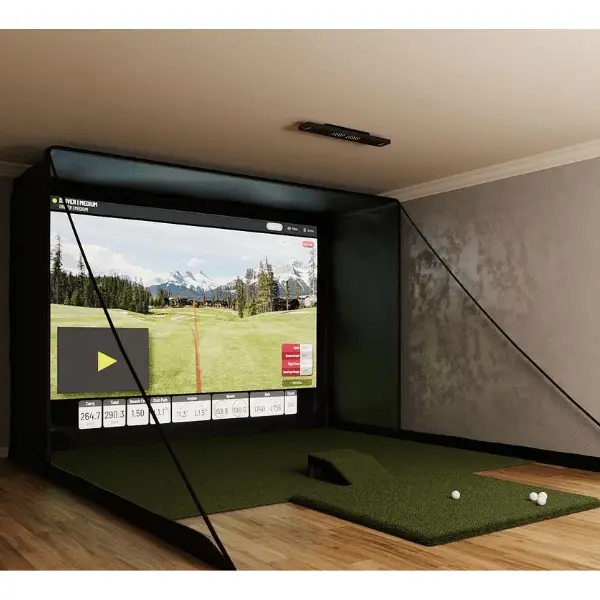 What Setup Mistakes Can Affect Accuracy of the Uneekor EYE XO?
The following is a list of factors which you have to get right in order to enjoy maximal accuracy from your launch monitor in your golf simulator:
You need enough space to use the EYE XO
Do you have a centred aim?
Initial Setup
Initial (and interval) calibration
Correct use of club stickers
Lighting
Do you have enough room space for the Uneekor EYE XO?
16ft x 12ft x 9ft are the minimum space dimensions you will need to feature the Uneekor EYE XO launch monitor in your golf simulator.
I believe that 20ft x 15ft x 10ft would allow a more comfortable space. You will need extra space depending on your height, your golf swing, and your simulator plans.
You must mount Uneekor EYE XO between 9ft and 10ft off the floor. There is no way around this height range. You can attach EYE XO to the ceiling or amount, as long as it is between 9ft and 10ft. Attach your EYE XO at a height outside this range and your accuracy will be affected.
At 9-10ft, the mounting height of Uneekor EYE XO is slightly different to that of the Uneekor QED, which is 9-10.5ft. Therefore the window in which you can mount EYE XO is slightly smaller, but this shouldn't be a problem.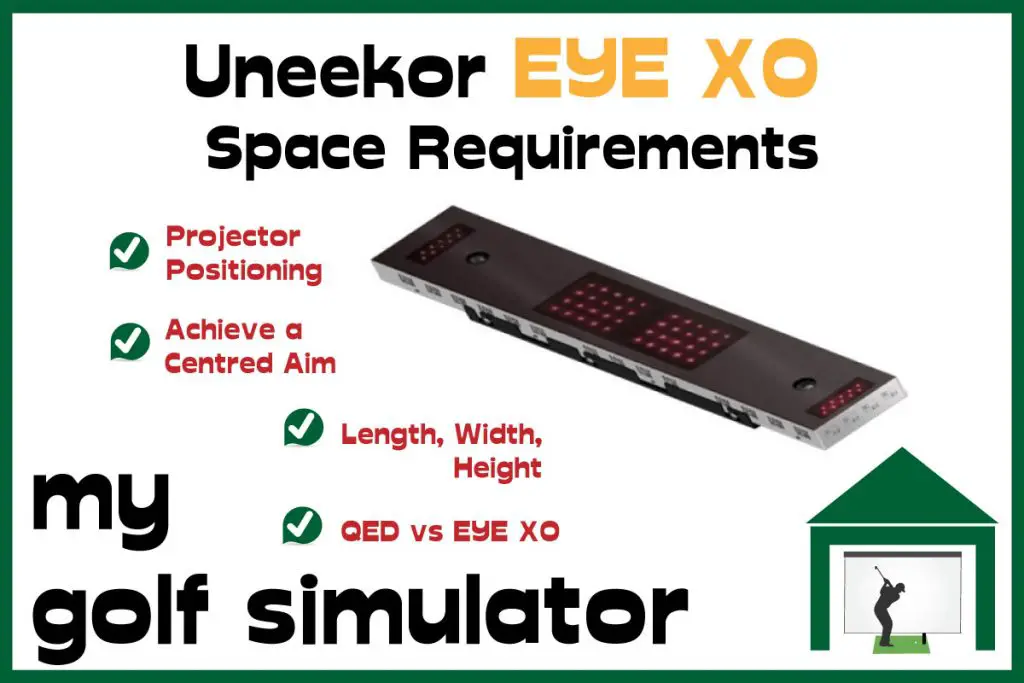 You need to get the Uneekor Eye Xo Positioning Correct
Uneekor EYE XO must be mounted 3.5ft in front of your ball position. That means 3.5ft closer to the screen than your ball. This is in contrast to the Uneekor QED which is mounted 3.5ft behind the ball. The Uneekor EYE XO should not be physically in the way of your projector or the light carrying the projected image.
Always strive for a central aim point
A central aim point in your simulator requires enough width to address the ball in the centre of your space, with no fear of striking the wall behind you with your swing. I recommend at least 15ft of width to allow this setup.
A centred aim point will mean a target line is drawn through your hitting position, perpendicular to the very centre of your screen. This means you don't have to allow for an offset left or right which can, for some golfers, drastically reduce the realism experienced in their simulators.
This point is just the same for the EYE XO as it is with other launch monitors.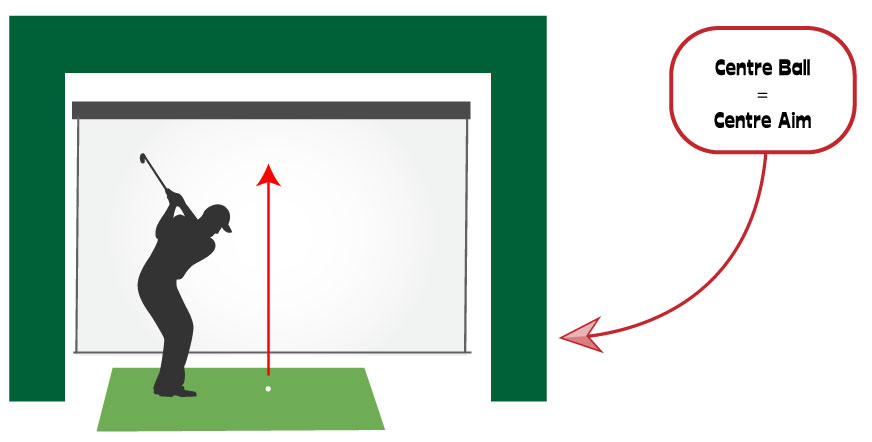 You must Calibrate your Eye Xo to Maximize Accuracy
The beauty of the EYE XO's fixed position in your golf simulator is that you don't have to realign it every time you move it like some other portable launch monitors. You can recalibrate it now and then just to check the accuracy is perfect but you shouldn't need to.
Calibration is straightforward, but here's a fantastic video from Golf Simulator Videos on Youtube showing you how to do it step-by-step.
You can see the calibration screen here, which is from the helpful Calibration Manual, available at Uneekor.com.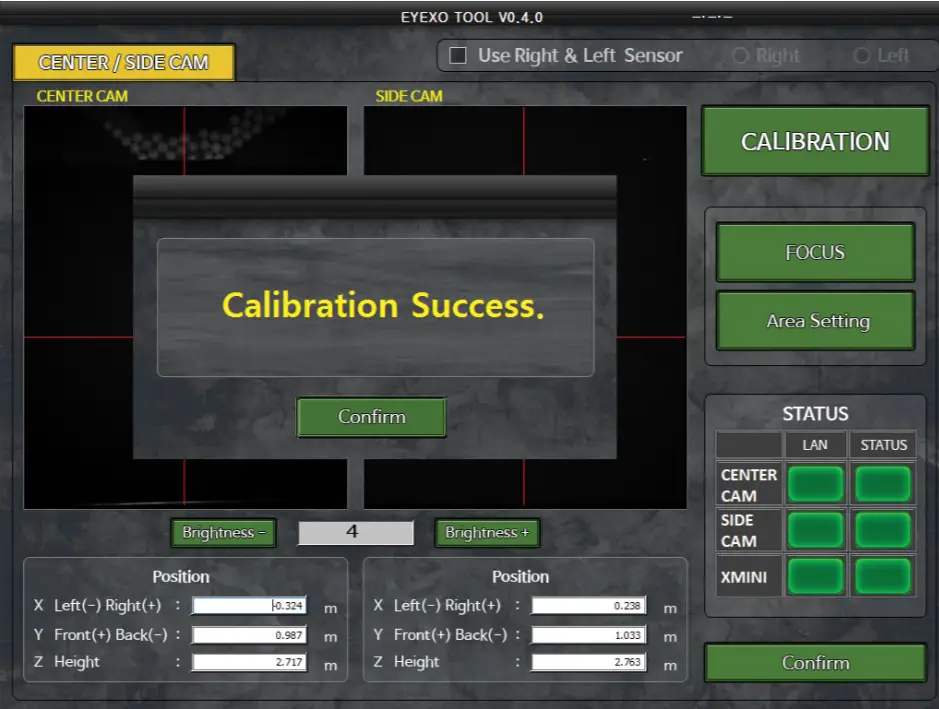 Use the Club Stickers Correctly
The Uneekor EYE XO features non-ball marking technology, which means you can use any premium golf bal you like in the launch monitor. This is a high upgrade over the QED. Using marked (and usually second grade) balls is an accuracy weakness in itself, as your ball would not perform to the level you expect outside and on the course.
You can add reflective stickers to your clubs when practicing in the EYE XO, this is not mandatory but it does increase the accuracy of your club data (such as club path and face angle). The EYE XO tends to require fewer stickers than some other launch monitors.
There is a manual available at the Uneekor site explaining exactly how best to attach the stickers for each type of club face. Some golfers use the stickers on every other club (eg 9 iron, 7 iron, 5 iron).
The ball data such as ball speed and spin, should not be affected by the stickers and you should expect a good degree of accuracy in ball data whether you use them or not.
Lighting
You should have a natural lighting environment that does not feature any flickering lights or bright lights shone directly at the EYE XO's sensors. The EYE XO should be able to work in most golf simulator lighting setups, however, even with the windows open.
You will need a separate and specific lighting setup to optimize for the Swing Optix Cameras that you can purchase to pair with the EYE XO. Check out the Swing Optix Cameras Manual at Uneekor's website for more information.
Does the Uneekor Eye Xo Miss Any Shots?
The Uneekor EYE XO does not tend to miss many shots, providing you've set everything up correctly and followed the calibration instructions. The EYE XO uses a dual high-speed camera system to track the movement of the ball and club, before, during and after impact.
The only circumstances I've seen customers mention misreads with their EYE XO is when using highly reflective chrome wedges, and misreads in these setups are occasional.
If you are experiencing misreads with the EYE XO then I recommend checking its position in your simulator carefully against the instructions and repeating the calibration.

Uneekor EYE Xo Protective Cases – Do they affect accuracy?
Some vendors (or third parties advertised in golf simulator forums and groups) have started p[roducing see through protective cases for the Uneekor EYE XO. Given the position 3.5ft in front of the golfer's hitting position, there is the theoretical risk of striking the launch monitor with a skyed driver shot, hence why some have sought a protective case.
As long as the case features a small hole in the area of the sensors, the case should not affect the accuracy of the launch monitor. If there is no hole then the material may affect accuracy.
Why the Uneekor EYE XO Beats the Competition
The Uneekor EYE XO offers superior ball and club data, non-ball marking technology, and excellent accuracy. These features place the EYE XO in the same league as the Foresight GC Hawk and GC Quad, and the Trackman TM4, yet the EYE XO is thousands of dollars cheaper.
The EYE XO also features fantastic software compatibility, giving you a wide variety of programs and upgrades to choose from. Check out my guide on Uneekor Software compatibility here.
Don't forget the high-speed, high-resolution images of the club impacting the ball that is currently only a feature of the Uneekor EYE XO.
There has not tended to be a wait time for order fulfillment up to the time of writing this article, so click below to take the plunge on a launch monitor that will provide years of high-end, highly accurate golf simulation.