There can't be a serious golfer in the world either amateur or professional who hasn't dreamed of playing at Augusta National and winning that prestigious green jacket. It's pretty hard to get yourself an invite to Augusta though. So you might be wondering whether you can play Augusta on Skytrak (or any other launch monitor) in your Golf Simulator, instead? 
Yes you can play Augusta National on Skytrak and any other launch monitor that plays simulation software! It's just hard to find if you don't know how. The course itself is included in a subscription to simulation software such as "The Golf Club", but is not listed as Augusta National.
When you go looking for "Augusta National", you won't find it as an official licensed course – here's why and what you can do about it.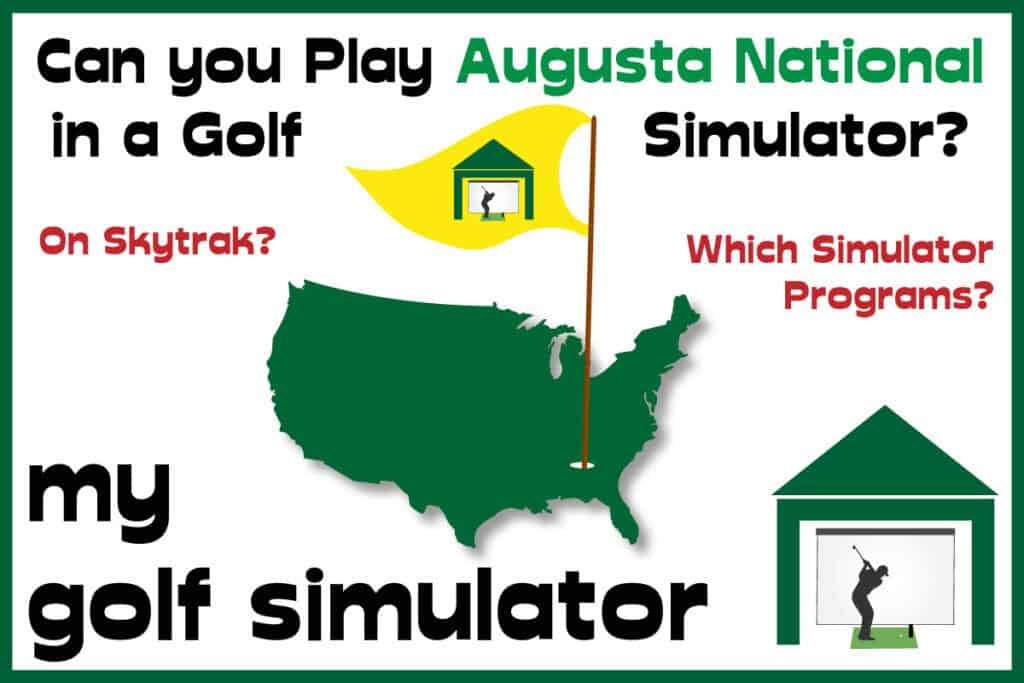 A Brief Introduction To Augusta National
Augusta National is the home of the US Masters and is one of the most exclusive golf clubs in the world. It's based in Augusta, Georgia and was founded in 1932. 
The US Masters is the only major that is always played on the same course and that means most golfers know it back to front. Golf Digest, in 2009, ranked it as the greatest course in America in their list of the Top 100 courses in the country.
Interestingly, it is also one of the few clubs in America which is run by a for-profit corporation and it guards the details of its finances jealously. Nobody outside of the club can tell you how much money it makes, how big its membership list is or how many tickets they sell on an annual basis.
The full length of the course stands at 7,435 yards (that's 6,799 meters) and, in general terms, it tends to grow a little every decade or so. 
The attention to detail around the course is second to none, the greens are kept firm and hard using a "SubAir System" which was designed at Augusta. The sand traps aren't filled with sand, they use ground rock from feldspar mines which can be found in North Carolina.J
All of this adds up to make Augusta National one of the most desirable courses to play in the world. However, the exclusivity of the course makes it a dream that's likely to remain unfulfilled in real life for many golfers and thus, the appeal of using golf simulators to deliver a similar experience, instead.
Why Is Augusta Such A Hard Course To Actually Play?
Possibly, the hardest thing about playing is being allowed to get in. Members are welcome to play but it's estimated that they only have 300 members and they are by invitation only. The odds are that if you're reading this article – that invite is never going to come. 
Don't be offended, the invitations aren't based on golfing expertise (in fact, they think the average handicap is around 15) but rather power and influence. Bill Gates, Warren Buffet, etc. are members. Most of us just aren't in their league.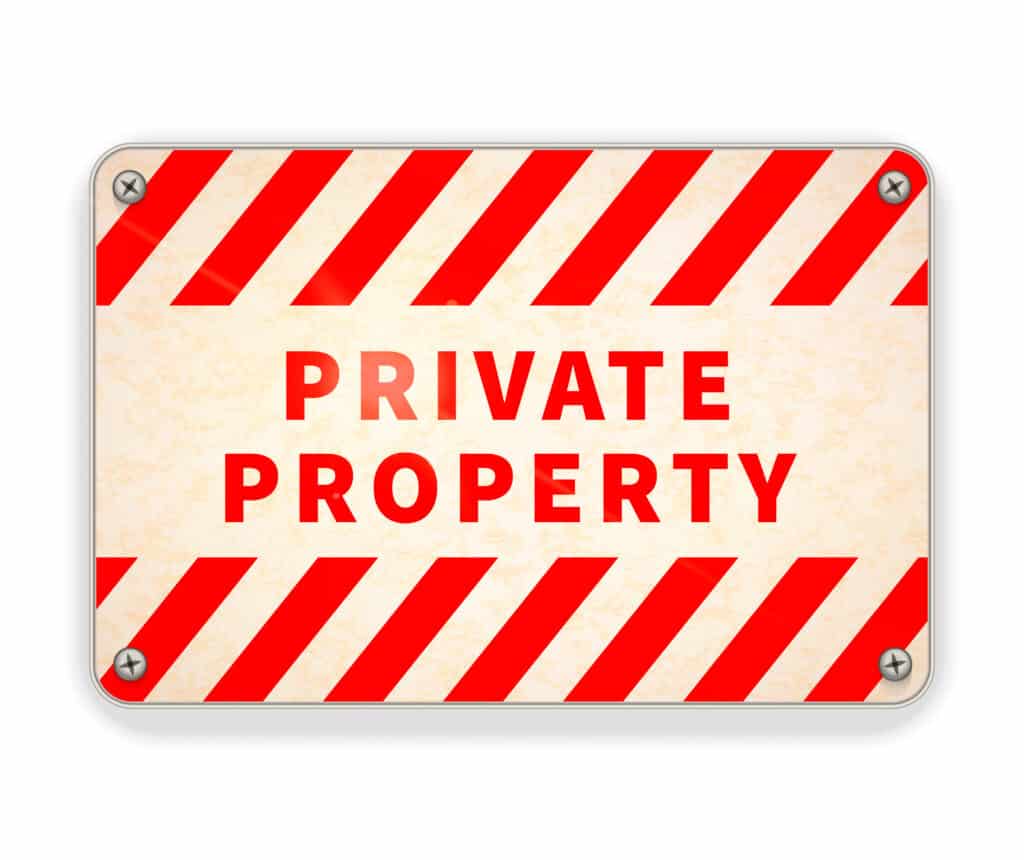 Other than that, you can get in by being invited by a member (how many billionaires do you know?), by volunteering at the Masters (maybe, this is not official), winning the media lottery (about 20 journalists a year are invited to play), by playing golf at Augusta University (this might work if you are a future Tiger Woods) or maybe you can write a book and get it sanctioned by Augusta? Those are your only real options.
Can You Play Augusta National On SkyTrak?
So, can you play Augusta National on SkyTrak simulators?
Yes, you can. In fact, "The Golf Club" home simulator package allows you to access up to 170,000 different golf courses around the world. These are high-definition, lifelike renditions of some of the world's best known and less known courses.
You will need to pay for an annual subscription if you want to access the yearly updates to these courses, otherwise, if you purchase a "one off" membership – you can access the full library of courses but they remain stuck in the year of purchase (this is unlikely to be a problem for most people given that you could play 10 courses a week for the rest of your life and still not play all 170,000 courses).
If you decide you want to use "The Golf Club" then you will also need a PC on which to play it, a launch monitor such as Skytrak and the correct launch monitor software subscription package. For example, Skytrak require that you have an active subscription to their "Game Improvement Package" and then you can simply purchase and install "The Golf Club" as you see fit.
Check out this video where The Bourne Golf Centre shows us what it's like to play Augusta National using SkyTrak and "The Golf Club" on YouTube below:
However, you may have noticed when you watched the video that the words "Augusta National" don't appear on the SkyTrak simulator and nor are they mentioned in "The Golf Club's" list of courses. 
The Challenges Of Accessing Augusta National On Golf Simulators
That's because the folks at Augusta National are all about exclusivity and they aren't very keen on the idea of licensing their course and its name.
There seems to be a feeling at Augusta that if anyone could play the Masters course on their home simulator that it might devalue the experience of being able to play in real life.
So, you won't find the "Augusta National" name on any golfing simulator because the course zealously guards its name which is its intellectual property.
The Workaround For Accessing Augusta National On Golf Simulators
You may be able to trademark the name of a golf course, but you can't trademark the course itself. There is no intellectual property provision to protect the lay out of holes, fairways, greens, etc. this is probably because nobody ever considered a situation where you might be able to emulate a golf course when they designed the laws on intellectual property.
This is good news for the golfer keen to strut their stuff on Augusta National though because it means that The Golf Club, e6 Connect and others are absolutely free to host the layout of the Augusta National course in their software. They're just not free to use the name "Augusta National" when they do so.
Most golfers can live with that compromise and thus, the layout has been copied into the course library in "The Golf Club".
Historically it has not been there as "Augusta National", instead "Magnolia National". Once you know this, it's very easy to find Augusta in the software and to load it up for your golfing pleasure. 
This is likely to be a permanent issue though, as we don't see Augusta National changing its mind over licensing its name. 
In "The Golf Club", you can design your own golf courses. This is partly why there are so many courses available in the game. There are actually several different variants of the course within each program, created by different players. You'll have to try a few Magnolia Nationals and see which one you prefer. Most give a great interpretation of the Augusta course.
Some players have created an Augusta-like course and actually named it a variant of 'Augusta National'. They're not licensed and sanctioned replications though!
You can see this in this excellent video from Youtube Channel Casey Jones.
Which Golf Simulator Software Programs feature Augusta National?
Let's take a look at whether Augusta National appears on other golf simulator simulation programs:
| Golf Simulator Software Program | Augusta National Available? | Listed under which name? | Notes |
| --- | --- | --- | --- |
| The Golf Club | Yes | Magnolia National | Magnolia National is available in the TGCTours (PGA Tour) setup. Some User Generated Courses mimicking Augusta's design available, some actually using Augusta's name. |
| e6 Connect | Yes | Magnolia National | The Augusta layout appears as 'Magnolia National' |
| Jack Nicklaus Perfect Golf | Yes | Georgia Pines | Augusta appears but as Georgia Pines and not as Magnolia National or Augusta National. Oddly when JNPG launched, it did have Augusta National but there is a rumour that it was warned off by a stern letter from the club. |
| World Golf Tour | No | N/A | Surprisingly not even a clone version exists on WGT – the company says they won't do it without an official license |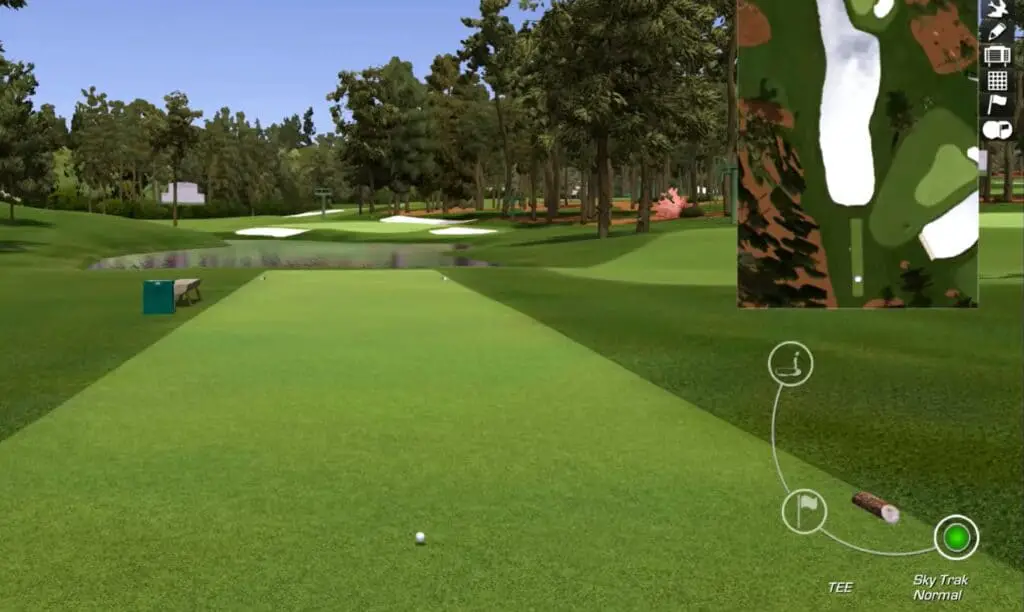 Conclusion – Can you play Augusta National on Skytrak?
Can you play Augusta National on Skytrak? Yes, but it won't be called Augusta National, it will be either Magnolia National (on TGC and e6 Connect) or Georgia Pines (on Jack Nicklaus Perfect Golf) instead.
This shouldn't be a major issue because the golf layout is just the same no matter what name appears on the screen. The course has been lovingly recreated in each program and you can try and hit all the shots around Amen Corner that you've imagined every April watching The Masters.
There won't be the grandstands or leader boards featured, but the golf course is beautiful!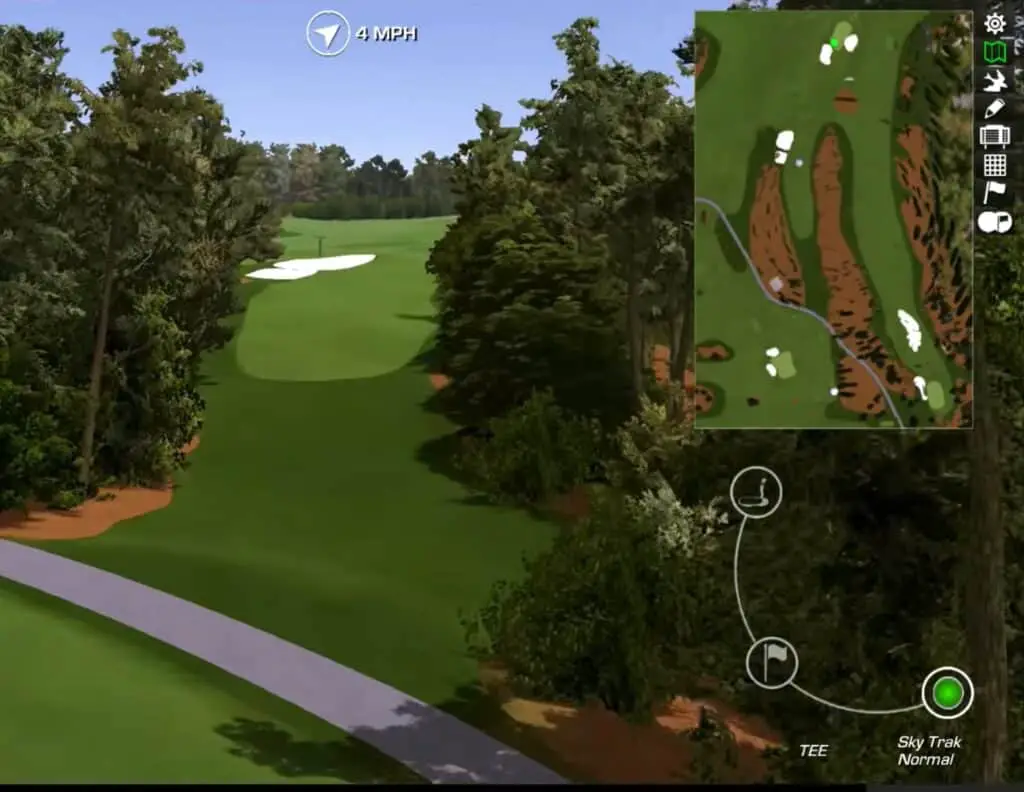 Skytrak vs Mevo Plus – 27 Comparisons!
Check out my complete guide pitting the two big launch monitor rivals against each other across 27 domains, from space requirements, data, software compatibility, portability, misreads, accuracy, and more.
You will learn exactly which of these two excellent golfing machines suits you and your golf simulator setup the most!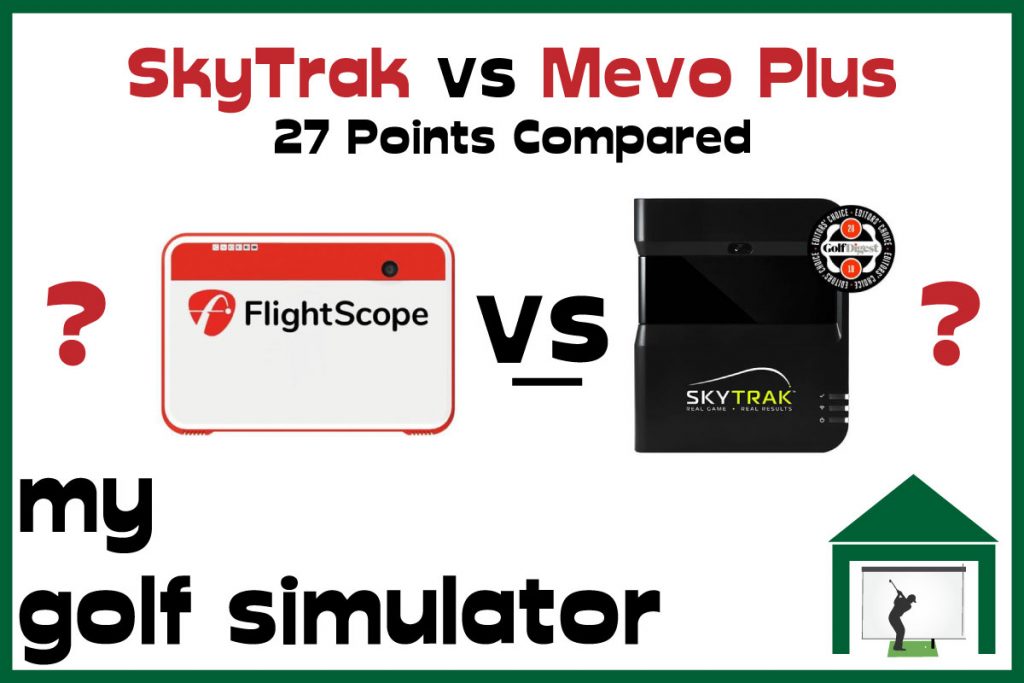 Check Out Our Other Popular Articles