Do you want to add a quality putting green setup to your golf simulator? There are several points to consider. You need to know what you want out of your putting setup, and you need to consider this alongside your launch monitor, room dimensions and DIY skill.
Golf simulator putting greens vary wildly in price, shape and fidelity. You can build a custom DIY solution if you have the skill, or opt for either a modular ready-built putting green or a combo putting and hitting mat. All of these solutions allow putting practice in your golf simulator.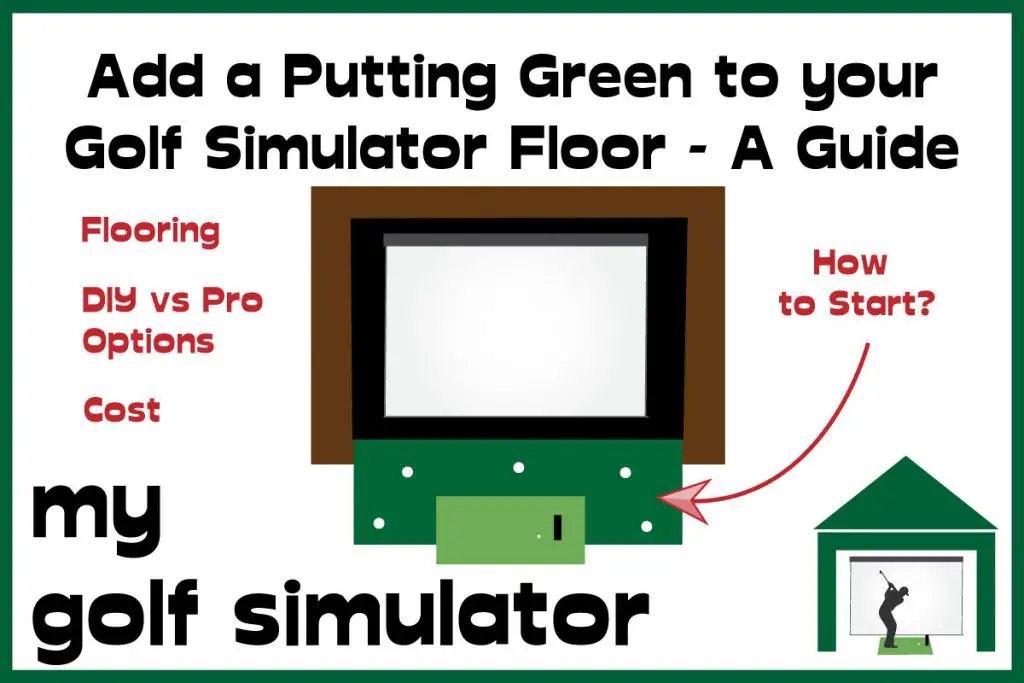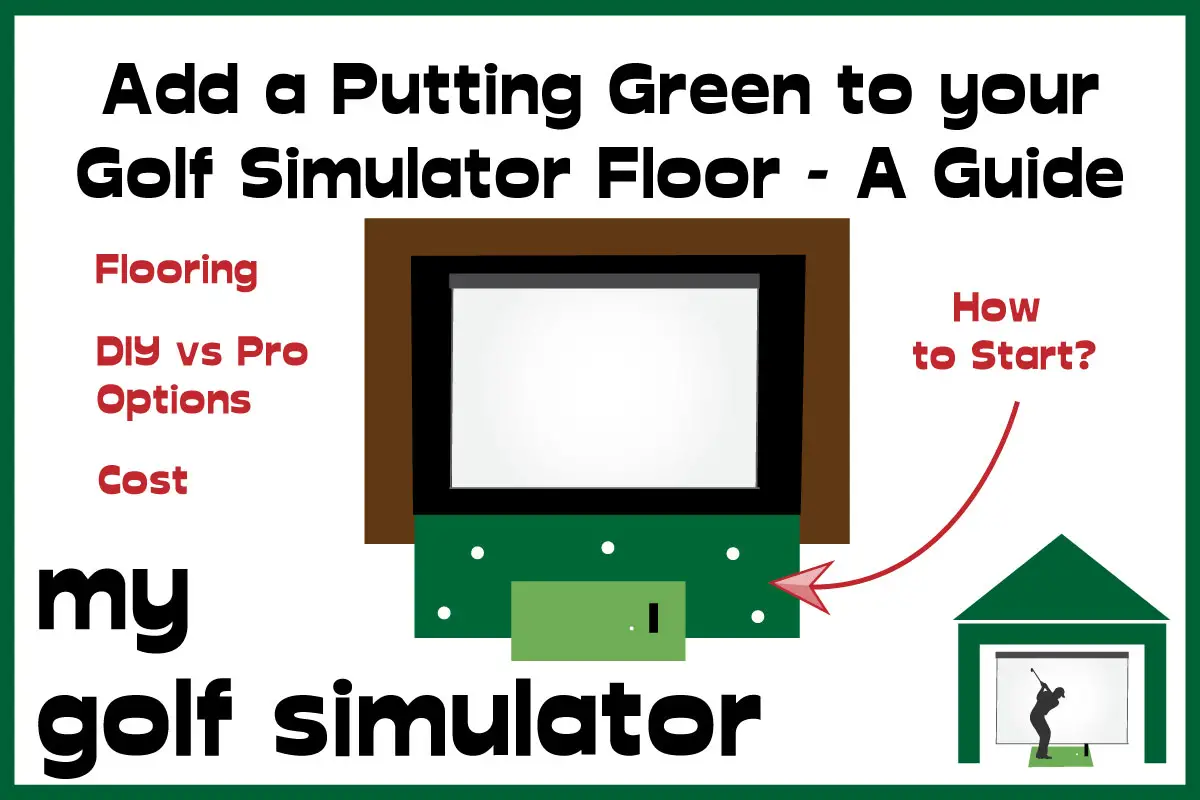 Golf Simulator Flooring – Key Considerations
Ask yourself the following questions when planning to add a putting surface to your golf simulator area.
How much room height do you have?
Which launch monitor are you planning to use?
Do you wish to use putting all the time, during simulator play (note that many people find this an imperfect option with many misreads, even with perfect setups. Lots of people put on gimmes and just use their putting areas to practice drills with training aids).
Do you wish to put the putting green in front of your impact screen, use a combination hitting mat, place it to the side or behind your hitting area?
Would a putting solution have to have a custom shape?
Do you wish to add golf holes, and how deep would these be? More on this later, full regulation 4 inch deep holes will have implications for your available room height and couldn't really be raised above your hitting area.
How much room height do you have?
What is your level of DIY skill and confidence?
What is your budget?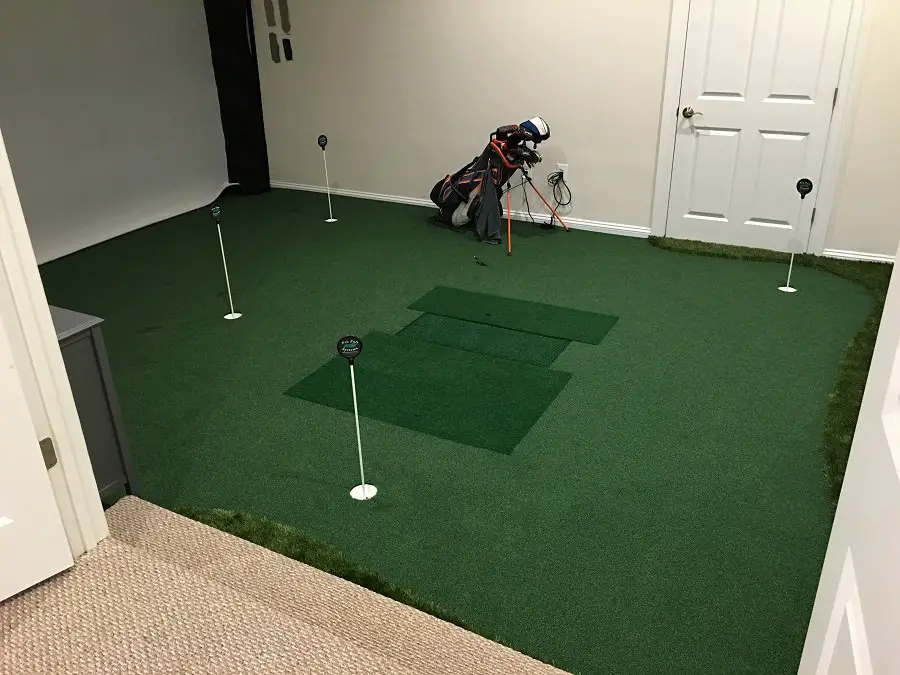 Simulator Putting Greens – your launch monitor matters
Some launch monitors have very specific requirements for the putting setup you build in your golf simulator. For example, the Mevo Plus requires all parts of the setup to be level and in line with the monitor. Therefore if you plan to use putting properly on your simulator software then you should build your setup with this in mind from the outset.
Alternatively, you can choose not to worry about this, and use gimmes in the software, simply practicing putting with mirrors, gates, and other training aids.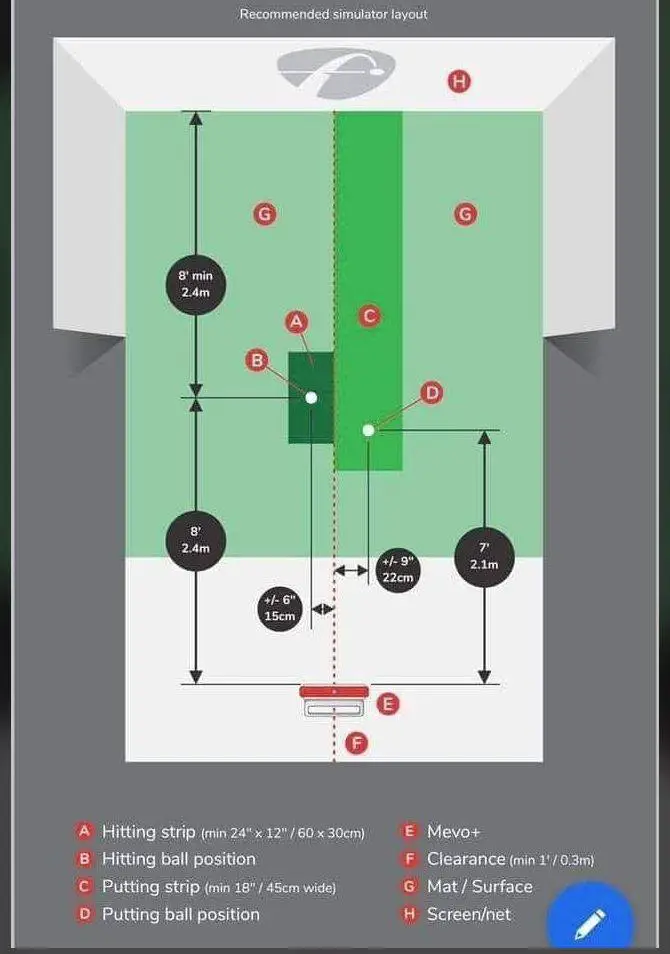 For those with a Mevo Plus or Skytrak golf simulator, I have two specific articles on putting setup with these launch monitors.
How to add a Putting Green to your Golf Simulator
You can achieve a quality putting surface with a simple flat wooden platform (with or without holes cut out using a jigsaw) and an artificial putting turf laid over the top. You could add a cushioning layer under the turf for bounceback and to make it softer.  This could be carpet underlay or similar material.
My own indoor putting green is like this and I just used the shortest grass turf from a local artificial grass company. The marketed it at 'Ryder' grass. You could even incorporate a small slope if you wanted to by raising one side. My whole putting green setup only cost about £200 though it took a bit of time to put together myself. You need at least novice DIY skills (able to use drills, saws etc). 
The area in front of the impact screen is very important aesthetically. I recommend surrounding the core putting area with darker and thicker artificial grass to make it look like rough, perhaps even with some curves to make it look even better. Check out the image towards the top of this post for an example.
Adding Golf Holes to a Simulator Putting Green
Adding the golf holes to the putting green area in a golf simulator can be tricky. You have probably based all your simulator equipment on the flat, hard (perhaps concrete) ground. This does not allow the option of sinking golf holes into the floor.
If you plan your simulator putting green from the outset of your simulator build, you could make everything raised a few inches to allow holes to be sunk into a platform floor. This is a big endeavour though and would require timber and a higher level of DIY skill. This will have implications on the amount of headroom you have in which to swing as we discuss next.
Alternatively, you could place foam panels all around your hitting mat, and the golf turf on top of this. Your hitting mat will naturally be raised above the ground by a small amount. Then carefully cut circles out of the foam panels and out of the artificial grass turf. You can buy very short white plastic golf holes that can be placed inside.
The holes won't be regulation depth but they're better than nothing. The foam panels will provide excellent bounceback protection too.
Make the Putting Green Frame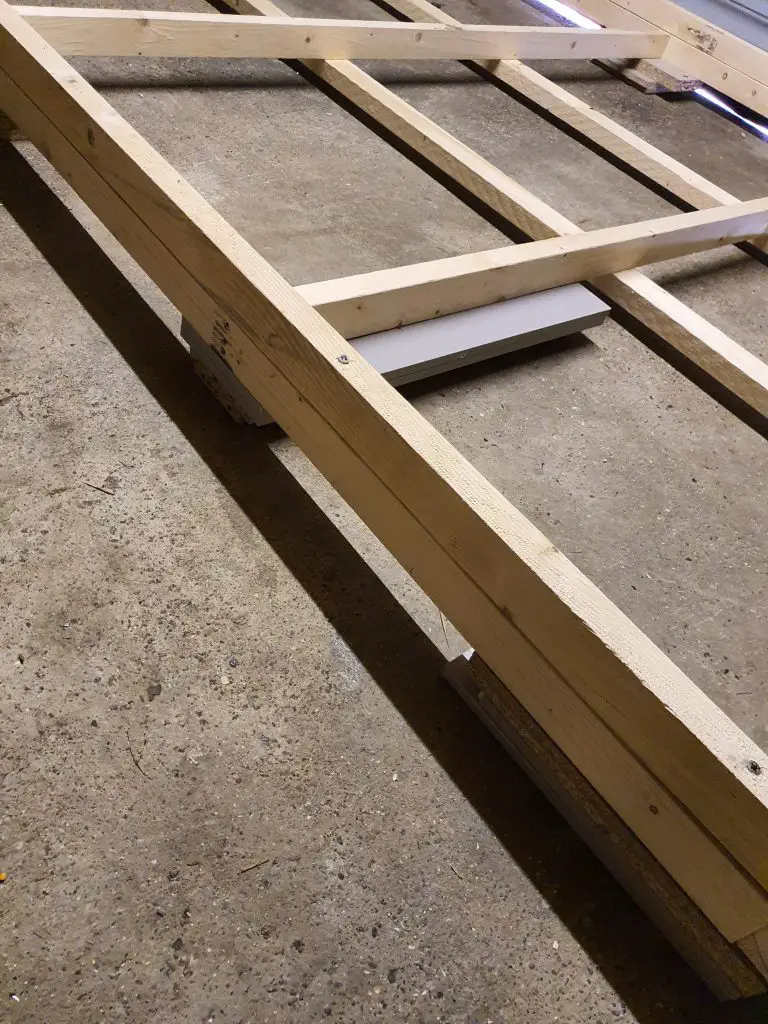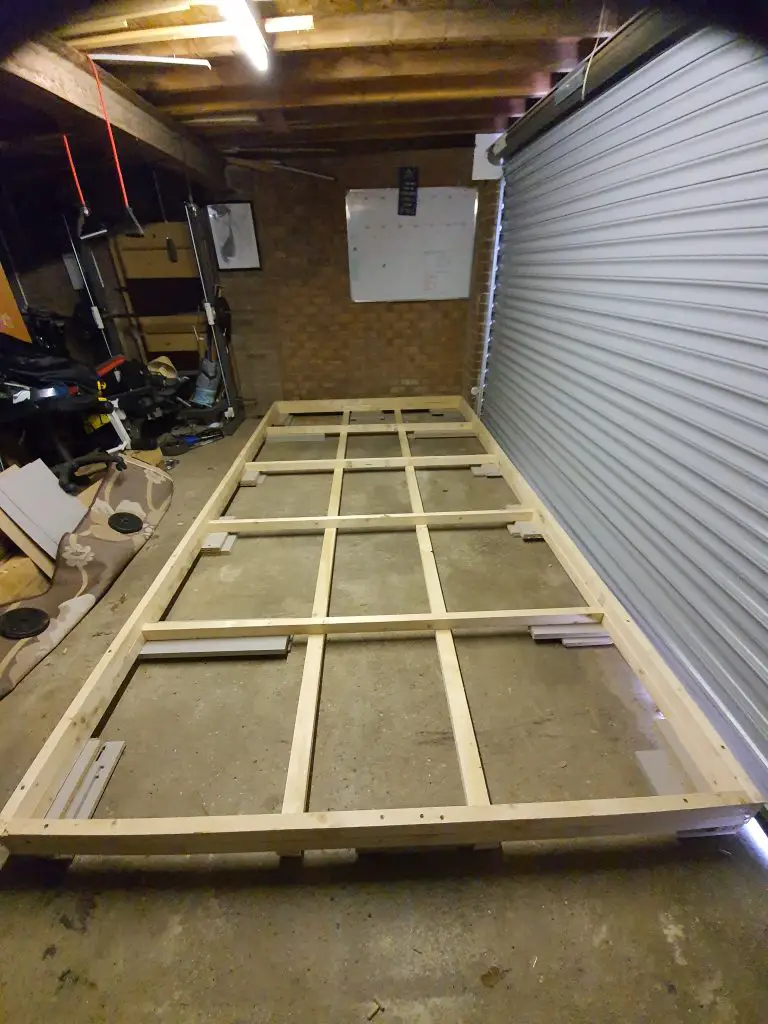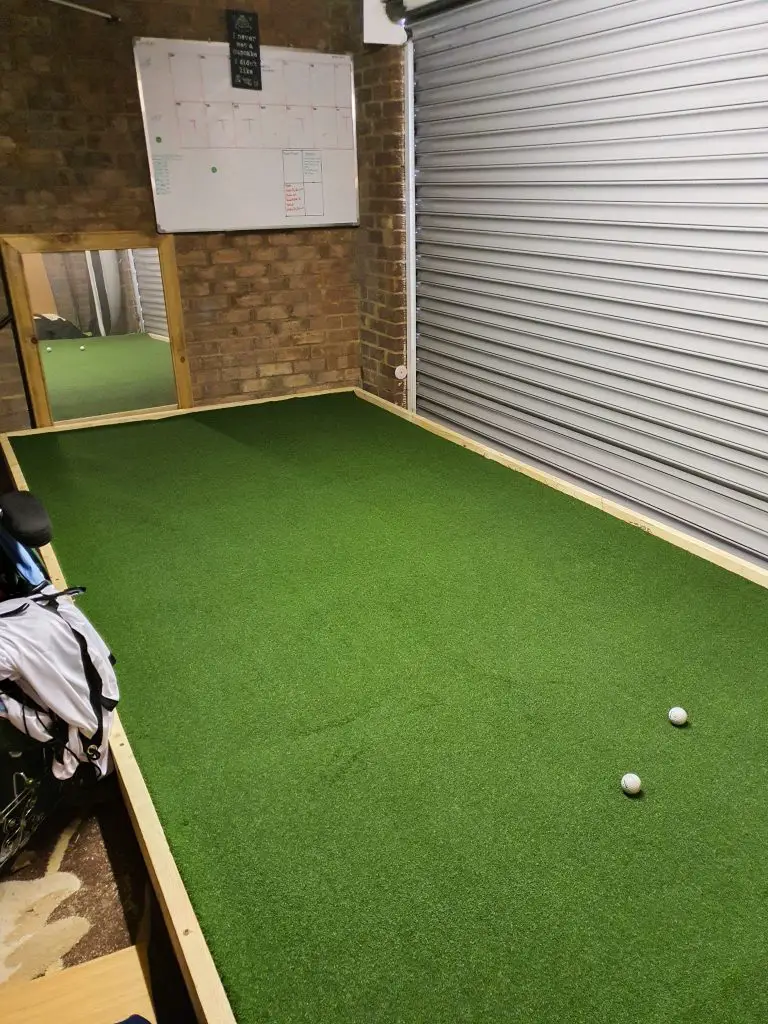 The materials and tools you will need to build a raised putting green platform setup are as follows:
Timber – i used lengths of CLS timber as in the pictures below along with numerous pieces of offcuts and wood from taking apart an old wardrobe (i needed rid of it!)
Screws and nails
Large plywood sheets for the platform (plywood is strong, you'll need enough to make a double layer so it can be made into a single sheet though)
Drill
Impact Driver (this helps a lot)
Hammer
Artificial Putting Green Turf (grass height around 15mm – generally shorter grass will equal faster green speeds but this is also dependant on the quality of product purchased)
A jigsaw for cutting golf holes out (start the hole with a large drill piece)
A Stanley knife or similar
Plastic golf holes (either regulation depth or shallow versions)
Simulator Putting Green – Implications on Room Height
The foam panel approach won't cause you height problems as your hitting mat will be in the same place it always was. Any plan to raise the floor will of course reduce the available headroom in your simulator. A regulation golf hole must be at least 4 inches deep according to the R&A.
You can choose to aim for perfect regulation golf holes with the sacrifice of some headroom and an added level of construction difficulty or opt for shallow golf holes that still work just as well.
Golf Simulator Putting Green DIY vs Pro Options
You have a few options when adding putting practice into your golf simulator. These are as follows:
Incorporate a putting green into the floor of your golf simulator in front of your impact screen (with either regulation depth golf holes or shallow holes). A well-cushioned golf putting surface in front of your screen can also act as bounceback protection as it will cushion falling golf balls so they don't bounce and roll away. There'll also be some noise protection with this. 
Buy a premium putting mat. These are usually standalone but some are combo mats from which you can also hit full shots from.
Add a specific putting simulator into your golf simulator room (eg. ExPutt)
Optimize your setup for the needs of your launch monitor (eg. like Mevo Plus above)
Buy a simple putting mat and use some cheap and easy training aids. I'm thinking putting gates, string, PuttOut, inexpensive lasers. There are numerous putting training aids and most can be used with any of the above options.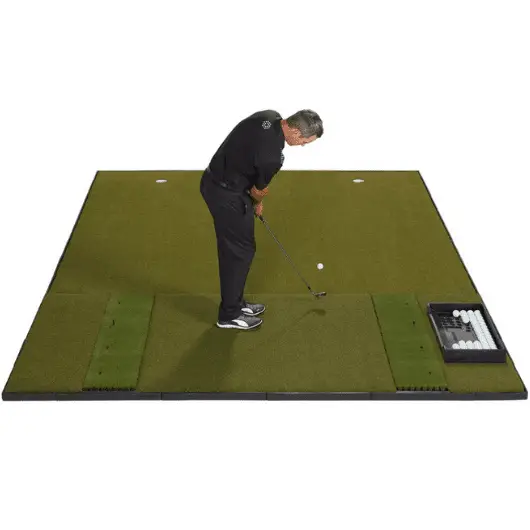 Check out the Fiberbuilt Double Hitting Putting Combo Mat here at Shop Indoor Golf. This amazing mat allows both left and right handed play as well as putting practice.
Options for a Ready-Made Putting Green Area for your Simulator
The Tour Links greens are excellent quality, modular design putting greens that can be constructed in a variety of shapes, fitting golf holes into the bases as shown in this video. Check them out at Shop Indoor Golf.
How much will a Putting Green Cost in my Golf Simulator?
The cost of adding a putting green to your golf simulator will vary wildly (like many other golf simulator purchasing decisions), depending on which of the above options you choose.
I believe you can build a putting green into the floor of your simulator (using foam panels and/or wooden framing if opting for a raised platform) for a few hundred dollars. I did this in my garage and it cost no more than £250. The biggest expense will be the artificial turf. I used timber I already had, however.
Premium putting mats can take all the construction headaches away and look fantastic, most importantly though they work brilliantly and allow you to practice putting effectively for long periods. They are expensive however and they are unlikely to conform to any specific shapes (the Tour Links greens are modular and do have curved sides).
You can achieve a putting solution for around $300 (a DIY putting platform) or you can spend $3000-4000 on a truly premium putting green.
Golf Simulator Putting Green Tips
I would absolutely love to have a massive putting room just like in this picture, you can always dream! There are lots of options for golf simulator putting setups, with varying degrees of required DIY skill and cost. There's nothing wrong with starting out just using some simple training aids that will allow you to work on your speed and line.
It's worth noting the putting requirements of your launch monitor from the outset and bearing in mind your room height if you plan on adding a platform on which to stand.
Take note of how you feel about the fidelity of simulator putting. Do you want it to be absolutely as realistic as possible? Do you want to play competitive simulator golf without gimmes (lots of games do use gimmes).
Or, are you happy to maximise the fidelity of full game shots and worry about putting later? This is what lots of golf simulator owners do as putting can be a bit of a headache for a new simulator player. If this is you then maybe opt for a separate putting green, maybe to the side of your hitting mat, or in front of your screen. Use training aids to work on drills you can take to the course.