This article will explain all that left-handed golfers need to know to buy a fantastic golf mat for his or her golf simulator. Golf mats for left handers are largely the same mats that right handers will buy but there are specific considerations to make. Read on to find out more and make the right purchase!
Most golf mats can be used for left-handers in a golf simulator. Some mats can simply be turned around to suit lefties. Other mats come in left-handed versions and some larger mats accommodate both left and right-handers at once. In this article, we will learn which are the best mats for left-handers and we again examine the problem of achieving a central aim in a golf simulator, this time from the perspective of left-handed golfers.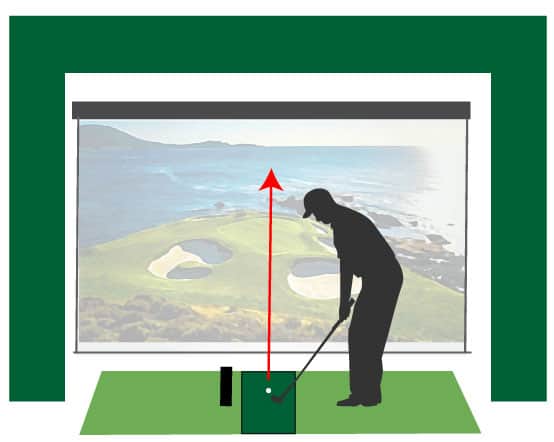 Who is going to be using your Simulator?
Left-handed golfers can purchase a golf mat aimed at right-handers and simply turn it around. This is fine. You can even turn it around again for right-handers that come to try and beat your skills challenge scores. 
This is easier with a mat that isn't fixed into a rubber support base (these mats are generally very heavy) or a mat that is screwed or glued to the floor.
Many golfers prefer a large, solid, premium-feeling mat that is fixed into a rubber base. The options here are the same as that for right-handed golfers. 
A fixed mat catering only for left handed golfers
A larger wider mat that accomodates both.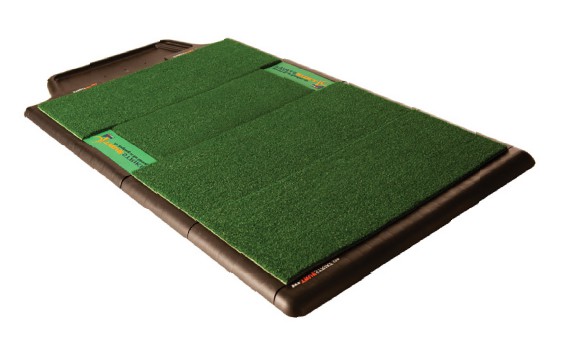 If you fancy a fixed mat with a thick rubber base and don't expect to be hosting any right-handers in your simulator you can opt for the True Strike Single Golf Mat. This is a top-quality mat that features True Strike's premium silicone under layer which is said to create a realistic strike and reduce the chance of injury.
You could turn this mat around by disassembling it and putting it back together the other way around. This can easily be done but it would likely be too time-consuming to do between every shot in a match with a right-hander. The mat weighs an impressive 56kg too so it is a lot heavier than some of our other featured mats.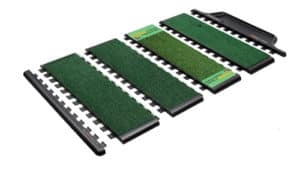 My Favourite Mat for Easy Turning
One of my favourite golf mats full stop is the Cimarron Ultimate Golf Mat.
This mat is relatively mobile in that you can easily move it around whenever you need to change the handedness of the golfer using the simulator. 
This mat provides 3 different hitting turfs in addition to the stance turf. You can hit with real tees, off fairway turf, or even practice your rough shots.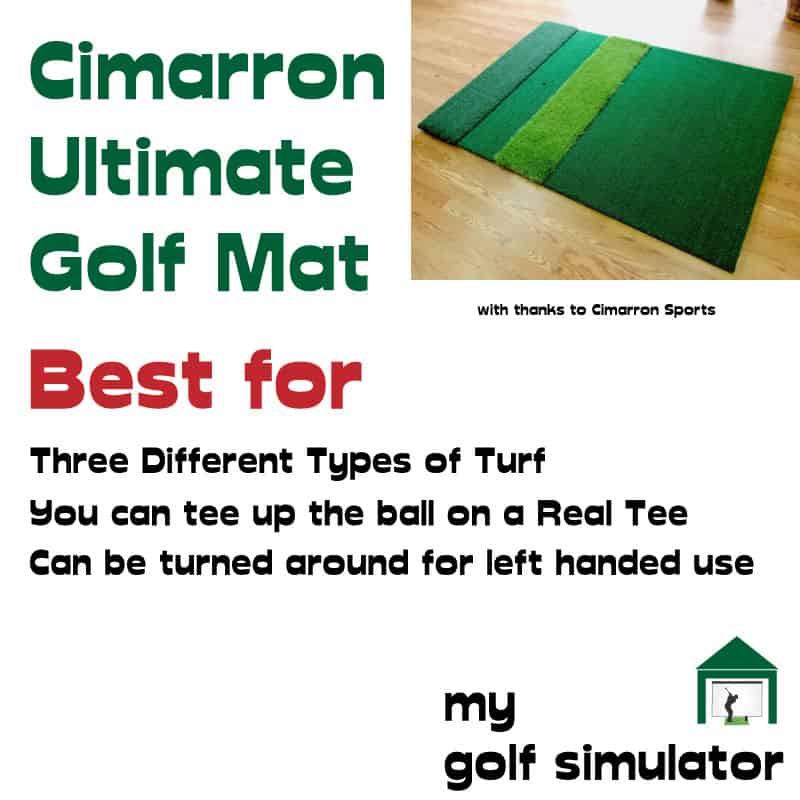 The Cimarron Ultimate Mat features a thick enough rubber base to be sturdy but it's not too heavy to simply move it around to accommodate left-handers or right-handers whenever you need to!
The problem of off-centre aim
There is a big problem with setting up to a target line that is not centred on your screen. Say you want to hit a straight shot. You've spent big on your golf simulator and finally get set up with your premium simulator software.
So, you load up Pebble Beach and get to the 7th hole. You aim at the centre of the green with your gap wedge. A quality swing is made, lined up with the target in the middle of your impact screen. Your shot takes off 25 yards into the pacific ocean on the right. Something's wrong!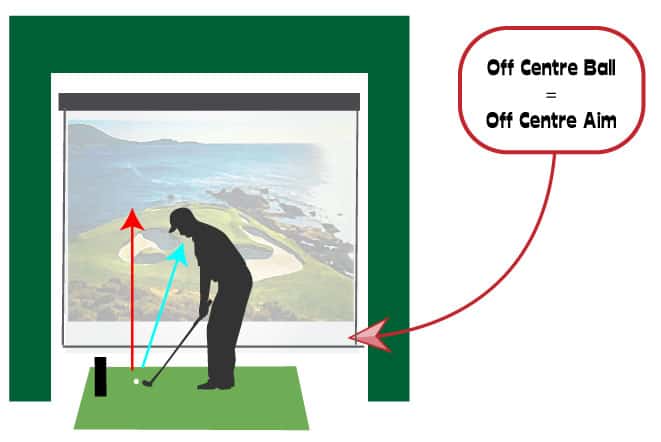 If you set up your mat and your simulator unit with a target line aiming at the left hand side of your screen (due to room width constraints) then this part of your impact screen will be your aim point for a straight shot. Not even the best golfing mathematician would be able to keep up with the adjustments needed. 
How wide does your room need to be?
At mygolfsimulator.com, we recommend a minimum room width of 10ft. You will very much struggle to accommodate both left and right handed golfers at the same time with this width though.
We recommend at least 15ft for a comfortable width and you may need more room than this for both types of golfer to swing driver and have a centre hitting alignment.
We talk more about this problem in our dedicated post on room dimensions.
If you have a narrow simulator room and have struggled with room width, check whether your mat will fit your space. I think it is unlikely to be so wide that the mat doesn't actually fit in the room.
However, width may become a problem if you have other items such as swing cameras, mirrors and your computer table placed nearby.
Some aspiring golf simulator owners are severely limited in space. Some struggle to hit the driver even with the mat up against the wall. If this is you, then consider an irons only set up. True Strike produces a narrow mat that can be used with irons and wedges and takes up minimal space. It is 130cm wide and weighs 32kg. It can be placed in either a left-handed setup or a right-handed setup.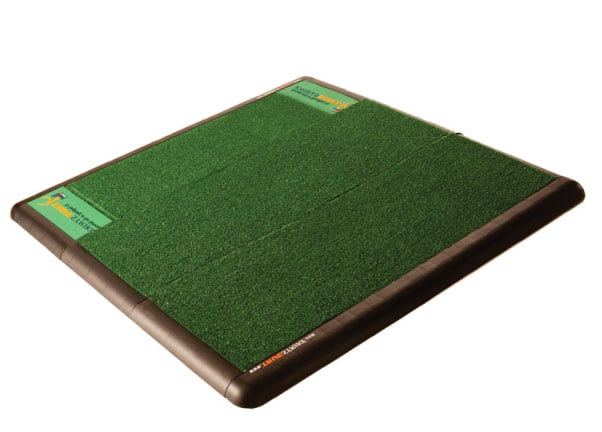 Having a good centred aim position
Setting up to the ball when it is in line with the centre of your impact screen will allow you to hit more realistic shots on simulator software. Your best bet to achieve this situation is to align your golf mat's hitting section with the centre of your screen.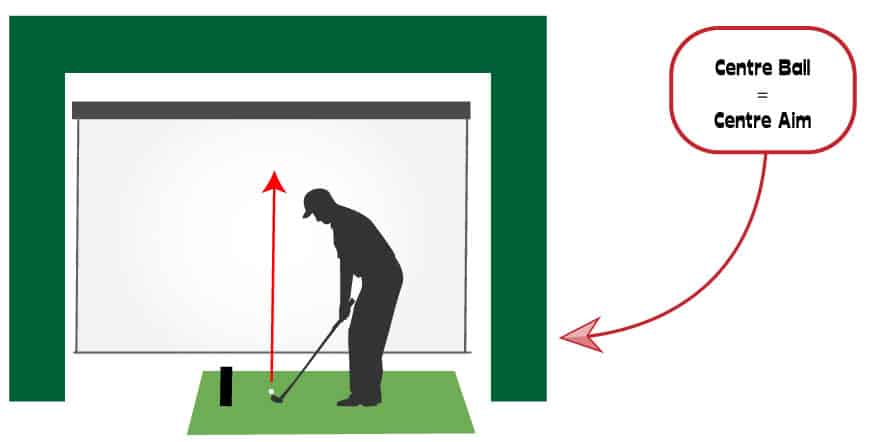 Mats for left and right handers (at the same time)
My favourite mat for this purpose is the True Strike Academy Mat.
It allows both left and right handed golfers to enjoy a centre aligned hitting section.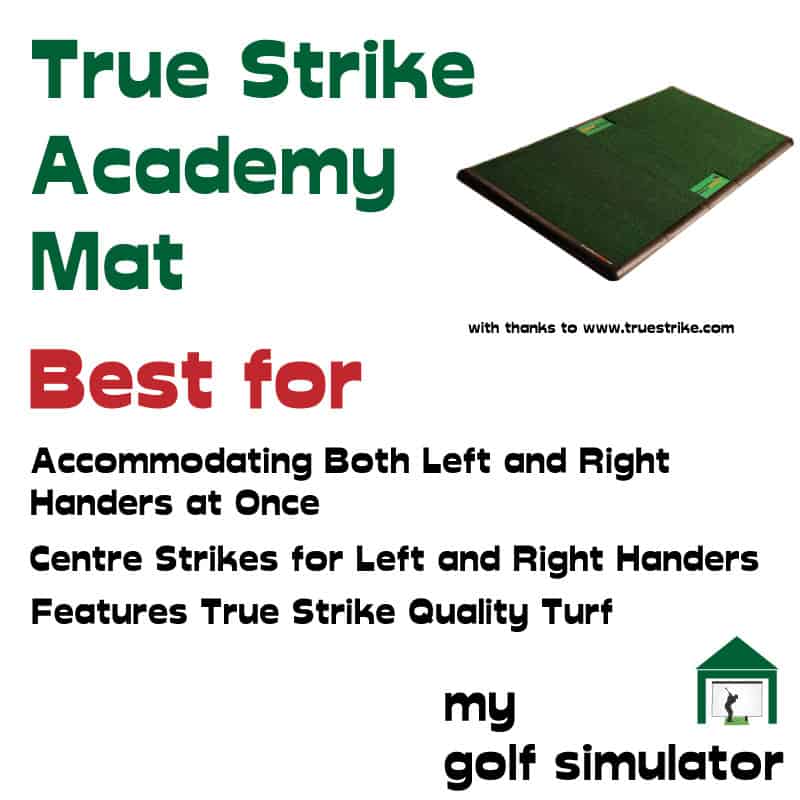 If you decide to buy this excellent mat you'll enjoy True Strike's special silicone under layer. This is said to provide realistic strikes whilst reducing the chance of injuries. 
You'll need enough width in your room for a golfer to make a full swing with driver from both sides of the mat.
This mat is 206cm wide and weighs a hefty 62kg.
Using this setup will require extra attention to be placed on projector placement. Both left and right-handed golfers would need to not hit the projector with their swings.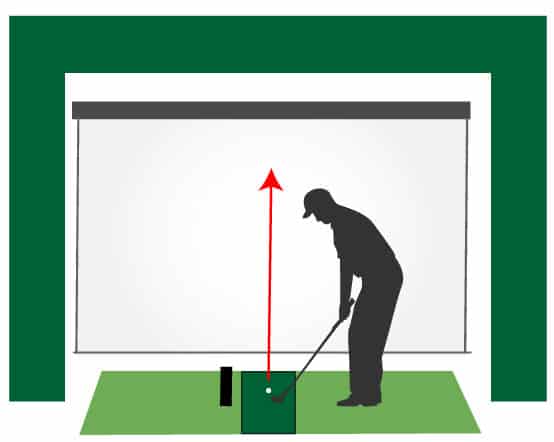 Conclusion – What's the best mat for left handed golfers?
The answer to this question are that it depends on your simulator. Both the size of your room and whether you intend to invite round friends to use it are essential considerations.
These questions are entirely relevant to right handed golfers too.
Before I learned all anbout the intricacies of golf simulators I thought that golf mats were largely all the same and I could just buy a cheap one and count on the fact it would fit absolutely fine.
I hope that by reading our articles on golf simulator mats that you will navigate the finer details and buy a mat that's perfect for your home golf simulator!
Thanks for reading! Take a look at our other posts from our homepage!