Do you want an easy way of streamlining the process of playing a round of indoor golf? A golf simulator control box can reduce the time it takes to play simulator golf by cutting down on the faff between shots, making your practice time much more efficient.
A golf simulator control box is an optional component that allows the golfer to easily control functions in golf simulator software, from their position on the golf mat, without needing to walk to and from their PC. This allows a quicker and smoother golf simulation experience.

I recommend the Roxor Control Box, which features 10 fully customizable buttons and a range of design options. It is fully compatible with all golf simulation programs and launch monitors.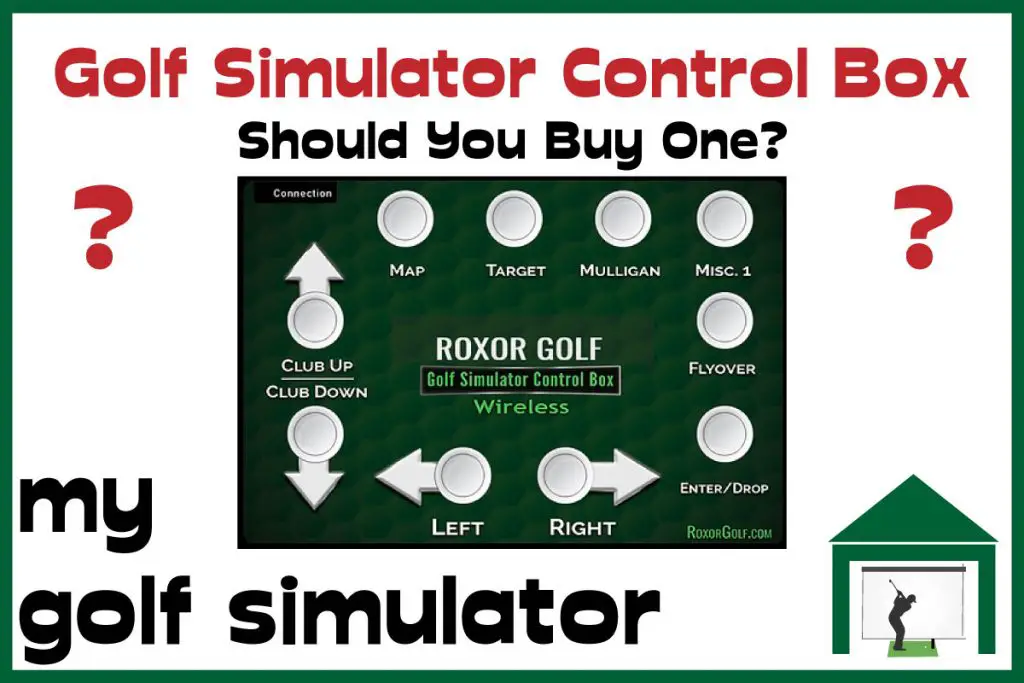 How does a Golf Simulator Control Box Work?
A golf simulator control box works by electronically mapping large buttons to specific functions within golf simulation software programs. When you press a button on the control box, you'll be able to control the core functions of your simulation program (for example TGC 2019 or GS Pro) with ease.
Buttons on a golf simulator control box are likely to do the following:
Choose a longer club
Choose a shorter club
Move the aim point left or right
Enter/left mouse click
View a flyover
View the target
Take a Mulligan
You may also map buttons to any other functions that you choose within the settings of the control box PC program.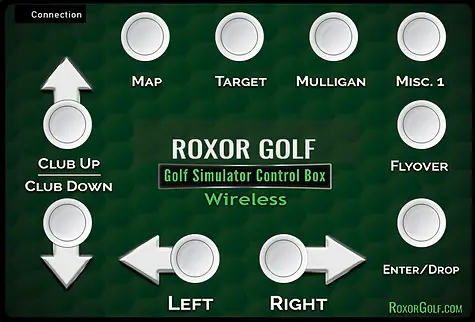 Benefits of a Control Box in a Golf Simulator
A control box is an optional extra in a golf simulator, but it is a component that brings lots of benefits:
A golf simulator control box allows the golfer to manipulate the controls in their simulation program, from their position on the golf mat. This negates the need to walk back and forth to your PC setup after every single shot.
This can take significant amounts of time from every round of simulator golf or practice session, allowing you to play for longer and practice more efficiently.
Golfers who host friends and family in their simulators will note that a control box keeps lots of people from messing with their computer between shots. The last thing you need is your 7-year-old changing all the settings by accident!
Golfers may choose to place the control box down at ground level, in which case it's easier to press the buttons with a clubhead. Others can choose to mount the control box on a stand near to the hitting area and press the buttons by hand.

Simulation Software – Control Box Compatibility
Golf simulator control boxes should work with all PC-based golf simulation programs.
This is because the software is able to work with a simulation program through your PC, and it changes the inputs from the keyboard and mouse to the control box. You'll still be able to use the keyboard and mouse if you need finer control though.
Control boxes are unlikely to be compatible with phone and tablet-based software apps unless a golfer is skilled enough to engineer a link between the two.
You can create different profiles with your control box, so that the buttons will do specific things in one program and others in another. Many golfers use more than one simulation program in their simulator so this is a useful feature!
There may be specific presets already available for core simulation programs such as TGC2019 and E6 Connect.

Launch Monitor – Control Box Compatibility
A golf simulator control box should work with all launch monitors because the link is between the control box software and simulation program software on your PC.
As long as your launch monitor is compatible with your simulation software program, and your PC meets the system requirements of each program, you should be fine. Check out my dedicated post all about launch monitor – simulation software compatibility here.

Golf Simulator Control Box Setup
To ensure the control box works correctly, you need to run both the control box software, and your golf simulation program software at the same time on your computer. You need to start the programs in the correct order, this will become an easy process once you've done it a couple of times.
The setup process is slightly different for the wireless control box as you need to insert the dongle at the right place in the list of steps, but it is still a straightforward process.
Take a look here for lists of steps to set up each control box at Roxor. Then you can take a look at a series of short videos which illustrate the process excellently.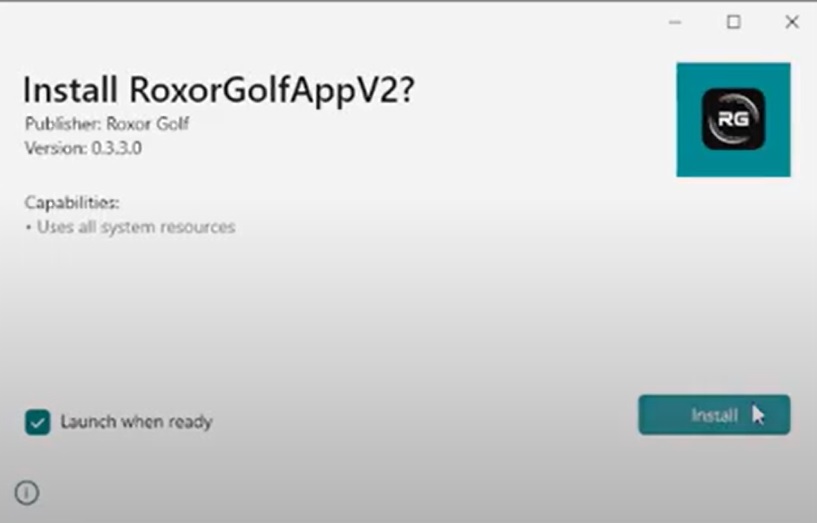 Here's a video from Roxor Golf on Youtube showing you how to set up a control box with TGC 2019. There are many more useful setup and tip videos on Roxor's channel page.
Types of Golf Simulator Control Box
You can choose between a wired or a wireless control box. They function the same, but their setup is a little different, with the wireless version using a dongle for connectivity.
Roxor provides several different control box skins (designs), so your control box can match the color scheme of your simulator. You can even choose control boxes with colored LED lights.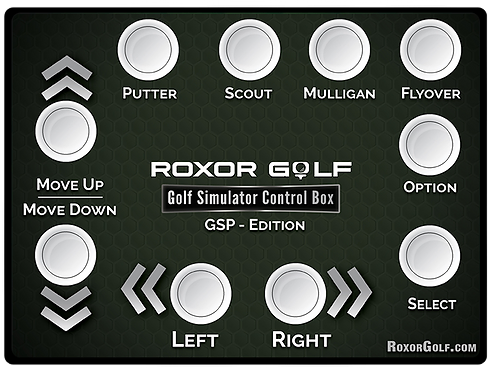 This is a special GS Pro edition of the Roxor control box, available here. You can also request custom artworks for your control box by contacting Roxor directly.
$10 off a Roxor Control Box
A golf simulator control box can save you time and make the whole golf simulation experience smoother. This is one of the many finishing touches which can
I recommend the Roxor Control Boxes. They're well priced and provide excellent functionality for all launch monitors and golf simulator software programs. Roxor is a veteran-owned small business, and every control box is handmade. Roxor offers excellent customer support too!