Uneekor Golf Balls – Where to buy the best marked balls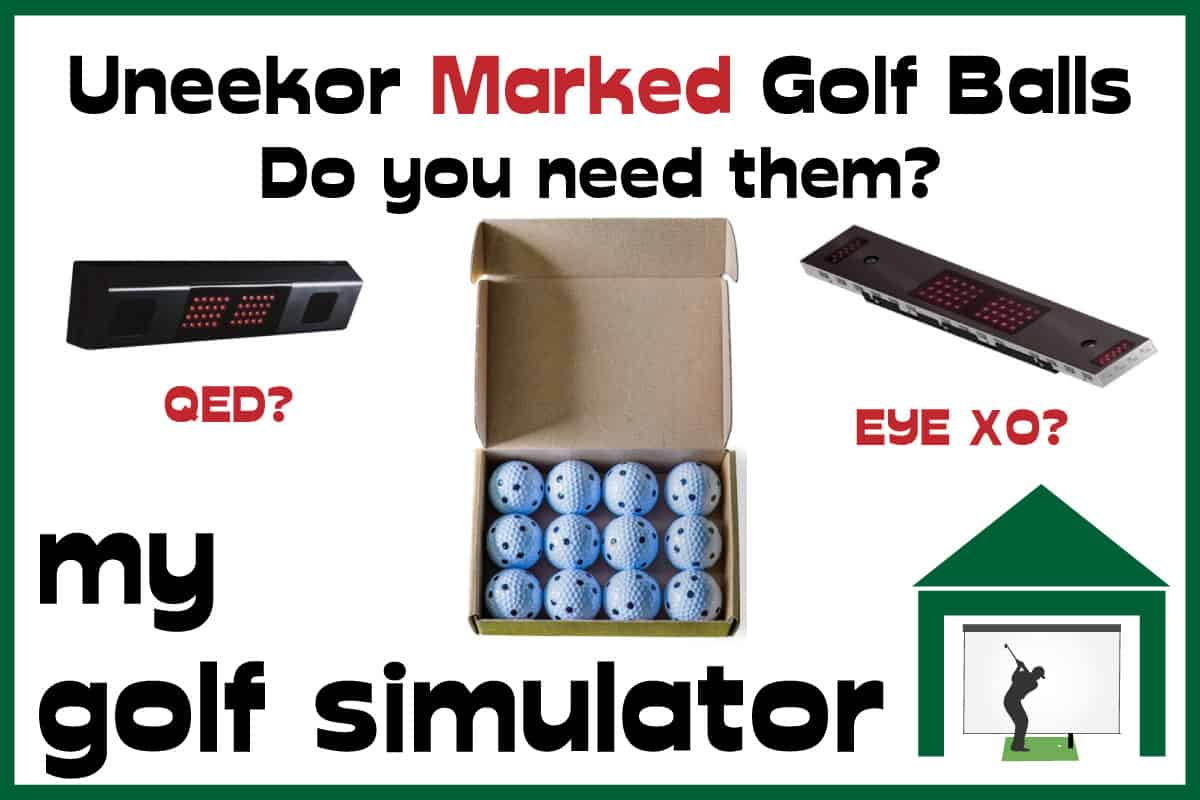 What are Uneekor Golf Balls? If you've been thinking about investing in a golf simulator then you've probably come across the Uneekor brand as their simulators are fantastic quality and growing in popularity. However, did you know that you might need special golf balls to use one of their launch monitors?
The Uneekor QED requires specially marked golf balls in order to accurately read spin rates. The marked balls can still be premium balls though some are better than others. The Uneekor EYE XO does not require marked balls, you can use any ball with this launch monitor.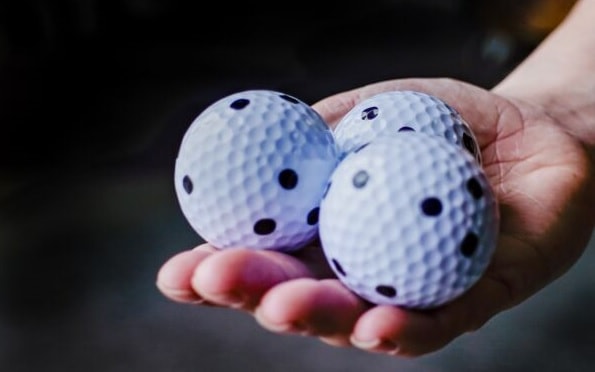 Our guide to Uneekor golf balls includes an introduction to the difference between the QED and eye XO launch monitors, what the marked balls are like, how they affect your game, what the launch data is like, whether there are alternatives, whether you can make your own and where to buy them from. So, let's start with a look at Uneekor's simulators and how they work.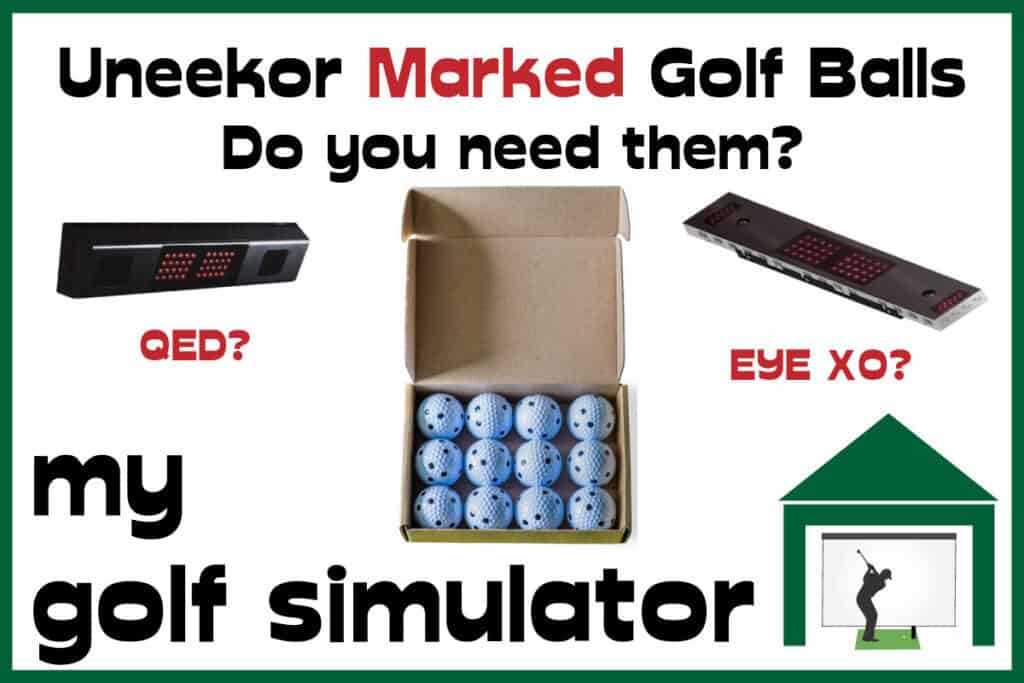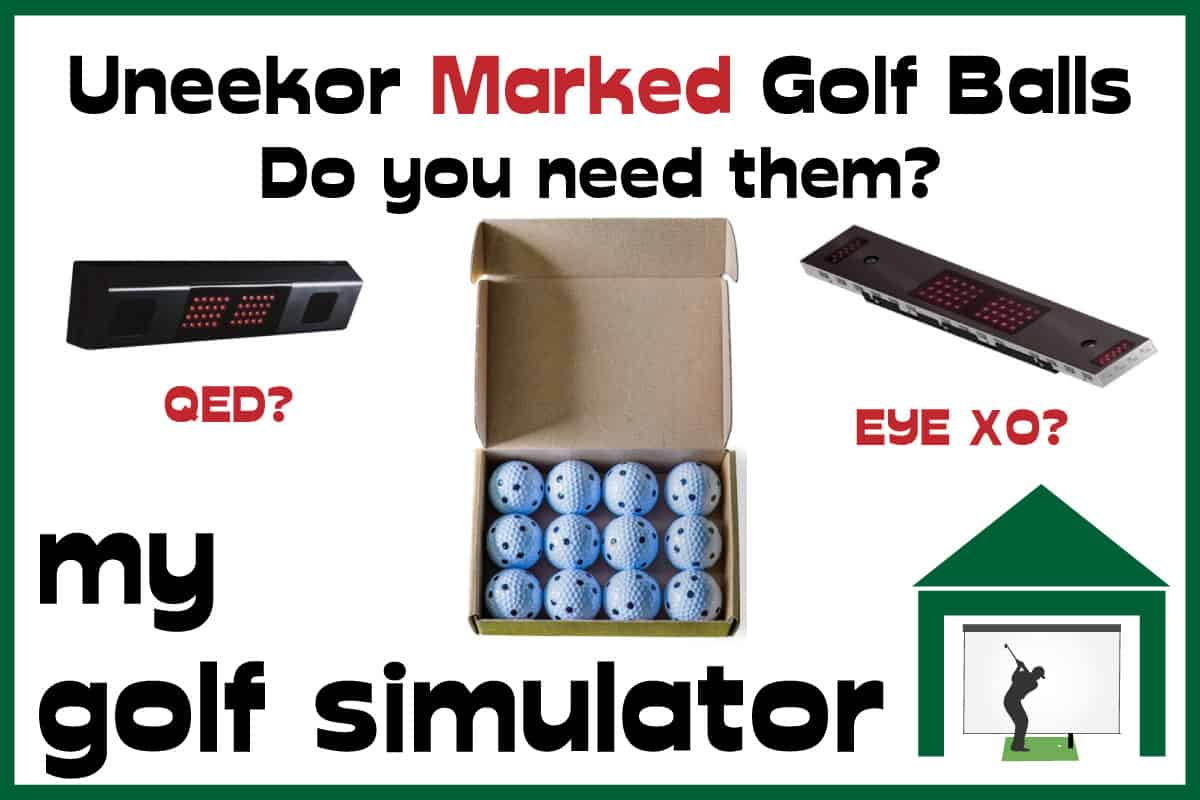 What Are Uneekor Golf Balls?
The Uneekor QED system is excellent but the sensors require assistance to track the spin rate and spin axis of the golf ball. How can the camera tell which way up the ball is or how it's traveling when all areas on the surface of the ball appear to be exactly the same?
This is a common problem amongst some golf simulator launch monitors.
To solve this Uneekor QED compatible balls are required to help the Uneekor QED system recognize the spin of the ball. So, if you're going to use a Uneekor QED, you must also purchase special golf balls to get the best results.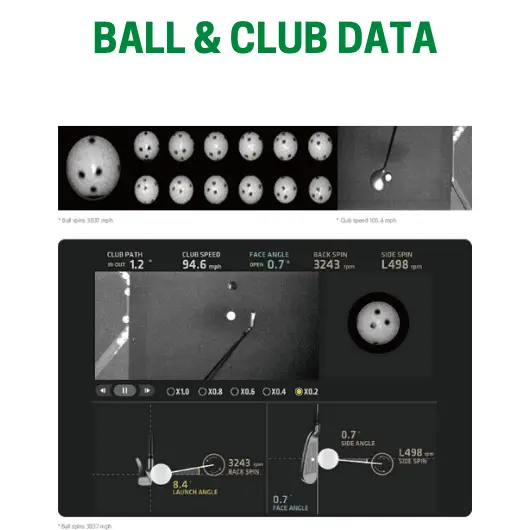 You can see how the marked balls have small black dots on them, these help the Uneekor QED sensors pick up spin rates accurately. The dots should ideally be equally spaced across the curved outer surface of the ball.
Proper Ball = Proper Spin = Proper distances
A golf simulator launch monitor should be able to tell you how far you've hit a ball and to a high degree of accuracy. To allow this to happen raw data is obtained using either high speed camera systems or radar sensors.
Launch monitors track parameters such as ball speed, spin, clubhead speed, launch angle and many more. The whole package of raw data is fed into the system's software and inputted into their modelling software. You then expect to be provided with accurate carry, roll and total distances as well as how far off to the side the ball has travelled and with what shape.
Using a compatible ball with your Uneekor QED is vital! Ball spin is an essential data parameter to achieve accurate results. If you have a ball that won't allow the sensor to pick up spin properly, then most of the other numbers will be affected.
Your ball of choice must be BOTH a premium ball similar to that which you use on the course, AND it must be compatible with the QED. You need a good ball to achieve the same spin rates that you do on the course.
If you go from a Titleist ProV1 outside to a ball similar to a 25 year old rock then you'll know about it pretty quickly!
The reason I wrote this article is because I saw many people were struggling trying to find a source of premium golf balls marked appropriately for use in the Uneekor QED.
The purpose of investing $6,000+ in a launch monitor is to get accurate data to improve your game and you won't get that if you use the wrong golf balls.
My aim is to help people optimise their golf simulator setups so they can enjoy indoor golf practice as much as possible, including with the excellent Uneekor QED!
Is there a Tour Quality Uneekor QED compatible ball?
Do Uneekor supply a Tour Quality Ball?
Unfortunately at the time of writing, Uneekor do not supply a ball that is manufactured to the same quality as those used on the PGATour and by most keen golfers around the world.
I'm talking about a three piece ball that will fly far as well as spin consistently around the greens.
When you buy your Uneekor QED directly from Uneekor, you receive two dozen marked balls. However reading the experiences of those that have used these balls, they appear to be quite hard. They might not achieve the same spin rates you'd expect of a premium ball too.
Do any large ball manufacturers make a Uneekor QED ball?
This point has been discussed at length on many fora and within multiple golf simulator groups on social media. Why on earth wouldn't Titleist or Callaway just run a print of Uneekor compatible balls that they could sell on for a fairly high price?
I agree with the general consensus that this just wouldn't be cost effective for them, or worth the effort. The amount of work it takes to optimise a production line on a large scale means that the costs at the start of the project might outweigh the relatively modest demand for the balls.
That doesn't mean that there aren't other options to achieve a marked premium Uneekor compatible ball, as we discuss below.
Marked Balls – Uneekor QED vs EYE XO
In February 2019, Uneekor announced a new model of simulator, the Uneekor EYE XO. In many ways the EYE XO is very similar to the QED. They're both fantastic launch monitors.

However, the EYE XO is Uneekor's flagship model and it does offer some advantages over the QED these include: a higher resolution map of the flight path, full mapping of the ball impact on the club face, the use of standard dimpled balls, additional club data (attack angle, club loft and lie angles and impact point analysis), a more precise hitting area and a forward sensor.

It's important to note that Uneekor systems are not currently portable and aren't usually the best choice for outdoor simulators. There is talk of Uneekor addressing this in late 2020, as well as a floor mounted simulator and I am looking forward to hearing more on these rumors.
I am planning a detailed comparison article looking at the differences between the Uneekor QED and EYE XO, which is coming soon.
Uneekor QED compatible balls – What are your options?
Original Uneekor Balls suppled by Uneekor
These balls will work with the QED but have been felt to be quite hard and spin rates are lower on shorter shots than they should be.
You get two dozen of these balls included when you buy the QED directly from Uneekor.
2 Piece Bridgestone balls
You can't buy additional Uneekor Golf Balls directly from Uneekor which is somewhat strange.
When you purchase the Uneekor QED from Shop Indoor Golf, it comes along with 24 marked Bridgestone Balls. These balls should keep you going a little while and do spin okay, but have generally been felt to spin still less than the premium Tour balls.
Buy extra Uneekor compatible Bridgestone Golf Balls from Carl's Place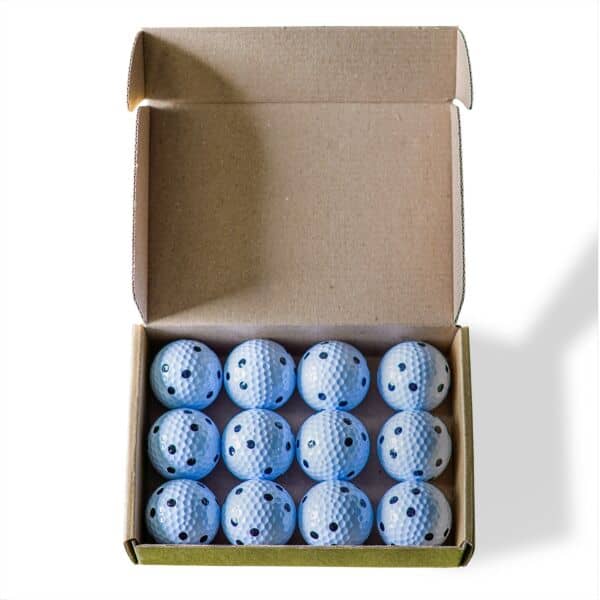 You can buy more Uneekor compatible two piece Bridgestone marked balls here at Carl's Place. Compared to premium golf balls bought in pro shops, they're not too expensive either.
Carl's Place say they believe they're the best Uneekor balls on the market. Definitely worth a try!
Why not do your own testing? If you already have a launch monitor then buy twelve of these balls from Carl's Place and test them against your preferred tour ball. You can let us know the results!
Waterslide decals
You can buy ready made decals, which are materials printed for transfer onto another surface, in this case markings for premium golf balls.
Check out the site www.dots4sale.com which provides decals for a good price, along with a video on how to transfer the decal to the ball.
GSK Balls
GSK are a company based in Austria specialising in golf simulator products.
They sell balls specifically designed for use in the Uneekor QED and you can see the very promising results in this video when the balls are tested against premium balls. You can choose from standard Bridgestone balls or premium urethane coated balls.
They ship the balls to the USA too. Check them out here!
Urethane Unicorn Balls work with Uneekor QED
Urethane Unicorns are balls from an excellently named company based in the USA and they offer free shipping to USA at the time of writing this post.
The Urethane unicorns company say that their balls 'provide the spin around the greens that the Uneekor Bridgestone balls don't'. 
They apply the marking dots during the actual manufacture of the balls, and not as an after thought step. Doing it this way makes the balls much more durable and it's said that with enough wear the balls would crack before the patterned dots failed.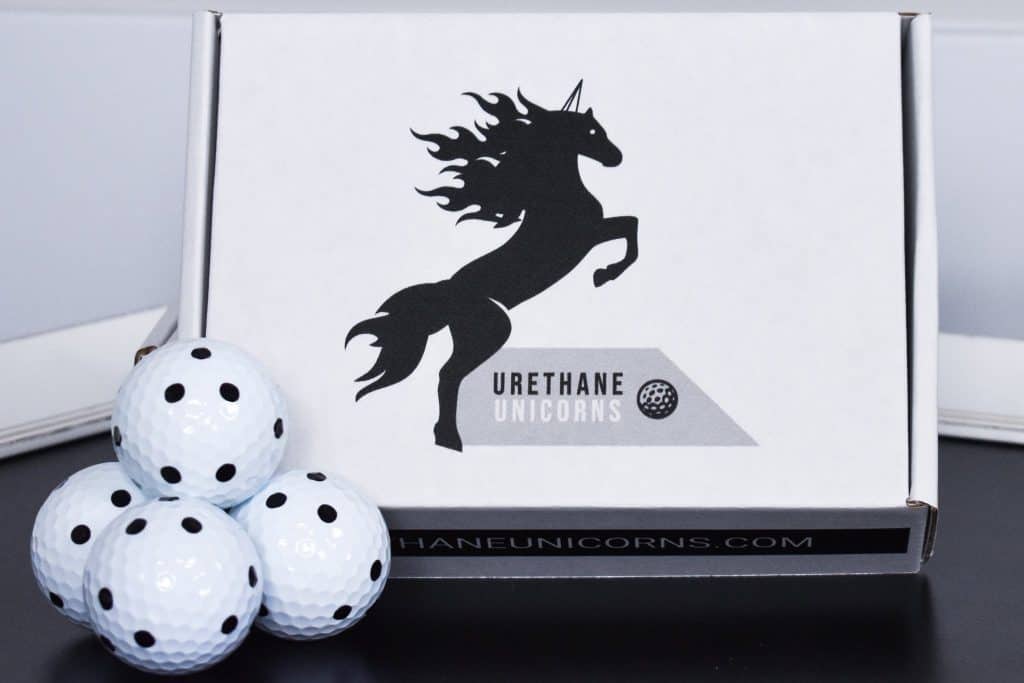 Check out this fantastic video review of the Urethane Unicorn balls from the Golf Simulator Videos Youtube Channel. You'll see the spin rates climb dramatically compared to the lesser quality balls.
The E6 software does show some spectacular backspin which is perhaps not completely inkeeping with real life but the spin numbers are great to see on a Uneekor QED ball.
UK Uneekor compatible Pro V1 Golf Balls from Golf Tech Systems
The guys at Golf Tech Systems in the UK do offer Pro V1s which have been marked with decals and then a process has been used to set the marks in place. At the time of writing these balls were sold out but hopefully there will be more coming through soon!
Upgrade to the Uneekor EYE XO
You could get rid of this QED compatible ball headache completely by going straight for the Uneekor EYE XO instead!
The EYE XO is Uneekor's flagship launch monitor and features a dual high speed camera system and an upgraded version of their Club and Swing OPTIX. This is Uneekor's photographic technology that gives golfers a recorded replay the impact of the club and ball. You also get recorded ball impacts with the QED too.
You can gain so much quality information about your swing by seeing the club hit the ball in slow motion!
Check out the Uneekor EYE XO at Shop Indoor Golf here!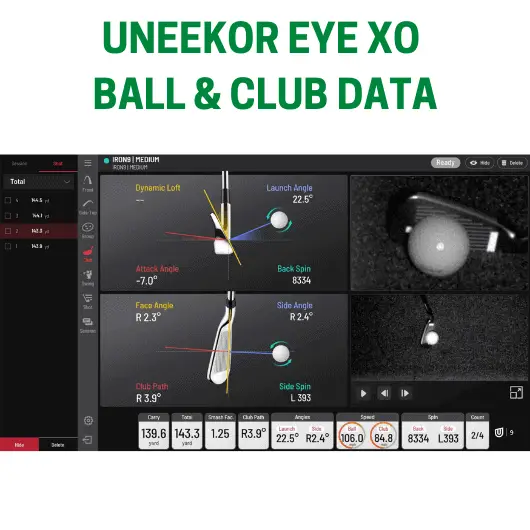 You can see the Uneekor EYE XO reading data from non marked balls in this image!
Can You Turn Regular Golf Balls Into Uneekor Compatible Balls at home?
I haven't tried this myself, but I have found several golfers online who claim that it is possible to adapt the golf balls that you buy to use in the Uneekor QED simulator.
Printed Golf Balls – Using a black marker
Warning – your impact screen may be marked
Adapting a normal golf ball to work with the QED is not as simple as taking a permanent marker to the side of the balls and coloring in some black spots. However, many golfers have tried this. From what I've seen of these efforts online, it seems it will ruin your impact screen, so I don't recommend it!
Drilled Balls
Warning – your impact screen may be damaged
I don't recommend this approach as you may hurt yourself, the drilled balls are likely to be unhealthy for your impact screen and you'd do a very good job to do the marking accurately. As we've explained above, the markings need to be the same distance from each other on the balls and not just random. Getting this part right is hard.
If you take a close look at the Uneekor official Bridgestone balls and those that are generically made elsewhere – the black marks are a bit lower than the surface of the rest of the ball.
So, to make your own, you need to gently drill against the surface of the ball to create a shallow impression that you can then fill with the black ink. You then want to carefully deburr the waste golf ball matter from the edge of the holes you've made as they might end up cutting into your simulator screen.
Make sure that you clamp the ball into place and that you wear safety goggles if you want to give this a try. You should also compare the results with the standard Uneekor QED balls because you don't want to create bad data with a poorly marked ball. If the numbers are approximately equivalent, you've done a good job.
Where can I learn more? Extra Resources
Here are several super useful forum threads to check out. You'll find lots of personal experiences of other golf simulator owners. There are also several very active members of the forums and social media groups, some of which are involved in the production of some of these balls, stickers, and decals.
Facebook Groups
I find the Facebook group 'Golf Simulator/Launch Monitor/Video/Emerging Technologies Discussion Group' very useful. There are fairly frequent posts on the issue of Uneekor golf balls. There are some very active members in the community and some of them do testing on these balls, as well as a range of other golf simulator products.
I would advise joining the group to learn lots more golf simulator-related knowledge! Search within the group for Uneekor balls and you'll find lots more information.
Golf Simulator Forums
There are lots of forum threads on Golf Simulator Forum on the issue of Uneekor QED golf balls. Check out this one and also see the related threads.
Please note that I have tried to give you all the avenues I've found to source quality Uneekor QED compatible balls. I can not guarantee that any of the balls featured in this post will not cause ink transfer to an impact screen or cause any other damage to impact screens.
I hope you now feel more informed about the subject of Uneekor compatible golf balls. There were initially not many outlets at which to buy balls compatible with the QED launch monitor, but demand has caused an uptick in the number of options available.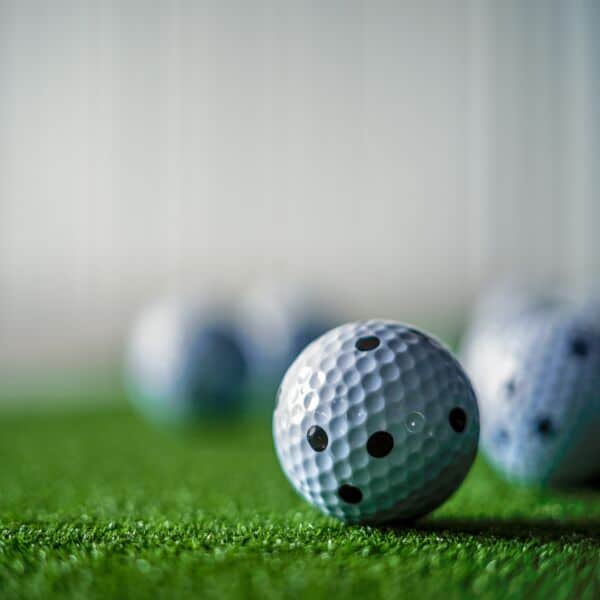 The Uneekor QED is a superb simulator system but you do need to give the cameras a helping hand to get the most out of it by ensuring that you used marked balls.
The bottom line remains, if you spend around $6,000 on a launch monitor, you want it to give you accurate results.
Spin rates are essential to the calculations and modeling that work out launch monitor data such as carry distance and shot shape. You can't have a true and accurate golf simulator session using balls that don't perform.
I recommend identifying and even buying, the exact premium golf balls you intend to use in your golf simulator before you invest in the Uneekor QED. Once you've got your hands on these premium balls then go ahead, the QED is a great piece of kit!

If you'd rather just use any balls and not worry about ball markings, then go for the Uneekor EYE XO. It's more expensive but you can use any ball you wish and you benefit from more extensive and in-depth club data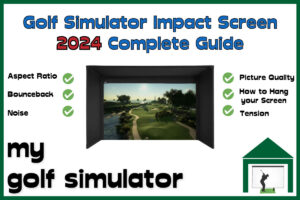 Golf simulator Impact Screens are crucial for any comprehensive simulator setup. In this guide, I'll outline the essential factors to consider when choosing a golf simulator screen. Carl's Place offers the top golf simulator screen on the market in 2024. This triple-layered, cushioned screen showcases 4K resolution images with exceptional clarity and minimal light bleed.…
Continue Reading

→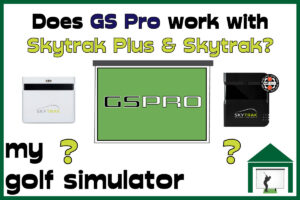 Skytrak Plus is the exciting successor to the former king of the launch monitor market. GS Pro has emerged as the dominant force in the realm of golf simulation software, but do they work together? There is no official integration between GS Pro and Skytrak or Skytrak Plus, however, the golfing community has found a…
Continue Reading

→
Hello! My name is Alex and it is my mission to bring you all the information you need to build your own home golf simulator! I play off a 6 handicap but struggle to get enough practice time in both with work and the cold weather in the UK. I always wanted to have my own golf 'studio' at home. Then a few years ago I learned about golf simulators. Once I'd had my first go on one I was hooked! I knew I wanted my own!
Hello! My name is Alex and it is my mission to bring you all the information you need to build your own home golf simulator! I hope mygolfsimulator.com helps you on your journey to better golf at home!
On this site, you'll find articles on all aspects of building a golf simulator. I will also link to other sites where you can buy some of the simulator components. Some of these links may be affiliate links, which means if you click them I gain a small commission at no extra cost to you. This really helps out me and my site so thank you in advance! mygolfsimulator.com and all related social media accounts are property of Awonline LTD.